Tampa Streetcar Fest 2004 - Riding Along Channelside - Page 3
---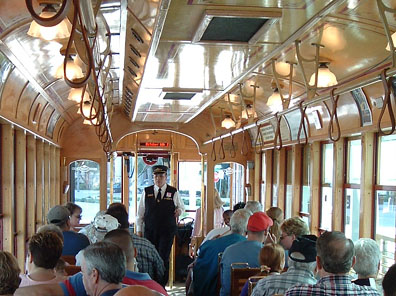 We are now ready to depart the Southern Transportation Plaza.
Enjoy the ride!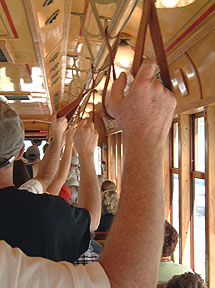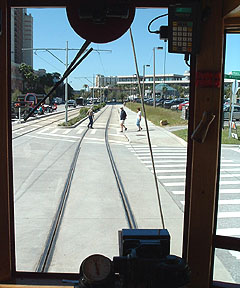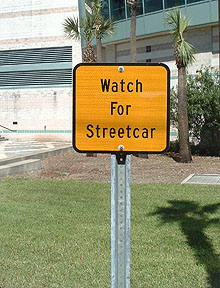 Left: Looking out the rear window we see the Tampa convention center in the distance.
Middle: A sign of the times at the south side of the St. Pete Times Forum, f.k.a. "The Ice Palace."
Right: A standing room only crowd hangs on as an abrupt start can send you tumbling down the aisle.
MORE VIEWS OF ST. PETE TIMES FORUM: FORUM1 FORUM2 FORUM3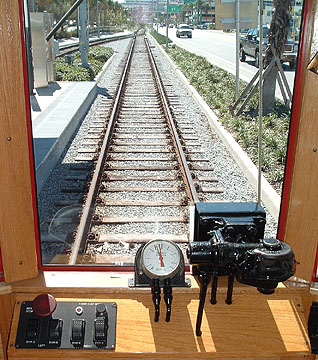 With the Florida Aquarium and the Cruise Terminals behind us, we continue northbound
on Channelside Drive past Tampa's Trade Center and the Port of Tampa docks,
toward Adamo Drive (Hwy 60) and Ybor City.
CHANNELSIDE ATTRACTIONS: 8 9 10 11 12
In the early days of Tampa and Ybor City, this area between what was then "Ft. Brooke" and Ybor
was nothing but Florida jungle with a dirt road connecting the two areas.
Read an article at the USF Digital Archives about the early days of Ft. Brooke and Ybor City that
describes the wilderness, by famed Tampa historian Tony Pizzo. "Ft. Brooke-The First Ten Years."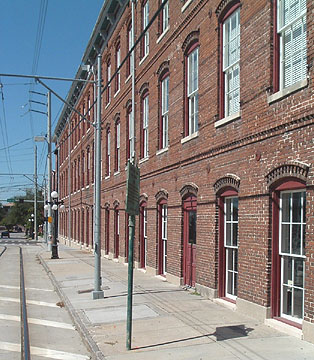 After traveling under Tampa's "Selmon Expressway" (f.k.a. "the Crosstown") and a traffic stop at Adamo Drive, we arrive at the first Ybor City Station and pass some of the typical Ybor City historic buildings.
SCENES FROM EAST END OF 7TH AVENUE, YBOR CITY: 1 2 YBOR STATION
---
1 2 3 4 5 6 7 8 9 10 11 12 13 14 15