Tampa Streetcar Fest 2004 - Birney #163 - Page 9
---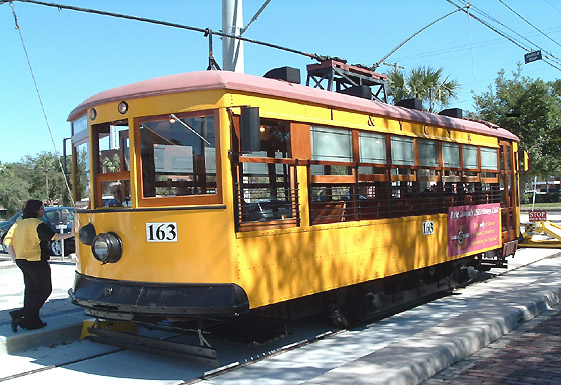 Found in late 1991, Birney 163 had been sitting for 45 years on the ground in the backyard of a small home in the SULPHUR SPRINGS area. Relegated to use as a storage shed, it had earlier served as a small apartment, complete with utilities and living amenities. An agreement was negotiated with the owner to transfer the car body to the Streetcar Society, and the car was moved to it's current temporary home at "The Carbarn" for restoration and rebirth.
From APTA Heritage Trolley and Streetcar Site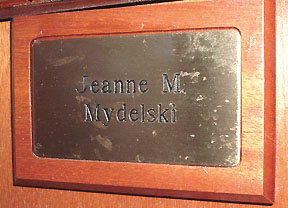 Jeanne M. Mydelski gave up her utility shed as a gift to the streetcar society. In return, she was made a lifetime member, and the first seat in the car is dedicated to her with this plaque.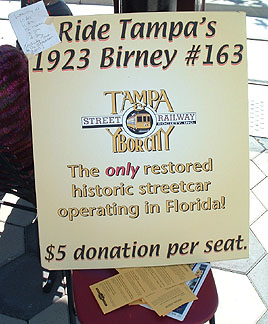 For a small donation, riders were treated to a leisurely trip from the end of the track and down 8th Avenue on this cloudless, azure blue sky day with low humidity, cool breeze and warm sunshine. Included in the ride was a tour of the carbarn, and a ride back to the end of the track.
Information presented in red text on these pages is provided from an excellent online book titled
THE BIRNEY CAR by Harold E. Cox, http://www.telcen.com/streetcars/
A must-read for any streetcar aficionado.
In the early 20th Century, streetcars were "standardized" in theory, but in actual production there were almost as many variants of the standardized cars as there were purchasers. Most "master mechanics" seemed to possess a passion for putting their own stamp on every piece of rolling stock purchased. This habit was encouraged by the almost universal conviction that each city operation had some peculiarity which required specially designed equipment.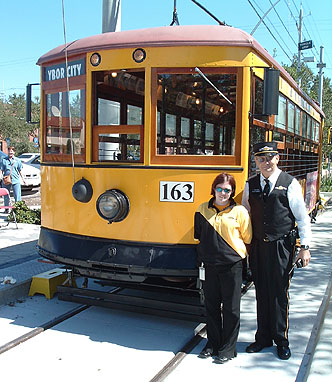 Conductor Francis Dougherty and a volunteer member of the Tampa & Ybor Street Railway Society stand proudly in front of old 163.
During the second decade of the 20th century, due to increasing costs of labor and power, the firm of Stone & Webster, then operating many streetcar systems throughout the country, assigned Charles O. Birney, an engineer on its staff, the task of designing a standardized car which could be produced in quantity at low cost. It was to have a lighter weight than previous cars, for greater power economy and reduced track wear. (From New England Electric Railway Society web page.)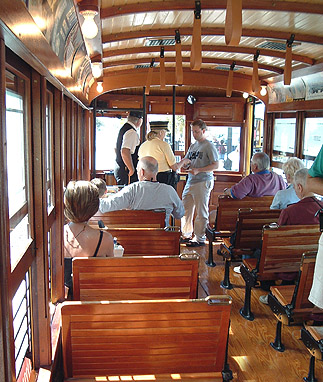 Jan Smith greets riders and issues them a commemorative ticket and fact sheet about the Birney. Jan is a former chairperson of HART and is an appointee to the Tampa Historic Streetcar society.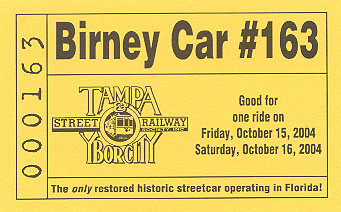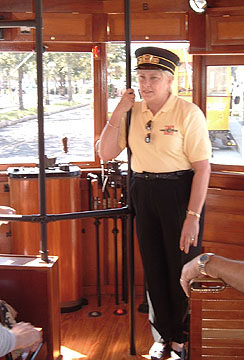 Jan knows the story of old #163's history very well. She is a fountain of knowledge about the streetcar system and the steps taken to restore it to running condition.
---
1 2 3 4 5 6 7 8 9 10 11 12 13 14 15