CHANNELSIDE DISTRICT - Page 15 - The American Victory Mariners Memorial & Museum
---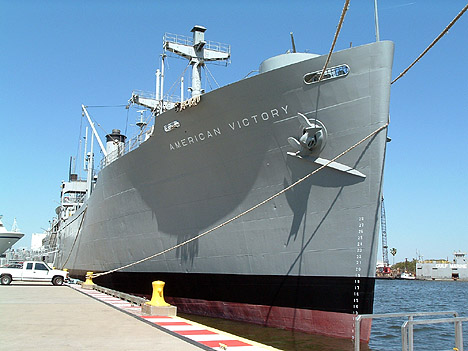 "The SS American Victory, as her name implies, was one of 534 Victory ships built between mid-1944 and mid-1946 to replace the venerable Liberty class of merchant vessel."
(text from the American Victory Website)
The history of the SS American Victory is a long and storied one, despite the fact that she spent much of her life in mothballs. She has sailed the Seven Seas and was involved in World War II, and the Korean and Vietnam wars. Immediately following World War II, the SS American Victory served as a sea going "good will ambassador" for the United States, supplying foodstuffs, vehicles and manufacturing machinery to the war torn countries of Europe and Near East, under the auspices of the Marshall Plan.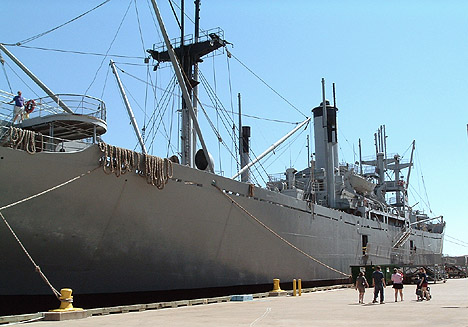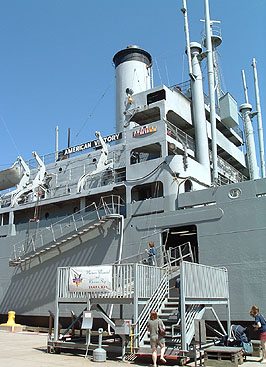 The American Victory Mariners Memorial and Museum Ship located on board the SS American Victory, honors the men and women who valiantly served our country not only in times of war, but also in times of peace. The AVMM&MS also portrays the historical and economic significance of the maritime industry in the development the Tampa Bay region.
Click to enlarge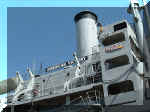 Please visit the American Victory website to learn more.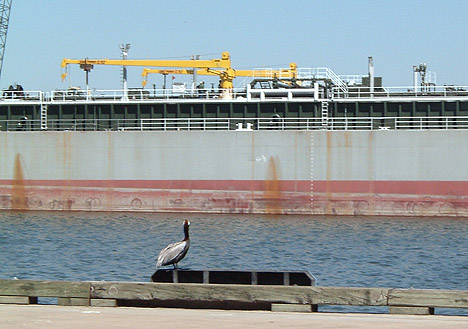 This seabird keeps a watchful eye on the barge moored across the channel from the American Victory.
---
Channelside 1 Channelside 2 Channelside 3 Channelside 3A Channelside 4 Channelside 5
Channelside 6 Channelside 7 Channelside 8 Channelside 9 Channelside 10
Channelside 11 Channelside 12 Channelside 13 Channelside 14 Channelside 15