CHANNELSIDE DISTRICT - Page 5 - St. Pete Times Forum
---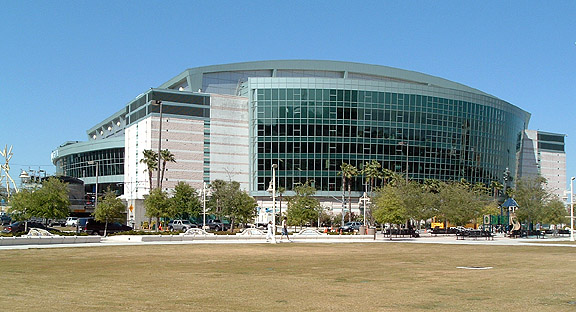 Home of the 2004 Stanley Cup Champions Tampa Bay Lightning National Hockey League team and formerly known as the
"Ice Palace," the St. Pete Times newspaper rescued the facility from its financial woes and thus earned the privilege of
naming the palace in their own honor. Seen here from the south side from Ft. Brooke Park.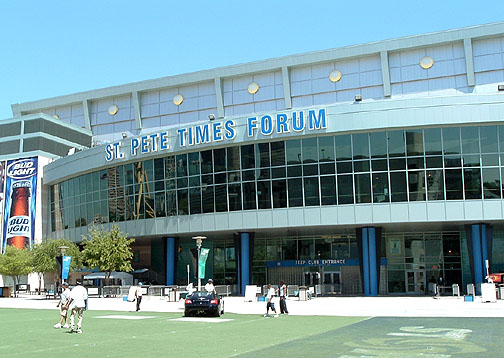 Forum Facts:
The St. Pete Times Forum encompasses 660,000 square feet with three decks and seven separate levels. The building is 133 feet 10 inches in height and 493 feet in diameter. It contains 3,400 tons of steel, 30,000 cubic yards of concrete and 70,000 square feet of glass. The innovative design of the St. Pete Times Forum provides for 19,758 seats for NHL games, 20,500 seats for Basketball games and up to 21,500 seats for concerts and center stage events. Medallions Food Services, a preeminent organization in the food service industry, is the official concessionaire of the St. Pete Times Forum, providing diverse menu items throughout the arena at restaurants MEDALLIONS and ICONS, luxury suites and the concourse concessions. There are 80 luxury suites - 28 on the lower level and 52 on the upper level. There are 20 ticket windows and 22 concession stands. Meetings are easily accommodated through the availability of 4 meeting rooms.
The main entrance on the west side where the box office and will-call window is located.
Read more about the Forum.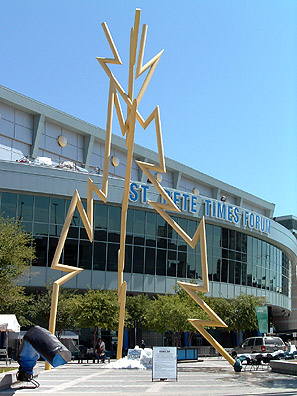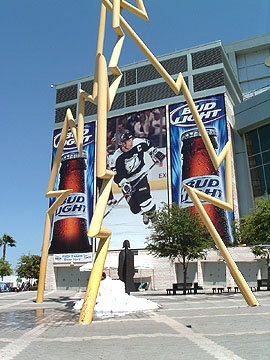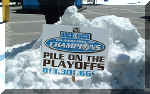 click to read sign in the pile of snow
Read about the lightning sculpture and the artist, Jonathan Borofsky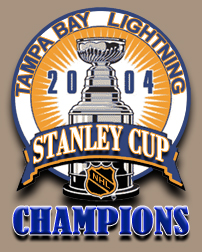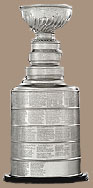 Tampa is riding high on the Lightning's success in the 2003 - 2004 season. GO BOLTS!!!
Read about the lightning bolt sculpture.

See the crowd inside the Forum
on June 9th to celebrate the team's victory.
See the Cup on display at Carlton Fields
---
Channelside 1 Channelside 2 Channelside 3 Channelside 3A Channelside 4 Channelside 5
Channelside 6 Channelside 7 Channelside 8 Channelside 9 Channelside 10
Channelside 11 Channelside 12 Channelside 13 Channelside 14 Channelside 15