CHANNELSIDE DISTRICT - Page 4 - Southern Transportation Plaza Area
---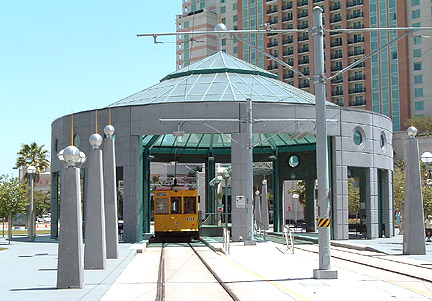 The design of the Southern Transportation Plaza at the west end of the streetcar route is in stark contrast to the old-fashioned style of the cars themselves, but is it really?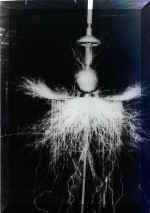 Designers may have been influenced by the experiments of Nikola Tesla, early pioneer of electricity. click-->
Click to see Tesla's business
stationery letterhead from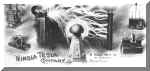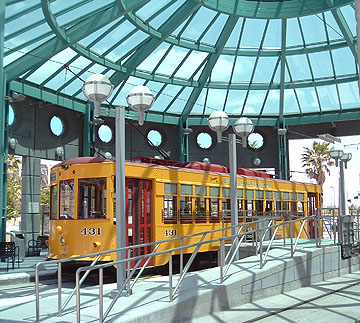 The station's unique roof allows the sun to shine in but reduces the heat. The open air design allows the breeze to blow through so you can still enjoy the best of the Florida weather.
See the similarity of the streetcar station roof to the
Chicago World's Fair Tesla Exhibit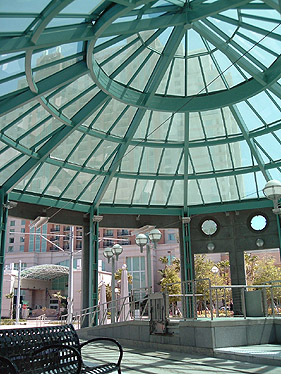 The streetcar line is powered by Tampa Electric CO.

Click above to visit TECO's great website about the streetcar line.
Don't miss these outstanding photos of the Southern
Transportation Plaza from TECO's website.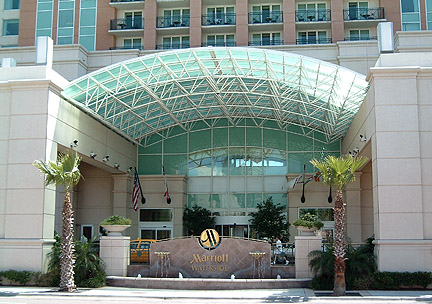 The entrance to the Marriott Waterside is on the north side of the building, facing downtown.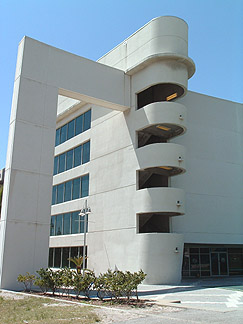 This bizarre structure is the stairwell to the parking garage situated adjacent to the St. Pete Times Forum, home of the Tampa Bay Lightning National Hockey League Team.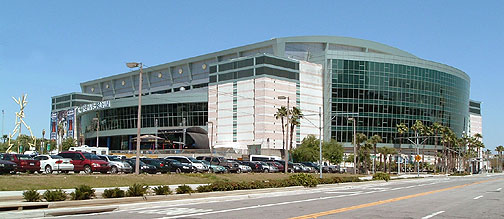 The St. Pete Times Forum, formerly the Ice Palace, is situated on (what else) St. Pete Times Forum Drive.
---
Channelside 1 Channelside 2 Channelside 3 Channelside 3A Channelside 4 Channelside 5
Channelside 6 Channelside 7 Channelside 8 Channelside 9 Channelside 10
Channelside 11 Channelside 12 Channelside 13 Channelside 14 Channelside 15