Fernando Figueredo y Socarrás, The First Mayor of West Tampa
| | |
| --- | --- |
| | |
| Fernando Figueredo | |
Fernando Figueredo y Socarrás was born on February 9, 1846, in Puerto Príncipe, Cuba, the son of Bernardo Figueredo y Tellez and Tomasa Socarras y Varona. Fernando grew up in Bayamo, but was sent to school in Havana in 1862, then to the Troy Academy of Civil Engineering in Hudson, New York, in 1864. In Cuba, Carlos Manuel de Céspedes and others were plotting revolution and Fernando, through letters from his father and discussions with other students, followed the events in Cuba with great interest. In 1868, he left Troy and joined the rebels in Bayamo, eight days after the start of the Ten Years' War.
In 1871, while he was with Céspedes in the midst of the Sierra Maestra mountains, he met Juana Antunez y Antunez, the daughter of Joaquin Antunez and María Caridad Antunez, and in November 1874, they were married by a notary public attached to del Ejército Libertador de Cuba (the Cuban Liberation Army). Shortly afterwards they had their first son, who spent the first three years of his life in the jungles and mountains of Oriente, while his father fought the Spanish.
Fernando Figueredo y Socarrás held several positions of importance in the revolutionary cause, including secretary to the President of the Republic in Arms, Carlos Manuel de Céspedes. When Céspedes was deposed in 1873, Figueredo became Jefe del Estado Mayor de la Primera División del Primer Cuerpo del Ejército de Oriente (Chief of Staff of the 1st Division of the 1st Corps of the Army of Oriente), under Mayor General (Major General) Manuel de Jesús Calvar. He was, next, Secretary to the Cabinet of the Third Presidente de la República de Cuba en Armas, Juán Bautista Spotorno until 1876, when he, Figueredo, was elected a member of the Cámara de Representatives (House of Representatives) por Oriente. By the end of the war he had risen to the rank of colonel.

Figueredo was Secretario del Gobierno Revolucionario (Secretary of the Revolutionary Government) and miembro del Provisional (?) después de la protesta de Baraguá (after the Protest of Baragua) el 14 de Mayo de 1878, and following La Guerra Chiquita (the Tiny War) in 1878, went with his family into exile, first to the Dominican Republic, and in 1881, to Key West.

Carlos Manuel de Céspedes

In the Dominican Republic, in the town of Puerto Plata, Fernando's son, who had survived three years of war in Cuba, died. Soon after, on July 1, 1878, Juana gave birth to their second son, Bernardo Figueredo y Antunez, and Fernando asked his friend, the Monsignor Merino, Archbishop of Santo Domingo, to baptize the new baby. Merino agreed, but then it was discovered that the church wouldn't recognize the marriage of Fernando and Juana that had taken place four years earlier in the Cuban manigua. The solution, said Merino, was that he should remarry them and that, for good measure, they should also be married by a Dominican civil judge. This was done and Fernando wrote about it in his biography many years later as "mis tres bodas" (my three weddings).

After the demise of a rebellion in Cuba in 1880, many rebels went to Key West, and during the next five years the Cuban population there increased significantly; this migration was attributable mainly to the recovering cigar industry. Among the political exiles who arrived, giving the local leadership additional prestige, was Fernando Figueredo, who with Maceo and others, had rejected the Zanjón Pact and had continued fighting until surrender became inevitable.

State Representative Fernando Figueredo, 1885

In 1881, Fernando, Juana, and Bernardo sailed for Key West, and in 1884, Fernando became a US citizen and was soon working as a clerk for the US Customs Service. Along with Lamadriz and Poyo, Figueredo became an influential leader in the community.

Amazingly, that same year he was elected to the Florida House of Representatives from Monroe County. He became active in Key West community affairs and was elected superintendent of public instruction for Monroe County, but "consistently worked on behalf of Cuba Libre." In January, 1892, José Martí and others visited Fernando's home in Key West and there founded the Cuban Revolutionary Party.

In Key West, there was not a single member of the Cuban community who did not look forward to a new revolutionary movement against Spain, and an organization was maintained for that purpose. Messrs. Lamadriz, Poyo and Figueredo were accepted as the leaders of this idea. They organized themselves into political groups called clubs, which were given patriotic names. Every Cuban was expected to belong to one of these clubs, and men, women and children were enrolled in this singular organization. All the clubs sprang from the central committee of Messrs. Lamadriz, Poyo and Figueredo. Even the manufacturers were organized into a political club. Some of the most noted leaders of the former revolution were ever ready to land an expedition in Cuba and start a new revolution.
| | |
| --- | --- |
| | |
| | |
Figueredo presented a series of lectures at San Carlos describing his experience during the Ten Years War. These were subsequently published as "La Revolución de Yara", and provide one of the classic accounts of that struggle. He also founded a short-lived newspaper, "La Voz de Hatuey", whose militancy prompted complaints from the Spanish ambassador in Washington, and criticism from the local Anglo press that condemned what it considered the weekly's advocacy of violence against loyal Spaniards in Key West. Figueredo's activities were clearly calculated to keep the issue of Cuban independence in the public arena.
In 1893, Fernando took a position as a bookkeeper with the O'Halloran Cigar Company in Key West and the next year moved with the firm to West Tampa. Soon, his home at 404 Main Street became the meeting place and office of the Cuban Revolutionary Party. In Tampa, Fernando was "subdelegado del Partido Revolucionario Cubano y agente de la República de Cuba" (subdelegate of the Cuban Revolutionary Party and agent of the Republic of Cuba).
On January 6, 1895, when the Cuban Junta in New York decided to start active hostilities against the Spanish authorities on the island, the instructions were delivered to Fernando in West Tampa for transmission to Cuba. Fernando arranged for the message to be concealed inside a special panatela cigar which was delivered by courier to the leaders in Cuba. On February 24, 1895, the Cuban Revolution began.
The successful development of the area of West Tampa attracted the attention of the city of Tampa, which had incorporated Ybor City in 1887. Although the City of Tampa made several efforts to annex West Tampa, Hugh Macfarlane led opposition to a merger and West Tampa chose to remain independent. On May 18, 1895, a bill passed the state legislature creating West Tampa as a separate municipality. At that time the city already had a population of 2,815.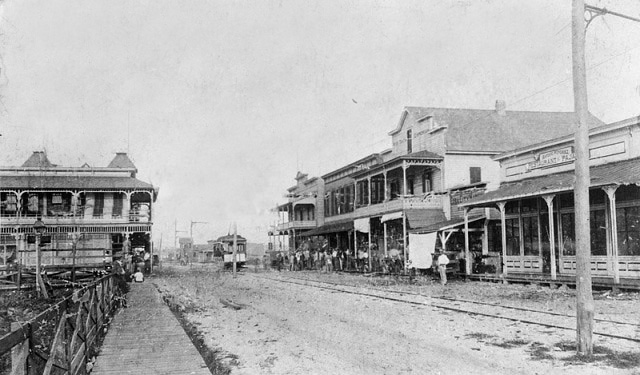 Main Street in West Tampa, circa 1891
In June 1895, Fernando Figueredo was elected as the first mayor of West Tampa and later that same month, when Tampa became headquarters for the Cuban expeditionary forces under General Emilio Nuñez, he was named second in command with the rank of colonel. Fernando tirelessly recruited men and money, leading numerous collections for the Cuban cause in West Tampa factories. Volunteers started pouring into Tampa from all over the US. In 1896 Figueredo and Cuban patriot leader Martin Herrera spoke at a benefit ball for Cuban refugees in Cespedes Hall in Tampa. The Cuban population in Tampa's Ybor City and West Tampa were strong supporters of "Cuba Libre" and when, in April 1898, the US declared war on Spain, Tampa served as the launching point for the invasion fleet. Four months later, with the US victorious over Spain, many of Tampa's Cubans returned to their homeland but Fernando remained in West Tampa as chairman of the West Tampa City Council.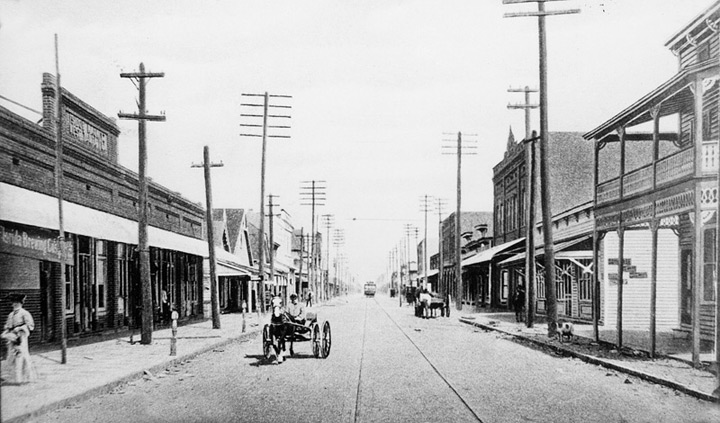 Main Street in West Tampa, 1895

West Tampa houses, 1895
Fernando Figueredo, around the time he was Chairman of West Tampa's City Council

A view of West Tampa's municipal center under construction, "Cespedes Hall", from the Fleitas Cigar Factory on Fremont Ave., 1895. On January 26,1895, work began on Cespedes Hall, a Cuban opera and clubhouse. It was built on the corner of Main Street and Francis Ave. (later renamed Albany Ave.) in West Tampa. The city of West Tampa bought Cespedes Hall in November 1895, when the society was unable to finish it. After completion it was used principally as a public school.

Fernando finally went back to Cuba on December 27, 1898, as deputy collector of customs at Cienfuegos. In March 1899, his family, who had remained in Tampa, joined him in Cienfuegos, and in early 1900, he was appointed sub-secretary of the interior, and moved to Havana. His "La Revolución de Yara", a history of the Ten Years' War, was published in Havana in 1902, and in May of that year, he was appointed director-general of communications by new Cuban president, Estrada Palma.
Cespedes Hall in 1897. In 1898, the building was used as headquarters for the cigar maker Cuban volunteers of the Spanish American War. Figueredo would march the troops to Cespedes Hall daily, where General Lacret was in charge.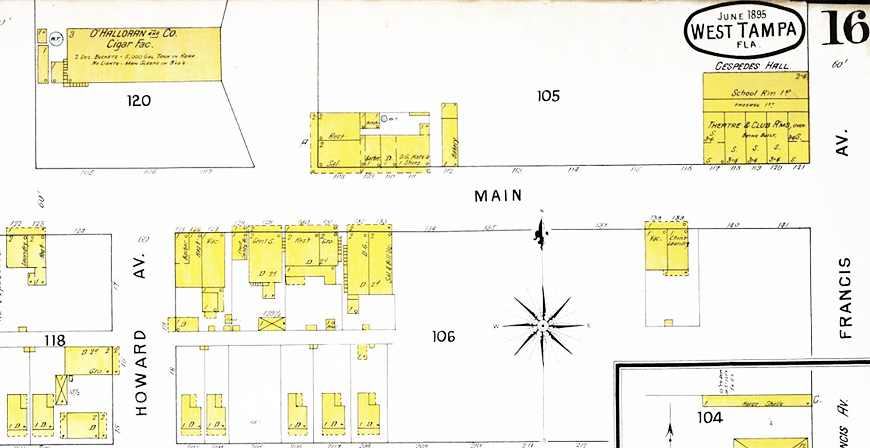 This 1895 fire insurance map of West Tampa shows buildings on Main St. in the area between Howard Ave. and Francis Ave. (Now Albany Ave.) The O'Halloran cigar factory sat in a square in the middle of Howard Ave, which continued northward on the other side of the factory. The small circle next to the factory is a water tank, and the notation on the building states: "2 dozen buckets, 5,000 gal. tank in rear, no lights, man sleeps in b'ld'g. In 1899, West Tampa City Hall and fire station was built on the corner of Main St. and Francis Ave.

Click here to see enlarged images of the factory and Cespedes Hall. You can view this interactive map at the Univ. of Florida digital images.
By 1899, Cespedes Hall had been demolished and West Tampa City Hall was being built in its place, it was the first brick building in West Tampa. This 1899 Sanborn map shows city hall was being built at the time.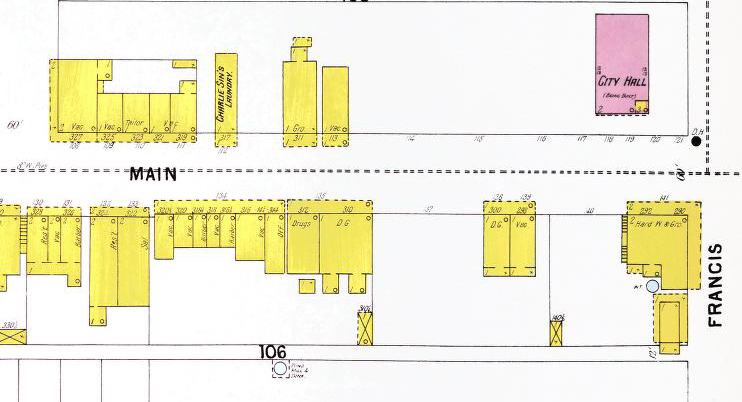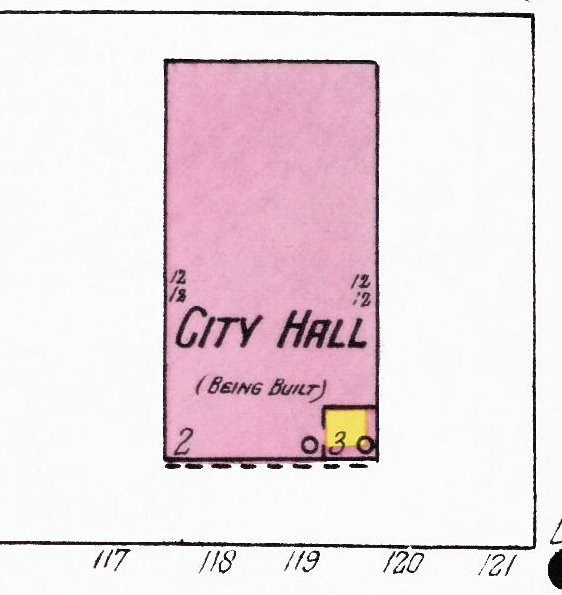 Close up of City Hall on 1899 map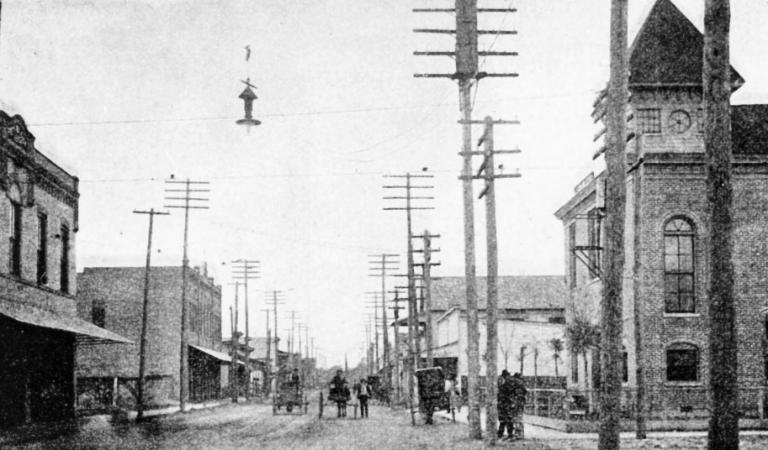 A view looking west on Main Street, circa 1900, with City Hall on the right.
Photo from University of Florida Digital Collection where the photo is dated as 1894.
Sanborn map evidence shows that this photo cannot be from before 1899.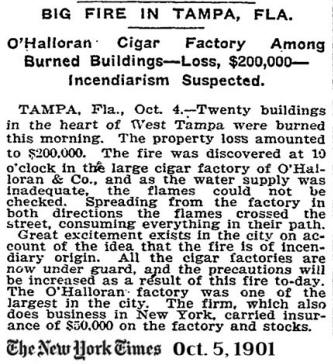 In 1901, a massive fire destroyed the O'Halloran cigar factory and the buildings from Howard Avenue to Francis Avenue (Albany), as a result of arson during a workers strike. In 1902 the Fernandez Brothers opened a factory here. This closed in 1909, and it burned down in May of that year. In 1913, this became the site of the West Tampa Public Library.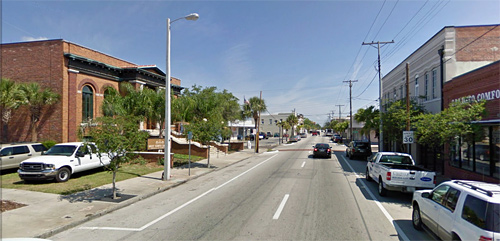 Next time you drive up Howard Ave. from Main St. to Union St., remember, you're driving right through the middle of where the O'Halloran cigar factory stood, and where the "cigar that sparked a revolution" was rolled. The West Tampa branch library on the left and the buildings across the street were built on this historic site.
On April 4, 1904 Robert Mugge's West Tampa saloon caught on fire. The building, located on Pine Street near Howard Avenue, was quickly devoured by the hungry flames, and before volunteer firemen arrived with their hoses reels, the blaze had spread to nearby homes and businesses. Authorities say the fire could have been contained to the initial area, but high winds from the northeast fanned the flames southwestward across Howard Avenue and west down to Armenia Avenue, consuming everything in their path, including the A. Santaella cigar factory at 1906 N. Armenia. The Leopold Powell Company on the northeast corner was spared due to the wind direction, but over 100 homes and 5 factories to the southwest were destroyed. All were constructed of highly flammable wood except for one factory, which was of brick. The high winds, lack of available water sources, and West Tampa's inadequate fire fighting capability were all blamed for the extensive damage. Losses were estimated to be $300,000. Read about this fire in detail from a fire insurance newspaper article from April 20, 1904.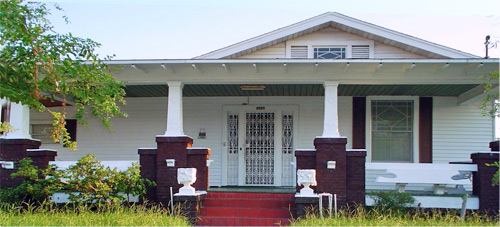 Estanislao F. O'Halloran built this one and one-half story frame home in 1904, at the present address of 2530 Main St., between Armenia and Tampania. It was the residence of his brother, Blas F. O'Halloran and is now the property of a member of the Maseda family.
Visit West Tampa at Tampapix, "A Tour of Howard Avenue" and nearby sights
In 1919, at age 73, Fernando Figueredo posed with Blas Clemente Fernandez O'Halloran, the current mayor of West Tampa. Mayor O'Halloran was a son of Blas Fernandez O'Halloran who rolled the "cigar that sparked a revolution." This photo was likely taken in Cuba. On Feb. 4, 1919, Blas obtained a passport to travel to Cuba.
See images of his application.

At noon on May 20th, 1902, the U.S. Military Governor of Cuba, Gen. Leonard Wood, personally read President Theodore Roosevelt's letter declaring that the U.S. occupation of Cuba was over. At the same time, M.C. Fosnes, Dir. General of Posts for the U.S. administration, turned over all the postal affairs to Col. Fernando Figueredo, first Postmaster General of Cuba. The U.S. flag was lowered in Havana and the Cuban flag was raised.
In 1904, Estrada Palma appointed Fernando Figueredo as Comptroller-General of the Republic of Cuba, and in 1906, during the second intervention of the U.S. Government in Cuba, the American governor- general, Charles A. Magoon, named Fernando Treasurer-General of Cuba following the death of Carlos Roloff. He remained Treasurer-General until the 24th of June, 1924, when he retired.
After his retirement, he wrote historical articles for newspapers and for the Academy of History in Havana, until he died in Havana on April 13, 1929. Fernando and Juana had nine children, Fernando, Pedro, Bernardo, María de la Concepción, Tomasa, María de la Luz, Evangelina, Carmen, and Leonor. On March 17, 1951, the Cuban government issued three postage stamps bearing his portrait.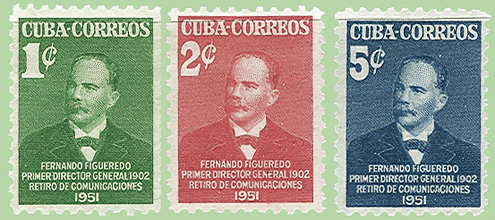 Fernando Figueredo y Socarrás was the first cousin, once removed, of Perucho Figueredo. that is, his grandfather and Perucho's father were brothers. Fernando also had a brother named Felix Figueredo who was another major figure in the Ten Years' War.
Perucho Figueredo, Lawyer, landowner, poet and musician, was born in 1818, in Bayamo. In the 1860s, he was active in the planning of the uprising against the Spanish which became known as the Ten Years' War. In 1867, he wrote La Bayamesa, which, today, is the national anthem of Cuba. He fought in the Ten Years' War as a general under the command of Carlos Manuel de Céspedes, but in 1870, was captured by the Spanish and was executed in Santiago de Cuba on August 17, of that year.
Information Sources
The Cigar That Sparked a Revolution by Tony Pizzo
Cuban Newspapers, "Key West - The Old and the New"
Cuba's Freedom Figher, Antonio Maceo
Tampa Cubanos: race, class and identities
In Darkest Cuba by N. G. Gonzales
Centros de Hoja, stamp collection of Robert Littrell