Robert Mügge and the Spanish-American War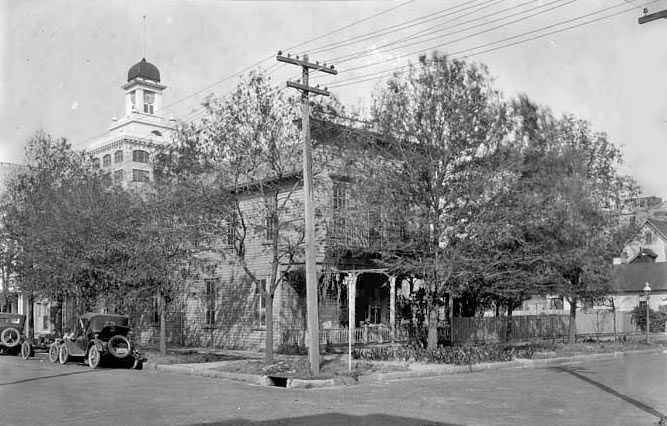 The Mugge home at Jackson & Marion St., 1922
Robert Mugge was a blonde German immigrant who came to America at age 17, departing from Glasgow, Scotland and arriving at the Port of New York on Sept. 19, 1870 on the steamship Iowa. He married in Indiana where he and his wife had 3 children, then decided to move to Cuba for warmer weather, as he was an asthma-sufferer. Probably departing from Mobile by schooner, their ship stopped in Tampa to unload cargo. Around 1875, they arrived in Tampa where Mugge decided he liked the town and decided to stay. Tragically, Robert's wife and three children died in a yellow fever epidemic. He then corresponded with Caroline Rautenstrauch in Germany who later joined him in Tampa and married. Together, they started a large family (nine children that survived, and two who died very young.) More of his family followed soon thereafter, including Louis Mann, his brother-in-law, who was a tailor. Mugge and Mann decided to go into business together and as a sideline they opened a grocery and general merchandise store. Robert was a jeweler by trade. He bought a quarter of a block of land located at the northeast corner of Marion and Jackson streets. According to records in the court house, he paid $50 for it. There he built a two-story wooden building. The store faced Marion Street with rooms for rent on the second floor. The family lived in another two-story building in the rear facing Jackson Street.
Robert Mugge 1900 U.S. Census in Tampa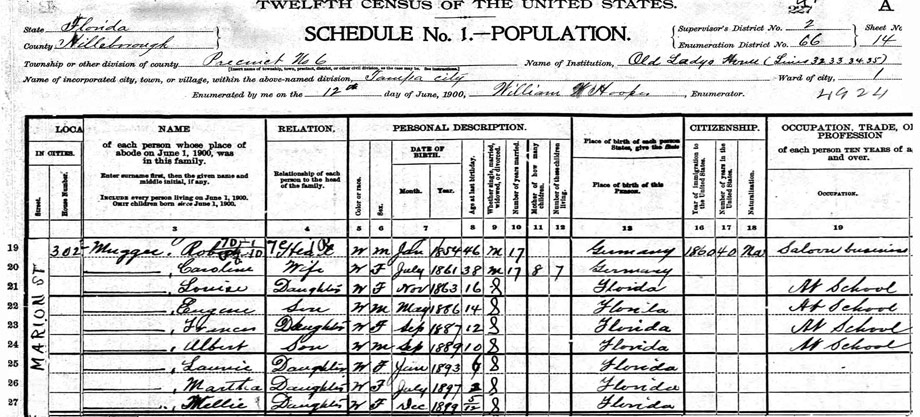 The 1900 US Census shows Robert Mugge living at 302 Marion St. in Tampa. It shows Robert was born in Jan. of 1854 in Germany and was age 46. It shows that he immigrated in 1860, had been in the US for 40 years and was a naturalized citizen, but this information appears to be inaccurate, possibly given by Caroline who was his 2nd wife. Ship passenger records of the SS Iowa show he arrived in 1870. See a portion of the list. He was married to Caroline for 17 years who was the mother of 8 children, with 7 living at the time. Robert's business was "Saloon business." Robert & Caroline's children were listed as Louise, Eugene, Frances, Albert, Lannie, Martha and Willie (age 5 mos.). Their 1910 census shows "Lannie" was actually "Melanie", and also lists one more child born after the 1900 census--Nettie B. The 1910 census provides more detail in regard to middle initials: Louise M., Eugene G., Frances B., August B. (who is of age to have been the "Albert" listed in 1900), Melanie W., Martha W., and Nettie B. A widowed sister of Robert Mugge is also in their home in 1910, Bertha Berger, and a daughter-in-law Wilhemina Mugge. Their 1910 census also indicates that Caroline was Robert's second wife they had been married for 27 years and this was Caroline's first marriage. Louise had been married for 6 years, but her husband is not listed in the household, and Eugene had been married for 3 years; his wife might be Wilhemina. Eugene was a jewelry travelling salesman, and Robert's occupation was wholesale liquor dealer. On the 1920 census, Caroline is widowed, August is married and his wife might be "Minnie" who is listed in the home as daughter-in-law to Caroline. On on the 1930 census, August is found doing quite well in a home valued at $10,000 on Sunset Drive in Suburb Beautiful (today's Bayshore Blvd. area) with wife "Minna"and 4 children. August was the president of a real estate company.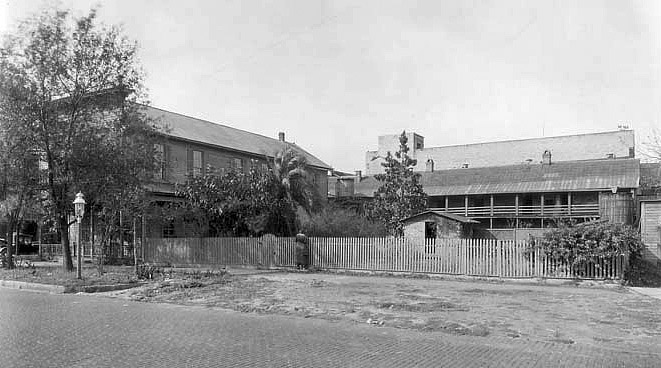 In the ensuing years, Robert Mugge literally helped build Tampa. He was the first to put up street lights in the neighborhood of his home in 1884, he owned a bottling plant near his home, built an electric light plant on Central Ave., an ice manufacturing plant (he bottled for Anheuser-Busch), and opened the first legal distillery in Florida at Cass St. and Central Ave. Mugge became a successful beer distributor for Anheuser-Busch, and successful liquor and wine wholesaler, as well as being a watchmaker and saloon operator. In 1886 the first hand water pump for fighting fires was donated to the city by Mr. Robert Mugge. Known as the Mugge pump it was equipped with 350 feet of two-inch hose and was dragged through the city streets by hand.

The Mugge home and store, 308 Jackson, 1922 and after demolition, below, also in 1922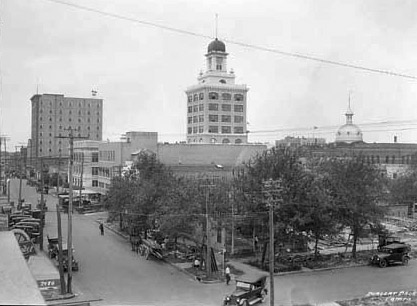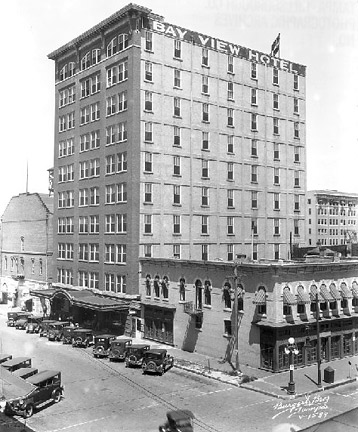 At right, the Mugge property after demolition. The Bay View Hotel can be seen at the left side of the photo on the right.
Mugge built an amusement park and numerous brick homes and buildings in Tampa, including the Bay View Hotel downtown at 218 Jackson St. in 1912. Originally, the hotel was to be a warehouse, but during its construction, Mugge changed his mind. Different from all other hotels of the day, Mugge described it as a cross between a YMCA and and a ten-story barroom. It had 125 rooms and a large, decorated lounge on every floor. At the time the Bay View Hotel was completed, Robert Mugge installed bowling alleys and pool tables on his property on Franklin Street.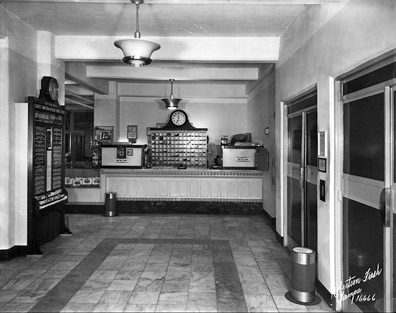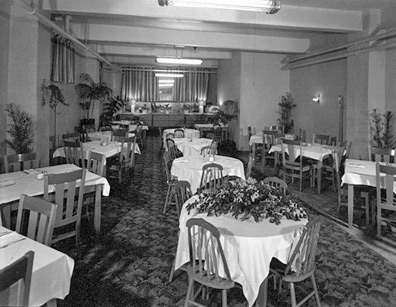 The Bay View front desk in 1942 and Dining Room in 1948
See a full size front view photo of the guest directory seen in the front desk photo, on the left wall.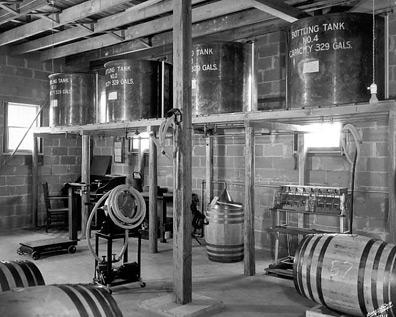 On April 4, 1904 Robert Mugge's West Tampa saloon caught on fire. The building, located on Pine Street near Howard Avenue, was quickly devoured by the hungry flames, and before volunteer firemen arrived with their hoses reels, the blaze had spread to nearby homes and businesses. Authorities say the fire could have been contained to the initial area, but high winds from the northeast fanned the flames southwestward across Howard Avenue and west down to Armenia Avenue, consuming everything in their path, including the A. Santaella cigar factory at 1906 N. Armenia. The Leopold Powell Company on the northeast corner was spared due to the wind direction, but over 100 homes and 5 factories to the southwest were destroyed. All were constructed of highly flammable wood except for one factory, which was of brick. The high winds, lack of available water sources, and West Tampa's inadequate fire fighting capability were all blamed for the extensive damage. Losses were estimated to be $200,000. Read about this fire in detail.
Visit "Tampa's Bravest", a website dedicated to the history of Tampa's firefighters
Mugge Wholesale Liquors at 4190 E. Hillsborough Ave., 1935 (above) and 1937 (below)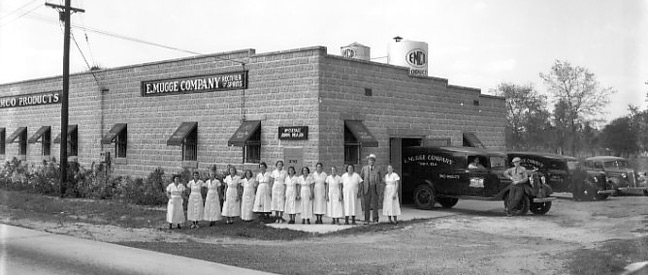 In 1898, during the Spanish-American War, American troops were brought to Tampa by rail and they marched up Franklin Street to the northern part of the city where many were encamped. The camp was in the neighborhood of Michigan Avenue (now Columbus Drive). The soldiers were mostly volunteers from the west and were commanded by General Shafter, who had his headquarters in the Tampa Bay Hotel. Robert Mugge built a large saloon in an orange grove near the camp. The contractor had to build the entire structure in one day, including fixtures. The counter had a length of 80 feet and the soldiers were served by eight bartenders. It was open at all times and was known as the "Noah's Ark."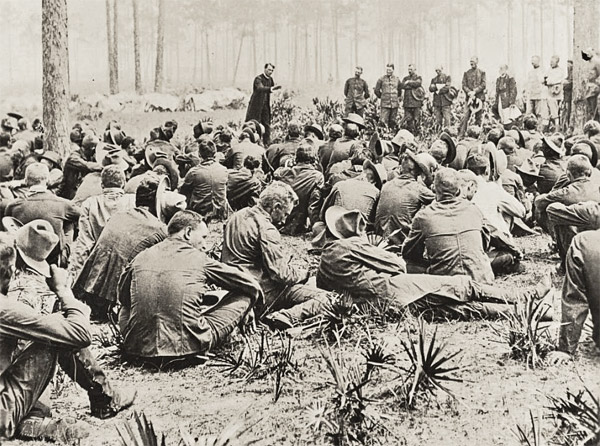 Rough Riders listening to a service delivered by chaplain Henry A. Brown, with Theodore Roosevelt, Leonard Wood, Joseph Wheeler and other officers standing next to the tree in the right of the photograph.
When Tampa was first mentioned as an embarkation for the troops, Robert Mugge, who owned the franchise for selling August Busch's Budweiser beer on Florida's west coast, anticipated the arrival of 30,000 potential customers, courtesy of the U. S. government. He wired the Anheuser-Busch main office for a trainload of beer. An indignant Busch wired back: "There will not be a war and we do not sell beer by the trainload." But there was a war and he got beer by the trainload, and he sold every drop of it. The "Green Goose Saloon" in Port Tampa also was supplied. The soldiers embarked from Port Tampa for Cuba, in all about 50,000 men. On the day the treaty was signed in August, the Noah's Ark was destroyed by fire.
Robert Mugge - The Man
Clad only with an undershirt, trousers, shoes and coat, Mugge would conduct his business. He wore bluish linen clothes, winter and summer the same and he was spotlessly clean. He was endowed with boundless energy, going full speed an average of 18 hours out of 24. He never employed a bookkeeper, nor owned a typewriter or adding machine. His office was a small space in the center of the wholesale establishment on Franklin Street where you could see a high desk with a stool and in the back of this, a small table and arm-chair. He transferred by hand from the order book to the bills which had to be collected on Monday morning. All letters were written by hand, no receipts kept, he had a remarkable memory and could give you an answer at a moment's notice. He could talk with you while he was writing letters or listening over the phone. At this time he would converse with Mr. Davidson, his plumbers or electricians in reference to a building under construction. He would read the daily papers while he was eating. In 1901 he became a member of the Board of Public Works. He aided many worthy causes, among them the Children's Home located on Washington and Marion Streets. His name appeared on the list of the month as one of the highest contributors.
Mugge died Dec. 17, 1915, at age 63, and was buried in a newly acquired family plot in Woodlawn Cemetery. The funeral was reported to be one of the largest ever held in Tampa and was held from the family home on a Sunday morning. Robert Mugge devoted his life to the building of Tampa which he loved so well. He would invest every dollar he made in Tampa thereby giving employment to thousands of breadwinners. He was a law-abiding citizen and would not tolerate any violation of any kind by his employees. He and his estate in later years paid well over $1,000,000 in City and County taxes in addition to a large number of occupational licenses. Read more about the amazing Robert Mugge, the man and his contributions to Tampa.
The story behind the painting of Robert Mugge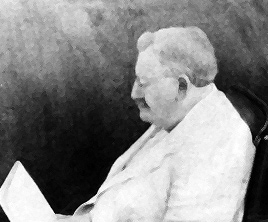 At the time the Bay View Hotel was completed, Robert Mugge installed bowling alleys and pool tables on his property on Franklin Street. On a Sunday morning in 1915, a photographer appeared and wished to take a picture of the alleys. On the finished picture, in the left-hand corner, appeared Robert Mugge reading the newspaper. This being the only picture of Mr. Mugge known to be in existence, the photographer enlarged the picture and shaded in the background dark. A few years following Mr. Mugge's death, his son August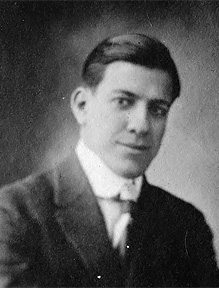 Mugge observed some paintings of former Tampa mayors on the walls of various council chambers. He secured the name of the artist from former Mayor D.B. McKay. A German artist, Wilhelm Teschner, was given permission to paint, in oil, this enlarged picture at a cost of $25. The artist had received small advances on the promised $25 and when the picture was finished the family was so well pleased they gave him an additional $75. A few months later the artist's body was found in an attic in Ybor City, with a brush and palette in his hands. He must have died of a heart attack. Since the artist had no relatives, the City of Tampa provided a lot in Woodlawn Cemetery and friends donated money to pay for funeral expenses. A Methodist minister officiated.
Apparently, no one was aware of, or had forgotten about, this portrait taken of Robert Mugge by the Burgert Brothers photographers in 1899. The photo is part of the "Tony Pizzo" collection at the University of Florida Digital Collections, George A. Smathers Library. The photo was originally posted as "A Portrait of Robert Hugge" but upon contacting the librarian, a re-check of the back of the photo revealed that "Hugge" was a typo and it was indeed "Mugge." Although the title was corrected, the citation still carries the misspelling, "Hugge". See the citation and link to the full size photo here. Mr. Pizzo was an accomplished Tampa historian whose photos were donated to several library archives in Florida. Other photos from Mr. Pizzo's collection can be found at the University of South Florida Special Collections and the Florida Memory Project.
See a photo taken in 1899, here at Tampapix, which shows "Robert Mugge Corner" in Ybor City. So named because of one of his saloons on the corner of 7th Avenue and 15th Street.

---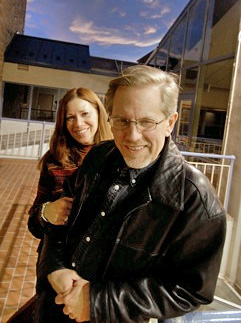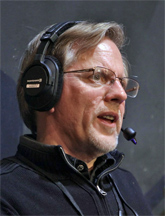 Robert Mugge's great-grandson, also named Robert Mugge, is an accomplished veteran music filmmaker known the world over. He's received countless honors and accolades for his work in the music documentary film industry and is holder of the Edmund F. and Virginia B. Ball Chair in Telecommunications at Ball State University.
If you're wondering how to pronounce his surname, he says it's pronounced "Muggy, like the weather." Read more about Robert at his website.
At left, Robert directs the filming of a concert around 2010,
photo by Chris Bergin for the Muncie Star Press.
At right, Robert and his wife/production partner Diana Zelman at the
Starz Denver International Film Festival. Photo by Larry Laszlo for the festival.
Don't miss Robert's website at www.robertmugge.com!