Macfarlane Park
1720 N. MacDill Avenue
Hours: Sunrise to Sunset
Park amenities include picnic tables, grills, restrooms, ball fields, play courts, tennis and racquetball courts, a playground, and the David Barksdale Senior Citizen Center. MacFarlane park is located between MacDill and Lincoln Avenues, bordered by Spruce Street on the north.
The main entrance on MacDill Avenue is marked by this unique archway. The land for the park was donated by Hugh Macfarlane in 1908. This archway has been standing since 1909.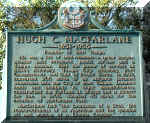 Click to read about Hugh MacFarlane