6th and final wife of King Henry VIII

Mouse-over photo for another view of the Queen with Sir Vincent Roswell
Catherine was born around 1512 at Kendal Castle in Westmorland, North West England, where her ancestors had resided since the fourteenth century. She was the eldest child of Sir Thomas Parr and Lady Maud Green. She had a younger brother, William Parr, and a sister, Anne Parr, Lady Herbert.
As a child, Catherine was groomed to be an exemplary noblewoman with a love of learning and a modest demeanor, which were to serve her well throughout her life. Out of the many suitors for Katherine's hand, her mother finally chose Edward, second Baron Borough of Gainsborough in Lincolnshire. At the time of the marriage in 1527, he was around 63 years old, old enough to be Catherine's grandfather—Catherine was 15. While the idea is revolting to us today, and doubtless was to Catherine herself, such disparately aged matches were not unusual in the day. Money, land, and title made marriages, and details of age or agreeability to both partners rarely entered the equation. Catherine Parr moved to live with her husband as stepmother to his children from his previous marriage; children who were old enough to have fathered her. Lord Borough died in 1528 and so Catherine was widowed at about age 16.
In 1529, Catherine's mother passed away, leaving a considerable fortune to Katherine. In the summer of 1534, she married John Neville, 3rd Baron Latymer of Snape, North Yorkshire. He had been twice married, he was 41, she was 22. As Lady Latimer, Catherine moved to her husband's household at Snape Castle in Yorkshire. In 1536, during the Pilgrimage of Grace, Catherine was held hostage by northern rebels, along with her two stepchildren. From the autumn of 1542, Lord Latimer's health began to fail. In early 1543, when Latimer's impending demise became apparent, King Henry VIII began to court Katharine. After Lord Latimer's death, Catherine stayed on at court, not for Henry, but because of a flirtation with the dashing Sir Thomas Seymour. He was thirty-seven to her thirty-one, brother of the late Queen Jane Seymour, and uncle to Prince Edward. They were mutually attracted, and began to discuss marriage. The King, however, wanted Catherine for himself and was jealous. Catherine was not interested and had no interest in becoming Queen, or indeed wife number six to a man of questionable track record. In May 1543, King Henry, customarily ruthless, sent Thomas Seymour to Brussels on a permanent embassy, and began his advances in earnest. Around July, the King proposed to Katharine. Feeling she hadn't much choice, she finally acquiesced. The marriage took place in a private ceremony on July 12, 1543, at Hampton Court.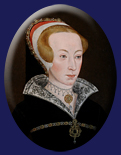 .
Following Henry's death in 1547, Catherine was able to marry her old love, Thomas Seymour, 1st Baron Seymour of Sudeley and Lord High Admiral. Having had no children from her first three marriages, Catherine became pregnant for the first time, by Seymour, at age thirty-five. Catherine gave birth to her only child - a daughter, Mary Seymour - on 30 August 1548, but Catherine died only six days later, on 5 September 1548, at Sudeley Castle in Gloucestershire, from what is thought to be puerperal fever or puerperal sepsis, also called childbed fever.
Official Webbe Site of the British Monarchy