This intriguing but beleaguered example of Mid-Century Modern architecture was the optimistic expression of "Mr. West Tampa," George Guida, at the height of his life. Guida's role as a contractor and owner of a home furnishings and decorating business gave him access to the early-1950s design trends du jour — curved facade, ribbon windows, snappy tiles — and his home, built adjacent to Macfarlane Park, showed them off. The founder of the Central Bank of Tampa, Guida built Jesuit High School, Rey Park and a number of other civic buildings, he made his home a gathering spot for the movers and shakers of West Tampa as well as a showplace for modern design.
In 1984,** after the interstate split West Tampa in two, the yellow brick structure was acquired by the City of Tampa, which intended to add to the park area by demolishing the house. Fortunately, a group formed to protect the building and it was designated a local landmark in 2004.

Tampa Preservation, Inc. came to the rescue with funding to "mothball" the residence until a user came forward. TPI President Becky Clarke explained, "Like the people of West Tampa, the Guida House is special, and its architecture and history deserve protection."

Everyone agrees that the best reuse for this property would be as an event space for weddings and other special occasions.
The City of Tampa issued a request for proposals (RFP) in 2009, which was not a great time for real estate deals. Nothing happened. Jason Busto, longtime advocate for West Tampa, observed, "People spent time, money and hope to protect the Guida House and we turned it over to the City in good faith." The Mayor's Office promises to issue another RFP, but doesn't give a timetable.

Okay, Mayor Buckhorn. Let's move on putting this building out there to get fixed up and earn its keep!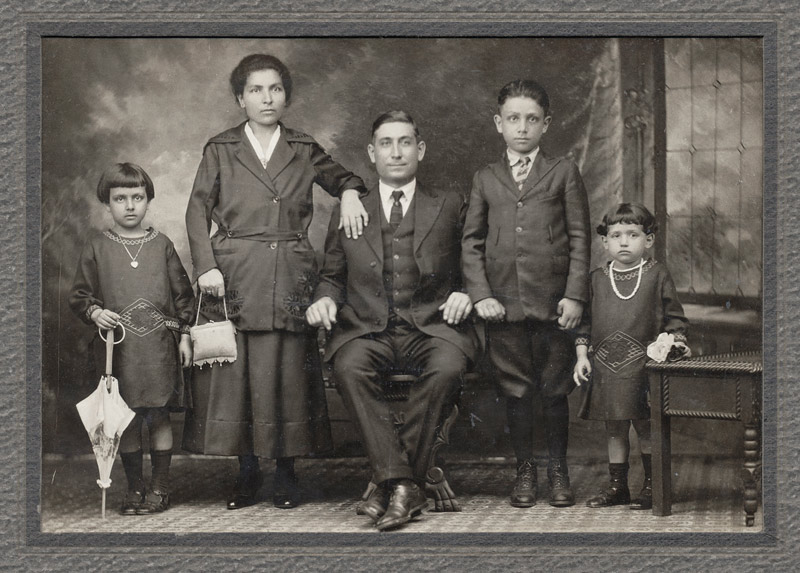 Francesco and Maria Guida, with their children (L to R) Mary, George and Fulmena, circa 1924.
Francesco was born in Allesandria, Sicily in 1888. He came to America in 1911 and worked as a cigar maker until
1933, at which time he opened G & G Grocery at 724 LaSalle in West Tampa.
The 1933 city directory is the last one that shows Francesco was a cigar maker. His son George worked for Sol Simovitz starting in 1929 as a clerk.
In 1934, 1935 and 1936, city directories show Francesco, wife Mary J., and their business, G & G Grocery (listed at 724 LaSalle in the Grocers section.) Son George still worked as a salesman for Sol Simovitz.

"Let George Do It"
By Maura Barrios, West Tampa historian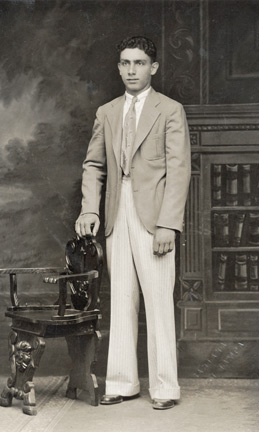 A young George Guida, circa 1934
Photo courtesy of Marilyn Favata Messina
George Guida's father Francesco, a Sicilian immigrant, operated the F. M. Guida Grocery store at the southeast corner of Howard and Salle until his death in 1965. George left school to work in his father's grocery store during the Depression, an experience shared by many of West Tampa's children of the Great Depression era. The Guida family, as with many West Tampa families, engaged in practices that maintained ethnic traditions and values. As they did in Sicily, the family kept chicken, goats and cows in their domestic space, and children became workers in their early years.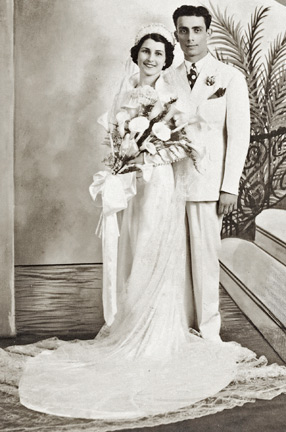 George Guida and Palmira Priede wedding photo, 1938, courtesy of Marilyn Favata Messina
Palmira was a daughter of Andres and Trinidad Priede, Spanish & Cuban immigrants. Palmira had several brothers & sisters: Palmiro, Jose, Violeta, Zenaida, Azulina, Palmira, Rosa, and Andres Jr.
When George and Palmira Priede were married in 1938, they took a chance on a floor covering and Venetian blind store in Roberts City, on Fortune Street. With some success, they decided to move into a commercial space in a former post office at Howard and Union Streets. There, the couple and their children occupied the apartment on the second floor. Their new store offered West Tampa a place for home improvement and modernization by adding air conditioners, kitchen appliances, and home decorating tools such as wallpaper and paint to their inventory.
Though George was offered land on Dale Mabry and Cypress Street to expand his enterprise, he had a deep commitment to West Tampa. He purchased and remodeled the 10,000 feet of commercial space that had been vacated by the A&P grocery store. Within this new space, George added construction services and materials to his inventory.
The patterned tile floors guided shoppers through display areas of the latest in home furnishings, appliances, imported ceramic tile. The store became the place where families' first televisions and air conditioners were purchased, creating sentimental memories that connect Guida with the comforts of home. Furthermore, Guida's wise business policies including lay-away and time-payment policies allowed the working-class community access to modern comforts.
As part of George's marketing plan, he kept televisions on in the evenings to entertain the neighborhood residents who brought chairs and café con leche to watch episodes of I Love Lucy.
At right, George and Palmira Guida with their children, Frank, George Jr. ("Bebe"), Lorraine, Geraldine and Gida. Photo courtesy of Marilyn Favata Messina
| | |
| --- | --- |
| Now, the Guida's store on Howard Avenue in West Tampa is home to the Center for Affordable Homeownership and the West Tampa Community Development Corp. Photo below by Maura Barrios. | The curved storefront windows have been replaced by glass tiles. |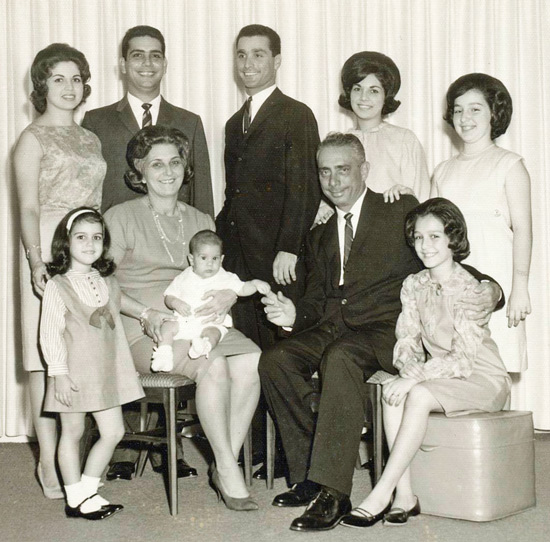 George and Palmira Guida family
Palmira and George Guida, seated.

Behind Palmira, their son Frank, with his wife next to him. Their children are next to Palmira and on her lap.
Standing at center, George "Bebe" Guida, Jr.
Behind George Sr., daughter Lorraine. On the end standing are her sisters, Geraldine and Gida.
Photo courtesy of Marilyn Favata Messina