Place your cursor on the image to see the reverse side.
The 'Victory' note series was printed in 1944, to be used upon the return of MacArthur. When he came ashore in Leyte on Oct. 20th, 1944, he was purportedly carrying some of these in his pocket.
According to a BEP report the number 66 (for the series) was chosen because that was President Quezons age when he died just prior to the liberation of the Philippines.
VICTORY notes were printed at the U.S. BUREAU of Engraving and Printing- the last Philippine currency printed by the US. Replacement notes are indicated by a star prefix to the serial number. There are also signature combinations which are harder to find.
The signature combinations are as follows, the first being this sample:
S. Osmena (President) and J. Hernandez (Auditor General) most common, 61,192,000 were delivered.
S. Osmena and M. Guevara (w/ title of Treasurer) [100 & 500 only - rare]
M. Roxas and M. Guevara (not found on 1, 5 or 10 - rarest on others)
Nederlandsch-Indie One Gulden Note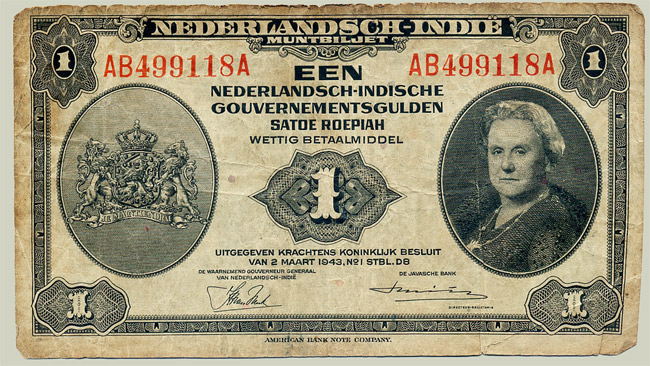 Dutch East Indies One Gulden Note
Fine print at bottom center reads "American Bank Note Company"
Place your cursor on the image to see the reverse side.

The Dutch East Indies was a Dutch colony that became modern Indonesia following World War II. It was formed from the nationalized colonies of the Dutch East India Company, which came under the administration of the Dutch government in 1800. Capital: Jakarta
On the left, the State Coat of Arms of the Netherlands, with motto "Je Maintiendrai" ("I will maintain") as a tribute to the great heroism of the Dutch and the House of Orange and Nassau against the tyranny of Spain, France, and Germany. Queen Wilhelmina on the right. Wilhelmina (Wilhelmina Helena Pauline Maria; 31 August 1880 – 28 November 1962) was Queen of the Kingdom of the Netherlands from 1890 to 1948. She reigned for nearly 58 years, longer than any other Dutch monarch. Her reign saw World War I and World War II, the economic crisis of 1933, and the decline of the Netherlands as a major colonial power. Outside the Netherlands she is primarily remembered for her role in World War II, in which she proved to be a great inspiration to the Dutch resistance.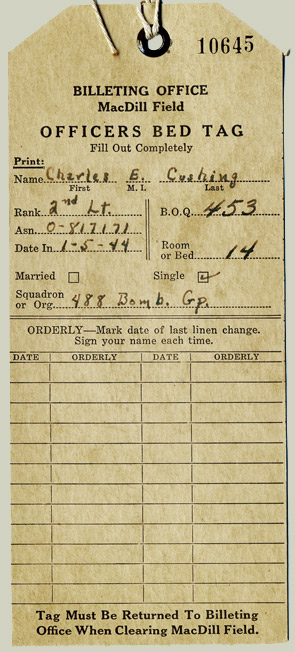 Officers Bed Tag, MacDill Field
Jan. 5, 1044
Home Photos Books & Magazines Documents
Objects:
Medals & Awards Buttons & Patches Pins ID & Club Cards Misc.

Related TampaPix Features:
Drew Field Echoes - A History of the Army airbase and Tampa's first international airport

MacDill Air Force Base History and 1976 Air Show