C

harles Edward Cushing was born on Jan. 14, 1922 in Pittsburgh, Pa. He was the 9th** of eleven children of Pittsburgh natives Mark Andrew Cushing and Elizabeth M. Doran Cushing.

Mark Cushing and Elizabeth Doran married on Oct. 17, 1906 and lived on E. Hutchinson Ave. in the Edgewood Borough of Pittsburgh in 1910 with their children Jane and Mark Jr., and Elizabeth's brother and sister, Charles J. Doran and Jane Doran. Mark Cushing, Sr. was a machinist in a machine shop.

In 1920 Charles' parents lived at 1106 South Avenue in Wilkinsburg Borough with their first five children and Elizabeth's sister, Jane Doran. Mark worked as a grocery shipping clerk.

In 1930 Mark and Elizabeth Cushing were still living at 1106 South Avenue with 8 of their children, including 8 year old Charles, and Elizabeth's sister Jane Doran. Mark Cushing, Sr. was an agent in an insurance office.

The Cushing Family

| | |
| --- | --- |
| Mark Andrew Cushing | 1881 |
| Elizabeth M. Doran | 1884 |
| 1. Mary Jane | 1907 |
| 2. Mark Andrew Jr. | 1908 |
| 3. Elizabeth | 1910 |
| 4. Catherine | 1912 |
| 5. Anne | 1914 |
| 6. Mary | 1915 |
| 7. Joseph | 1917 |
| 8. Frances | 1920 |
| 9. Charles Edward | 1922 |
| 10. Ruth | 1925 |
| 11. Rita | 1925 |


**By the time Charles was born, Elizabeth had died of the influenza that was sweeping the country in 1918, Joseph had died of pneumonia in 1919, and Anne had died when she was hit by a motor vehicle in 1921.


Charles with his parents, Elizabeth and Mark A. Cushing
March, 1945

In 1940, Mark and Elizabeth lived at 7217 Hermitage Street in Pittsburgh with 7 of their children. Only their daughter Jane was not living with them. Mark worked as a shipper for Felix Half & Bro. Company, a wholesale carpet, rugs and linoleum company. After high school, in 1941, Charles worked briefly in a factory.

Charles' paternal grandparents were Pa. natives Maurice Cushing (b. 1852) and Margaret (b.1855). In 1900, Maurice and Margaret lived in the Wilkinsburg Borough of Allegheny County, Pa. with their eight children, including Mark. Both parents of Maurice and Margaret were from Ireland.

Charles' maternal grandparents were Michael Doran (b. ca. 1848, Pa.) and Katherine (b. ca. 1849, Ireland.) In the 1880s, Michael and Kate and their daughter Elizabeth lived in Altoona, Blair Co., Pa. where Michael worked as an engineer for the Pennsylvania Railroad. All parents of Michael and Katherine were born in Ireland.

From 1940 to 1942, Charles worked as a machine shop inspector for Mine Safety Appliances on Braddock Ave. in Pittsburgh.

---

Charles E. Cushing Military Career
Charles joined the U.S. Army Air Force in Pittsburgh on Aug. 13, 1942 at the age of 20. He underwent preflight training at Maxwell Field, Ala. (Apr. - Jun. 1943), primary training at Harris Field, Mo. (Jul. 1943), and student pilot basic training at Malden Army Air Field, Mo. (Aug. & Sep. 1943). After his advanced training at Stuttgart Army Air Field, Ark. (Oct. & Nov. 1943) and bomber training at Avon Park, Fla., He was stationed at MacDill Field, Tampa (Jan. 1944 through March, 1944). In early April of 1944 he was transferred to Hunters Field, Savannah, Ga. staging wing and in the same month, Langley, Va. where he flew several sub patrols. From May 22 through June 2, 1944, he flew from Langley, Va. to Bangor, Me. to Newfoundland, Canada to the Azores to Lands End, Eng. to Thurleigh Air Field, Bedford, England on June 7, 1943.

From Jun. 16, 1944 through Jan. 1945 Charles served as a 2nd Lt./co-pilot, and 1st Lt./pilot on thirty-five B-17G bomber missions (sorties) in the 8th AAF, 1st Div., 306th Bomb Group, 367 Squadron from Thurleigh Air Field near Bedford, England, into enemy occupied territory in Germany and France. He returned to the U.S. in early Feb. of 1945 and was stationed in Miami Beach, FL. In mid-March he was transferred to Hendricks Field in Sebring, FL. where he trained to fly special mission and other planes. In late-April 1945, he was transferred to Romulus AAF, Mich. and flew various other types of bombers and cargo planes for the puirpose of transporting them in the ATC (Air Transport Command) 553rd Wing. He continued in service to the Army Air Force in this capacity until is discharge on Oct. 26, 1945 at Romulus, Mich. He was 23 years old.

On Oct. 1, 1946, Charles married Helen Marie Klaus, daughter of William Nicholas Klaus and Helen Marie Cassidy.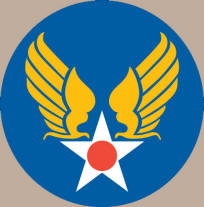 The United States Army Air Forces (USAAF or AAF) was the military aviation service of the United States of America during and immediately after World War II. It was successor to the United States Army Air Corps and the direct predecessor of the United States Air Force. The AAF was created in June, 1941 as a component of the United States Army, which in 1942 was divided functionally by executive order into three autonomous forces: the Army Ground Forces, the Services of Supply (which in 1943 became the Army Service Forces), and the Army Air Forces. Each of these forces had a commanding general who reported directly to the Army Chief of Staff.

The peak size of the AAF during the Second World War was over 2.4 million men and women in service and nearly 80,000 aircraft by 1944, and 783 domestic bases in December 1943. By "V-E Day" (Victory in Europe), the Army Air Forces had 1.25 million men stationed overseas and operated from more than 1,600 airfields worldwide. (Information and image from U.S. Army Air Forces at Wikipedia.)