The photo caption on the right now refers to Master Otter, f.k.a. Buddy, now is "Otto."

Below, Pat is referred to only as "the big brown bear." The constant pacing is a sign of a mental stress due to repeated attempts to deal with a problem-- Like confinement in an insufficient living space.
TOURIST REGISTRATION & INFORMATION CENTER
The tourist registration/information center at Plant Park was located near the entrance of Lafayette St. It also served as the park office where the horned toad was first kept.
Jan. 10, 1936 Burgert Bros. photo courtesy of the Tampa-Hillsborough Co. Public Library System.
Sept. 4, 1936 Burgert Bros. photos courtesy of the Tampa-Hillsborough Co. Public Library System.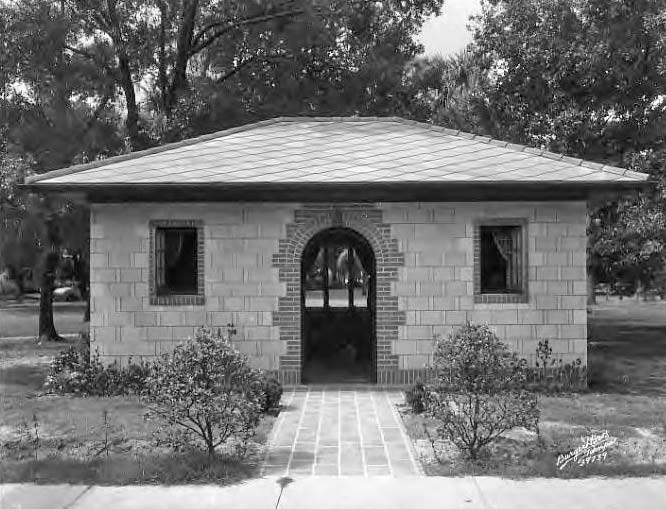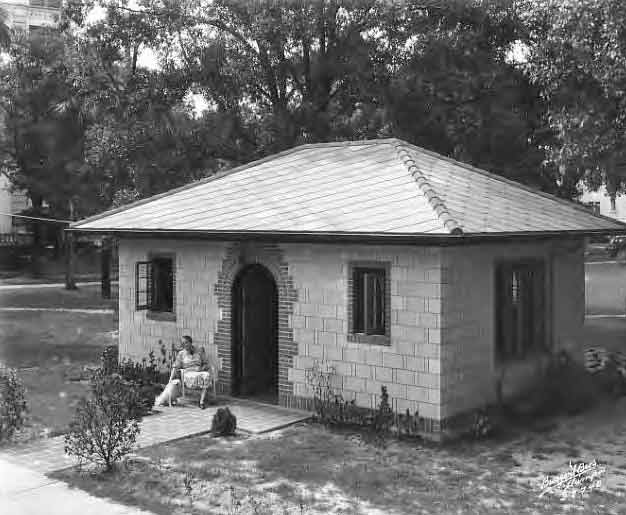 THE BEAR CAVE

This appears to be Pat, based on the appearance of Pat in the previous photo of Jul. 14, 1936.

ESCAPED PLANT PARK GATOR SHOT AT DAVIS ISLANDS

An alligator which frequently escaped from Plant Park was seen in a canal at Davis Islands in early Nov. 1934 by a park employee who was unable to net him. When he was away getting help, someone fatally shot the gator.

MARCO PENN CREATED FIVE NEW PARKS IN PAST FOUR YEARS
A recent project of the Parks Dept. is improvements to the zoo "where animals shown include TWO bears, alligators and Mexican tiger."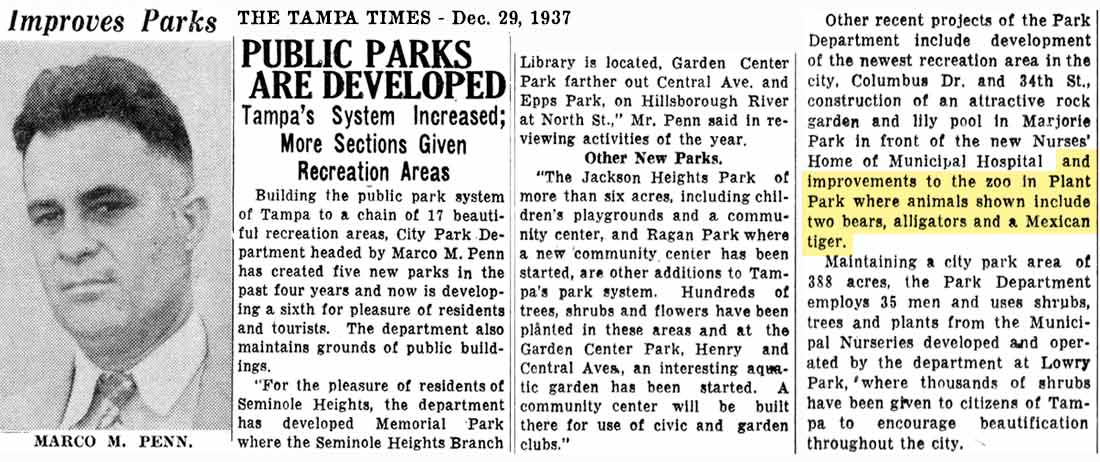 THE BEARS HAVE A BRIEF SPARRING MATCH
Pat and Suzy duke it out.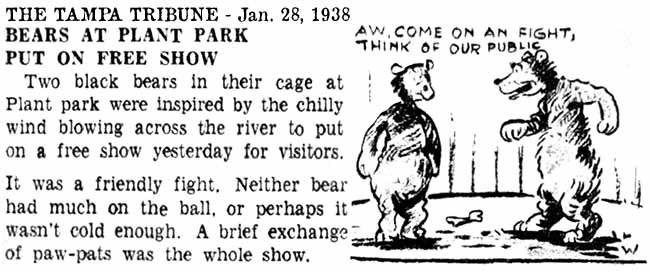 THE PLANT PARK BEARS MENTIONED BY NAME, PAT & SUZY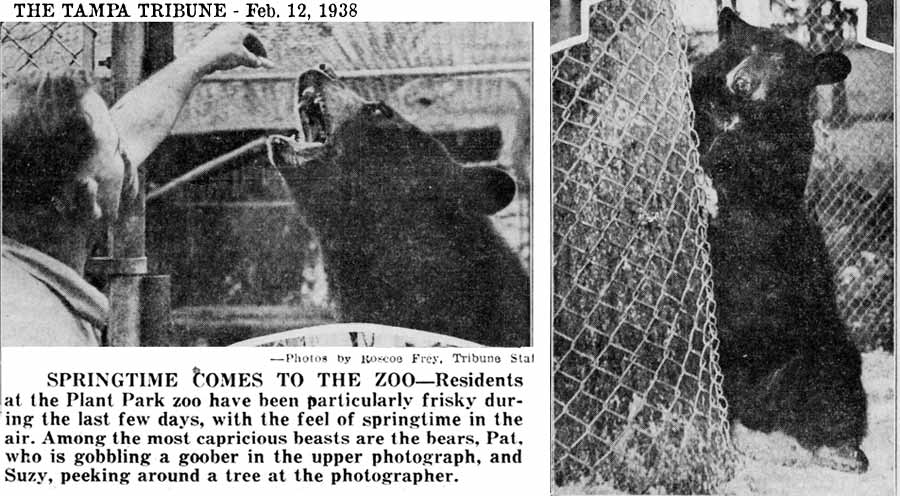 TURTLES ORDERED

Feb. 1938 - Marco Penn arranged with a Tarpon Springs diver to bring 600-lb. turtles for the zoo. He had already begun to build a big tidewater pool near the lower end of Bear creek

LIONS OFFERED FOR SALE TO ZOO

April 1938 - A Ft. Lauderdale lion farm offered the City of Tampa two lion cubs named Wally and Edward "at a most reasonable figure."

Mayor Chancey turned down the offer saying he didn't think the Tampa zoo was "quite pretentious enough" and the habitat requirements would be beyond the City's capability.


VISITOR SAYS BEAR HABITAT INSUFFICIENT

June 1938 - A man from Ossining, NY who spent several weeks in Tampa wrote the Tribune with concerns about the tight confinement of the bears. Again, Pat is described as pacing back and forth for about ten feet until he wore a rut in the ground. Mr. Cornell suggests a larger cage and asked what happened to the bird cages that were in the park. When a visitor remarks that an animal enclosure needs improvement, it must be pretty bad.

THE GATOR THAT GOT AWAY IN 1934 IS FOUND IN 1938

It turns out that "Buck," the alligator that got away in the river in 1934 came back and took up residence under the former Tampa Bay Hotel building, which had become home to the University of Tampa in 1933. It is believed that it was living off rats and occasionally swimming out via the sewer into the river for fish.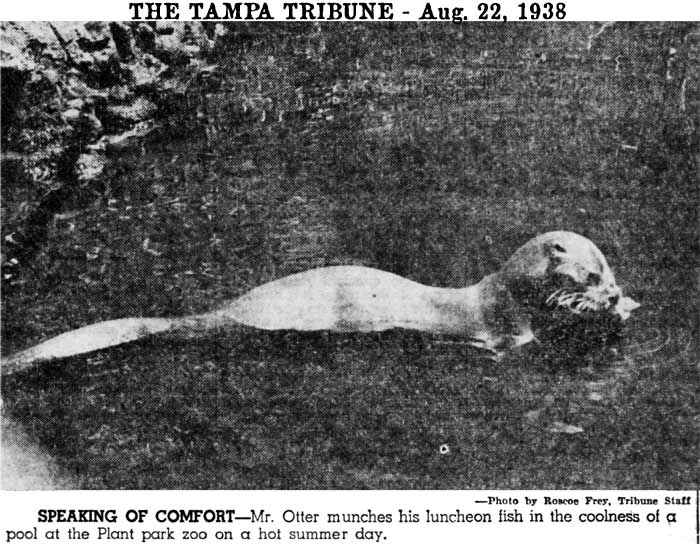 NO SOUP FOR TURTLE

In Sep. 1938 a 300-lb. loggerhead turtle was captured in Old Tampa Bay and added as an exhibit at the Plant Park Zoo.

RATS ARE A PROBLEM IN PLANT PARK

Dec. 1938 - Rats of all sizes infested the rock embankments of the park stream near the river. The spaces between the rocks provided the rats with small caves in which to live. Visitors to the zoo seemed more interested in watching the rats' antics than watching the zoo animals. The rats were also stealing the bears' food.

This is the last article that speaks of "bears" in plural.
GENERAL DESCRIPTION OF PLANT PARK AS A RECREATION CENTER

Dec. 1938 - A fine description of Plant Park is presented in this article. It's described as the City's largest recreational space, noted for its tropical splendor. It was home to the old Tampa Bay Hotel building, then the University of Tampa, the Municipal Museum (now the Plant Museum,) the "Legion Casino," Municipal Auditorium (later named the McKay Auditorium, and now the business college building,) a band shell, the zoo, and the Tampa Tourist Center.

In addition to the facilities in the Tourist Center, there were tennis courts, play-ground equipment, and parkways with numerous rare shrubs and flowers.


BEAR BITES WOMAN - July 29, 1939

Apparently, the City didn't think it should have an animal exhibit where people couldn't get close enough to hand-feed them, nor deem it necessary to put up signs "Don't feed the bears, they are wild animals." Visitors seem to think they can feed a bear like they hand-feed their domesticated pets. With the press frequently endorsing feeding the bears peanuts and often referring to them as "pet bear(s)" they can take some of the responsibility too.

Notice above reference is made to "one of the bears," implying that there was more than one.

A TIGER AND A BEAR AT PLANT PARK

July 1939 - Just two days after the above article, this one mentions the bear as singular. With no news in between concerning one bear is gone, by whatever means, one of these can't be relied on to determine how many bears were at the zoo at this time. This reporter thinks the tiger and bear are having a "swell time" in the peak summer heat, despite their shaggy fur, and that just the humans were suffering. The reason given was that their cages were underneath shady trees, and they had a little stream in which to wallow.

TWO MORE BEAR BITE INCIDENTS ABOUT A YEAR APART

Just three months after the previous bear bite incident, this one involved children sticking their hand through the chain-link fence opening to feed the bear. Clearly there is no secondary barrier at the bear cage. Each time the articles imply that there was only one bear at the zoo by not stating "ONE of the bears..." If there's any significance to this singular reference, it would have been Suzy doing the biting.

GAS RATIONING RESULTS IN MORE STAY-CATIONS, VISITS TO LOCAL POINTS OF INTEREST

A Tribune reporter who is a frequent traveler tells about the various points of interest in Tampa because travel distance is impacted by three gallons a week rationing. So this reporter who usually wrote about his distant travels decided to tell about the local points of interest such as Plant Park, fishing at the Ballast Point pier, and the Sulphur Springs pool. For the athletic, adventurous type, he also suggests hopping a bicycle and riding out to Rattlesnake, Fla. on the road to the Gandy Bridge. "There, Mayor George K. End will show you his collection of snakes and give you the opportunity of buying canned rattlesnake meat, in supreme sauce, at $1.25 a can."

If you still have time left after all the previous Tampa area vacation spots, "You might try sitting on a bench in the courthouse square and watching the goldfish in the lily pool. It must be a fascinating diversion. Some people have been doing it every day for years."

The article and accompanying photo mention the bear as if the only one there. Other park mentions are of feeding the squirrels, the University of Tampa, and the Tampa museum. This is an excerpt showing only the part about Plant Park.

SEVEN-FOOT LONG GATOR CRAWLS FROM ESTUARY, DUBBED "HITLER" BY A SPECTATOR

On May 6, 1941, a seven-foot long gator made it out of the estuary and tied up traffic at 13th St. and E. Twiggs. The gator was hit by a truck around 9pm and within 10 minutes, a crowd claimed to be of 400 Tampans had gathered. A sanitation truck arrived to take him to Plant Park zoo, as scores of cars lined the street and dozens of men and boys were poking sticks and throwing things at him.

Two sanitation workers tied a rope around its neck and seven volunteers from the crowd grabbed his tail as it viciously whipped it around and snorted. It clamped its jaws on the tail end of the truck and ripped it loose. By this time a Tampa police officer had arrived, ordered the crowd back and shot the gator, at which time someone in the crowd yelled, "There goes Hitler!"

Had he behaved, he would have ended up at the Plant Park zoo.
| | |
| --- | --- |
| | |
| Callie Mae (Penn) Brown, all grown up, with her son Dickie. | |
BOB, THE MEXICAN TIGER, IS DRAFTED INTO THE U.S. ARMY

It's not known yet when the Mexican tiger was officially named, but here it is said his name is "Bob." Probably named for the mayor, Robert E. Lee Chancey. This article mentions one bear, the Plant Park bear as "Bruin" which is incorrect. The bear was named Susie (or Suzie or Suzy.)


Bob was offered to Drew Field Commander Col. Melvin B. Asp by Marco Penn because of the rising costs of feeding him.

The article on the right says Penn had been complaining about the gasoline to took to drive around for Bob's meat. Notice that Bob was kept in an "elevated house over the creek, next door to Bruin, the bear."

The photo shows several men attempting to move that "elevated house."


Melvin Asp was a Hillsborough High School graduate.
Mar. 6 1942 Drew Field newspaper courtesy of
UF Digital Military Newspaper collection.

Bob was taken to the "new recreation park" at Drew Field, where he will be the field mascot. A concrete house and heavy wire pen was to be built for him, and plans were to feed him "plenty of meat scraps and fish heads."

Two years of Drew Field Echoes newspaper scans are searchable at the University of Florida Military newspaper collection. Drew Echoes was published every Friday. Several issues starting with July 23, 1943 were searched but it appears nothing was ever printed in their weekly newspaper about the tiger.

MAR. 5, 1943 - THE DEATH OF SUSIE #1

On Mar. 5, 1943, the caretaker found Susie dead in her cage at morning feeding time. She had not been feeling well for several days and refused her supper two or three days earlier. It had been five years since Marco Penn had captured her in a tree in the Everglades when she was a cub, and brought her to Tampa in a tomato crate. Penn had no idea what caused her death.

Rationing was ruled out--not getting enough to eat. The country was in the midst of food rationing due to WWII. It was said she was "a very fat little bear and grew up to be a fat big bear" so her diet, which often consisted of peanuts, popcorn, cookies and candy, was probably the cause of her obesity, along with lack of exercise, and a probable heart ailment. It was said she never hibernated and "burned the candle at both ends."

There is no mention of another bear.




At right, a tourist comments on the death of "the bear in Plant Park" and hopes that the next bear will be given a better habitat; one with a "large stone basin, where it can bathe itself and keep cool in the summer," instead of a "dirty little creek." Also, "a place large enough to get some exercise" and something to climb upon, "as all bears love to do." Also, the ground kept with clean gravel so it wouldn't smell so bad and "be a pleasure to have it there."

The Mar. 28, 1943 article below "City Acquires New Bear For Zoo.." also makes no mention of another bear.
SO WHAT HAPPENED TO PAT?

There is no mention of another bear in the park in the above Mar. 6, 1943 article. If Pat was still around, you would expect a reference to him being "without a friend," companion or partner, or, something to the effect of being one bear left.




| | |
| --- | --- |
| DATE OF ARTICLE | Number of bears referred to or implied by context |
| 1938 - Feb. 12 | Two bears, photo of Pat being hand-fed a peanut, and photo of Suzy. |
| 1938 - Jun. 2 | Two bears, Letter from northern visitor "...larger quarters for the bears..." & "One old fellow..." (Pat) |
| 1939 - Jul. 29 | Two bears, "Bear Bites Hand..." - Reference to "one of the bears" |
| 1939 - Jul. 31 | One bear, "Tiger and Bear Wallow..." - "The tiger and the bear..." |
| 1939 - Nov. 6 | One bear, "Bear Bites Visitor" - "The pet bear at Plant Park.." |
| 1940 - Nov. 30 | One bear, "Plant Park Bear Nips Boy's Finger" - "...was feeding the Plant Park bear..." |
| 1942 - May 24 | One bear, "A Traveling Reporter Talks..." - "Plant Park and the bear head the list." |
| 1942 - May 24 photo | One bear, photo "You Can Still Feed The Bear" and "The Plant Park bear welcomes vacationists with peanuts..." Encourages visitors to hand feed them peanuts, (Same photo of Pat used in the Feb.12, 1938 article.) |
| 1943 - Mar. 5 | One bear, "Susie, The Plant Park Bear, Dies..." - No reference to any remaining bear. |
| 1943 - Mar. 19 | One bear, Letter to Tribune from a tourist: "Better place for bear" - "I notice the bear in Plant Park.." |
| 1943 - Mar. 28 (below) | One bear, "City Acquires New Bear for Zoo" - No mention of another bear to get along with. |

It is doubtful that something happened to Pat in the two days from Jul. 29, 1939 to Jul. 31, 1939, because something about him would likely have been said in the Jul. 31 article. Since we can't know which of those two article doesn't correctly reference the number of bears, then Pat seems to have vanished between Jun. 2, 1938 and Nov. 6, 1939 without mention of what happened to him. The newspapers may have been preoccupied with the events in Europe; Hitler's atrocities and movements of troops in a buildup to World War II.
FEMALE CANADIAN BEAR ADDED TO PLANT PARK
Just two weeks after Susie's death, a Canadian bear was acquired by Marco Penn for Plant Park. She had no name yet, "at least not a Tampa name, but that is something you can attend to..." This implies she had been given a name by the previous owners. Future articles would identify her by different names, possibly indicating she was never officially named, or if she was, it wasn't well-known. There are articles calling her Paddy, Bruin, and Susie--maybe because they didn't know Susie died in 1943. Some refer to her as a "him."
The details on how old she was can be estimated. Penn got her from C. W. Bray, who lives at Lake Carroll, who had her "for the last year." He bought her from a man in St. Pete who said she was "then about eight months old and came from Canada." So the new bear was probably about a year and eight months old, or around 20 months old.
Later, a humorous article written by a reporter in the form of an oral interview with this talking bear would give more detail on how she was acquired. This article even mentions that she was known by at least TWO names in Tampa, and neither one was her name at her previous home.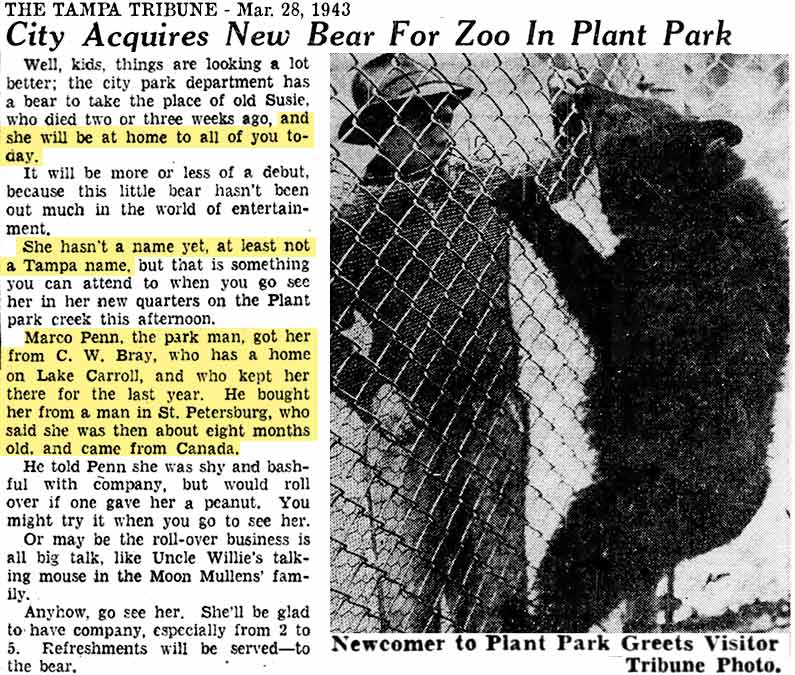 This bear was a Canadian Black bear housed at a wild animal zoo in St. Pete back in 1941. When she was about eight months old, Charles W. Bray, who lived at Lake Carroll, took a trip there on Christmas day. The bear was around 75 lbs. at the time, and at the zoo she was known as "Fatty." Bray bought Fatty as a surprise Christmas gift for his wife, because she always wanted a baby bear cub.
Bray took her home in his Crosley station wagon and "all six feet" of Mr. Bray were in the driver's seat and Fatty was in the back. Bray had the windows shut so Fatty wouldn't escape, and it was a hot day for a Canadian bear. On Bray's trip back to his home at Lake Carroll, Fatty would try to climb into the front seat but Bray would toss food to the back for her--a bunch of carrots, or a head of lettuce, which is what she liked during her time in St. Pete. Needless to say, when they arrived at home and Mrs. Bray came out to see, she was indeed surprised.
Fatty got along well with the Bray children, two sons and a young daughter "Ardeth" (who by Nov. 1955 was Mrs. E. E. Webb.) Fatty and Ardeth spent a lot of time together. They especially enjoyed climbing trees, and with Fatty not even wearing a collar or a chain leash.
Fatty shared the Bray family with their pet St. Bernard, and Fatty took a liking to eating raisins and drinking canned milk. One day, Mrs. Bray held out her bottle to give Fatty her milk and Fatty bit her hand and the bottle, and ate the nipple right of it.
The Bray's grocery bill got higher and higher, and Fatty seemed to like all the foods that were hard to get during the WWII rationing years. So after about a year, Fatty was off to "a nice home in Plant Park."

At Plant Park, Fatty's first friends were the pigeons, squirrels, and the alligator in the pond. Now and then, one of the Brays would visit. In the next twelve years, Fatty would would be called "Paddy," "Susie," and "Bruin" by visitors and the press.
---
The above information comes from an article published on Nov. 19, 1955 which attempted to show that the Plant Park bear thinks it's better off being in the zoo. Reporter "Panky Glamsch" (surely a pen name) wrote in the form of an interview with the bear, who happens to be a talking bear, and freely shares her life events and especially her opinions with the reporter.
The article starts with the bear, at Plant Park, speaking to the reporter "There I am, see, minding my own business, when along comes this dame and says, 'Oh, look at the poor bear--all caged in." "I look at her, roll over on my back, and almost split the bars laughing to myself" Just to keep the record straight, lady, I say, you wanna hear a little story? The bear proceeds to tell about events that led to where she is now in 1955. From the rest of the article we learn how she ended up at Plant Park.
PENN RECOVERS BODY OF DROWNING VICTIM

BELOW RIGHT: May 27, 1943 - Marco Penn recovered the body of a man who had drowned in the Hillsborough River just north of Sligh Avenue. Two men drowned in the incident when their boat capsized. A third man and a 4 year old boy survived the incident. One body was recovered soon afterwards, but the second man wasn't recovered until the afternoon. This was the TENTH person Penn had recovered in drownings.

May 1, 1943 - Parks Supt. Marco Penn gave a Plant Park gator to "Texas Jim Mitchell," the owner of Sarasota reptile farm. The gator had grown too big to keep at Plant Park.
THE MAYORAL ELECTION OF 1943, CHANCEY VS. HIXON

During the mayoral campaigns of Sept. 1943 between incumbent Robert Chancey and Curtis Hixon, the Hixon campaign launched attacks on the character of several city administrators appointed by Chancey. On Sept. 20, 1943, Chancey defended each and every one of the City appointees with a short paragraph on their backgrounds in a large, full-page ad.
In his bid for a fourth term in 1943, Mayor Chancey was opposed by Hixon, a druggist who had come to Tampa from Alabama in 1910. Hixon had served two terms as city alderman, had twice been elected as a county commissioner, and was popular. He defeated Chancey by a large majority. The election marked the beginning of a reform wave which culminated in 1945 in a losing battle for the return of the city manager form of government, but which effected a charter revision providing for representatives elected at large instead of by wards. It also increased the powers and duties of the mayor.

With the election of Hixon in 1943, it was expected that all of the current city department heads would be terminated, including Marco Penn.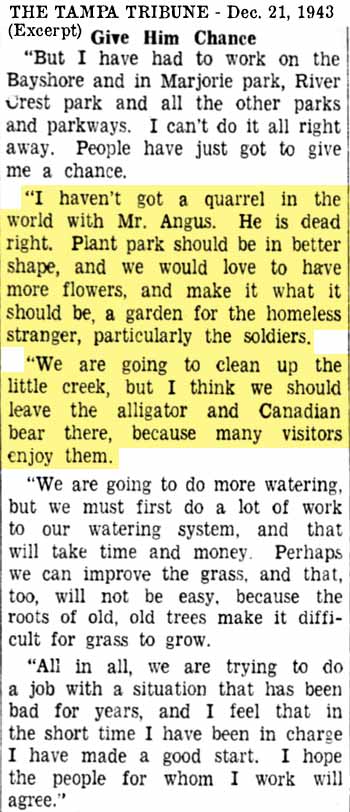 HIXON APPOINTS BEN SANBORN AS PARKS SUPERINTENDENT
Before Hixon made his appointment to parks superintendent, Marco Penn resigned. In Dec. 1943, Hixon appointed Ben Sanborn, who had been working as the secretary of the parks department for the past eight years under Marco Penn. Soon after this, complaints arose about the condition of Plant Park and Sanborn responded in agreement, that the park was in bad shape. He asked for patience, "I can't do it all right away" and "we are trying to do a job with a situation that has been bad for years..." He had been taking care of work on Bayshore Blvd, Marjorie Park on Davis Islands, and River Crest park, as well as others. He planned to clean up the Plant Park creek, but wanted to "leave the alligator and Canadian bear there, because many visitors enjoy them." Plant Park's zoo was down to two animals.
Penn went back to devoting his time to his nursery business, advertising daily in the newspaper classified sections.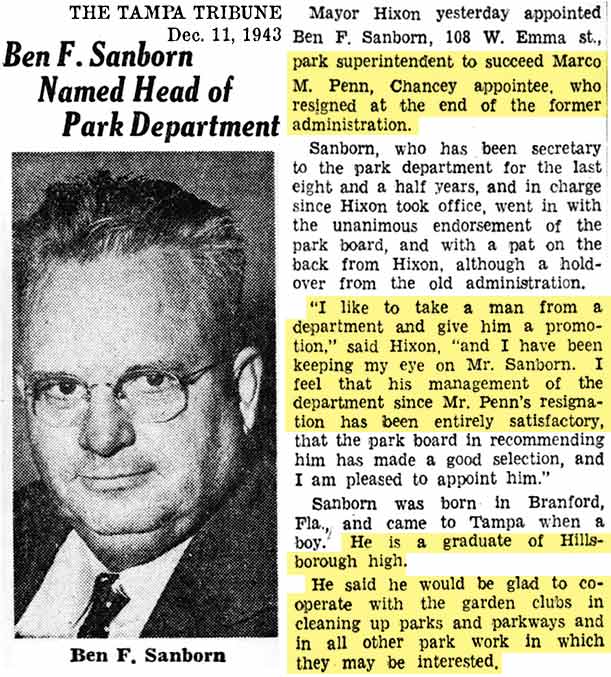 PENN ANNOUNCES CANDIDACY FOR COUNTY COMMISSION
In March 1944, Penn announced he would run against Fred Ball for county commissioner in District 2. He promised to work for a riverside drive from Sulphur Springs to Bayshore Blvd, and advocated removal of tolls from the Ben T. Davis Causeway bridge and the Gandy bridge. He planned to set up a county nursery for his district, like he did for the City, and beautify highways, intersections, schools and churches by giving property owners shrubs and trees to help landscape the district. He also advocated a recreation program for the children of his district. Penn was a nephew of the late Judge Francis Robles, and had two grown daughters and one young son by this time. He served in two major battles of WWI and was a member of the Legionnaires.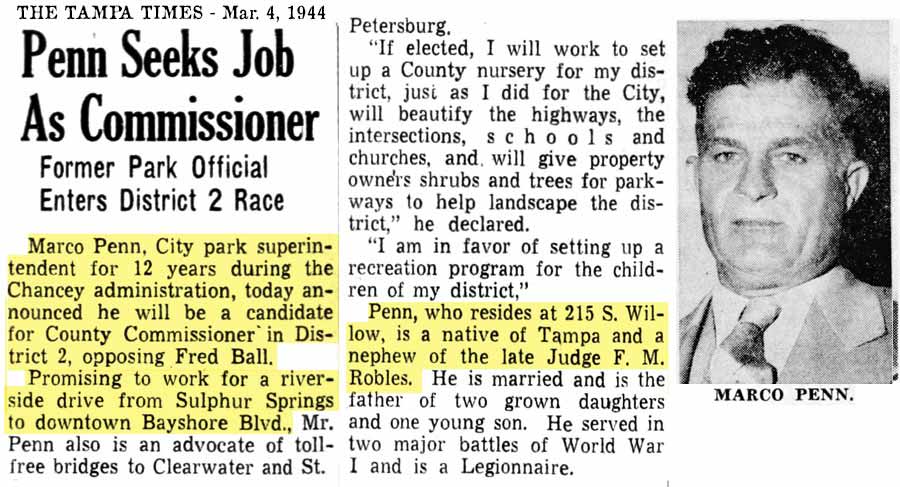 PENN FAILS TO QUALIFY
But as of Wed., March 15, Penn had not yet qualified to run, and the deadline to do so was the next day. When the clerk's office closed on Mar. 16, Penn, and the candidate for sheriff, James Arp, had not qualified.

PLANT PARK POPULAR WITH SOLDIERS, BUT FOR THE WRONG REASON
Mayor Hixon took office at the peak of the war, when the city was filled with servicemen, and he put the resources of the city into drives to curb vice and venereal diseases, which had taken an upturn during the war years. He also began building up city departments which had become run down during the long depression years. He was able to perform this much-needed task because the city had by that time started to become prosperous again and tax payments were increasing steadily.
By May 1944, Plant Park had become an illicit rendezvous place for soldiers and girls. The result of a survey showed that 14 percent of the cases of venereal diseases were contracted in Plant Park, with hotels leading the group at 51 percent. It was described as a difficult matter because Tampa police could not make an arrest without the right kind of evidence, and although servicemen were subject to civilian law, "they are turned over to the military and what the military does to them is military business." Sanborn said the night watchman is on duty from 5:30 p.m. to midnight, "and it is impossible for him to chaperon all the neckers in Plant Park."
He went on to say, "Nobody knows the troubles we have. They, soldiers and civilians, break up our park benches and even use them to make fires. They throw the wood and metal benches in the river and upset the concrete ones which weigh 900 pounds. They've about torn down the animal cages and even break pieces of cement off the Lafayette St. bridge to throw at our poor alligator." Sanborn felt this matter was a least partly the responsibility of the military. The fact that the MacDill ferry landing was at the Plant Park dock made the park more of a meeting place than it otherwise would have been.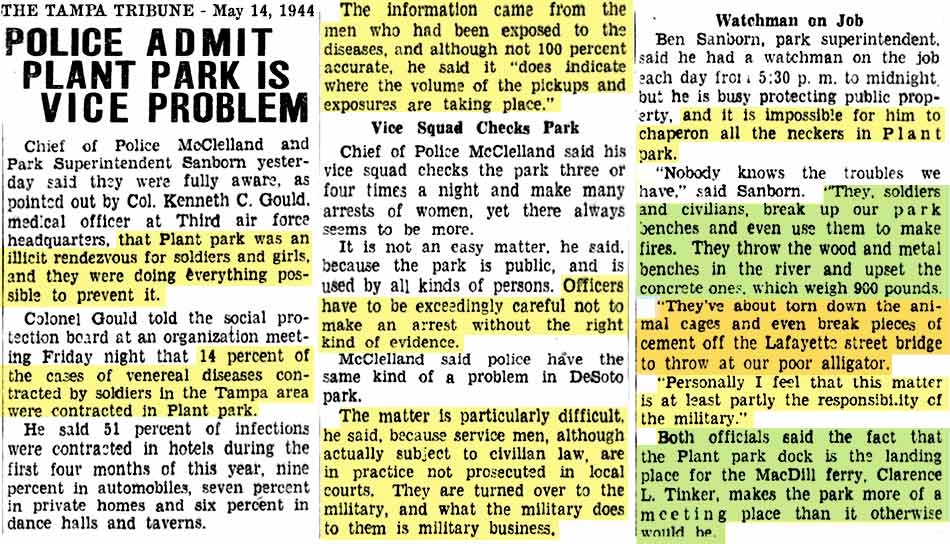 CANADIAN BLACK BEAR IS "PADDY"?

The July 8, 1945 article claims the bear is "Paddy" and he is a vegetarian. He lives on a summer diet of lettuce, oranges and scraps, and ignores any meat mixed in his daily eight-quart bucket of food. Maybe "Paddy" was somehow a mistaken version of her original name "Fatty" from her zoo days in St. Pete.

HEAVY RAIN SWAMPS PARKS

July 27, 1945- Heavy rains made low portions of Plant Park and Lowry park swampy, but the TWO remaining animals at Plant park, an alligator and a Canadian bear, survived without harm.

"BRUIN" IS OUT OF DANGER

July 31, 1845 The Times covers the same heavy rains incident and calls the bear "Bruin" and that he was in danger when the water level of the stream running through his cage began to rise quickly, but the rain slowed to a trickle and "Bruin" was safe.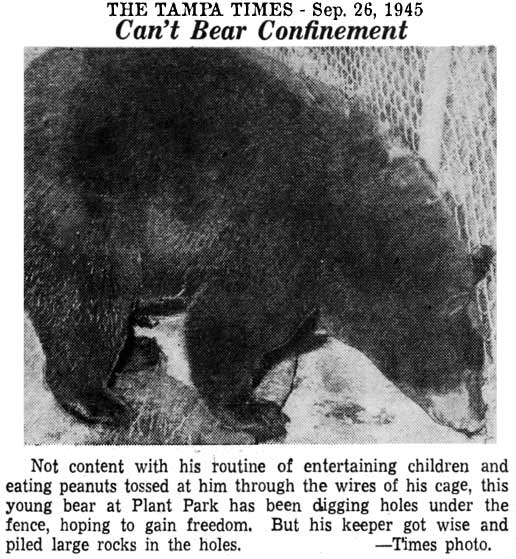 Fatty has been trying to dig out of her cage by going under the fence but rocks were placed in the holes to prevent her escape.
ANIMAL ABUSE ADDRESSED
In an attempt to stop the abuse of "Gator" by visitors, a couple of instances were addressed in court, one resulting in a fine for the abuser. Sanborn claims they don't mean to harm Gator, they only want to see him move because he lays around like a log in the sun too much. Sanborn said one time he saw "reckless young soldiers" throw a park bench at Gator's head, but missed him. Sanborn got the Humane Society involved and they too were furious about the abuse. The "crackdown" on the sadists, "the kind of guys who go around zoos trying to set fire to monkeys' tails, resulted in molesters being severely lectured and warned. It had become an epidemic of abuse.
The article claims "Gator" (the only name he has) has been there some 16 years and was brought to Plant Park with four other gators by Tampans who rounded them up from outlying ponds. Gator was 11 feet long, but his companions "succumbed to captivity as the years went by.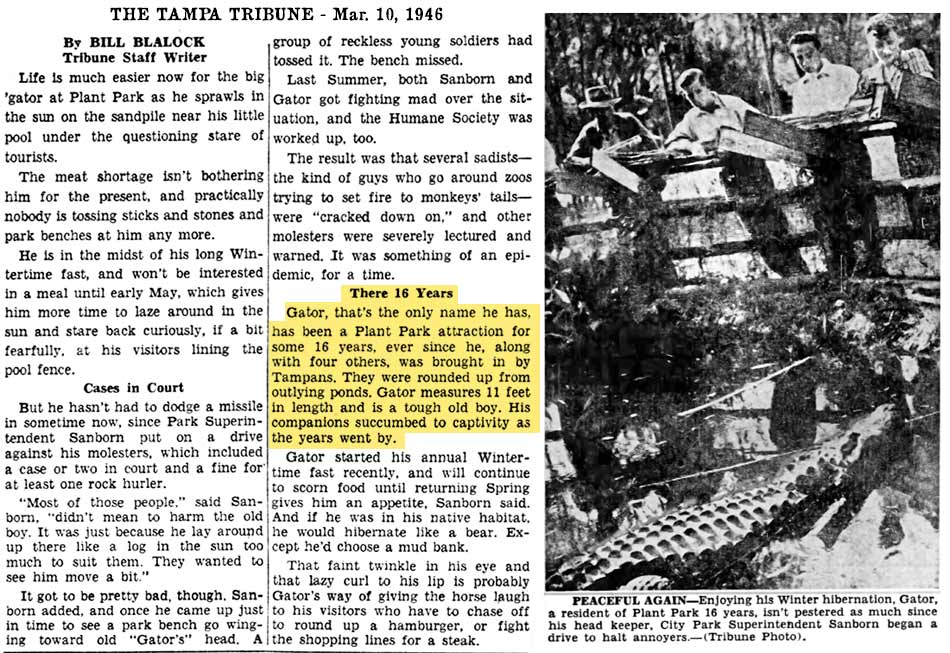 THANKS, BUT NO THANKS--GATOR TURNED DOWN BY ZOO

What to do with a 4.5-ft. long gator captured on a crabbing expedition in Hillsborough Bay is described as a "problem" when it was turned down by Parks Dept. Supt. Sanborn, and then by Prof. Clyde Reed, head of the University Of Tampa's biology department, who couldn't use the gator because they would have to get a special permit from the Florida Game and Fresh Water Fish Commission, and March through May are "closed seasons on alligators." Sanborn feared the gator would be eaten by the the large gator. Perhaps returning the gator to the wild would have been the simplest solution.

CLERGYMAN CHARGED WITH GATOR ABUSE

Rev. J. L. Whitaker was witnessed by Parks Supt. Sanborn breaking off a bamboo stick in Plant Park and using it to poke at the gator. Sanborn arrested him and was convicted in municipal court where he was ordered to pay $50 in fines or serve 50 days in jail. Albert Boyd, (former?) owner of Boyd's service station zoo, was president of the Humane Society and testified "to speak for dumb creatures who aren't able to speak for themselves."
ZOO GETS A RHESUS MONKEY
In late September, 1946, a rhesus monkey named "Cracker" was donated to the zoo by Mrs. L. B. Barnard. She had raised the monkey "from a pup," bottle feeding him, when his mother died in a monkey circus up north. But now Cracker was a "strapping big fellow, and well able to fend for himself. So don't put your hand in the cage, kids."
A brand new cage was built for Cracker by Sanborn, near the bear pen, where Cracker was getting lots of attention for his "unique jaw pouches, into which he crams food for safe-keeping until he is ready to consume it."

CRACKER IS A HIT
The "big, tawny, Rhesus monkey" is bringing in the crowds, answering Sanborn's wish to start a "Simian colony."
But some visitors have expressed concern that his cage is too small and he won't get sufficient climbing exercise.
Sanborn's response: It's twice as big as his former home.
(Well that certainly solves the problem.)
THIS IS WHY WE CAN NEVER HAVE NICE THINGS; CRACKER MOVED TO AVOID ABUSE

After only 3 weeks, Cracker had to be moved from Plant Park to "the comparative quietude of Lowry Park" so as to be "free from the annoyances of curious, careless zoo visitors." The Tribune describes abuse with terms such as "overzealous antics of persons anxious to see him perform tricks and who were not above punching sticks into his cage to give him encouragement." And, "mild little mannerisms" such as "giving the wire of his cage a resounding whack to startle him out of a thoughtful doze." The article says you could see the puzzlement in his eyes, wondering why he was the one in the cage and not the spectators.

"Had folks fed him a banana instead of a stick, great would have been the reward for more of them." Some visitors were understanding, those who enjoyed watching him and spoke to him soothingly and softly would see Cracker "blossemed out for them, a friendly cuss in return, and they miss him."

RATS GET BOLDER

Rats at Plant Park continue to be a problem as visitors recently complained, the now were making daylight raids to snatch the bear's food, sneaking in from nests in the shrubbery. Park attendants began to remove all uneaten food from the bear cage overnight as a means of curbing the rats rule.

Tribune artist seems to think a rhesus monkey looks like a chimpanzee, which is an ape and has no tail.
CRACKER GETS LONELY

By mid-December, 1946, Cracker was showing signs of loneliness at his secluded Lowry Park cage. When infrequent visitors appear, "he jumps and mutters in ecstasy."

PUBLIC OPINION IS TO LET THE BEAR AND ALLIGATOR RETIRE

It is said that the bear seems to shun crowds, and spends most of his time in the obscurity of his den, with only his nose tip visible. The "lazy old gator refuses to lash his tail, bark, or otherwise put up a show, being content to remain submerged like a log." So now only the birds and squirrels entertain, all free of cost to the taxpayers. Visitors say retire them and save the city the cost of housing and feeding them, before "Father Time" retires them more permanently.

It looks more and more like zoo patrons are out to see animals perform tricks for them, to entertain them with some sort of act that may or may not be natural to their behavior. What they want, in effect, is a circus.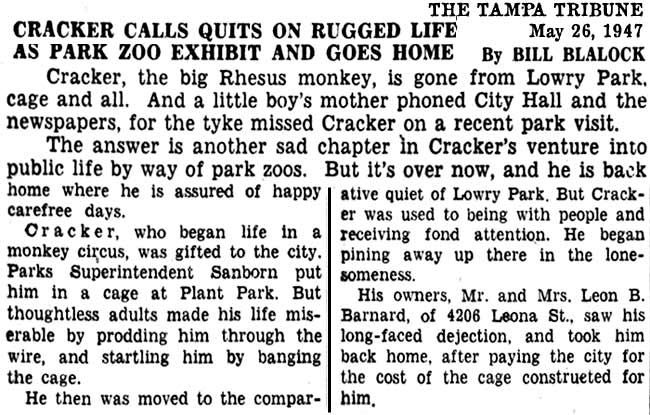 CRACKER GOES BACK HOME
As the Tribune put it in late May, 1947, "Another sad chapter in Cracker's venture into public life" has been written and ended.

He was moved to Lowry Park from Plant Park because of "thoughtless adults who made his life miserable by prodding him through the wire of his cage, and startling him by banging the cage."
But he was used to being with people (nice people) and receiving fond attention. His owners saw his "long-faced" dejection and took him back home, after reimbursing the City for the cost of the cage that was built for him.
Heavy rains caused flooding all over Tampa in late Sept. 1947, especially along Bayshore Blvd. and in the south Tampa area around Watrous Ave, where two other photos were taken. Here, the Tribune says the "caged bear in Plant Park" seems unconcerned and sits out the flood, despite the fact that seems to be up to its neck in the water.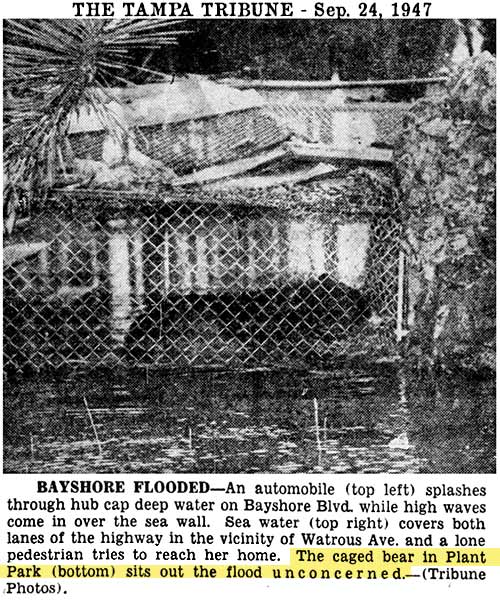 CHILD BITTEN (OR CLAWED) BY PLANT PARK BEAR

A three year-old child was bitten (according to the Tribune) but the Times says "Bear Claws Child" then states "bitten or clawed." she ventured too close to the bear cage and received minor cuts on her right hand. She was viewing the bear with her mother when the incident occurred. (Injury to her hand would seem to indicate she was attempting to feed or pet the bear.)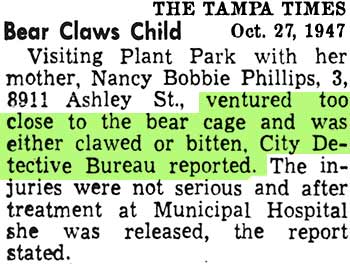 PIGEON KILLER HAS NO EXPLANATION FOR JUDGE ABOUT HIS BEHAVIOR
A 71-year-old tourist from Pennsylvania was seen in Plant Park luring pigeons with feed then killing them with a stick and putting them in a sack. He was convicted in municipal court and given a choice of $50 fine or 25 days in the city stockade. The man pled guilty, but had no explanation for his conduct when questioned by the judge.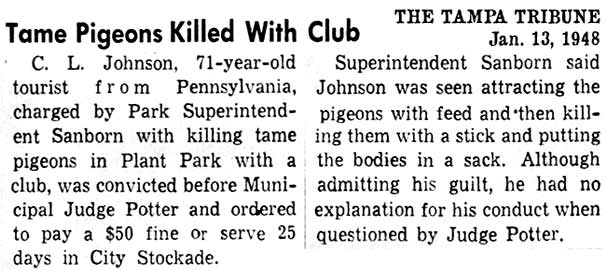 TAMPA WANTS TO BE HOME OF THE 1949 CONVENTION
The Chamber of Commerce Convention Bureau and the Tampa Parks Board wants to lure the American Institute of Park Executives into holding their 1949 convention in Tampa, but the organization is comprised of park executives, recreation supervixors, AND zookeepers, and they point out that a city must not only have parks and recreational facilities to visit and inspect, but also a well stocked zoo. The article mentions the "lone alligator pen" in Plant Park and overlooks the bear cage. So it's really a "TWO-CAGE Zoo." There is hope that Jacksonville is awarded the convention because their plan was to spread the convention over several principal Florida cities.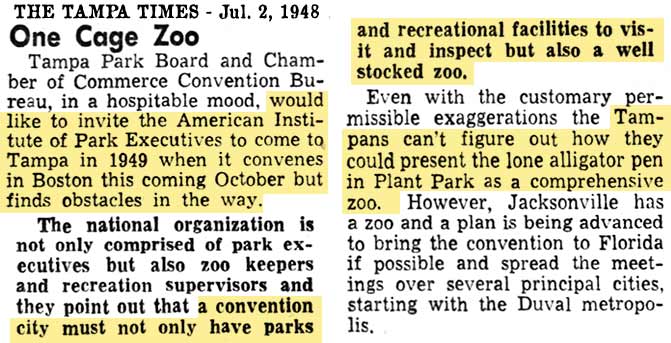 FORMATION OF THE HILLSBOROUGH COUNTY ZOO ASSOCIATION
Paul Wilder, columnist for the Tribune's "IN OUR TOWN" announced formation of a mock zoo association with himself as the "Keeper pro tem" and solicited suggestions and plans for making Tampa known as "the best home for wild animals in the world." He says "what this town needs is a darn good zoo" and lists the current zoo denizens: a lot of squirrels, a lot of pigeons, a bear, and an alligator. He suggests a good zoo would bring in visitors from miles around. Father's would bring their kids to the zoo while mom shopped at nearby downtown stores, and thus recapture some of the business lost to Orlando, St. Pete, and other shopping centers. He presents the reality; having a good zoo takes money. Cages cost money, animals need to be fed and protected from the public with somebody on duty. He reveals that once, B. F. Sanborn caught a man beating the tiger in the face with his cane. Apparently, the City has decided that with increased expenses, a city-financed zoo was not possible at this time and would mean just "one more headache." He says this "pillar of wisdom reflects that a zoo must be promoted by a private organization.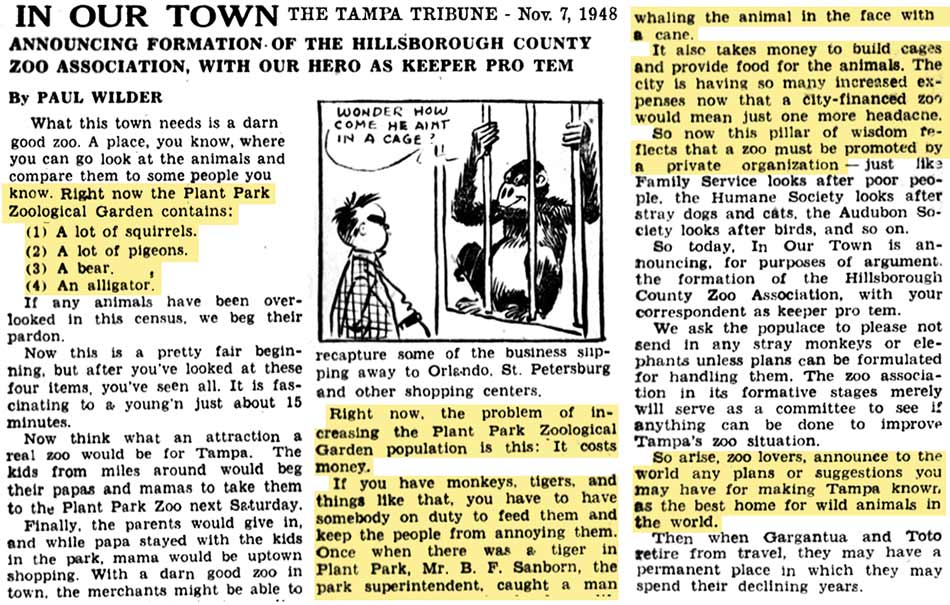 TOURIST DESCRIBES A RUN-DOWN SUB-PAR ZOO

Whether or not this was a response to Mr. Wilder's solicitation for ideas is not known, but this tourist was extremely disappointed with the "small zoo" described in the tourist brochure. The writer suggests it would take little to improve the place, including a better fence around the "very small alligator pool" so that small boys "could not poke at its eyes, as on yesterday."

WILDER'S "ZOO ASSOCIATION" A DISMAL FAILURE

Although no such announcement could be found, Wilder claims he appointed "Big John" Riegel as president of the "In Our Town Zoo Association" which was dedicated to getting more than a bear and an alligator in Plant Park. It was a dismal failure, as it appears only the letter at left was submitted. This article goes on to describe some sort of congressional campaign he was launching.
THE PIED PIPER OF PLANT PARK

This edition of "In Our Town" by Paul Wilder describes 80-year-old Mr. E. P. Duffy, the "Pied Piper of Plant Park." Almost every day for 15 years he could be found feeding the squirrels, which he had given each one a name and could recognize them.

"Down trees, across lawns, the squirrels come running. Like a benign St. Patrick followed by thousands of rats* Mr. Duffy proceeds along, scattering pecans..."

TAMPA TRANSIT LINES AD

Mother, take your children to see the animals! (All two of them.)

*Mr. Wilder has confused St. Patrick with the Pied Piper. St. Patrick is credited with ridding Ireland of all its snakes. Supposedly, there are no indigenous snakes in Ireland.
READ THE ACCOMPANYING ARTICLE: "IN OUR TOWN: The Pied Piper of Plant Park"
SNOUT OR CLAW, TAMPA YOUNGSTER IS LOADED FOR BEAR
Oct. 7, 1949
A Tampa mother, Mrs. Joseph Longo, claimed her 20 month-old son Johnny was bitten by Susie, the "300-pound Plant Park bear." (This was the THIRD bear at Plant Park, acquired shortly after the "original" Susie died.) She says they stopped briefly in front of the bear cage and Susie stuck out her snout through an opening between the cage and the gate and clamped down on the youngster's "sitter" (rear end.) She also said that she "clawed the bruin frantically to free the child," clawing the bear's face with her fingernails to force Susie to release her hold on Johnny.
But City Park's Superintendent Sanborn said "Why that bear is harmless," and in his opinion it was impossible for Susie to have made the bite through the three and one-quarter inch opening in the cage. An eye-witness story had a different version. James Sofianos, who sells peanuts from a wagon near the cage, said "the mother allowed her son to get too near the cage opening and Susie reached a paw through and struck the youngster."
Sanborn said there was metal screen to protect children from such mishaps, but that visitors had pulled it away from the opening which Susie reportedly used in injuring the child. He added that a metal plate would be welded over the opening to prevent this from happening again.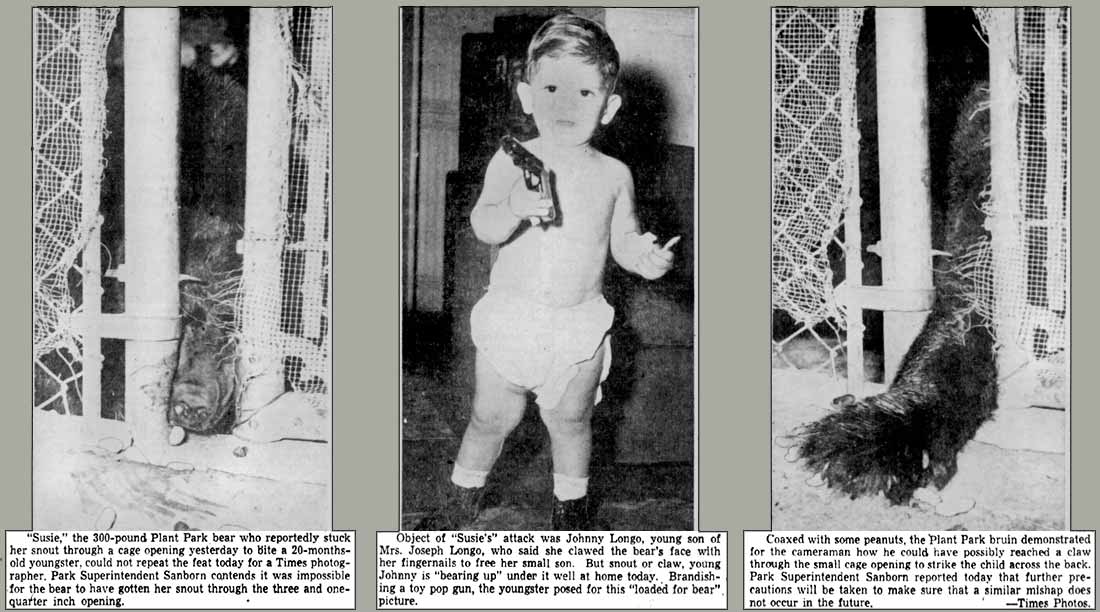 The reporter refers to Susie in the first photo as "her" and in the last photo as "he."
THE TAMPA TRIBUNE HAD MORE TO SAY, AND SHOW
The Tribune story carried more details and featured a photo showing the gap in the wire mesh up higher along the gate, where the padlock was located. It appears that the gap here was wider, even though the bear isn't sticking it's snout through it. When Mrs. Longo heard Johnny screaming, he "was caught in the bear's jaws through an opening between the cage and the gate." She jabbed her sharp fingernails into the bear's nostrils for it to turn Johnny loose. She saw a "terrible torn place" where the bear had bitten and she rushed him across Lafayette St. to the Park theater, hold the wound tightly. There, she found a doctor who called the hospital and another doctor to arrange immediate surgery. A kind gentleman whose name she did not get drove them to the hospital.
The attending physician said the bite was "pretty severe" with the boy's right buttock sustaining a three-inch long, inch-and-a-half deep gash. The bite just missed his rectum by a fraction of an inch, otherwise the gash could have been serious or even critical. It took eight stitches to close the wound. Once home, the boy continued to be traumatized and refused to go to bed. When the reporter got there, they were still holding him trying to console him.
The attending physician told the reporter that he had "sewn up" a child several months ago, and afterward notified the City Board of Representatives suggesting that they do something about that bear.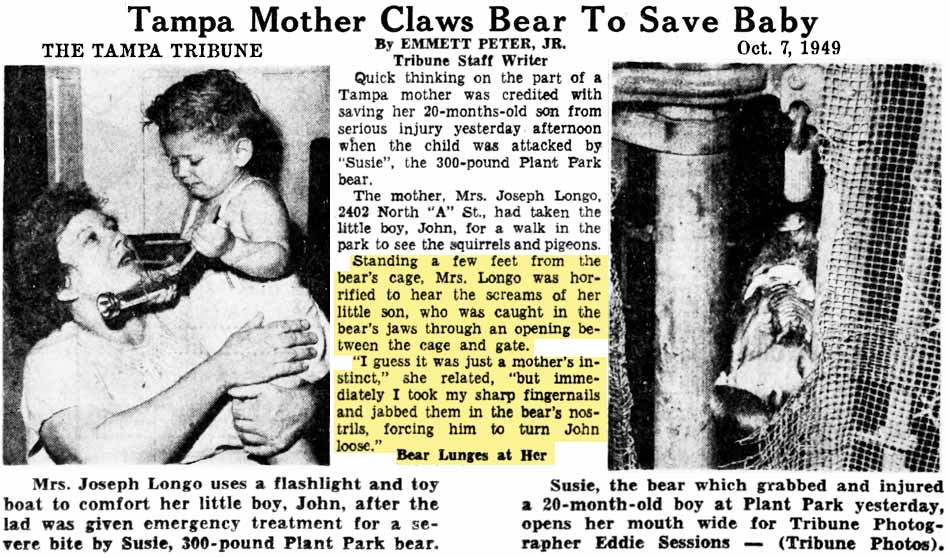 B. F. Sanborn, Parks Dept. Supt., said he hadn't been "officially notified" that a child had been attacked. It's not clear if this was in response to this incident or the one several months ago. "It's hard to believe" said Sanborn, "That bear is such a PET." He claimed that he repeatedly had put fine mesh wire across the opening, but that the public pushed it aside or tore it down so they could feed peanuts to the bear. Johnny's father felt the City was negligent and planned to ask the BoR to pay Johnny's medical and hospital bills.
Mayor Hixon said the City would be glad to take care of the bills, and would take immediate precautions to see that the public is properly safeguarded from the bear. He said, "We'll take care of it, even if we have to get rid of the bear. I didnt know the bear was vicious, if I had received any such word, I can assure you the attack wouldn't have happened this afternoon."
"SUSIE" GIVEN ONE MORE CHANCE, MAYOR TELLS SANBORN TO "FIND A SAFEGUARD."
Mayor Hixon: "If an effective safeguard is not found, the city will get rid of the bear." After the publicity of the Longo incident, Max Star called the Tribune to say his little grandson was scratched by Susie's claw through the opening two weeks earlier. The tot was feeding Susie peanuts through the opening when the bear reached through and clawed his hand.
It should be pretty obvious by now that visitors to the park who fed or allowed their children to feed the bear thought they should be able to feed a wild bear by hand if it's in a cage and not have it bite or gash you with its claw, as if being confined to a cage for years somehow domesticates them.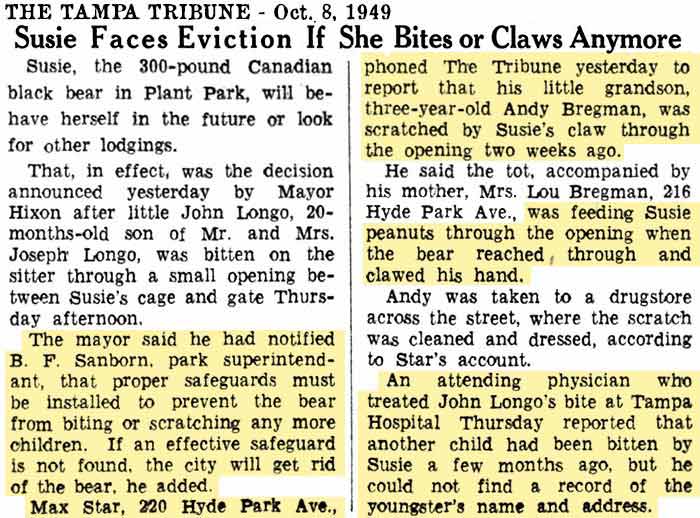 TRIBUNE READERS DEFEND SUSIE
C. R. ELFERS wrote the Tribune in defense of Susie, saying he frequently saw children molest the bear, many times more than she had molested children. Children would delight in poking Susie with sticks if she was napping near the cage fence, as well as throw dirt into her face. "In fact, they will do everything possible to disturb her." All this, while the parents "stand by watching and will laugh. To them, the acts of their children are funny." When Susie can't stand it anymore, she gets up and walks away. Elfers also said she needs a larger and more respectable home. "The dilapidated and unsightly one she now occupies is a DISGRACE to beautiful Plant Park." Elfers had the solution; "Build a new one, put a rail around it five feet from the cage, and have a heavy mesh fence attached to it so children can't crawl under it. Susie will no longer be molested and incidents like the one just reported will stop."

Mrs. Edward Lowery agreed with Elfers. She has seen children torment the bear while parents stand by doing nothing. She suggests arresting anyone caught molesting her, and to build her a proper cage.




AT RIGHT: The Board of Representatives approved a payment to the Longo family of $84. The itemized costs included taxi fares, doctor and hospital bills, and the price of a new suit for Johnny. (To replace a shredded one he was wearing at the time of the "alleged" attack?) The amount may not seem like much today, but in 1949 it was what $935 would be to us today.
PARKS DEPT. OFFICE MOVES TO LOWRY PARK.

In late July, 1952, Parks Supt. Ben Sanborn announced that he had moved the parks dept. office from the building at the entrance to Plant Park to a new location at Lowry Park. The new location provided more room and the location more suitable.


ANOTHER BEAR BITE CLAIM

Mayor Hixon must have forgotten about his "one more time and the bear goes" rule for the Plant Park bear.
A TALKING BEAR AT PLANT PARK ZOO
(The subject of this article was used earlier on this page when the bear was acquired.)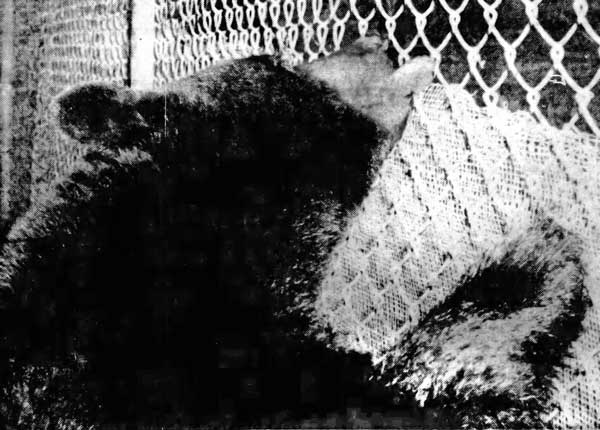 An article published on Nov. 19, 1955 attempts to show that the Plant Park bear thinks it's better off being in the zoo. Reporter "Panky Glamsch" (surely a pen name) wrote in the form of an interview with the bear, who happens to be a talking bear, and freely shares her life events and especially her opinions with the reporter. Text in italics is the bear quoting herself from previous events in her life.
The article starts with the bear, at Plant Park, speaking to the reporter "There I am, see, minding my own business, when along comes this dame and says, 'Oh, look at the poor bear--all caged in."
"I look at her, roll over on my back, and almost split the bars laughing to myself" Just to keep the record straight, lady, I say, you wanna hear a little story?
The bear proceeds to tell about events that led to where she is now. From the rest of the article we learn how she ended up at Plant Park. Read the whole article: Sister Bear Decides Life in a Zoo Has Advantages, Nov. 19, 1955
BOARD OF CITY COMMISSIONERS GOES BANANAS
Nothing much seems to have been accomplished on the the last weekday of 1955, as it appears this meeting of the City Commissioners was more joking and and monkey-business than accomplishing anything serious. Likewise, the Tribune's article (and the Times' much shorter article) seemed to be for entertainment, rather than news--the purpose of which was to show how punny the city commissioners could be.
If anything can be believed here, it would be the highlighted portions...
Of significance is that the chairman of the board of city commissioners was Junie L. Young, Jr. Within six months from this meeting, he would be thrust into the mayor's seat as Mayor Pro Tem upon the death of Mayor Curtis Hixon in May 1956.
But after this article, no mention is found again in the newspapers about the Plant Park zoo or its only two animals, who by this time are an approximately 25-year-old gator and a nearly 14-year-old Canadian black bear.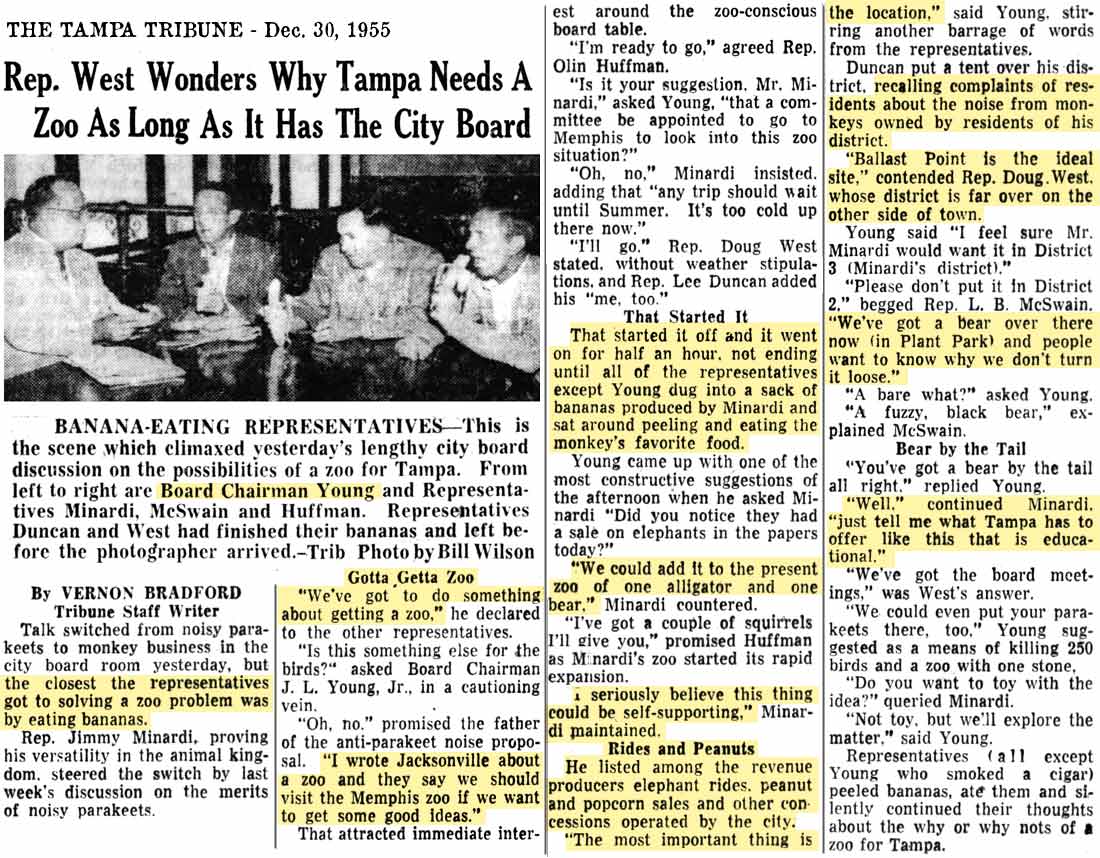 NICK NUCCIO ELECTED MAYOR BY THE HAIR OF HIS CHINNY-CHIN CHIN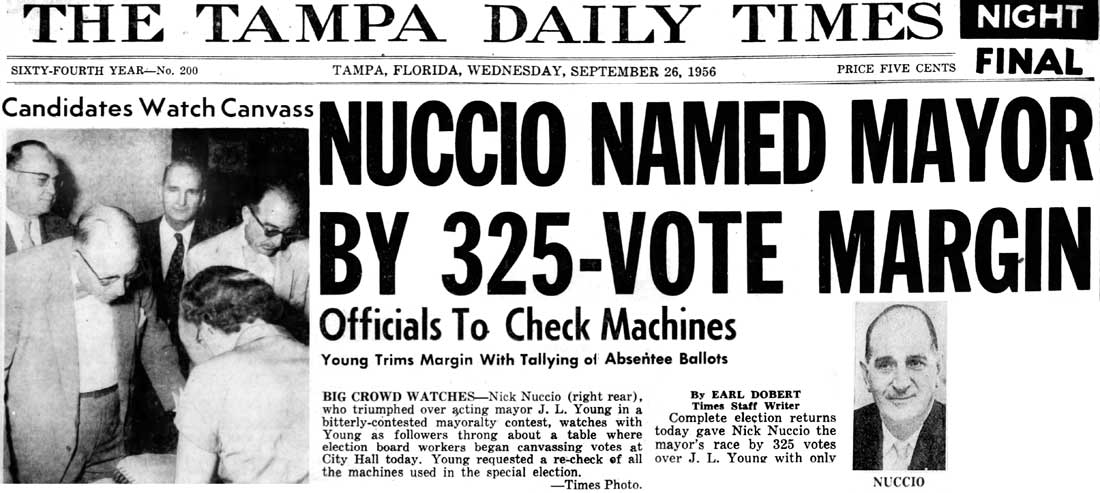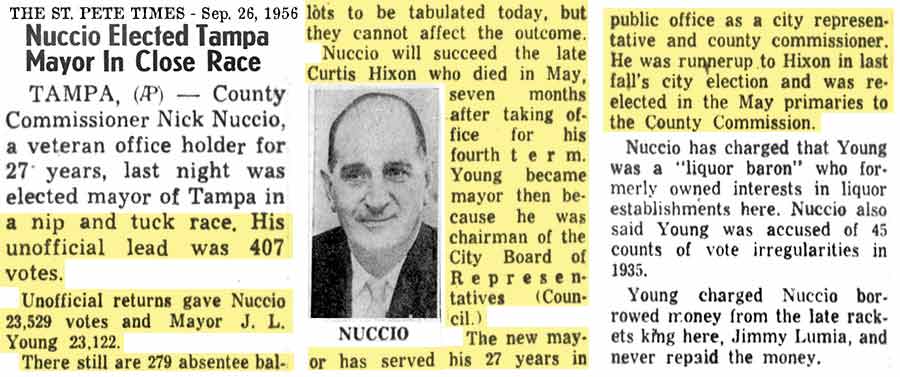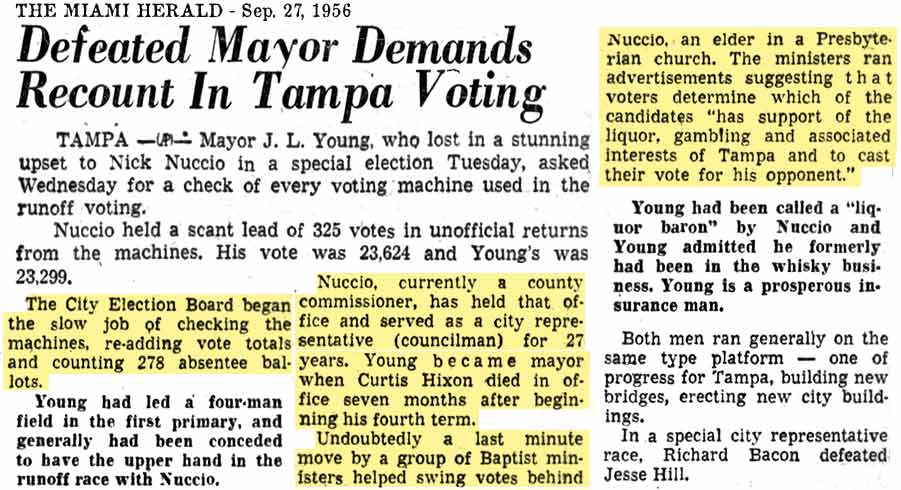 | | |
| --- | --- |
| | |
| Nuccio's margin was reduced to 125 votes after the recount. $15,000 annual salary may not seem like much, but in 1956 it was like $146,071 is to us today according to U.S. Inflation Calculator. | |
ABOUT THAT COLLECTION AT PLANT PARK THAT "HAD GROWN" SINCE 1937
Now we see that at MOST, the move to Lowry Park consisted of a 26-year old gator and a 15-year-old bear.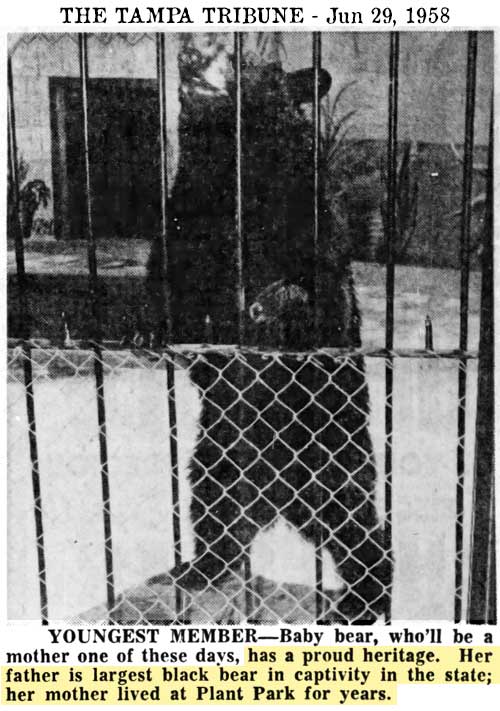 In April, 1957, Mayor Nuccio announced plans to build a "children's Fairyland" at Lowry Park, and the first zoo animals would be ones of well-known storybook fairytales. It would be known as the "Fairyland Zoo." Mary's little lamb, three "little pigs," Peter Rabbit(s), etc. So you can eliminate the gator, at least for 1957. What about the bear?
AT Left: In the summer of 1958 we learn about some of the first animals acquired for Lowry Park zoo. The Lowry Park bear was a baby bear, the "Youngest member" of the zoo. One who'll be a mother "one of these days." One who "has a proud heritage. Her father is the largest black bear in captivity in the state, her mother lived at Plant Park for years."
MOM NEVER AT PLANT PARK
There were only two female bears ever at Plant Park. Both were acquired as cubs. Suzie #1 died in 1943 without ever being mated or having cubs. This event would have made headlines in the Tampa papers had it happened, and her cub(s) would have been the subject of a hundred photos.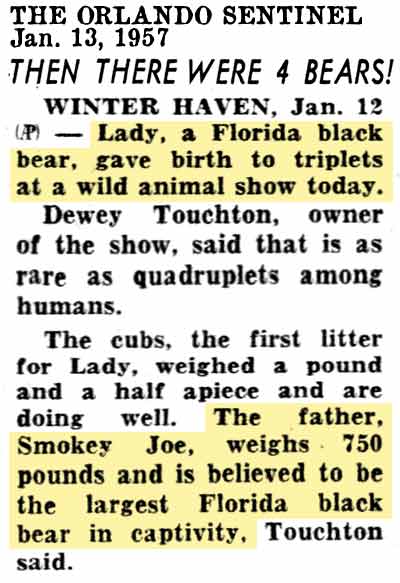 Fatty came after Suzie #1 in 1943 as a 20-month-old cub. Known as "Susie" or "Paddy" or "Bruin," and often referred to as a male bear, in 1956 she's a 15-year old recluse who spends most of her time in her Plant Park cave. No news was ever announced about her mating or having cubs. If she did, the story would have made headlines in the Tampa papers, and her cub(s) would have been the subject of a hundred photos.
Can you imagine a bear that's been confined for 14 years in the same place, never having seen another bear, what its reaction would be when introduced to a giant male bear?
So who were the parents of this "youngest member," the Lowry Park baby bear? More than likely they were SMOKEY JOE (a.k.a "Big Joe") and LADY. They had three cubs born to them on Jan. 12, 1957. "Baby bear" at Lowry Park was probably one of them. Lady's triplets would have been around 18 months old in mid-June, 1958. Lady was never at the Plant Park zoo.

WHATEVER HAPPENED TO SUSIE #2?
The last bear living at Plant Park was referred to as "Susie" so often it caused most everyone forget that she was Susie #2, a female bear who arrived in 1943 replacing Suzie #1. Plant Park's Susie #2 did get moved to Lowry Park for a short time, but no sooner than 1955, and probably in 1957 as the "Plant Park zoo story" goes. The article below says she died sometime in 1961 at Lowry Park zoo where she was being cared for.
Susie #2 was originally known as Fatty during her time in St. Pete. In Tampa, she was never officially named, and the press called her (and sometimes "him") Susie, Paddy, and Bruin.
Susie #2 ended up as a rug on the parks dept. office floor, but nobody dared walk on her. She suffered enough abuse in her lifetime. This article is filled with errors because everyone thinks this bear was the original Susie at Plant Park.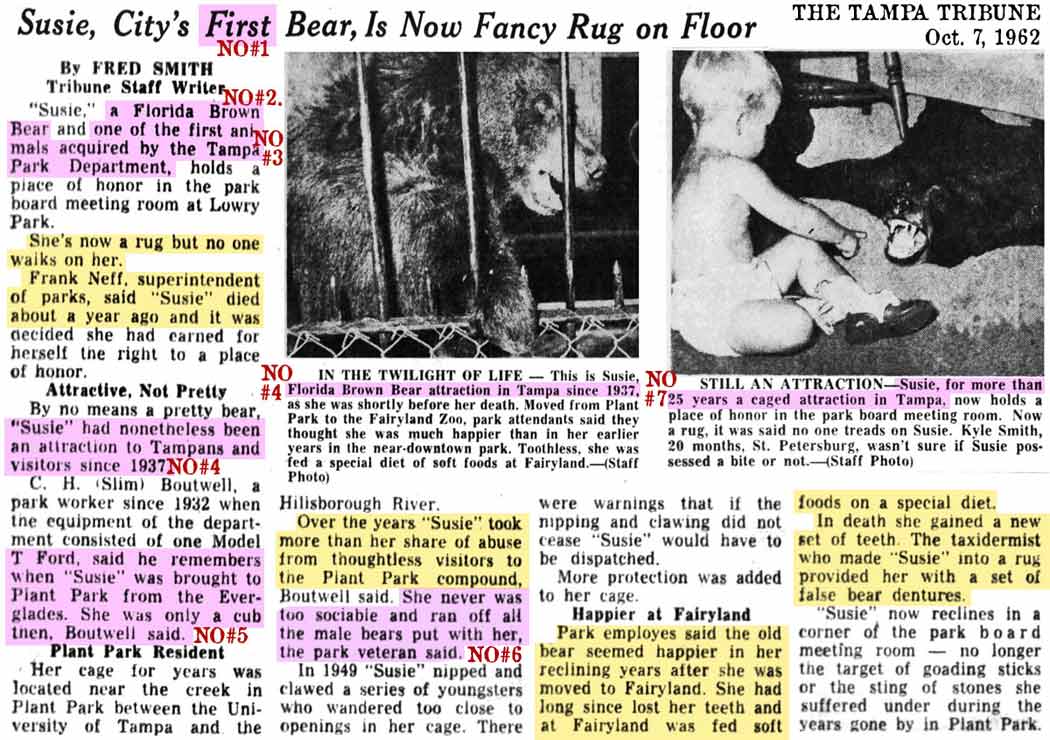 THE SEVEN NO-NOs of the PLANT PARK BEAR at LOWRY PARK ARTICLE of OCT. 7, 1962
1.
Susie #2 was NOT the first bear at Plant Park. She was the THIRD BEAR. "Pat" was the first bear and the only male bear at Plant Park. He was obtained in Nov. 1933 by Marco Penn from Ft. Myers to see if the bear could get at a beehive that was way too high on the University building for anyone to climb or reach. Pat was around 2 years old at the time. It's not known when he died. Likely before 1943.
2.
Susie #2 was NOT a Florida brown bear, she was a Canadian black bear obtained by Marco Penn in March 1943 at the age of around 20 months. Penn obtained her from C. W. Bray of Lake Carroll, who had her about a year. He got her from a St. Pete wild animal zoo when she was around 8 months old, "and came from Canada."
3.
Susie #2 was NOT "one of the first animals" at Plant Park. There were at least 7 alligators, 2 bears, 3 otters, 1 ocelot ("Mexican tiger"), 3 white-nosed coatimundi (Mexican raccoons, or "ant bears" as the press called them), a Texas horned toad, and 1 loggerhead turtle before Susie #2 was acquired.
4.
Susie #2 was an attraction at Plant Park since March 1943, not since 1937. She was acquired about 10 days after Susie (Suzy) #1 died at Plant Park.
5.
Mr. Boutwell's memory is a bit clouded, he has forgotten that it was the FIRST Suzy who was a Florida brown bear captured in a tree in the Everglades by Marco Penn.
6.
If Susie #2 was ever exposed to a male bear, it would have been Pat, the first bear at Plant Park. But after 1936, he's never mentioned by name again. References to a plurality of bears at Plant Park ends in Dec. 1938. After that, all articles reference only a single bear. When Suzy #1 died in Mar. 1943, no other bear is mentioned, and she is referred to as "the bear" and NOT "one of the bears." Likewise, when Susie #2 is acquired 10 days later, nothing is said of another bear or how they would get along with each other as you would expect. So Pat, the only male bear ever at Plant Park, may have died or been removed before Susie #2 ever arrived.

There were three bear bite/clawing incidents in 1939 to 1940. In all of the articles, the bear is referred to in singular, instead of "one of the bears." The last article mentioning Pat was in Feb. 1938, so these three 1939 incidents may have involved Suzy #1.

7.
Susie #2 was an attraction in Tampa from 1943 to around 1961. This is 18 years, not 25 years.
OBITUARY OF ELSIE MAY PENN, WIFE OF MARCO PENN SR.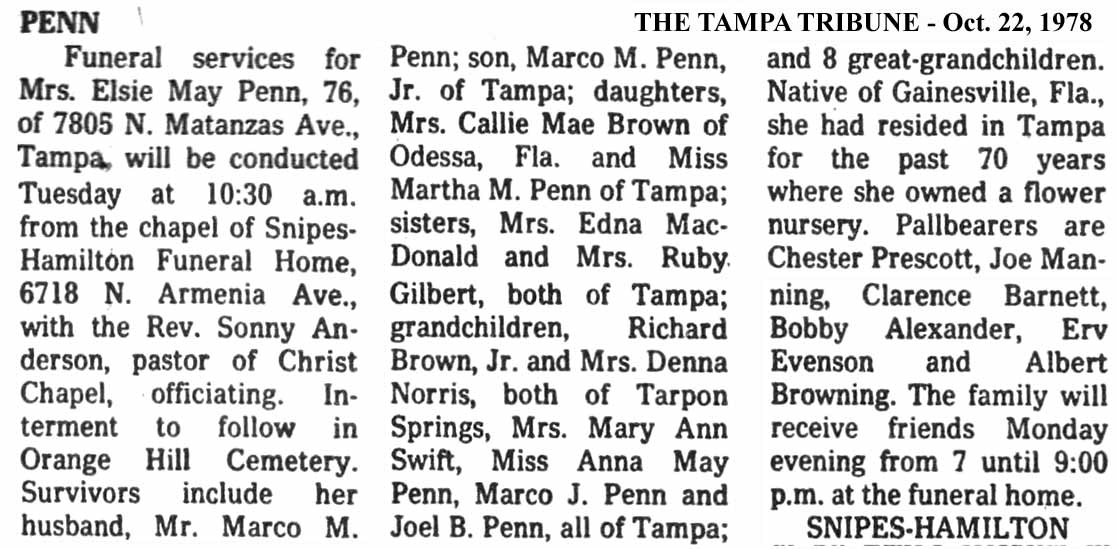 MARCO PENN FIT AS A FIDDLE AT 83
He credits Sulphur Springs mineral water for his good health. Plenty of hard work as parks supt. and at his landscaping business surely also played a significant role.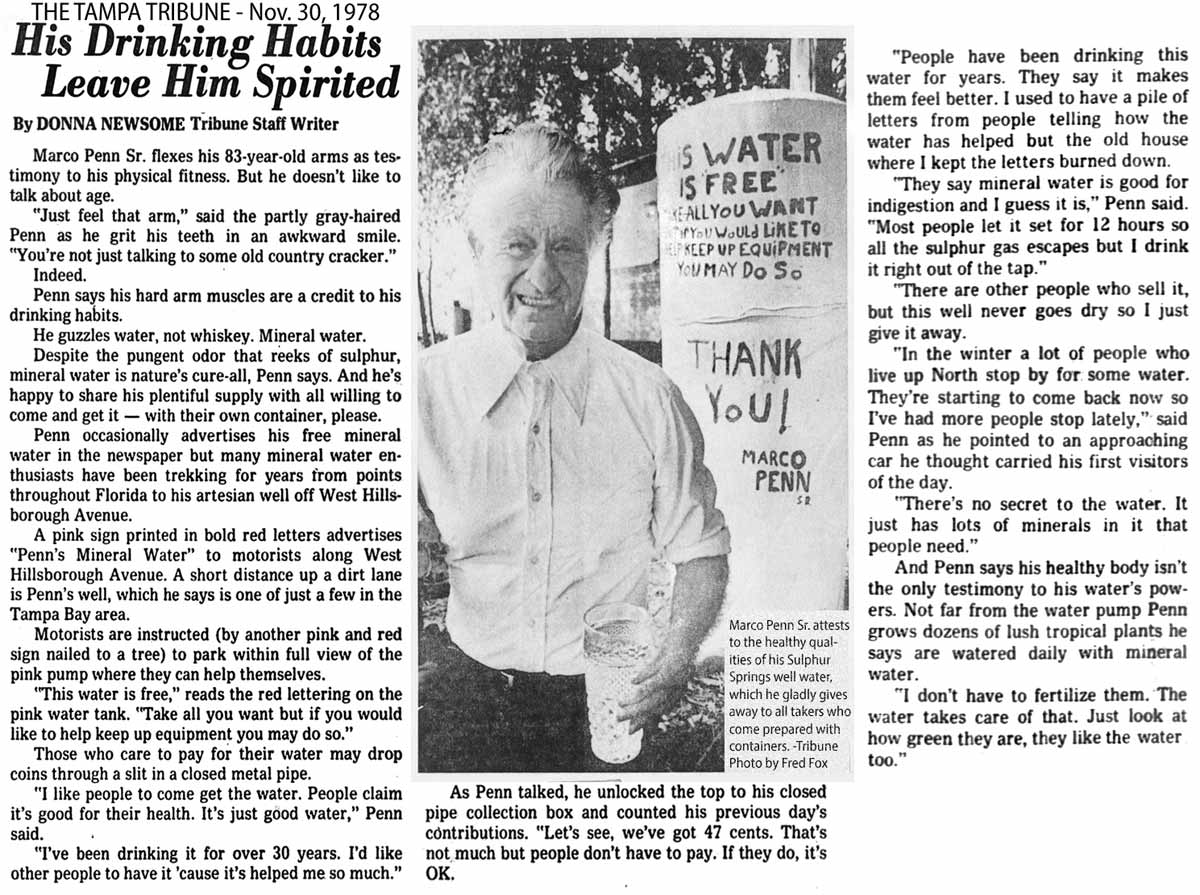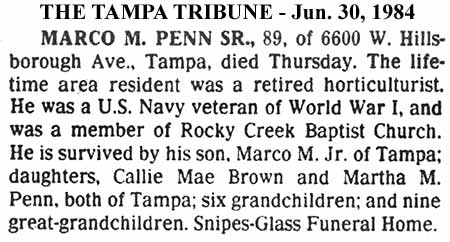 Marco M. Penn, Sr. died on June 28, 1984 in Tampa. He was 89.
The Courthouse Fountain & Sulphur Springs zoos
Plant Park Zoo
Sheena the Baby Elephant & Jim Godfrey

Herman - King of the Zoo
Safety Village / Children's Museum / Kids City