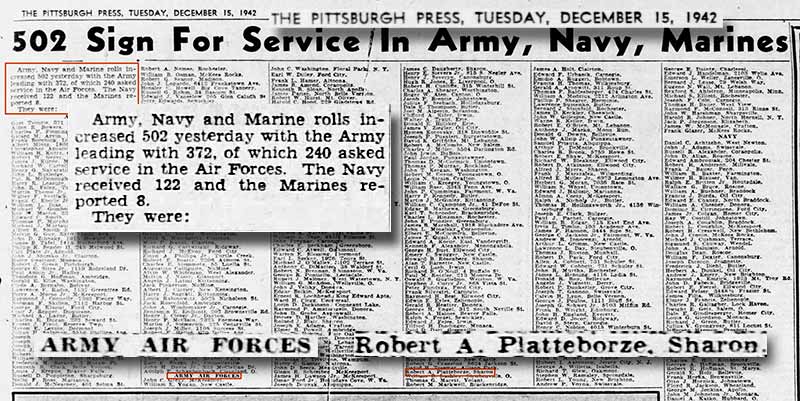 Robert enlisted in the Army in Nov. of 1942 while living in Sharon City. According to his enlistment record, he was already married, had 2 years of high school, and his occupation was semiskilled chainman, rodman, axman; in surveying. Private in the Air Corps, Enlisted Reserve or Medical Administrative Corps (MAC) 20 Feb 1943 Term of Enlistment: Enlistment for the duration of the War or other emergency, plus six months, subject to the discretion of the President or otherwise according to law. Event Place: Miami Beach, Florida, United States.
(Miami Beach, "the most beautiful boot camp in America," where one fourth of the officers and one fifth of the enlisted men of the entire Army Air forces were trained.) See Miami Beach wartime training center, Camp Miami Beach, and Miami Beach training center.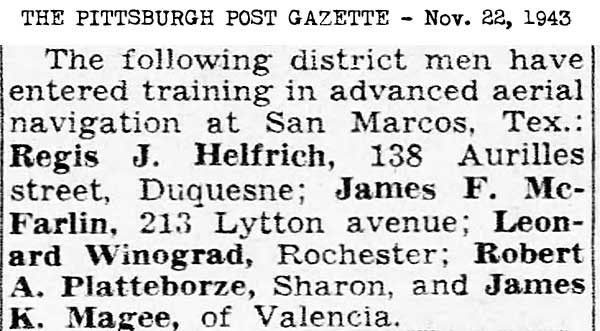 In November of 1943, Platteborze began advanced aerial navigation training at San Marcos, Texas.
Apparently his wife moved to Texas as well; their son, Wayne David Platteborze, was born Jan. 16, 1945, in Ward, Texas. Mother: Doris P. Wolfinger Platteborze.
According to the Bragg ad, and the ads below, Platteborze graduated from Palmer School in Davenport. The one on the left below appeared in the Times quite regularly but with different messages.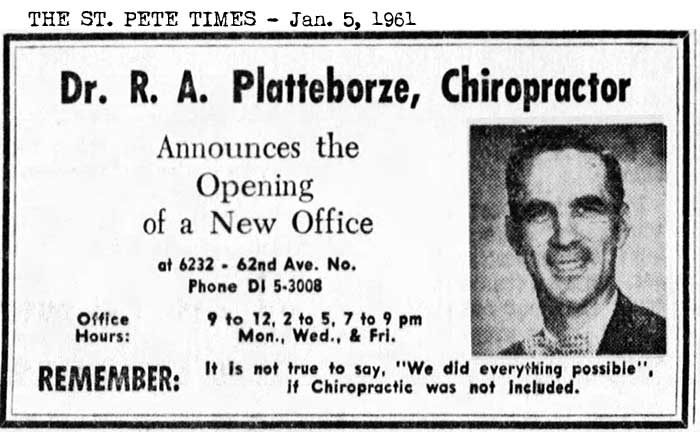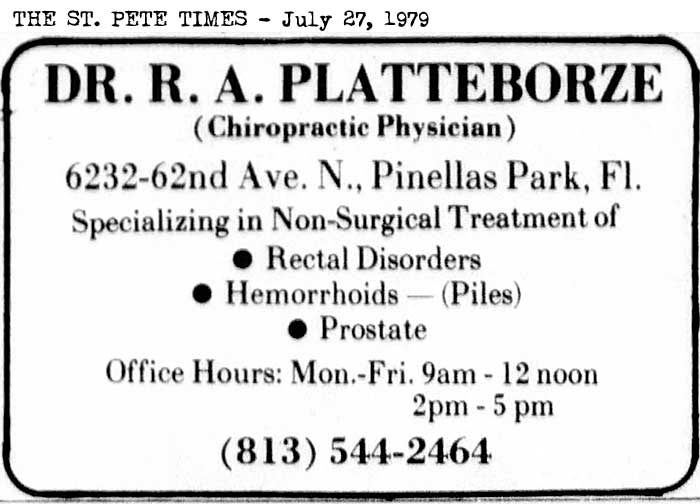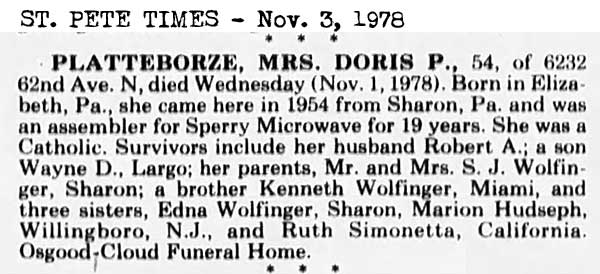 Doris Platteborze died Nov. 1, 1978 in Pinellas county at age 54.

Robert Andrew Platteborze married again nearly two months later, Dec. 23, 1978 in Pinellas County, to Ethel. (Name based on the following divorce record.)
Robert divorced Ethel Platteborze on Sept. 21, 1979 in Pinellas Co.
Robert then remarried on Nov. 18, 1989 in Pinellas County. He was age 65.
Robert and Doris's son, Wayne D. Platteborze, married and divorced no less than 4 times, two times was with the same wife.