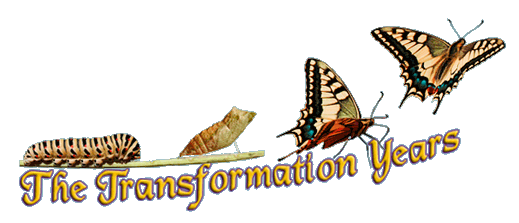 Lowry Park Zoo Undergoes $20 Million Renovation, Transitions from City Management to Private Organization

From "Zoo Story: Life in the Garden of Captives, by Thomas French (at Internet Archive)
Nick Nuccio, the Tampa mayor who had started it all, called the zoo "a children's paradise." As the years passed, though, Lowry Park aged poorly. What was once quaint became dreadful. The train rusted, and two toddlers were injured when a kiddie ride roller coaster derailed, and Sheena the elephant was shipped off to Canada, where she died of a heart attack. Worst of all was the soul-killing collection of dilapidated cages where the animals kept dying from abuse. Years later, adults who had visited the zoo as children still shuddered when they recalled the grimness of the place..."It was a rat hole" one city councilman remembered.

As the zoo collection continued to grow through the 1970s, the need to upgrade the habitats and present the animals in natural settings became an issue, the zoo facilities were in need of repair and renovation, with the animals cramped concrete quarters were so poor that the Humane Society called it "one of the worst zoos in America." The need was fully embraced by the Tampa bay area community, which resulted in the formation of an organization dedicated to building a first-class zoological garden.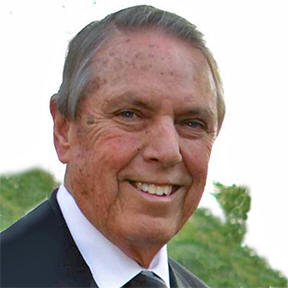 In 1981 the Tampa Parks Department and Citizens Advisory Board called for zoo improvements. The Lowry Park Zoo Association formed at the suggestion of the Tampa Parks Department, Mayor Bob Martinez, and private citizens who shared a common vision. Its mission was to raise awareness of Tampa's Lowry Park Zoo and promote a public-private partnership to fund the renaissance of Tampa's Lowry Park Zoo. Soon after, the Zoo Association embarked on a $20 million capital campaign, and the City of Tampa committed $8 million.

.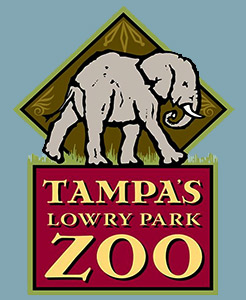 In 1984 the Zoo Board of Directors and J. D. Porter developed a comprehensive, 24-acre zoo master plan. In 1988 the Zoo Association became the Lowry Park Zoological Society, a private, independent, nonprofit organization dedicated to the management and ongoing development of a superior zoological garden, and was no longer owned by the City of Tampa Parks Dept.
SEE Bringing Down the Bars Nov. 18, 2019 - Doug Porter and his time in Tampa during Lowry Park Zoo's transition of 1984.
After several years of fundraising and the help and support of mayor Bob Martinez and the city of Tampa, the original Lowry Park Zoo closed with a ceremony on Monday, September 7, 1987 at 6pm for its $20 million reconstruction. There were no admission fees for the last days of the old Lowry Park Zoo, with the new zoo expected to charge $3 for adult admission and $1.50 for students. The amusement rides, which were not affiliated with the zoo, were closed on the final weekend.
Also on the final weekend, Reynolds Aluminum Recycling, in cooperation with radio station Q105 and Pepsi-Cola, celebrated the closing/remodeling with a "Cans for Critters" fund-raiser. Reynolds gave free memberships to the first 7 recyclers to donate 25 lbs. or more to the campaign. The family memberships, which were expected to go on sale in October of 1987 for $25, would admit a family to the new zoo for a year.
Over the next 3 to 4 months, animals were shifted from the old zoo to new homes, to be joined by other animals throughout the country. A large, screened-in aviary was planned to be open the following January, featuring 100 species of birds in a walk-through exhibit.
A second portion, the Primate World, was built to display eight species of primates from chimpanzees to red-ruffed lemurs. The third segment, the Asian Domain, was to give visitors a look at animals such as elephants, camels and leopards.

April 12, 1985
Moving day at the Lowry Park Zoo in Tampa went pretty smoothly Friday.
The cougars were prodded from above their cages into a truck waiting nearby.
TBT archives photo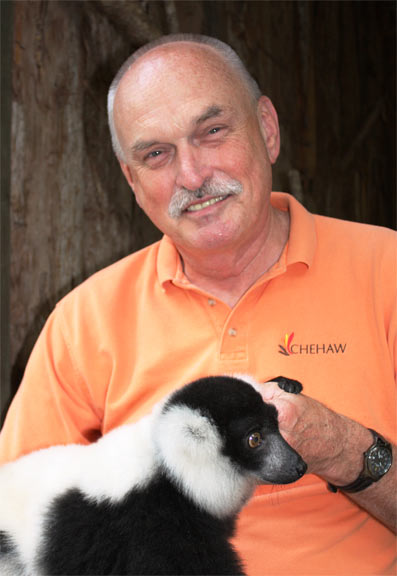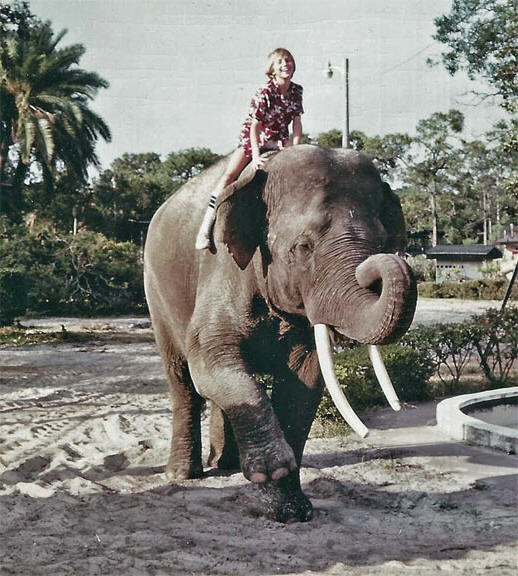 A Ride to Remember - April 19, 2014
A Zoo Man's Musings
J. D. (Doug) Porter is a zoologist, an educator, and a writer who takes the unorthodox and controversial view that zoos can be good for animals – if they are done right.

I have been doing some reminiscing (and some writing) about the early days at the Lowry Park Zoo. I love this photo of my son Jason and the story it tells, as he sits atop Buke – a massive male Asian elephant.
1985 - Jason Porter atop Buke, the male elephant brought in to share Sheena's enclosure at Lowry Park to accompany Sheena to Canada and make her transportation less traumatic.

A Ride to Remember - April 19, 2014
The Lowry Park Zoo, at that time, had one 24 year old Asian elephant named Sheena, who had been donated to the zoo in 1961 by the Park's namesake** General Sumter L. Lowry, Jr. The new master plan had been designed around her and the building she inhabited, but in order to build her new facilities, she would need to be moved to another zoo for a few years. After searching far and wide, we found a good facility at African Lion Safari near Toronto Canada that would take her. They had proper facilities, other elephants, and a highly competent staff. All we had to do was figure out how to get her there. I described the process in my article for the Zoo's newsletter in the fall of 1985.
**The park was named for Gen. Lowry's father, city commissioner Dr. Lowry, not Gen. Lowry.
The Death of Sheena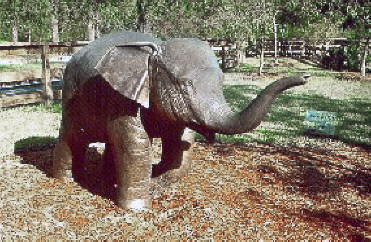 This bronze elephant is located at the entrance to the Asian domain within the Lowry Park Zoo, and is intended to serve as a memorial to Baby Sheena, who was donated to the zoo by Sumter L. Lowry, Jr. in December, 1960. Lowry intended Sheena to be a gift to the children of Tampa, who, in 1960, had not been exposed to elephants in a local setting.
Read the rest of the article by Doug Porter and the circumstances of Sheena's death here at the breakout feature about Sheena, here at TampaPix.

Sheena, 1986, Bronze 4' x 5'
Lowry Park Zoo
by Joyce Parkerson
Don't miss J. D. (Doug) Porter's interesting blog about zoos and other related topics.
He is an excellent author and has written quite a few books.
"From animal keeper to zoo director, my career spanned over forty years. It included positions with a half dozen of America's great zoos during the most transformational era in zookeeping in more than a century—a time when zoos went from 19th century menageries to modern day arks."

Five articles are specifically about his years at Lowry Park:
A Ride to Remember - Memories of Sheena's preparation to relocate her in Canada
Apr. 19, 2014
Good Sized Zoo for the City of Tampa - A brief history of Tampa's zoos.
Nov. 7, 2019
Bringing Down the Bars - Doug Porter and his time in Tampa during Lowry Park Zoo's transition of 1984.
Nov. 18, 2019
An Elephant Moves to Canada - Sheena, from beginning to end.
Nov. 27, 2019
Tampa's Lowry Park Chimps Walk on Grass - The story of Herman and Gitta from Liberia to Lowry Park.
Dec. 5, 2019
THE NEW ZOO AND FAIRYLAND WALK AT FUN FOREST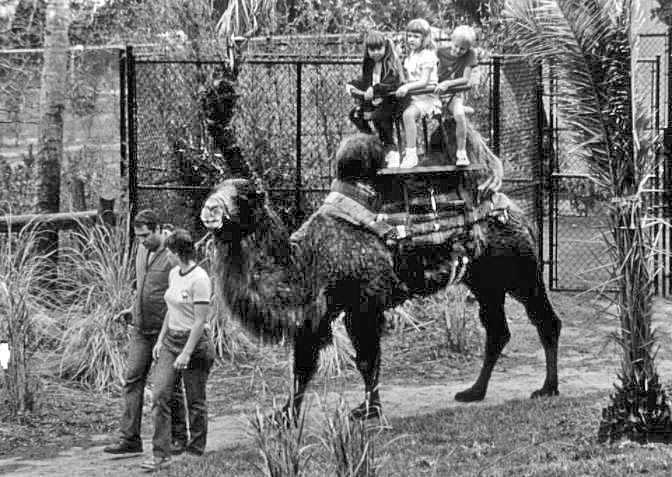 The rejuvenated first phase of the revamped zoo opened on March 5, 1988 with a Free-Flight Aviary, Asian Domain, Primate World and a Children's Village/Petting Zoo.
Fairyland returned, along with the original rainbow bridge entrance (without the large pool), as the Fairyland walk at the "Fun Forest," with many of the original storybook character statues having been cleaned up, or repaired and repainted, and possibly even replaced or removed.
Riding a camel at the newly opened zoo, Mar. 6, 1988.
TBT archives photo courtesy
of Kimi Lau-Costanzo
More than 614,000 people visited the Zoo during its first 12 months after reopening.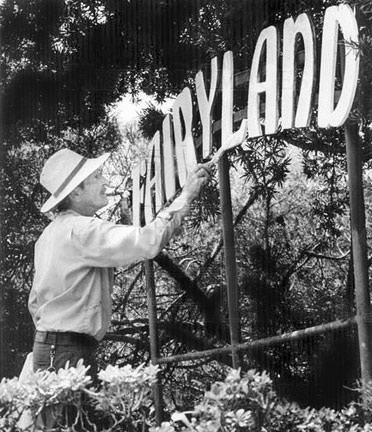 Ralph Alday of Tampa's City Parks Dept. puts finishing touches on the newly refurbished Fairyland walk at Lowry Park, Sept. 1989.
Photo from Historic Images.
By February of 1992 the newly renovated park consisted of the zoo, amusement park, Fun Forest with Fairyland walk, and new Children's Museum (formerly Safety Village) adjacent to it. Admission to the Lowry Park Zoo was $5.50 for adults, $3.50 for children 4 to 12 and $4.50 for the elderly (children 3 and younger free). The newly built zoo had 1,600 animals in enclosures designed to resemble native habitats, and attractions included a 175-bird aviary and an underwater view of a manatee. There was also a children's petting zoo and the fountain at the entrance where they could wade.
Fun Forest at Lowry Park had 19 rides as well as a playground and the "Fairyland" walk. Admission to the amusement park was free, but it took three tickets to board each of the rides; individual tickets cost was 40 cents, a 20-ticket book was $6.95 and an all-day wristband was $9.95.
(1992 NY Times article: What's Doing In Tampa, by Tampa resident Sara Kennedy; Published: February 2, 1992. Recent zoo history from Lowry Park Zoo website. Sept 4, 1987 Visit the Zoo Before the Gates Close Conclusion)