MAYOR NUCCIO'S GIFT TO THE CHILDREN OF TAMPA
Lowry Park Developed With Fairyland
The early history of the construction of Fairyland and its zoo presented here is a result of the combination of information from many resources. Where possible, information printed in articles at the time the event was happening takes precedence over what may have been printed many years later. For the simple reason that as the years pass, histories tend to evolve into something more heroic, more dramatic, more incredible and more exaggerated. And it happens A LOT. (See how Tampa's old City Hall clock REALLY came to be called "Hortense.")
SOURCES:
From: Zoo Story, by Thomas French at Internet Archive
The city's zoo had started in the 1930s as a tiny menagerie—a handful of raccoons and alligators, a few exotic birds—and then had slowly grown [at Lowry Park] into a larger collection of lions and tigers and bears and even one elephant, a female Asian named Sheena who had been transported from India on a jet in 1961, making her the zoo's original flying elephant. The undisputed star in those early years, Sheena performed twice a day in a circus ring and then gave rides to children. Admission was free. The place was sometimes called "the Fairyland Zoo," because the animal attractions were merged with a panorama of storybook houses and scenes re-created from Mother Goose and other children's tales. Kids skipped across the Rainbow Bridge and darted among replicas of the Seven Dwarves, Humpty-Dumpty, and the Big Bad Wolf and the Three Little Pigs. They clambered onto a small train that chugged and curved across the grounds, and spun on the Tilt-a-Wheel, and threw food over a fence within reach of Sheena's trunk. Just north of the zoo stood Safety Village, a miniature replica of Tampa, with a shopping mall and a fire station and a tiny City Hall, where police officers tutored young citizens in how to recognize traffic signs and use crosswalks and repel the advances of molesters. Second-graders even got to ride small electric vehicles as they practiced braking at stoplights on Happy Drive and Polite Boulevard.
BUILDING A FANTASY THEME PARK
The building of Lowry Park as an amusement park and tourist attraction was an amazing story because it was built so inexpensively, even for its day -- it's initial construction cost was $60,000 for everything. Mayor Nuccio said it could easily have cost the city double that amount had a private company been contracted for the job. The funds came out of a city surplus account. Nuccio engineered the project himself. The park became his baby, and he made certain it would succeed.
Mayor Nuccio told the St. Pete Evening Independent in 1965, "I got the idea after visiting New Orleans. that city had something along those lines and it really impressed me."
June 1, 1965 Evening Independent - Donors Share Their Spots With Lion's Share of Free Animals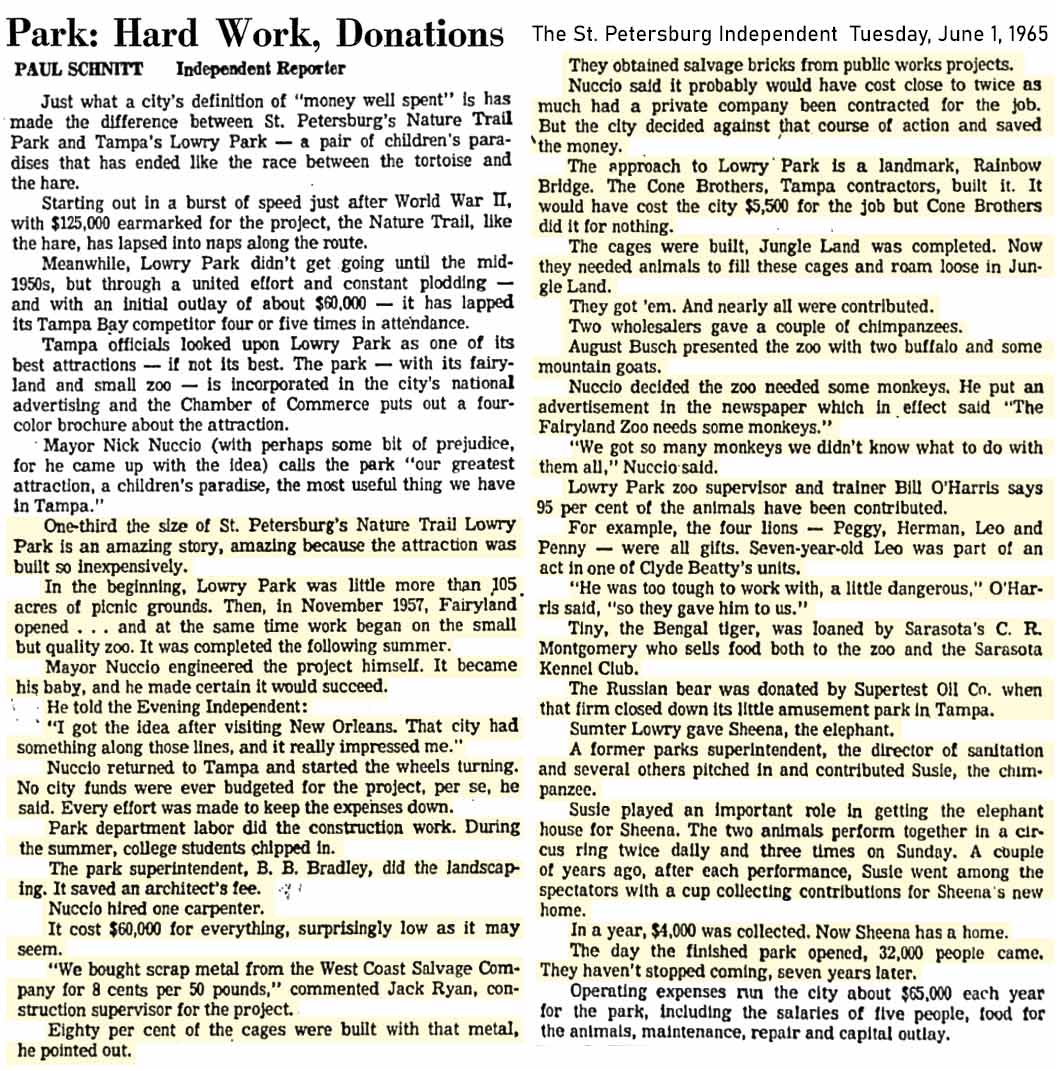 When he returned to Tampa, he started the wheels turning.
The park in New Orleans is still in operation today as Storyland. See it here.


Storyland in City Park, New Orleans. Photo from New Orleans Official Guide
BUFORD BRADLEY SENT TO NEW ORLEANS TO GET IDEAS
In April 1957, City Parks Superintendent B. B. Bradley was sent to New Orleans in order to "get first-hand ideas on the dramatic display.." from Storyland. Nuccio viewed the color slides that Bradley took when he got back to Tampa.
The $15k to $20k expected cost to build would be financed from an expected city land sale, with city employees to do the construction work other than the making of the fairytale figures. A "local citizen" agreed to build a large fountain as a central piece, and a "novel entranceway" had already been chosen--anyone who wanted to enter Fairyland would do so by "sliding down a rainbow slide into the park."
It was expected to take about four months to complete the work, once it started.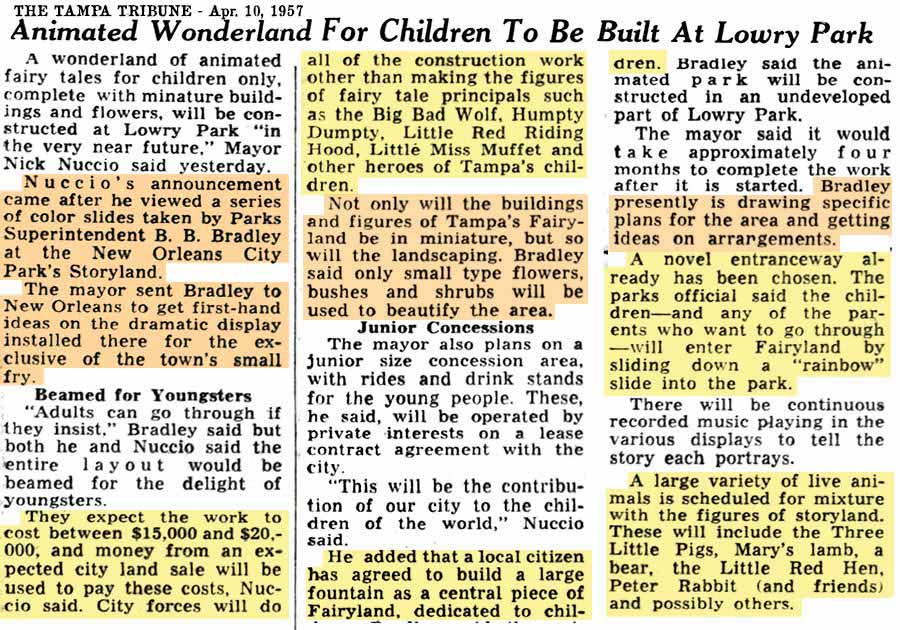 NUCCIO HIRES FRANK NEFF TO ASSIST BRADLEY

No city funds were budgeted for the project, Nuccio said. The funds that were used came out of a surplus fund. Every effort was made to keep expenses down.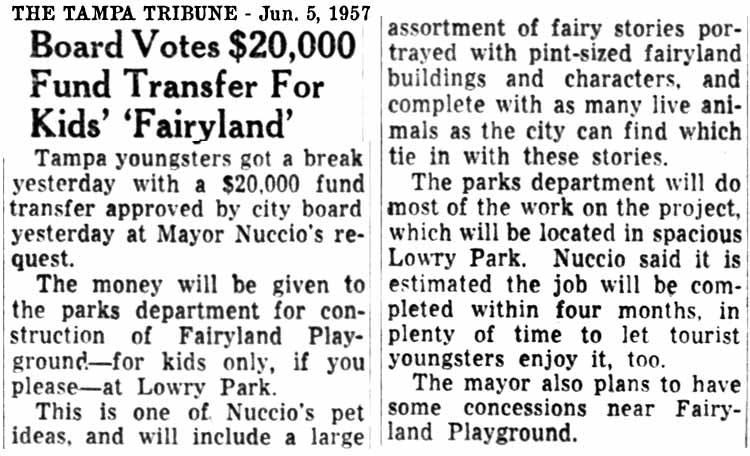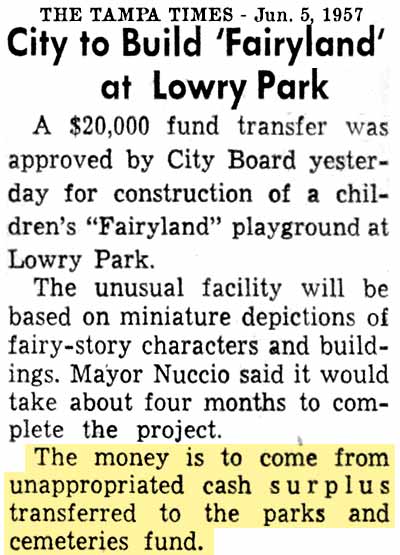 CITY TRADES SOME LOWRY PARK LAND TO SCHOOL BOARD IN RETURN FOR OTHER LAND FOR RECREATIONAL USE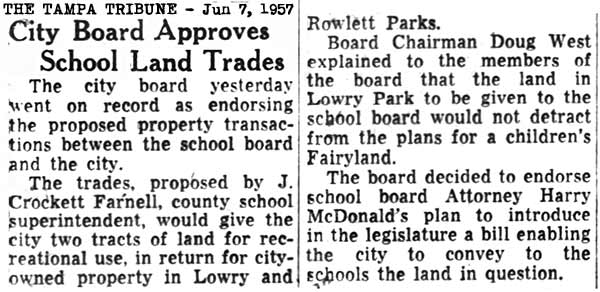 NOT A FISCAL TIZZY, IT'S A LEGAL TIZZY
Bradley argues that the construction of fairytale replicas defy working drawings and detailed specs needed to advertise for bids. He said "the building of giant-size three-dimensional nursery rhym exhibits is so novel and complicated that he could not draw up specifications for bidding. Board agreed and allowed Bradley to choose his own contractors as long as he kept each item below $1500. "Money for the Fairyland project was set up by the transfer of $20,000 from a city unappropriated cash surplus on June 4."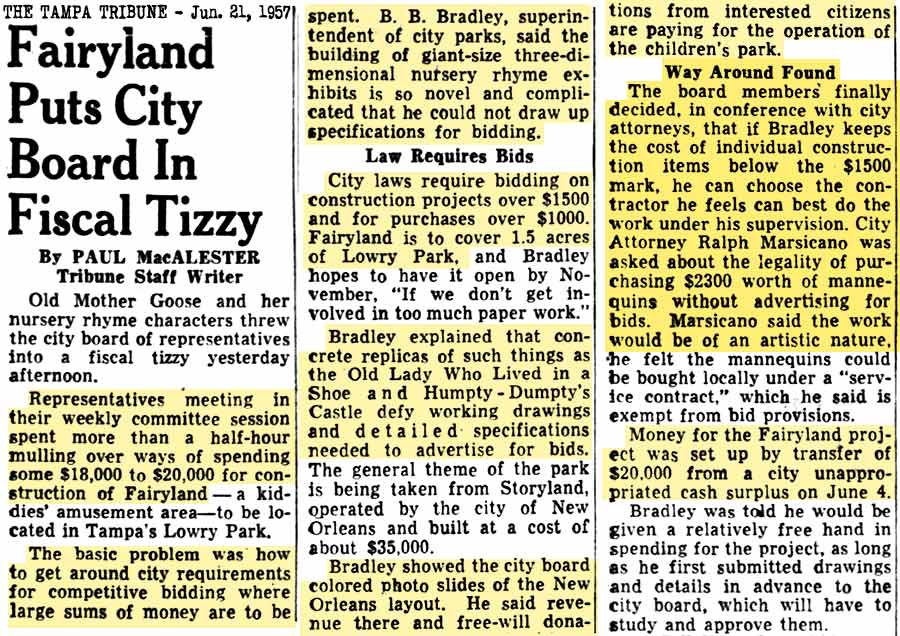 ASST. CITY ATTORNEY FREAKS OUT OVER ABSENCE OF CONTRACTS
Bradley was given cost limits of $1000 for the big shoe, a minimum (probably was supposed to be maximum) of $1200 for Goosey Gander's castle, $900 for Humpty's castle, and $85 each for "pixies."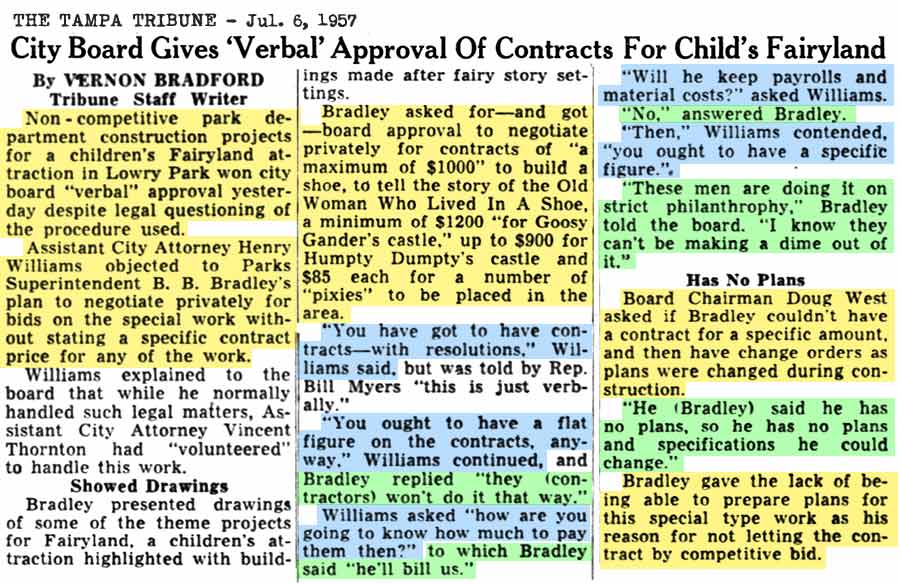 A cement industry strike in late July 1957 forced the City to discontinue sidewalk construction jobs, but the Fairyland project would not be affected due to already having bought the cement supplies.
DEATH OF JULIAN LEE CONE
Cone was born Nov. 3, 1890. He was 66. His uncle, Eben E. Cone, sold the land that became Lowry Park to the City of Tampa in 1918. Its purpose was to be a cemetery site.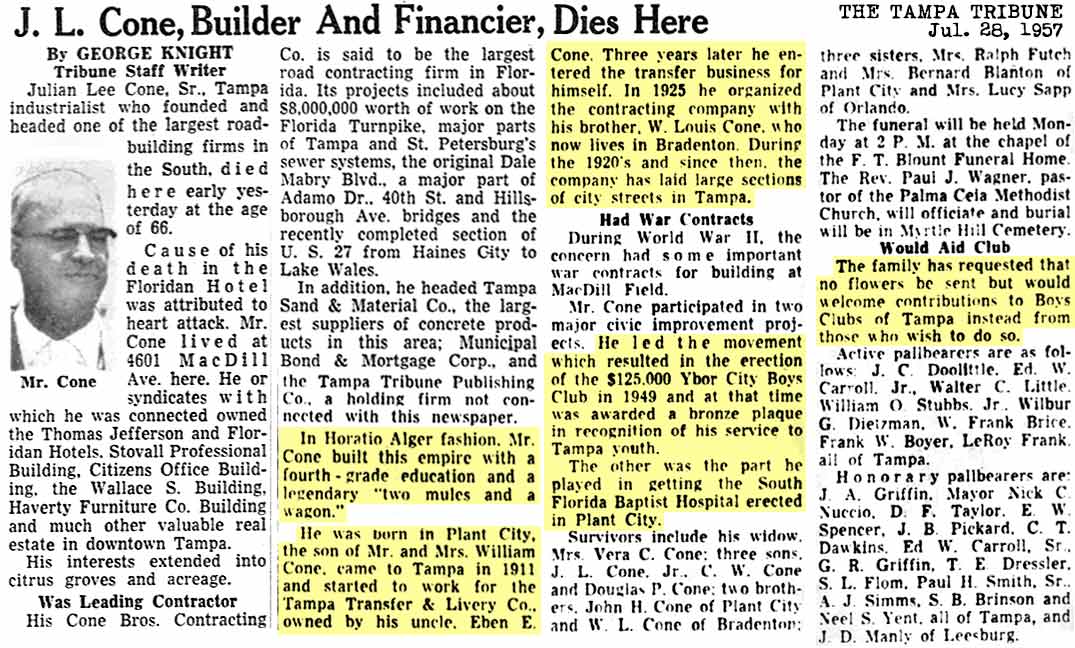 Work began on Fairyland in 1957, with its landmark entrance, the Rainbow Bridge. That alone would have cost the city $5,500, but Cone Brothers contractors did it for nothing.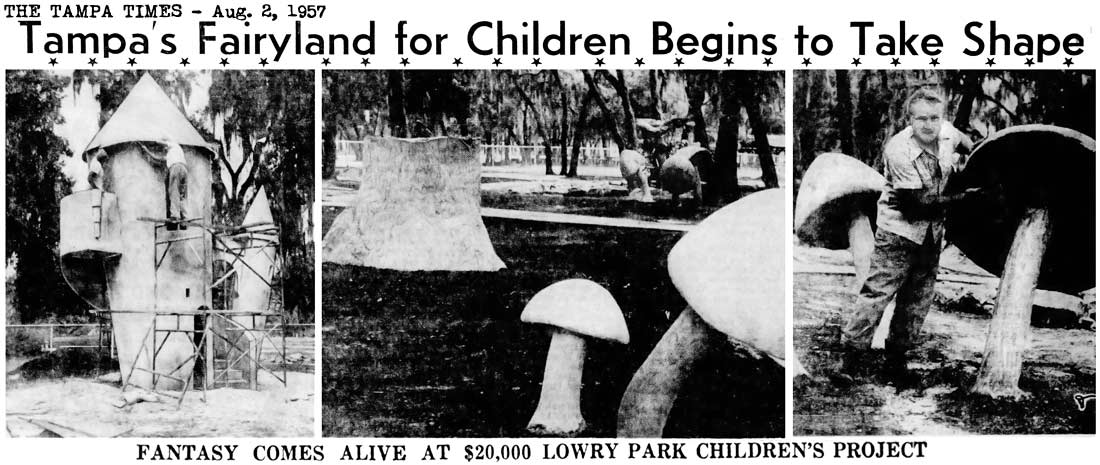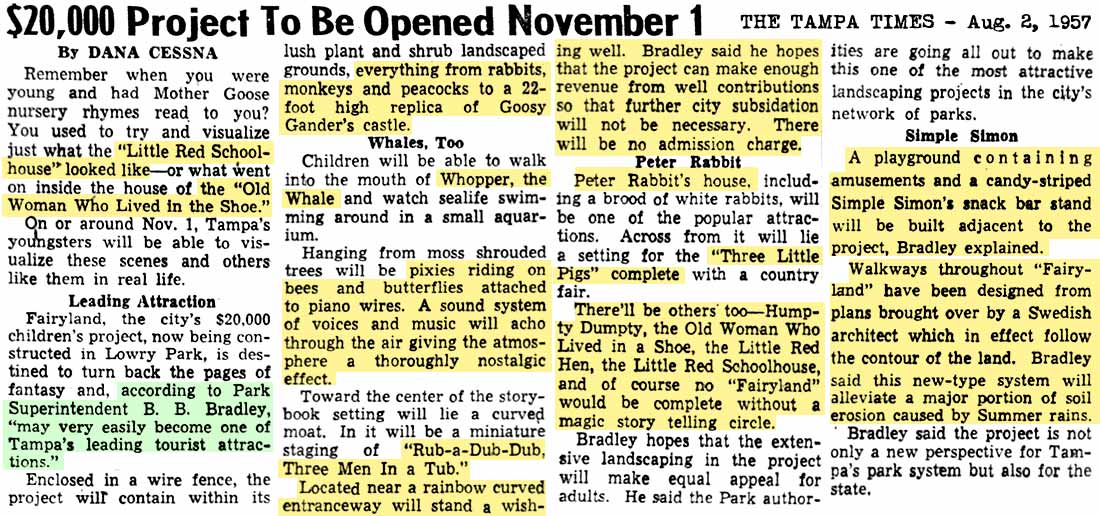 Parks Department labor did most of the construction work. During the summer, college students helped. The park superintendent, B. B. Bradley, did the landscaping. It saved an architect's fee. Nuccio hired ONE carpenter. Scrap metal was bought from the West Coast Salvage Company for 8 cents per 50 pounds according to Jack Ryan, the construction supervisor for the project. Eighty percent of the cages were built with the scrap metal. Salvage bricks were obtained from public works projects.



Perhaps the Tribune was trying to say "the superintendent said HE THOUGHT it would be self-sustaining..."

Fairyland will take up 1½ acres and will be "one of the foremost tourist attractions on the Florida West Coast." Bradley now says there would be NO admission charge.

He says minister and doctors he's consulted with told him that too often children are taken out of the "land of make-believe." He predicts Fairyland might even be a deterrent to juvenile delinquency.

FAIRYLAND CLOSE TO OPENING

Sept. 29, 1957 - A grand opening for the general public was to take place after a "sneak preview" opening for Tampa's "orphans, crippled children and retarded youngsters." Fairyland would be lighted at night at least one or two nights a week.