One of the big sawmills in the northwest Hillsborough County area was the one owned by Charles Lutz south of Odessa. After the Tampa Northern Railroad was built, in 1909 Charles Lutz built a tram track to carry his lumber 10 miles to the east, connecting his sawmill to the Tampa Northern Railroad at brother William's self proclaimed Lutz Station. The track connected to the Tampa Northern Railroad at what is now Lutz Lake Fern Road and US 41 in a horizontal "Y" shape junction. This narrow track line, part of the Tampa and Gulf Coast Railroad ran east-west and extended westward to Tarpon Springs. It was nicknamed the "Peavine Railroad" because it was so crooked.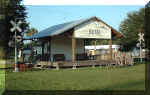 The joining of the railroads at Lutz Station prompted the station to be renamed Lutz Junction, which was still just a wood stop. The replica of the old Lutz train depot which now stands at US 41 on the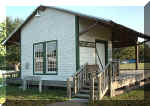 north side of Lutz Lake Fern Road is a replica of the station which originally stood on the south side of Lutz Lake Fern Road, nearer to present day 1st Ave. SW. The building has a history of its own, undergoing renovations and enlargements from it first design.
Click to see full size