In 1921, a hurricane destroyed the original Lutz School, which was southeast of the town center. The students had to complete the school year in the Kittendaugh Building, which was the Golden Rule Store owned by Dr. Hood.
Another wooden school was quickly built and served its purpose for about 7 years. Albert Brant owned and operated the Lutz school bus in 1925.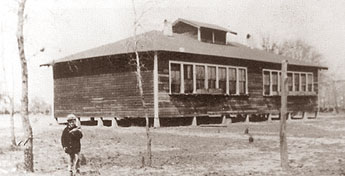 The second school in Lutz. It continued in use as a lunch room when the 3rd school was completed in 1927.
Up until 1925 Florida Avenue was a slag gravel and limestone base road that led out of Tampa and intersected with Nebraska Avenue at the Apex. In 1925 Florida Avenue was slip-scraped and graded by the Smiths, then paved with asphalt bricks from Linebaugh Avenue northward to the Apex. The paving was done by Works Progress Administration (WPA) workers using wheelbarrows and shovels.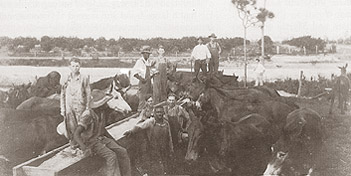 The Smith's pen where they watered and fed their mules while grading Florida Avenue in 1925.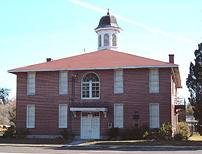 In 1926 Tampa architect and builder Frank A. Winn, Jr. designed the third Lutz school. He chose a Georgian Revival style, red brick masonry, and a two story structure with four classrooms on the first floor and an auditorium on the second floor. Local citizens helped build it and later helped with the renovations. The initial construction began in 1926 and finished in 1927 in time for the school year. The school closed in 1973 but the building still stands today, having survived a lightning strike in recent years which set fire to the cupola and damaged it so that storm rain poured in. The building is listed on the National Register of Historic Buildings.
Through the years Lutz had become a haven for many rural industries. The earliest settlers arrived and started nurseries (Riegler, Newberger, Feinsinger, Holmes, & many more) and groves (about half the people in Lutz!) and later dairy farms (Ignazio Zambito), poultry farms (Max Smith) and cattle farms.
Some of the farmers had fruit and vegetable stands along the main highway into Lutz, the first being "Nye's Fruit Garden." Others in the 1930's were run by families such as the Vosburghs and the Grossenbachers (their grove was located by Lake Stemper.)