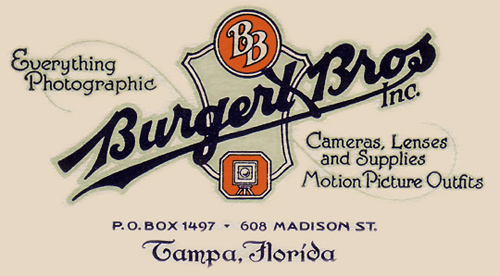 Burgert Bros., Inc. original color letterhead. courtesy of Diane Dowling. Obtained from a personal letter written by Al P. Burgert to his daughter in 1955.
THE BURGERT BROTHERS OF TAMPA - Act 3 of 5
---
Act 4 | Act 5

Some photos and information for this feature were obtained from

an article in the Sunland Tribune 16/1 (November 1990), Tampa Historical Society by Dr. Jack B. Moore and Dr. Robert E. Snyder and "Pioneer Commercial Photography" by the same authors.

Many of the images presented here were made possible by the tremendous efforts of the Tampa-Hillsborough County Public Library, by preserving, scanning and sharing on the web, over 15,000 of the Burgert Bros. images. Other sources equally deserving of recognition for doing the same for thousands more images, are the University of South Florida Digital Collections, the Florida State Archives "Florida Memory" Project, and the University of Florida Digital Collections, all of which were photo sources as documented in this feature.

Also, credit is due to David Parsons, curator of the Burgert Bros. photo collection at the THCPL, for his assistance and cooperation with providing high resolution images, and William LaMartin, for maintaining a very useful way to search the THCPL Burgert Collection in a way that produces thumbnail images of search results, an indispensible feature at LaMartin.com.



~~~~~~~~~~~~~~~~~~~~~~~~~~~~~~~~~~~~~~~~~~

Special thanks to Burgert brothers descendants Diane Heflin Dowling (great granddaughter of Al Burgert) and Harold "Hal" Chesney Burgert III (great grandson of James Harold "Harry" Burgert) for sharing their family history and the stories handed down to them about the Burgert family which appear in this feature, and for allowing the use of their photos from their personal collection.

~~~~~~~~~~~~~~~~~~~~~~~~~~~~~~~~~~~~~~~~~~
The Burgerts in Tampa
---

"William" is an error, this was Willard and his wife, Fe Arcadia Aviles

The Burgerts subsequently moved to Tampa around 1896 to 1897. The 1899 Tampa city directory listed three Burgerts engaged in the photography business.

Samuel and Willard C. Burgert constituted the firm of S.P. Burgert and Son, Photographers, and Jean Burgert also worked for his father and older brother. Samuel introduced the various children to his craft, and always retained a close relationship with them.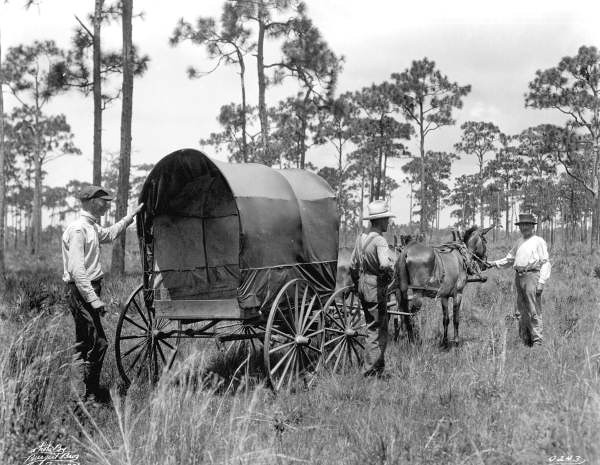 A prairie schooner in Tampa, circa 1890, by Burgert Bros.
State Archives of Florida, Florida Memory, http://floridamemory.com/items/show/34491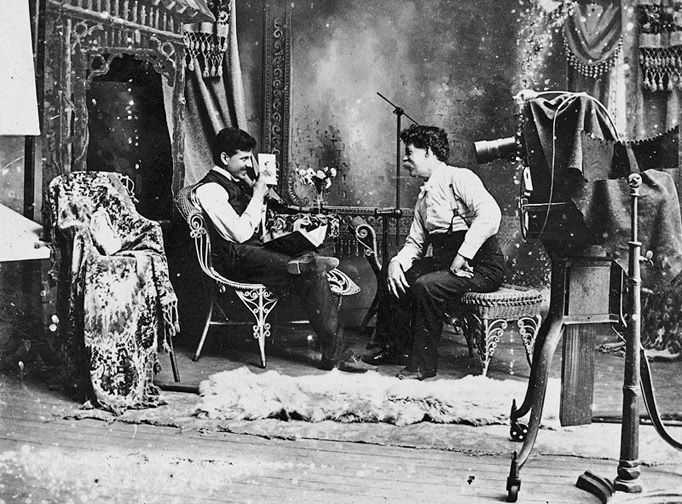 1900 - Samuel P. Burgert (right) and José Ramon Sanfeliz in the Burgert studio, Ybor City. The photo was taken by Jean Burgert. Cuban born Sanfeliz's pictures were taken between 1897 and 1905, and the film was developed and printed in Burgert's studio. From the University of Florida Digital Collections

José Ramon Sanfeliz
---
José Ramón Sanfeliz was born in Havana, Cuba, on September 21, 1870, and by age ten was working in a cigar factory. He found employment at the Hijos de Cabaña y Cajal Factory stripping the stems from the tobacco leaves. Two years later he worked with his father at La Concordia Sugar Mill and then, at age fourteen, began an apprenticeship at El Nuevo Mundo Cigar Factory. Sanfeliz would later write, "I distinctly remember this place as I received many beatings, many blows, and very poor food." At age twenty he decided to leave the revolution torn island and come to America.
Once in Tampa, Sanfeliz found employment at Lozano, Pendás and Company. The cigar industry in Ybor City was growing in 1890 and there was plenty of work for someone with his experience. In later years he worked in other factories such as Ramón Monet and Ybor-Manrara as well as for Pancho Arango at Seidenberg and Company who produced La Rosa Española cigars. But Sanfeliz held a variety of jobs throughout his life. In addition to cigar making, he worked as a clothing salesman, bartender, dishwasher, timekeeper, rent collector, laxative salesman and notary. He also was a bookkeeper at a racehorse track, worked in the shipyards, at a theater, newspaper, and liquor warehouse–AND–he took photographs.
In 1922, he created the photograph album today housed at the University of South Florida, Special Collections Library. This album consists of 35 black and white prints taken between 1897 and 1905, which profile life around Ybor City. According to a note in the album, commercial photographer Mr. S. P. Burgert–whose sons founded Burgert Brothers Photography–developed the photographs. Sanfeliz dedicated the album to his good friend D. B. McKay, mayor of Tampa and publisher of the Tampa Daily Times.
Sanfeliz went on to work for two local Spanish newspapers: the Prensa founded in Ybor City by Francisco de la Vallina and La Traducción (The Translation). As a Cuban patriot, raising money to fund the revolutionary forces in his homeland remained a priority for Sanfeliz. He was involved with two revolutionary clubs– The 24th of February Club and Los Vegadores de Maceo (Avengers of Maceo). Later in his career he became one of the founding members of Club Nacional Cubano (Cuban National Club), now known as the Cuban Club.


The 1910 census of Tampa shows Sanfeliz was working in the shipping department of a liquor warehouse and lived at 1603 Nebraska Ave., with his wife Carlota and their children, Eliezer, Benjamin, Esther, Josephine and Noemi. Jose and Carlota had been married for 18 years. Only 5 of their 8 children were living at the time of this census.
José Ramón Sanfeliz died December 7, 1957, and is buried with his wife Carlota in Myrtle Hill Memorial Park in Tampa.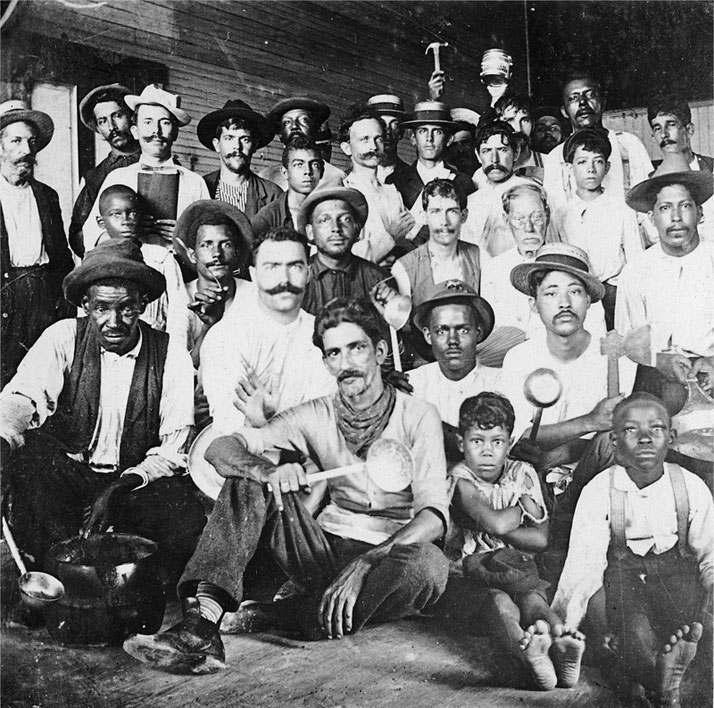 This photo of cigar workers on strike in 1899 is a Burgert Bros. photo which was probably taken by Sanfeliz.
In May of 1899 Latin cigar makers went on strike first at the Ybor-Manrara factory when owners installed scales, thereby challenging the integrity of the workers. Large numbers of Cubans left Tampa during the lean months of "la huelga de la pesa" (the weight or scales strike).
From the University of Florida Digital Collections
The preceding information about Sanfeliz are excerpts from a Cigar City Magazine article written by Marilyn Esperante Figueredo and online at http://www.cigarcitymagazine.com/history/item/cigarmaker-photographer. You can also see there some of Sanfeliz's photos and read more about his work. Ultimate source was Life History of Jose Ramon Sanfeliz at UNC University Library Southern Historical Collection. Many of Sanfeliz's photos can be found by searching at http://ufdc.ufl.edu/ for "Burgert" without the quotes, but they are not identified as his.
The Death of Samuel P. Burgert
---
Samuel expanded his work in photography in Tampa and became a respected citizen of the growing community, being elected Master of the John Darling Lodge of the Masons in 1913. He never retired and worked until his death on September 29, 1918 during the Influenza epidemic in Tampa. He died in a small three bedroom apartment in back of one of the Burgert Brother's photographic studios in Tampa, where he had lived with his widowed daughter-in-law, Nettie, and her children Hal, Thel and Rose.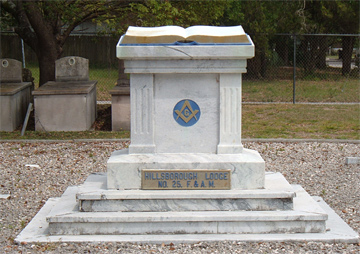 He is buried in the old section of Woodlawn Cemetery in Tampa, at a Masonic memorial of the Hillsborough Lodge No. 25. Atop the memorial is a tablet inscribed with the names of lodge members, with a number for each, corresponding with a marker on the ground surrounding the memorial. S.P. Burgert is number 9.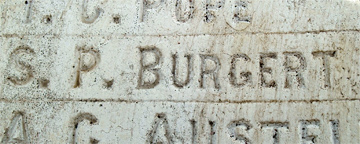 Photos courtesy of Diane Heflin Dowling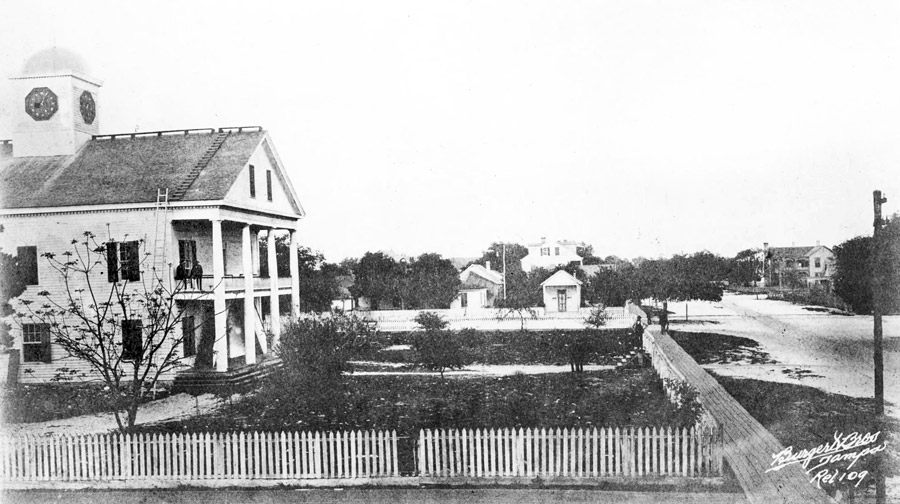 The third Hillsborough County courthouse in Tampa, Lafayette St. entrance, looking east from the intersection of Franklin St., 1887.
North is to the left. The intersection seen at the right is Lafayette St. and Monroe. Today this is Kennedy Blvd. and Florida Avenue.
From the University of South Florida Digital Collections**

**described there as "Madison St." which was the north side of this courthouse
The earliest Hillsborough County courthouse was a log cabin that burned down at the outbreak of the Second Seminole Indian Wars fought in Florida, around 1835. At that time, fewer than a thousand people lived in Hillsborough County and cattlemen came to the courthouse most often to complain about stolen livestock. And, of course, judges and attorneys traveled long distances by horseback or stagecoach to cover their "circuit," a name still in use today.

When the first Commissioners met in 1846, the general topics were taxes, transportation, a new courthouse and jail, and downtown development. The next year, the Commissioners accepted the bid of Captain James McKay to construct the 2nd courthouse, a two-story structure which was 20 ft x 45 ft and cost taxpayers $1,358.

The 3rd Hillsborough County Courthouse, seen above, was erected in 1855 at a cost $5,000 and was used until 1891. It faced south and was two stories high, nearly twice as large at 76 ft long, by 45 ft wide. The first floor was dedicated for City Hall, Judges of Probates, Clerks, Sheriff's Offices and the Grand Juror's room. A 42' by 45' courtroom was on the second floor. In addition, the courthouse was mounted with a dome and tower and was finished in a combination of Grecian, Ionic and Corinthian orders. Of course, it also had a picket fence to keep the animals out of the courtyard.
In August of 1892, an ornate, red brick courthouse with a silver dome was built, occupying a square block in downtown Tampa, at the same location of the previous one, but facing west. The architect, J.A. Wood, also had designed the Tampa Bay Hotel. This courthouse is seen in the large photo near the top of this page, and here.
From the Thirteenth Judicial Circuit Hillsborough County website

Employees standing at entrance to Exchange National Bank building at
northeast corner of Franklin (600 block) and Twiggs streets: Tampa, Fla. 1895
From the Burgert Bros. photographic collection at the Tampa-Hillsborough County Public Library System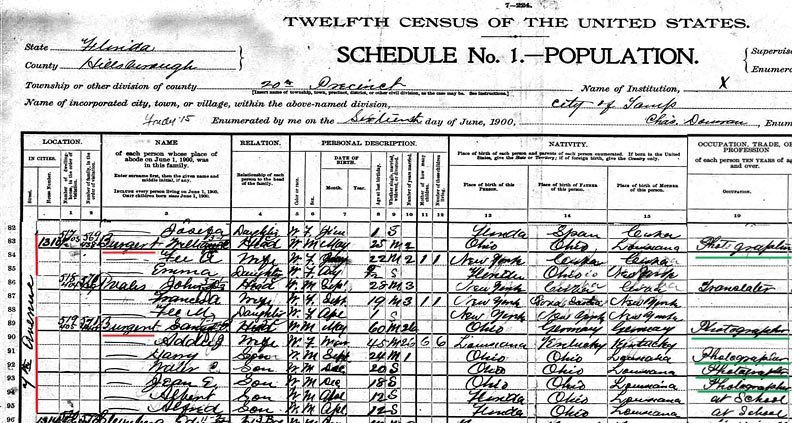 The 1900 census shows the Burgerts living at 1310 7th Avenue, a multi-family dwelling in Ybor City. Will Burgert was living with his wife Fe (Aviles) and daughter Emma and Samuel was living with his wife Addie and the rest of their sons. Samuel and Addie had been married 26 years. The three columns that record states names show in order: the person's birth place, the birth place of their father and the birth place of their mother. Note Samuel's parents were born in Germany. In between the two Burgert families is listed John D. Aviles, brother of Fe Aviles Burgert.


1903 Tampa City Directory
Walter and Jean Burgert were the Burgert Brothers photography studio by 1903, but it would be Al and Jean who would establish Burgert Bros Commercial Photography, Inc. in 1917.
(Fred was not a Burgert, this was an error, he was Fred Burger.)
Willard Chesney Burgert, the eldest Burgert Brother
---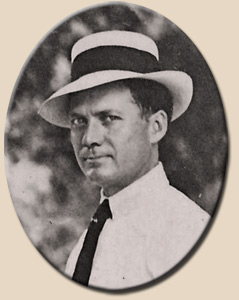 Willard Chesney Burgert was born May 4, 1875 in Cincinnati, and was fondly known as "Will," the most flamboyant Burgert brother. The first public record of Willard in Jacksonville was the 1893 city directory where "Willie C. Burgert" was an assistant ticket agent at the St. James Hotel and boarding at 71 1/2 W. Bay St., the same address listed for his father, Samuel P. Burgert. His earliest interest in photography is evidenced by his listing as a photographer in Webb's Jacksonville directory for 1895.

In Tampa, Willard and Samuel set up a Burgert studio in Ybor City on 7th Ave. in the late 1890s. But Willard's interests soon went in a different direction. He founded the Tampa Photo and Art Supply Company, in 1902 at 207 Lafayette Street--his most enduring and financially rewarding job and one that provided work for all the family at one time or another. Over the years, Will employed his father, Simon Peter Burgert, as a supervisor, brother Albert as a film developer, brother Alfred as an accountant (Jean would later teach him to be a photographer when those two went into business together years later); nephews Harold (Hal) and Thel Burgert were given jobs after their father James Harry Burgert suddenly died in the prime of his life, so that his widow, Nettie, would have a little financial help without looking like a hand out. Even Nettie's daughter Rose, little sister to Hal and Thel, worked there when she was old enough.

Willard's nephew Hal recollected that his two uncles, Will and Jean, made what he claimed was the first motion picture shot in Florida, views of a Labor Day parade captured during the Spanish-American war period when Tampa was a source of national news for the first extended time in its history--as a camp and embarkation point for soldiers steaming to help liberate Cuba.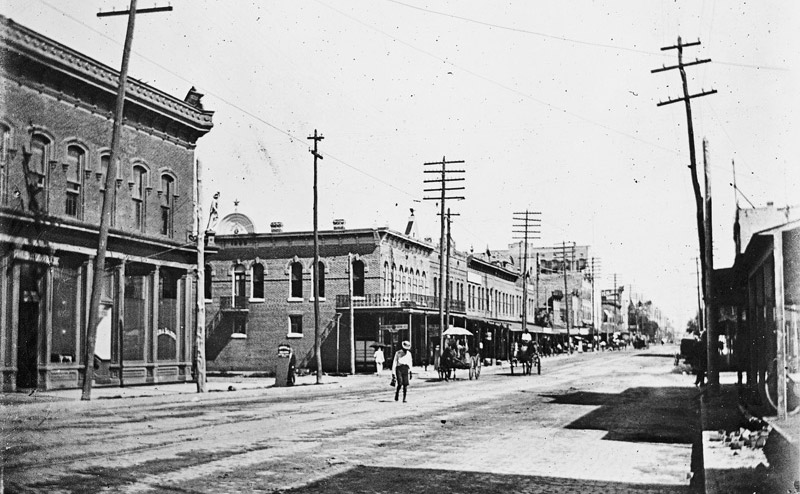 Burgert photo of Franklin Street, 1898
From the Tony Pizzo collection at the University of Florida Digital Collections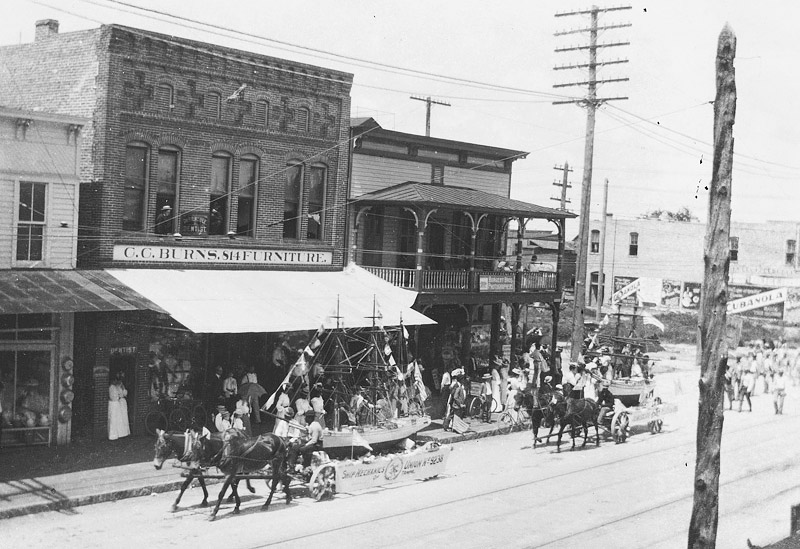 The first Labor Day Parade in Tampa, 1900, Burgert Bros.
From the Pizzo collection at University of Florida Digital Collections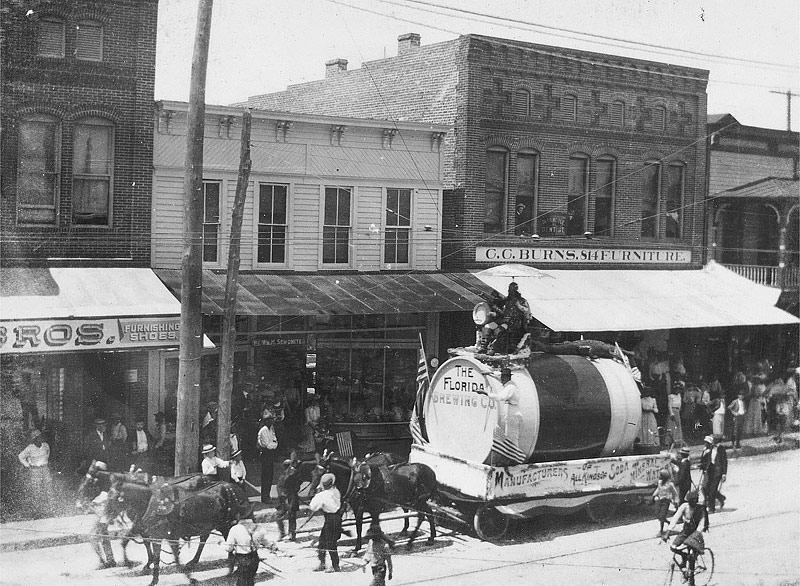 Florida Brewing Company float in the first Labor Day Parade in Tampa, 1900, Burgert Bros.
From the Pizzo collection at University of Florida Digital Collections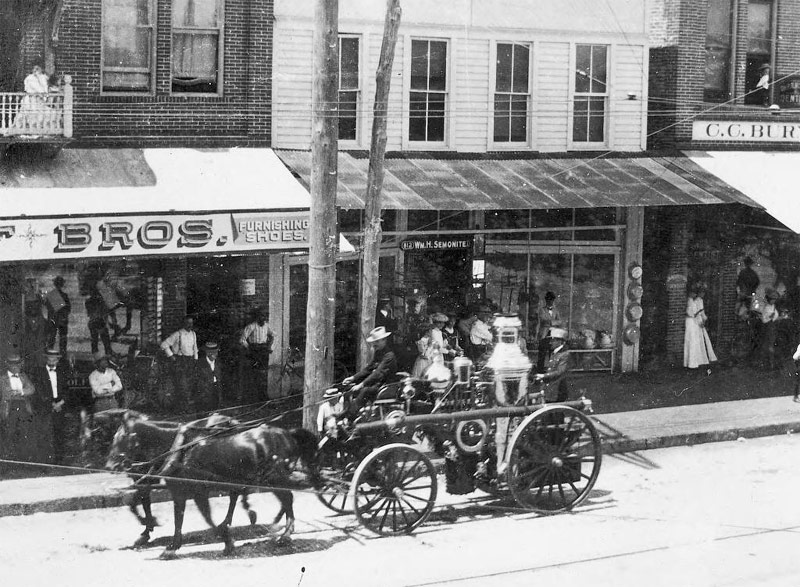 Fire truck pumper in the first Labor Day parade in Tampa, 1900. The establishment at the left is Wolf Bros.
From the Pizzo collection at University of Florida Digital Collections
Many of the Burgert's earliest photos of Tampa, Ybor City and Spanish-American War activities,
including many taken by J.R. Sanfeliz, can be seen here.
Will secured one of the original Eastman Kodak franchises in the area and became the exclusive distributor of Kodak products direct from the factory. He also set up a separate photo lab where he processed Kodak pictures, and had a picture framing business. Eventually, Will expanded his merchandising to encompass theatre supplies-- motion picture machines, screens, seats, even electric fans.
City directory listings show that Tampa Photo and Art Supply moved from 207-211 Lafayette to 314 Twiggs in 1912. The 1915 Sanborn Fire Insurance map below shows the new location was on the northwest corner of Florida Ave. and Twiggs St., across from the Post Office and the Hillsboro Hotel, and caddy-corner to the Sacred Heart Church. The shop was on the 2nd floor. This location today is part of the Franklin Exchange Building.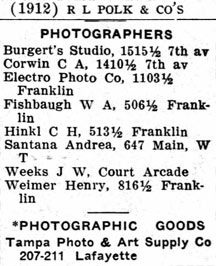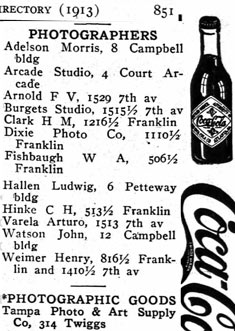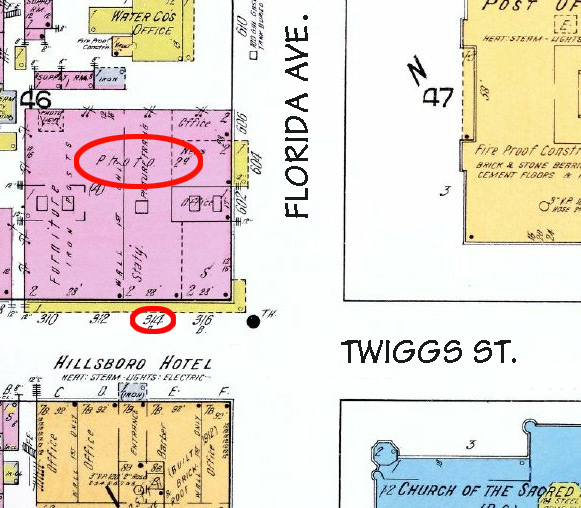 Triumphant pilot Tony Jannus waves as he lands in Tampa on the first leg of his first regularly-scheduled airline flight Jan. 1, 1914.
State Archives of Florida, Florida Memory, http://floridamemory.com/items/show/28205
On Jan 1, 1914, when Tony Jannus reached the dock in Tampa from St. Pete on his historic, first ever scheduled airline service, he was greeted by enthusiastic cheering, clapping, and the waving of hats and handkerchiefs. A moment later, there was a rush down the three narrow planks connecting the platform to the shore, and men, women and children fought to get down to greet them. The police had to assist in holding back the crowd so that Willard C. Burgert could take moving pictures of Jannus and his passenger, former St. Pete Mayor Abram Pheil, bowing, smiling and waving to the crowd.
Read about Tony Jannus at TampaPix
Active in many aspects of photography, Will frequently traveled away from his company store to market theatre supplies. He represented Pathe newsreels, and owned his own hand grind camera on which he cranked out newsreel footage. At the 1916 South Florida Fair and Gasparilla Carnival, he represented and presumably shot footage for the Mutual Weekly Film Company.
Will appears to have been a true bon vivant. This element in his character probably found its greatest occupational satisfaction in his theatre work, which according to his grandson, Thel, was his primary occupation. Will booked vaudeville theatre acts through the Empire Theatrical Exchange, a company based in Atlanta. In late 1908, Empire opened a booking office in Havana, Cuba, which Will managed. In 1913, Will was involved in a motion picture company that starred the apparently incomparable Captain Jack Bonavita in such tropical extravaganzas as Voodoo Vengeance (1913) and The Wizard of the Jungle (1913).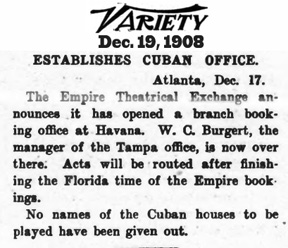 Will was able to secure many of the best acts for one-night stands at his and his brother's theaters in Tampa, the Sans Souci and others, because they would be traveling from New York to Havana and could easily work the stopover with minimal added expense.
| | |
| --- | --- |
| | |
| | The Dolly Sisters, Jennie & Rosie Deli, from here |
Willard brought in acts such as the famous Dolly Sisters, who then traveled on to places like Key West where his brother Harry would book the performers for his own theater there, the "San Carlos." He treated vaudeville stars like royalty and would go to great expense to host them, often feeding and entertaining them at his own home.

The brown-haired, blue-eyed Will Burgert was known as a romancer of women, a free spender and a snappy dresser. "He was a free spender, not a freeloader" and liked to be the center of attraction. He was a great dancer, and always meticulously groomed. According to family legend, in his early years Will liked to romance the women who shone as stars--or just glowed as members of the ensemble in vaudeville, though he did not restrict his romances to vaudeville.

His nephew, Thel Burgert, said that Will could have owned half of Tampa if he had known how to manage his money. However, sometimes he stayed away from his business too long, and when he traveled allowed others to mismanage his affairs. He was a member of the Gasparilla Krewe--Tampa's socially elite holiday revelers, and he liked snazzy cars. At one time he owned an aluminum-bodied Marmon.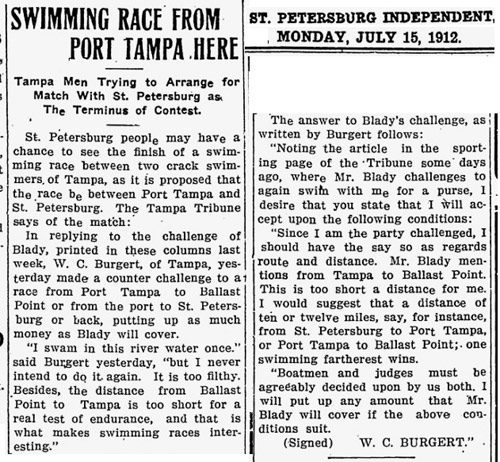 Willard projected an image of physical well being and vitality. He was a great swimmer, and according to family history, a champion swimmer of the southeast United States. Willard learned to swim in Florida's then pure and lovely St. John's River. Stories abounded in the family chronicling his prowess as a swimmer. For 25 years Will was a legitimate long-distance competitor, and he felt any swim less than ten miles wasn't much of a workout. He would swim across shark-filled Tampa Bay from Tampa to St. Petersburg. Every fourth of July he would compete with the best swimmers from the region and he also raced in fresh water contests at places like the Sulphur Springs pool in Tampa. In these less taxing (for him) contests, Will would usually out-lap the other competitors who often had to be pulled exhausted from the pool.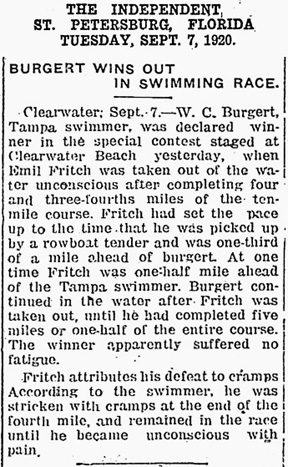 A record crowd showed up to watch one race in the Gulf of Mexico off of Clearwater Beach, where each lap was a mile. Will was declared the winner when his opponent, Emil Fritch, was pulled from the water unconscious by a rowboat tender after completing 4 3/4 miles of the scheduled 10 mile race. Burgert continued in the water after Fritch was taken out, until he had completed five miles, the Tampa Tribune reported. "The winner apparently suffered no fatigue as he ran up and down the beach several times when he came out of the water and stated that he could have easily finished the course." Will was awarded a silver cup by the Whitledge Hotel, and a prize of $1,000 by the Clearwater Beach Amusement Company, sponsors of the event. Part of his secret was that he was very buoyant--he had a tremendous chest and remarkable expansion that helped keep him afloat.
Will Burgert marriages and children
---
Around 1898, Will married New York native Fe Arcadia Aviles, a daughter of Cienfuegos, Cuba native Fernando J. and Adela Aviles. Fe was a gorgeous dark haired beauty who carried herself well, with great dignity, stature and poise.
Will and Fe had their daughter Emma A. around 1899, and their son Cedric Earl around 1905.
Cedric married a young Ethel M. Thomas in 1927 and worked as a salesman for Tampa Photo and Art Supply in the late 1920s . By 1935, Cedric was the VP and Treasurer of W. C. Burgert, Inc., (President Willard C. Burgert) a theater equipment & supply company at 117 S. Franklin Street. Cedric died at age 29 in December of 1935, with no children surviving past infancy. It is believed that he died from a black widow spider bite. Emma married twice, first to a Mr. Andrews, then to Cespedes Javier Perez. Emma died in 1967 in Tampa, and it is believed that she too had no children.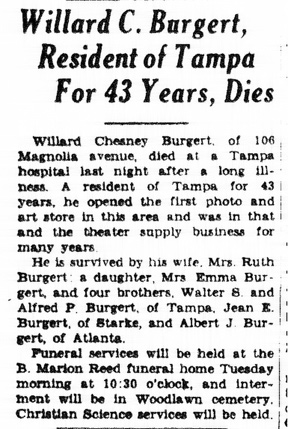 Tampa Tribune, July 21, 1941

According to Burgert family lore, Fe died of tuberculosis. City directories of Colorado Springs, Colorado, show Fe A. Burgert lived there from 1916 to 1918, as did her daughter Emma. It appears that Fe may have died there around 1918 or 1919, while attempting to recover.

By 1920, Willard and his second wife Leone, a North Carolina native, lived only a block from the photo and art supply store, but soon moved to an apartment in Hyde Park. In 1929, they had a home at 5701 Taliaferro. In addition to being president and manager of Tampa Photo and Art Supply, Willard was manager at Peninsular Seating Co. and Amusement Supply Co. In 1934, Will and Leone divorced, and in 1936, Willard married Texas native Lynn Daniel in West Palm Beach. Will died on July 20, 1941 at age 66 and is buried in Woodlawn Cemetery in Tampa.

The order for his funeral was given by Mrs. A. P. Burgert, his sister-in-law. Will's funeral was modest and paid for by his brother, Alfred. Will died practically destitute. His obituary and death certificate name another wife at the time--Ruth.

At one time or another, most all in the family worked at Will's Tampa Photo Supply company, some as a stepping stone to something else. Will based his hiring on family needs, and not company needs. Among family members he hired were his father,

S.P. Burgert as a supervisor, brother Al as an accountant, treasurer and assistant manager, brother Jean as department manager, brother Bert in numerous capacities and his wife Drewtina, as a sales clerk, as well as his own son Cedric and nephews Hal and Thel.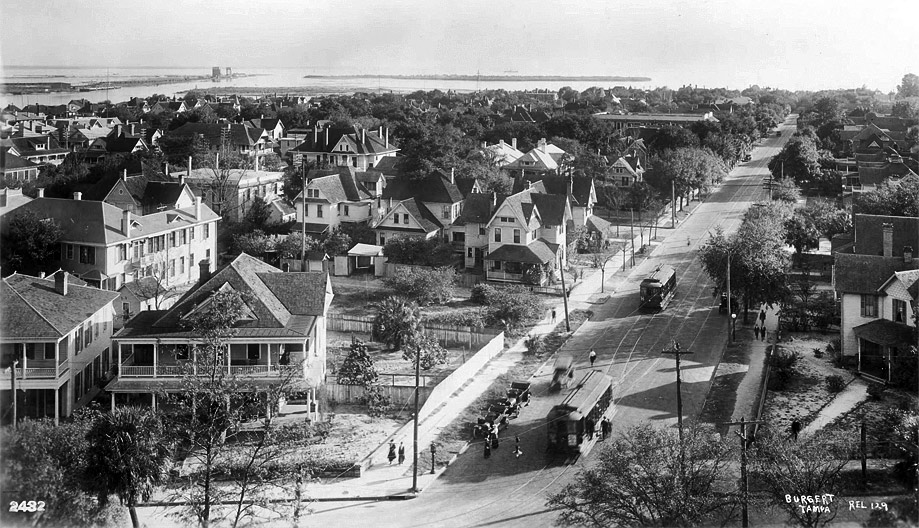 Trolleys in Hyde Park, 1913, by Burgert Bros.


In the distance in the bay can be seen the grassy islands that became Seddon Island and Davis Islands
From the University of South Florida Digital Collections
James Harold "Harry" Burgert and his camera
Photo courtesy of his great grandson, Harold Chesney Burgert, III

Harry Burgert
---

James Harold "Harry" Burgert was born in Cincinnati, Ohio on Sept. 22, 1876. Harry was one of the most promising of the Burgerts, but his early death deprived the family of one of its most respected members. It is said that some time in the 1890s he joined the "Cincinnati Light Rifles" a volunteer military group. The group may have been formed in preparation for the war with Spain over Cuba, though there is no historical evidence of it and no family stories exist suggesting that Hal actually ever participated in this war. After moving to Florida with his parents and brothers, he became extremely successful in his business ventures, which were at times quite diversified.

Though he lived for a time with the rest of the family in Jacksonville, Harry appears to have been the first of the brothers to leave home and live away from the family. According to Rose Burgert Baker, Harry traveled to Cuba in 1898 to photograph a flag raising ceremony on the island for Leslie's Weekly, one of the country's most popular magazines. None of the Spanish American War photographs which filled so many of Leslie's pages during of the war are directly attributed to Harry.
Harry was also the first Burgert brother to venture into his own business apart from his father. He opened his photographic studio in Key West, Florida around 1896 at age 20, and established the first vaudeville and motion picture house there, the "San Carlos".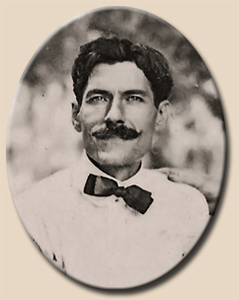 Harry felt that the best advertisement for his theater was word-of-mouth praise, so he offered the first performance of any new bill at his vaudeville house free to all the patrons who could fit into the theatre. He was also the first entrepreneur in south Florida to show color films, hand-tinting every frame of the film himself. Harry managed the theatre, usually playing one night only, with his brother Will working in Havana to book the acts for their theatres in Key West and Tampa. Cuba was lucrative hot spot for American entertainers of the day to perform. By booking their acts in sequence, Will and Harry were able to attract some of the biggest names in the business. At one time or another, Harry owned and/or managed at least four theaters, at times with a Mr. Ratcliff, in Tampa--the Sans Souci, the Pathe, the Orpheum, and in Key West, the San Carlos. These theaters featured movies and vaudeville acts booked by his brother, Will.
Burgert Theater Listings in New York Newspapers, Billboard and Variety
| | |
| --- | --- |
| | |
| "W. J." Burgert was probably a reference to Will and James (Harry) as manager and owner | The Sans Souci and the Pathe were theatres in Tampa owned and managed by J. H. Burgert and Ratcliff. |
This listing shows Burgert & Ratcliff also managed the Orpheum and names the acts that were currently playing.

In 1909, the Orpheum closed for a time, then reopened in July with only J.H. Burgert listed as manager.

This listing shows the Pathe theatre was in West Tampa
| | |
| --- | --- |
| | |
| Listings for Burgert & Ratliff theatres in Tampa: Orpheum, Sans Souci and Pathe, and J.H. Burgert's San Carlos in Key West | This Sep. 10, 1910 listing in The Billboard may contain some errors. It omits a Tampa section, and lists Tampa's theatres under St. Petersburg. Platt & Parker Streets are in Hyde Park, Tampa. Central Ave. could have been St. Pete or Tampa. |
Harry Burgert and wife Jeanette "Nettie" Johnson Burgert, with their sons Thel (left) and Hal, 1911.
Photo provided by Harold Chesney Burgert, III great grandson of Harry Burgert

In 1904, Nettie and Harry had their second son, Ethelbert "Thel" James Burgert. (Thel is the source of some of the information in this feature.) Thel, and his brother Hal, would eventually become well-known photographers and work for newspapers in Detroit, MI.




In 1906, Samuel, Harry and his wife Nettie, and Jean were in Savannah, Georgia where they owned and operated the Burgert Art Studio.
While in Key West, Harry met Jeanette "Nettie" B. Johnson, Key West native and a daughter of John V. Johnson and Sophia L. Knowles. They married on Dec.13, 1898. In 1900, Harry and Nettie's first son was born in Key West--Harold "Hal" Chesney Burgert. Nettie worked as a ticket taker at Harry's silent movie theatre, the first one in Key West, and watched over Harry's interests while he was back in Tampa with his business as a commercial photographer, as well as his own photography studio in Key West, sometimes called Burgert Brothers, and sometimes with a partner under a different name. Harry also owned two fishing boats, manned them with crews, and engaged in commercial fishing. He commuted by steamboat between Tampa and Key West frequently.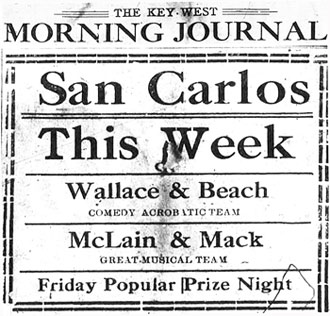 Nov. 23, 1911
There was an ad for the San Carlos in every issue of the Key West Morning Journal from Nov 23, 1911 to April 18, 1912, except the Dec. 23, 1911 issue.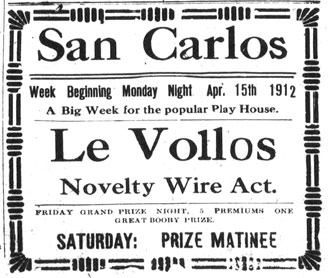 The last ad for the San Carlos in the Key West Morning Journal, April 18, 1912.
You can see all the ads here, each is on the bottom of the front page of each issue.
Whether Harry liked to travel or had to so he might advance occupationally, he was also a strong family man and sometimes took his wife and children with him. His son Thel remembered that after coming to Tampa, his father became an itinerant photographer, venturing as far west as Texas and Oklahoma and as far north as the Carolinas, taking his wife, Thel, and Hal with him. Harry and his family would set out on a tour of the states, spending a few days in each town, and photographing everybody and everything presented.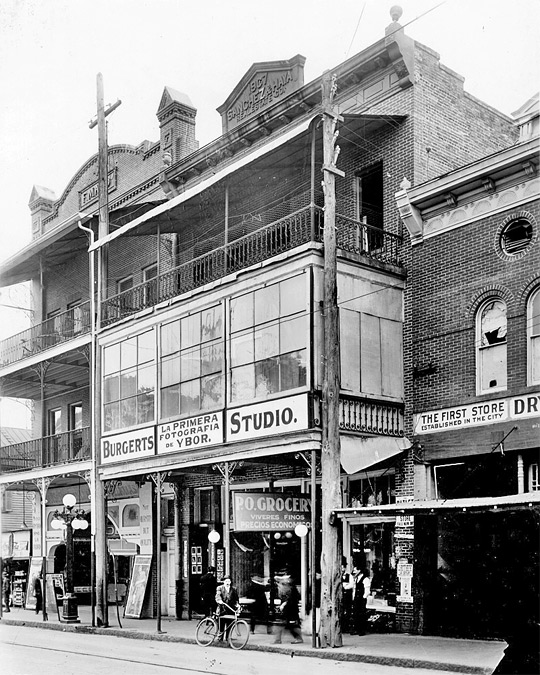 1917 - The Burgert's studio at 1515 7th Ave., Ybor City in the Sanchez & Haya Real Estate Building
From the University of Florida Digital Collections**
**Misidentified as being owned by Walter Burgert
Located on the south side of 7th Ave. between 15th and 16th Streets, the studio took advantage of indirect sunlight through its northern-facing glass-fronted 2nd floor studio. The first floor was occupied by P.O. Grocery. To the left of the studio can bee seen the 3-story F. Mayo building which housed a movie theater on the first floor and apartments on the upper floors. To the right is seen the dry goods store of Isadore Kienitz, a Jewish merchant from Romania.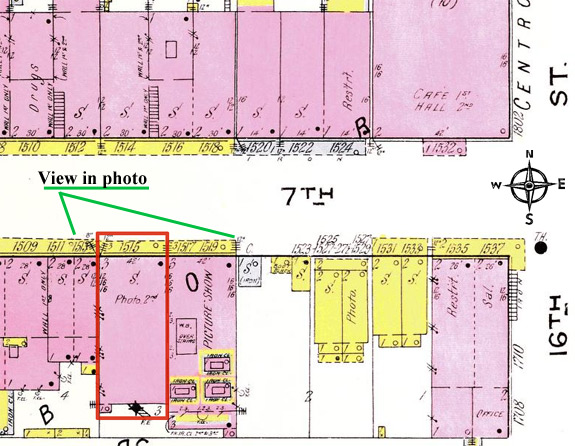 At least once during his Key West years, he shared a studio, in 1899 with E.F. Moffatt, as the 1900 Key West directory shows. But eventually he came to feel that Key West was not growing rapidly enough to sustain him and enable him to profit sufficiently from his different interests, and In 1911 or 1912,

Harry divested himself from most of his businesses in Key West and moved with his family permanently to Tampa, where he opened a portrait studio in Ybor City.

The portrait studio was located at 1515 1/2 7th Avenue, Ybor City's main thoroughfare. He selected this locale because Ybor City was a thriving Latin enclave inside the city, a community within the community with 25 to 30 cigar factories that constituted an important commercial center. And it was a lively place punctuated by frequent festivals both religious and secular, providing ample opportunities for a good commercial photographer. His studio was on the second floor above a grocery store. The front of the studio was all glass--some forty feet long facing north, enabling him to use natural light in his portraits, a novel technique in those days, more pleasant and safer than the bright flash and big bang of powder. His studio was a one man operation with Harry taking, developing, printing, and if necessary retouching his own photographs.

Harry and his family had settled in a house and studio in Ybor City, the Latin neighborhood of Tampa, but his business there was so profitable that the family moved to a second home in November of 1913, a grand home in a very affluent suburb called Tampa Heights. Nettie had just become pregnant with their third child.

This 1915 Sanborn Fire Insurance map of Ybor City shows the location of the Burgert Studio and the view of the photo marked with green lines. At upper right can be seen the Centro Español cafe and hall. The 1927 night photo below was taken from across 16th street looking to the west along 7th Avenue.

When Ignacio Haya was in Tampa looking over the area with Vicente Martinez Ybor in the mid 1880s, Haya wrote his associate in New York, Serafin Sanchez, about Tampa's prospects for a new business. Sanchez had earlier been told about Tampa by Gavino Gutiérrez who explained that plenty of land was available and that "chickens which sold in Key West for seventy-five cents could be bought in Tampa for twenty-five." Since Sanchez was already scouting for possible factory locations, he added Tampa to his itinerary, arriving in mid-July, 1885. After looking over the area, he met with the newly created Tampa Board of Trade and outlined the ways it "could facilitate their enterprise and asked for such cooperation, which the Board assured him would be cordially given." From Latin Entrepreneurs and the Birth of Ybor City
Above: South side of 1500 block of 7th Avenue from 15th Street looking east, circa 1940s, photo by Robertson & Fresh - At the far left can be seen the old F. Mayo building with its 2nd floor balcony. The taller portion of the white W.T. Grant building has replaced the Burgert Studio at 1515 Seventh Ave. Notice it is the same structure but with the balcony and decorative facade at the top removed.

Right: Circa 1950 Robertson & Fresh photo shows this portion of W.T. Grant that was the Burgert Studio in the Sanchez & Haya building became Miller's Outlet Store.
Death of Harry Burgert
---
Upon returning from Key West on a steamboat trip earlier in 1913, Harry came down with pneumonia and was in ill health, but not considered seriously ill, for several months. Then suddenly, on Jan 22, 1914, Harry died of a heart attack in Tampa at age 37, leaving Nettie and two young sons, Hal and Thel, and Nettie expecting their third child (Rose).

Tampa Tribune, Jan 23, 1914
Nettie immediately sold the family's new home on Mitchell St. to get out from under their big mortgage, and moved the family, along with her father-in-law, Samuel, into the three room apartment behind Harry's photographic studio where they had a lease, and immediately set about learning the photographic portrait business.
In the years prior to this, Samuel and Adelina's marriage had soured and they found it desirable to live apart after their sons had married. City directories and censuses from 1910 to 1917 show Adelina claimed to be a widow, while in 1910, Samuel lived nearby in the home of his son, Harry and his wife Fe and their children. One anonymous observer believed the source of their discord was due to Adelina not getting along as well with the boys' wives as Samuel did. No records of a divorce exist and other family and friends reported that Samuel and Adelina's marriage was marked by a deep love for each other, yet harsh and divisive squabbling existed between them. Adelina's father, John T. Barlow, lived with Walter and his wife Clymene in 1910.
Jeannette "Nettie" Johnson Burgert
---
Nettie and Harry's daughter Rose Harryette Burgert was born August 5, 1914. Out of necessity, Nettie took over Harry's Burgert Brothers studio on 7th Ave in Ybor city, and learned how to become a photographer herself, including mixing chemicals and developing the photos in a dark room, supporting her fatherless family by that income. Whenever she had a problem she would contact Jean Burgert, and he would jump on his motorcycle and ride over to her rescue, each time emphasizing to her that she needed to learn how to do these things herself. Will, the oldest Burgert brother, did his part in helping his beloved brother's widow, by employing both of their sons in his business after school and on Saturday to help the family financially, and teach them the photographic business in terms of supplies and retail. Nettie was quite a dynamic and resourceful woman, not to mention a wonderful mother.

In 1919, Nettie married Alabama native Augustus Langley Brazil,

who was a school principal and temporarily working as for the U.S. government as a customs inspector in Tampa. The new family began to move around when Nettie's husband traveled to different schools as a teacher. In Pensacola, Nettie bought out a local photography firm and opened a studio while her husband opened a business school for bookkeeping and accounting. As Mr. Brazil took successive assignments in Troy, Goshen, Red Level, and Lockley, Alabama, Nettie kept the family, and her studio, in Pensacola. She often took photographs of school children for class pictures, and put out much quality work such as special post cards which cost $24.00 per dozen. She practiced photography until her late 40s. The family returned to Tampa in the mid-1920s, and Nettie continued to work as a photographer until about 1926 or 1927. After that, she concentrated on being a housewife and lived in Tampa until her death on July 17, 1973.

Harold "Hal" C. Burgert - Son of Harry & Nettie Burgert
---
Wm J. Stewart, John F. McKinlay, Thos. D. Leadbetter, Rev. Dr. Hugh Jack at statue of Robert Burns, Cass Park, Detroit, MI - Photo by Hal Burgert, Jan 25, 1941
From Historic Images
Harry and Nettie's son, Harold "Hal" Chesney Burgert, worked for a time for his uncle Willard at Tampa Photo Supply,

but then ventured out on his own, apparently so enthralled by the family's early picture-taking tours that according to a Tampa Times report in 1927, he travelled with his camera to England, Wales, Ireland, and for about six months, Scotland. During World War 1, Hal served aboard a Navy destroyer on patrol duty between Key West, Cuba and Panama during WW1. Originally he was to have been assigned to the USS Tampa, but missed the boat, a fortunate mistake since the Tampa was subsequently blown up off the coast of Ireland.


Hal then returned to Tampa where was the sole photographer for the Tampa Times newspaper from 1925 to 1929. In 1927, he was hit with a bullet fired from a pistol while attempting to photograph an angry lynch mob that had stormed the Hillsborough County jail trying to seize an accused murderer. He returned to work the next day. In 1929 Harold sought to escape the depression in Tampa by seeking out a job he had heard about with the Associated Press in Detroit. According to his brother, Thel, he traveled there on his motorcycle, and secured a position with the Detroit News. Hal and his wife, Gladys, had children Harold Chesney Burgert, Jr. and Barbara M. Burgert. Hal worked as a photographer for the Detroit News for 36 years, earning a reputation for never missing an assignment, and retiring in 1965. Harold C. Burgert, Sr. died Feb. 17, 1980 in Detroit. He was 79.

Women Taxi drivers of Detroit
Photo by Detroit News photographer Hal C. Burgert, Aug. 7, 1950
L-R: Rosemary Matteson, Lucille LeBeau, Helen Devlin, Barbara Canuana, and Dorothy Bates
From SweetJuniperInspiration.com

Thel Burgert and his children, Jimmy & Geraldine, 1948
From the Burgert Bros. photographic collection at the Tampa-Hillsborough County Public Library System. The photo is incorrectly identified there as Jean Burgert. Thanks to Hal C. Burgert, III for proper identification
Thel Burgert - Son of Harry & Nettie Burgert
---
Ethelbert James "TheI" Burgert attended grade school in Tampa, but moved north to Alabama and Pensacola with his mother Nettie after she married Augustus Langley Brazil. He graduated from high school in Alabama.
On school vacations, even after his family had moved from the area, Thel would come back to Tampa and work with his brother Harold in their Uncle Will's photographic supply store. Thel's first job was in a Kodak finishing establishment where every roll of film was processed by hand-- the developing, finishing, and printing. After this apprenticeship, Thel ran a photo finishing studio for a Tampa Tribune photographer who hired a boy on a bicycle to pedal from drug store to drug store picking up film and delivering it to Thel for processing.
Around 1926, Thel, took a job in Detroit at a photography finishing plant. There he met Elon Robinson, son of the owner of the plant. Robinson soon moved to St. Petersburg, and Thel decided to return to the area. Upon returning, Thel married Emma C. Baker in 1927.
Thel and his wife went to work for Robinson's Camera Shop in St. Petersburg, where Thel continued to work as a finisher and also engaged in some commercial photography.
Thel and Emma were then hired by the St. Petersburg Times in 1929 to supply the paper with advertising photos and news. (Robinson went on to start Ro-Mo Photo Services with a man named Mohr.) Thel and Emma had an office on the 3rd floor of the Times building and worked there until 1931, becoming the official photographer for the City of St. Petersburg. In a 1971 interview with the Times, Thel said "They wouldn't let me take a picture of anyone with a coat on, even in the winter."
During his days with the Times, Thel photographed the likes of baseball great Babe Ruth, judge and baseball commissioner Kenesaw Mountain Landis, and author Faith Baldwin. In 1931, while in Ft. Myers to photograph the dedication of the Thomas A. Edison Bridge on Feb. 11th, (which was also Edison's 84th birthday) he took the last photo of the famed inventor in Florida, before Edison returned to New Jersey where he died later that year. Thel's photos of Edison were so exclusive, he auctioned off his work over the telephone to wire services and newspapers. The New York Times, paid him $100.00 for his Edison photo and ran a half page story on the event.


Famed inventor Thomas Edison, a part-time Fort Myers resident, was present Feb. 11, 1931 for the dedication of the Edison Bridge over the Caloosahatchee River. It was his also his 84th birthday. Industrialist Harvey Firestone also attended the ceremony.
From Naplesnews.com courtesy of the Florida Historical Society, photographer not identified.

Fort Myers to Celebrate Edison's Birthday, Feb. 11, 1931

Thel tried to photograph Al Capone, while on his boat three miles offshore, but was not allowed to. He was however, welcomed aboard, met the gangster and was allowed to have a bite to eat with him. Fame and editorial commendation came to Thel when he photographed president Calvin Coolidge smiling in St. Petersburg. Thel recalled, "It was raining and I said something about 'Wasn't it a nice day'. The President smiled and I clicked away."

Photography back then was bulky, with glass plates and open pan flash powder for indoor and nighttime shots. In 1930 Thel arrived at the Beaux Ball in St. Pete to shoot the event. He opened the windows, a necessary precaution when using flash powder indoors. Unknown to him, someone closed the windows and when the flash went off, all the windows were blown out.

In 1931 Thel and his wife headed north to Detroit, a city whose more substantial and commercial industrial base, unlike St. Petersburg's increasingly thin crust of tourism, might sustain his photographic skills. While he was visiting with his brother Harold, Thel was asked by Harold's employer, the Detroit News, to replace for a month or so, one of their other photographers who was ill. The job lasted almost four decades until 1971 when he retired to Punta Gorda, Florida.
| | |
| --- | --- |
| | |
| | Henry Ford and Thomas Edison, circa 1931 From The Henry Ford Museum, photographer not identified. Edison and Ford lived in Ft. Myers, Florida during the winter. Ford purchased the three-acre estate, Mangoes, next to Edison's home in 1916. |
Thel was one of the few photographers Henry Ford trusted, since Ford had heard of an assassination attempt once on William Randolph Hearst by a would-be killer who hid his gun inside a box camera. In a memorable photograph, Thel was able to capture Henry Ford standing in front of the Ford Motor Company logo at his plant, as the Hindenburg zeppelin descended onto the company's property. He also covered the Detroit prison riots in the early 1960s and once had to remain in a sealed off prison for eight days. After he climbed the stairs leading up to a prison roof to take pictures of convicts burning a maximum security building, officials unknowingly welded the door behind him shut as a safety precaution. He had to be rescued from the roof by a ladder. His most life-threatening assignment however came when he was trapped in a cement tower while taking pictures of a fire at a Scott paper mill. Fireman had to pour enough water on the greatly heated concrete supporting Thel to cool it off sufficiently to enable him to descend by an elevator bucket.
Thel's life as a newspaper photographer afforded him many more extraordinary adventures and sights than he experienced during his training in commercial photography, but he considered his training invaluable and decisive in enabling him to carry out his jobs with skill and efficiency.
During World War II, Thel took a leave of absence from the Detroit News and returned to his old home town, and while there, he formed a partnership with Al Severson, a long-time employee of Uncle Al Burgert's. Thel and Al Severson bought the Burgert Brothers' firm from Al Burgert, to whom brother Jean had previously sold out. Thel remained active in the business for six to eight months, but then realized that commercial photography was not for him and returned to his job in Detroit. In 1970 after 39 years with The News, Thel retired and moved with his wife to Punta Gorda, Florida.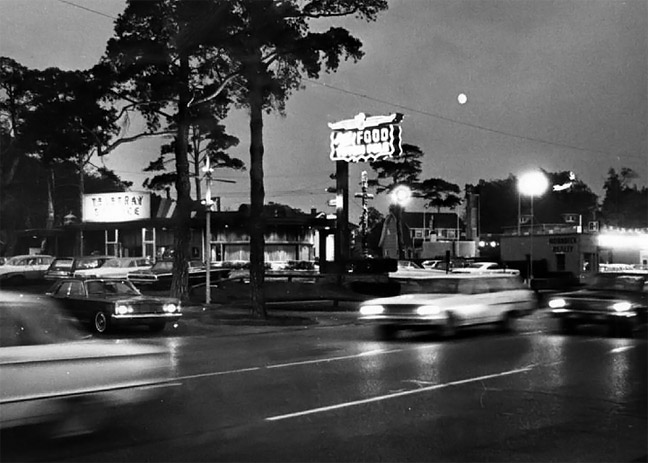 Totem Pole drive-in by Thel Burgert. Woodward near 10 Mile Road, Royal Oak. Oct. 8, 1965. E. Burgert / The Detroit News
See another street scene by Thel Burgert
See several photos taken by Thel and Hal Burgert , depicting the racial conflicts that took place in Detroit in 1943 during their days at the Detroit News, Thel's photos are identified with "E.Burgert" and Hal's by "H.Burgert".
In the 44 years he spent in press photography, Thel took photos of movie stars, stage celebrities, dictators, governors, inventors and industrialists. He saw and photographed fires, storms, gangsters, society balls, ball games, air crashes, the opening and demolition of buildings, strikes, riots, and all other sorts of news events. He saw the arrival of the 35mm camera, color photography, and the coming of age of the camera.
Thel died on April 23, 1991 in Cleveland, Ohio.

Rose Burgert - Daughter of Harry and Nettie Burgert
---
TheI's and Hal's sister Rose became Rose Burgert Baker when she was eighteen and married carpenter/builder Hardy H. Baker. She had been employed for several years in Jean and Al Burgert's dark room until then; but afterwards she worked in a local cigar factory for years and was a member of Central Avenue Baptist Church. Childless herself, she seems to have assumed the role of Burgert family historian over the years, or had it thrust upon her. She was a remarkably helpful repository of information about the extended Burgert family, and for many years prior to the public's awareness of the treasures the Burgert Brothers' photographs possessed, she maintained her own invaluable archive of memories and snapshots that have since proved so illuminating to the history of the family. Rose passed away on November 13, 2001 at age 87.
Special thanks to Hal Burgert, great grandson of James Harold "Harry" Burgert for sharing his family history, and providing most all of the above information about Harry Burgert and his family, which was told to him by his great grandmother Nettie Johnson Burgert, his dad, Harry Burgert Jr; his grandfather Hal Burgert Sr, his great uncle Thel Burgert, and Rose Burgert Baker, his great aunt. These were all invaluable sources of Burgert family oral history.