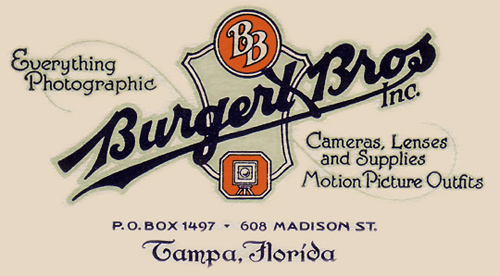 Burgert Bros., Inc. original color letterhead. courtesy of Diane Dowling. Obtained from a personal letter written by Al P. Burgert to his daughter in 1955.
THE BURGERT BROTHERS OF TAMPA - Act 1 of 5
---
Act 1 | Act 2 | Act 3 | Act 4 | Act 5


Some photos and information for this feature were obtained from

an article in the Sunland Tribune 16/1 (November 1990), Tampa Historical Society

by Dr. Jack B. Moore and Dr. Robert E. Snyder and "Pioneer Commercial Photography" by the same authors.

Many of the images presented here were made possible by the tremendous efforts of the Tampa-Hillsborough County Public Library, by preserving, scanning and sharing on the web, over 15,000 of the Burgert Bros. images. Other sources equally deserving of recognition for doing the same for thousands more images, are the University of South Florida Digital Collections, the Florida State Archives "Florida Memory" Project, and the University of Florida Digital Collections, all of which were photo sources as documented in this feature.

Also, credit is due to David Parsons, curator of the Burgert Bros. photo collection at the THCPL, for his assistance and cooperation with providing high resolution images, and William LaMartin, for maintaining a very useful way to search the THCPL Burgert Collection in a way that produces thumbnail images of search results, an indispensible feature at LaMartin.com.
~~~~~~~~~~~~~~~~~~~~~~~~~~~~~~~~~~~~~~~~~~

Special thanks to Burgert brothers descendants Diane Heflin Dowling (great granddaughter of Al Burgert) and Harold "Hal" Chesney Burgert III (great grandson of James Harold "Harry" Burgert) for sharing their family history and the stories handed down to them about the Burgert family which appear in this feature, and for allowing the use of their photos from their personal collection.

~~~~~~~~~~~~~~~~~~~~~~~~~~~~~~~~~~~~~~~~~~
Introduction
---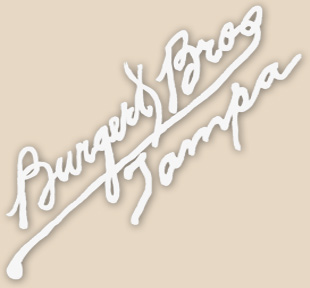 The Burgert family of photographers spanned three generations and worked productively in the field for nearly 100 years, beginning in the 1860s in Cincinnati, Ohio, and travelling into several states of the southeastern United States; primarily Florida. They were six sons and one daughter-in-law of the original photographic progenitor of the family, Samuel Peter Burgert. Samuel and his sons, at various times took, sold or marketed supplies for hundreds of thousands of photographic images, usually requested by commercial clients, and in the process coincidentally documented primarily the Tampa Bay region's development from little more than a scrubby port village to a major urban center of international importance. If not for the Burgerts, much of what we know of how Tampa looked in the late 1800s and early 1900s would be left only to imagination.
The Burgert family's greatest impact on commercial photography began when S.P. Burgert and Son first opened a photographic studio in Tampa. Although they did do portrait work, by 1918 the Burgert Brothers Commercial Photography Studio, with brothers Jean and Al Burgert at the helm, was firmly established in Tampa, providing commercial photography services to the West Coast region of Florida. The firm continued in operation until 1963. During this time, the firm took over 80,000 photographs for their clients. Burgert Brothers photographs appeared in Life and National Geographic magazines, as well as local newspapers, advertisements, promotional brochures and displays for stores and offices. The distinctive handwritten Burgert Brothers logo on the lower corner of the photographs became a hallmark of photographic excellence, reflecting both the quality of the Burgert's work and their business integrity.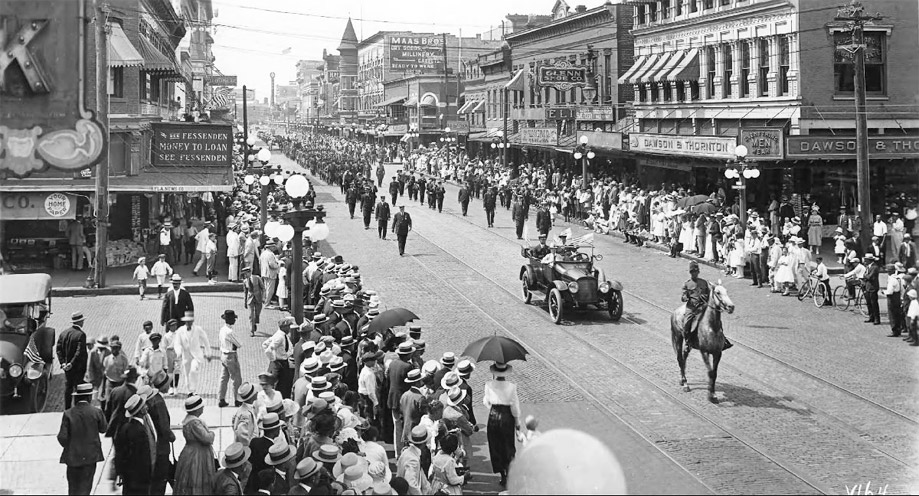 Burgert Bros. photo of World War 1 soldiers in 4th of July Liberty Parade on 500 block of Franklin St., 1918
From the intersection of Madison St., looking north
The building with the Maas Bros. sign was the Krause building, now the location of the Franklin Exchange tower at 600 Franklin St.
From the University of South Florida Digital Collections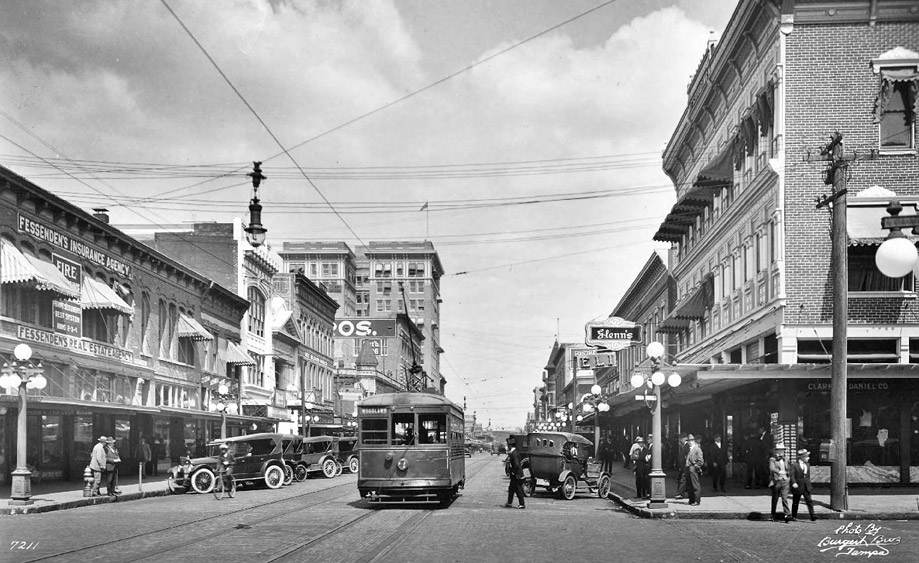 Burgert Bros. photo of traffic on the 500 block of Franklin Street, circa 1922, taken from the intersection of Madison St, looking north.
The tall building in the background was the Citizens Bank Building on the northwest corner of Franklin and Zack St. See this building in 1926 in another Burgert Bros. photo, now the site of TECO Plaza. In front of it can be seen the building Maas Bros. occupied in 1920 after expanding from the Krause Bldg.
From the University of South Florida Digital Collections
---
Though brothers Al and Jean were the two principal sons of Samuel and Adelina Burgert whose photographic work has endured, all the brothers made contributions to the history of photography in the Tampa area, and all were involved in various ways with the community.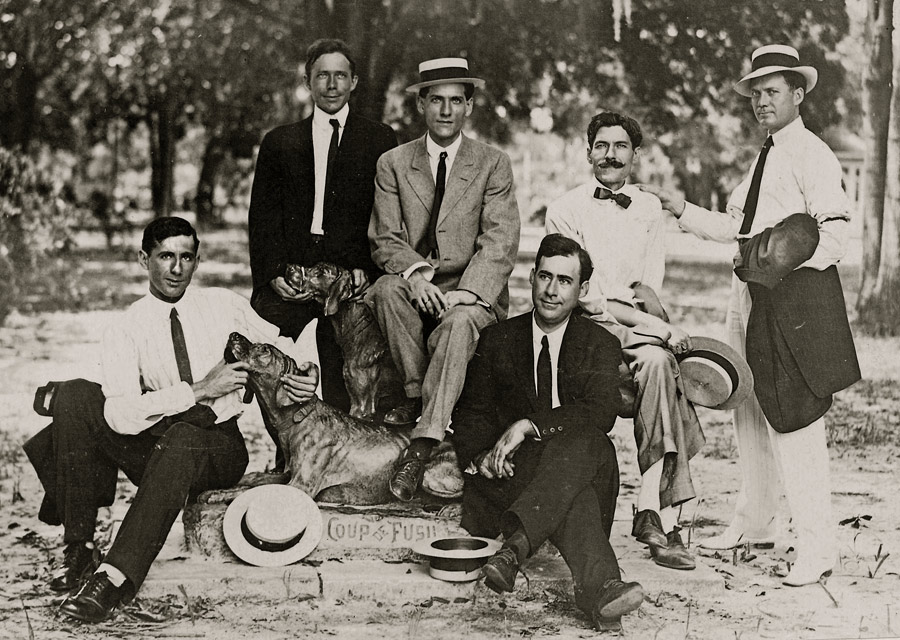 The Burgert brothers in Plant Park, July 1911
Mouse-over the photo to see names
Back row, L to R: Jean E. Burgert, Alfred "Al" Paul Burgert, James Harold "Harry" Burgert and Willard "Will" Chesney Burgert
Front L to R: Albert "Bert" Burgert and Walter Scott Burgert
It was a weekly tradition for S. P. Burgert to gather together and spend the day with his sons on Sundays, without wives or other women. Any photos of all six brothers would have been taken by their father on one of those Sundays.

High resolution photo courtesy JoAn Bednarek Rodriguez of Tampa, a great granddaughter of Olive Baker King.
Identification courtesy of Harold "Hal" Chesney Burgert, III.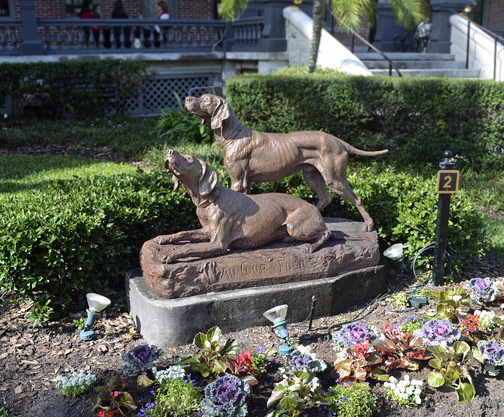 This sculpture titled Au Coup de Fusil, meaning "the shot" (as in gunshot or rifle shot), represent two fine pointers being alerted by the sound of a gunshot. It was sculpted by famed canine sculptor Eglantine Lemaître (French, 1852-1920) and was cast in France by Maurice Denonvilliers in 1890.
Originally, they faced south rather than north, and their attention was focused on a small bronze squirrel placed in a low hanging oak limb. The squirrel eventually was stolen and the dogs were moved to their current location. Supposedly, the two dogs represent H.B.. Plant's personal favorite hunting dogs, and the hotel itself had kennels stocked with hunting dogs for guests use on hunting expeditions.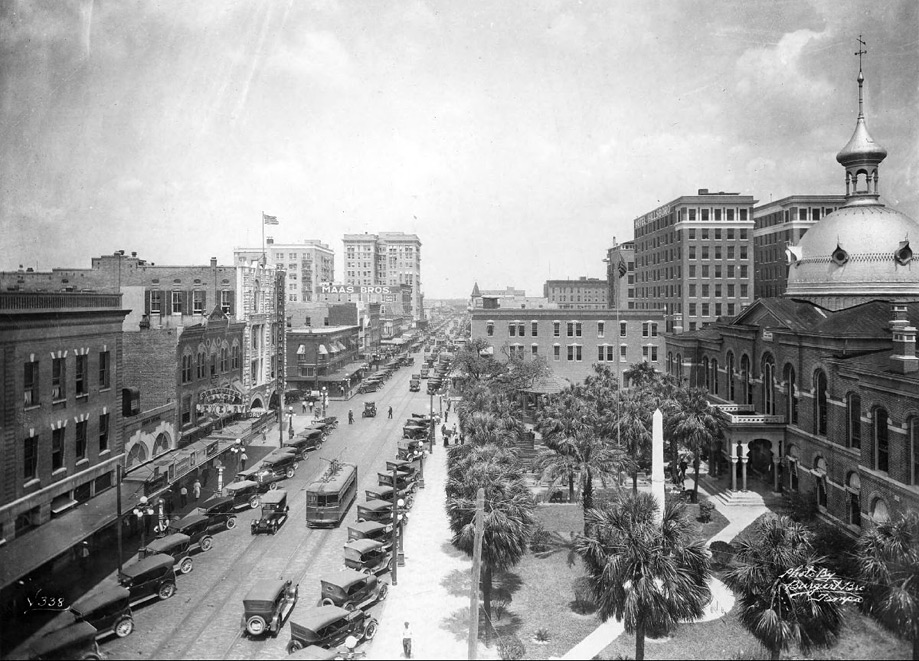 Elevated view of Franklin St., looking north from City Hall at Lafayette St., 1922, by Burgert Bros.
The fourth Hillsborough County Courthouse can be seen on the right, Giddens corner on the left with Beckwith Jewelry, First National Bank
From the University of South Florida Digital Collections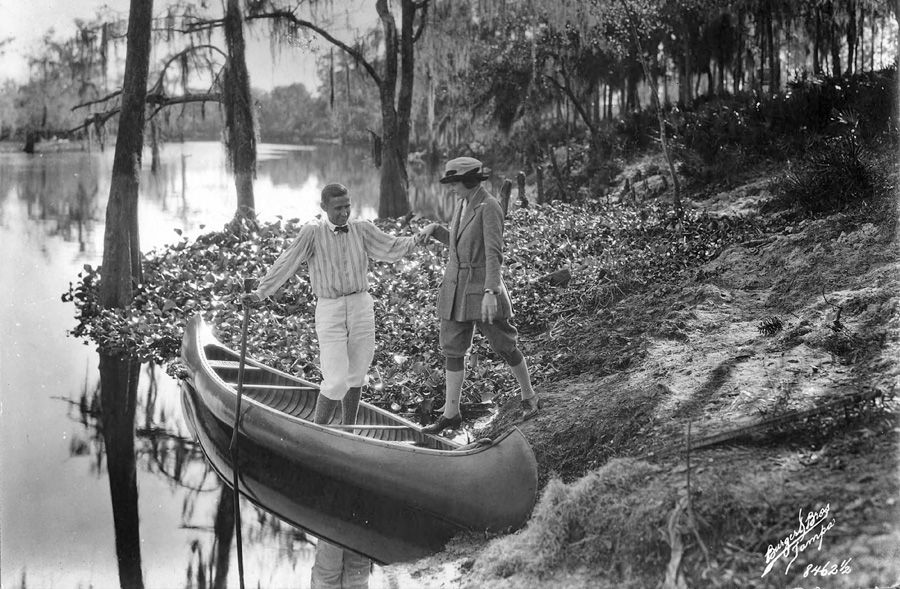 A couple boarding a canoe on the bank of the Hillsborough River, circa 1922 by Burgert Bros.
From the University of South Florida Digital Collections