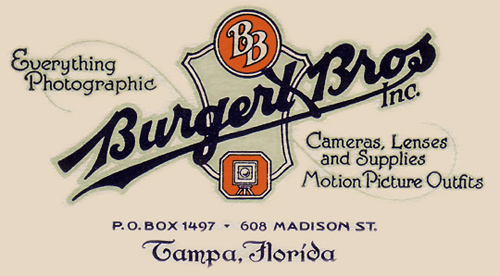 Burgert Bros., Inc. original color letterhead. courtesy of Diane Dowling. Obtained from a personal letter written by Al P. Burgert to his daughter in 1955.
THE BURGERT BROTHERS OF TAMPA - Act 2 of 5
---

Some photos and information for this feature were obtained from an article in the Sunland Tribune 16/1 (November 1990), Tampa Historical Society by Dr. Jack B. Moore and Dr. Robert E. Snyder and "Pioneer Commercial Photography" by the same authors.
Many of the images presented here were made possible by the tremendous efforts of the Tampa-Hillsborough County Public Library, by preserving, scanning and sharing on the web, over 15,000 of the Burgert Bros. images. Other sources equally deserving of recognition for doing the same for thousands more images, are the University of South Florida Digital Collections, the Florida State Archives "Florida Memory" Project, and the University of Florida Digital Collections, all of which were photo sources as documented in this feature.
Also, credit is due to David Parsons, curator of the Burgert Bros. photo collection at the THCPL, for his assistance and cooperation with providing high resolution images, and William LaMartin, for maintaining a very useful way to search the THCPL Burgert Collection in a way that produces thumbnail images of search results, an indispensible feature at LaMartin.com.
~~~~~~~~~~~~~~~~~~~~~~~~~~~~~~~~~~~~~~~~~~

Special thanks to Burgert brothers descendants Diane Heflin Dowling (great granddaughter of Al Burgert) and Harold "Hal" Chesney Burgert III (great grandson of James Harold "Harry" Burgert) for sharing their family history and the stories handed down to them about the Burgert family which appear in this feature, and for allowing the use of their photos from their personal collection.

~~~~~~~~~~~~~~~~~~~~~~~~~~~~~~~~~~~~~~~~~~
The Burgerts in Ohio - Paul Burgert

---


The first Burgert ancestors of the family of photographers came to the United States from the Alsace region of France, some time before 1839. According to his 1850 and 1860 censuses, Paul Burgert was born around 1808 in Baden, Germany and earned a living as a match manufacturer in Cincinnati. He and his wife Elizabeth, also of Baden, had children Samuel Peter (abt. 1839), Mary (abt. 1841) and Amelia "Molly" (abt. 1844)



Paul Burgert was incorrectly listed as "Bulger" on his 1850 U.S. Census. The enumerator used only the letter "O" for "Ohio" as birth places for Peter, and dittoes for Mary and Molly.
Samuel Burgert, father of the Burgert Brothers

---

Samuel Peter Burgert, who was born in or near Cincinnati, sometimes went by S. P. Burgert, Samuel P. and later in his life as Simon P. The 1860 census of Cincinnati, OH shows he was earning an income as paper carrier at age 21 But at the same time, he must have been learning to make tintypes and learning the processes that were available in those times, to take, develop, market and print photographs.

Samuel "Simon" P. Burgert, ca. 1900
From the Burgert Bros. photographic collection at the Tampa-Hillsborough County Public Library System

1860 Federal Census of Hamilton County, Cincinnati, Ohio
Molly was listed as "Emala"; her name was actually Amelia.

On the 1861 city directory of Cincinnati, Samuel was a "photographist." By 1866, he was in business with A. A. Smith on the corner of Pike and Madison in Cincinnati as "Burgert & Smith", Photographers.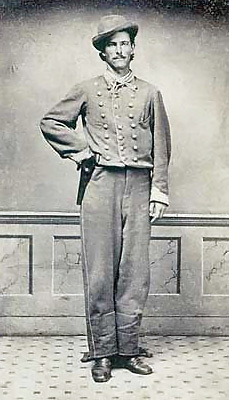 Carte-de-visite photo of Confederate soldier in Covington, KY, photographed by S. P. Burgert, circa 1863
From the Kentucky Historical Society Digital Collections
Samuel became an itinerant pioneer photographer, traveling around the countryside with a horse or mule-drawn wagon and folding tent he used as a darkroom. He would take a photograph, develop it and print it on the spot, and attempt to sell it before moving on. Because photo supplies were hard to come by, Samuel even learned to make his own glass plate negatives. He went all over Ohio, Kentucky, Indiana, Missouri, sometimes for two or three weeks at a time, taking family and individual portraits for farmers, family members, businessmen and others. He made his living that way for a number of years before he settled down and married Adelina Jane Barlow, daughter of John Thomas Barlow, in Louisville, KY in 1874.
See "An Overview of Early Photography"
The carte de visite (also spelled carte-de-visite) was a type of small photograph which was patented in Paris, France by photographer André Adolphe Eugène Disdéri in 1854, although first used by Louis Dodero. It was usually made of an albumen print, which was a thin paper photograph mounted on a thicker paper card. The size of a carte de visite is 2 1/8 in × 3 1/2 in. mounted on a card sized 2 1/2 × 4 in. In 1854, Disdéri had also patented a method of taking eight separate negatives on a single plate, which reduced production costs. The Carte de Visite was slow to gain widespread use until 1859, when Disdéri published Emperor Napoleon III's photos in this format. This made the format an overnight success, and the new invention was so popular it was known as "cardomania" and eventually spread throughout the world.

Each photograph was the size of a visiting card, and such photograph cards became enormously popular and were traded among friends and visitors. The immense popularity of these card photographs led to the publication and collection of photographs of prominent persons. "Cardomania" spread throughout Europe and then quickly to America. Albums for the collection and display of cards became a common fixture in Victorian parlors. By the early 1870s, cartes de visite were supplanted by "cabinet cards," which were also usually albumen prints, but larger, mounted on cardboard backs measuring 4.5 in by 6.5 in. Cabinet cards remained popular into the early 20th century, when Kodak introduced the Brownie camera and home snapshot photography became a mass phenomenon.
The First Four Burgert Brothers Are Born In Ohio
---
Samuel and Adelina had four sons while living in Cincinnati and Hamilton, Ohio: Willard Chesney (1875), James Harold "Harry" (1876), Walter Scott (1880) and Jean Everett (1882).

The 1880 census of Hamilton, Ohio shows S.P. Burgert and wife Addie, with their first 3 sons, Willard, Harold and Walter at 135 Oak St. Also living with them was Addie's widowed father, John T. Barlow, who was a saddler by trade. Hamilton is located about 15 miles north of Cincinnati.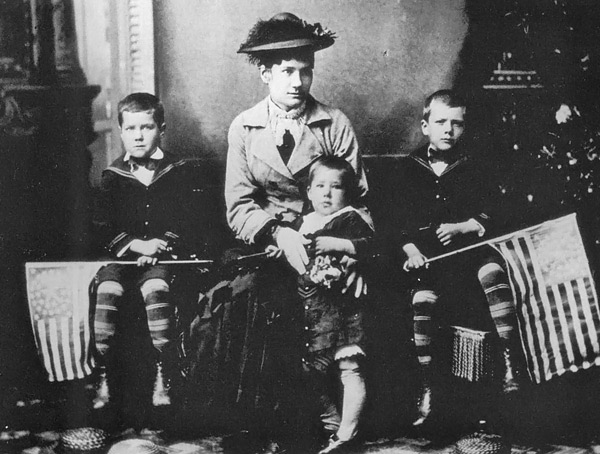 Adelina Barlow Burgert with her sons, L to R, Harry, Jean and Willard, circa 1884
From "Pioneer Commercial Photography" the Rose Burgert Baker album
The flags in the photo were unofficial, yet popular designs in 1877 when Colorado became the 38th state in 1876.
In 1890, five more states were added to the Union, bringing the state count to 43.
See the official 38-star design. See the popular "concentric ring" design.

The Burgerts Come to Florida - Twin Sons Born in Jacksonville
---
Somewhere around 1882 to 1886, Samuel moved his family to Florida. Webb's Jacksonville city directory for 1884 through 1888 lists S.P. Burgert as a photographer at 71 & 1/2 Bay St, with the latter years also listing him as a crayon artist at the same address, but his home at 4th and Helen. Samuel also travelled around the state for photographic opportunities. Some early photos of Tampa taken in the mid to late 1880s (such as the county courthouse and Exchange bank shown below) with the Burgert signature mark are evidence that Samuel may have made trips to Tampa in those years.
In Jacksonville, Samuel and Adelina became parents of twin boys in 1887-- Alfred Paul ("Al") and Albert John ("Bert").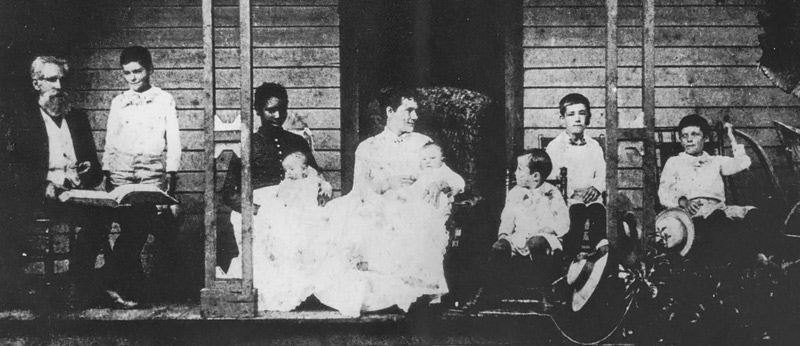 The Burgert family on their front porch in Jacksonville, FL, summer of 1887
Probably taken by Samuel P. Burgert
L to R: John T. Barlow (Adelina Barlow Burgert's father), Willard C. Burgert, unknown servant woman, twins Alfred P. and Albert J. Burgert,
Adelina Barlow Burgert, Jean E. Burgert, Walter S. Burgert, James H. Burgert
From "Pioneer Commercial Photography" the Rose Burgert Baker album
Samuel Burgert's father-in-law, John Thomas Barlow, was born in Missouri on Oct 22, 1830 and lived in Booneville, Missouri during his teenage years. He served in the Mexican War and was captain of one of the first companies raised in Arkansas when the Civil War began. Wounds he received early in that war made necessary his transfer to the ordinance department. By 1874, Mr. Barlow had moved to Kentucky, probably to Louisville where his daughter Adelina married Samuel P. Burgert on July 10, 1874. Mr. Barlow was a chaplain of the Camp Loring United Confederate Veterans. Mr. Barlow also had worked with his brother, Milton, in organizing the famous Barlow Minstrels. J.T. Barlow died Dec. 31, 1915 in Tampa, from injuries he received when struck by an automobile on Dec. 18, 1915.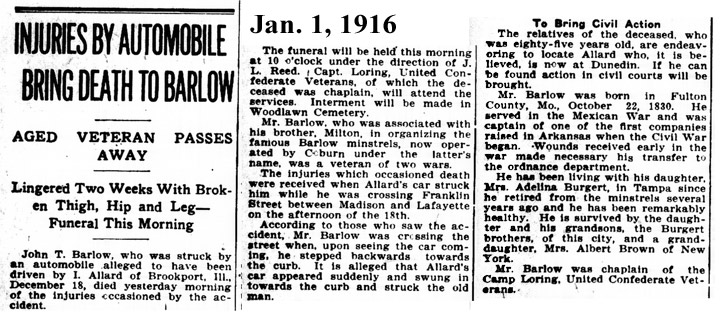 Mr. Barlow had actually been living with his widowed daughter-in-law, Nettie Johnson Burgert, and her children.
The Burgert home in Jacksonville, 1888, with grandfather J.T. Barlow on the porch, two of the boys in the window, and one in the yard behind the fence.

From "Pioneer Commercial Photography" the Rose Burgert Baker album
Portraits by S. P. Burgert
---