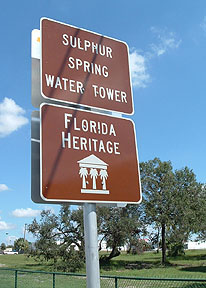 Sulphur Springs lies about 6 miles north of downtown Tampa. Its southern boundary is the Hillsborough River, the northern boundary is Busch Boulevard. Florida Avenue and the CSX railroad line forms boundaries on the west and east. Sulphur Springs, like most of Florida, has a rich and ancient natural history. The man made history of the area starts with Native Americans, who legend has it, drank from the Springs and benefited from the medicinal benefits of the natural mineral water.

The first mention of Sulphur Springs in the history of Tampa dates back to 1889 when the Tampa city commissioners contracted for the building of a bridge to cross the Hillsborough River at the county road now known as Van Dyke Place. Completed in 1891, the bridge was used until 1961.

In the late 1890s John Mills purchased what would later become Sulphur Springs from J.H. Krause, a real estate developer, and developed a small park around the natural bubbling spring. Mills developed his park into a small resort community and it opened in 1900 boasting bathhouses, a fishpond, and a pool. Shortly after opening for business, steam ships traveled along the Hillsborough River filled with urbanites seeking recreation at the springs.

In 1898, a 25-year-old Kentucky native named Josiah Richardson arrived in Sulphur Springs and saw an opportunity. After working for several years as a painter and paper hanger, Richardson sold his business and in 1906 purchased 100 acres from Mills, between Florida Ave. and Nebraska Ave. from the Hillsborough River to Waters Avenue, for $10,000, which he borrowed. The town was a rustic swimming pool with a few wooden bathhouses when Richardson bought it and he transformed it into a winter mecca and spa for northerners.

Richardson was said to have a strong liking for poker, women and fast horses. He was a dreamer who envisioned a resort for tourists built around the healing spring waters.

Sulphur Springs in 1906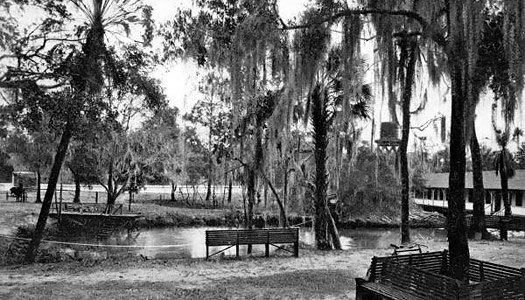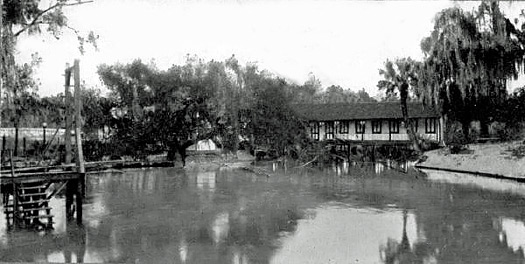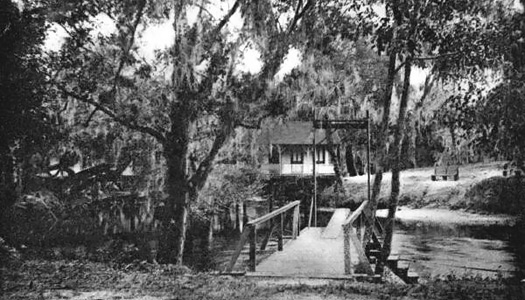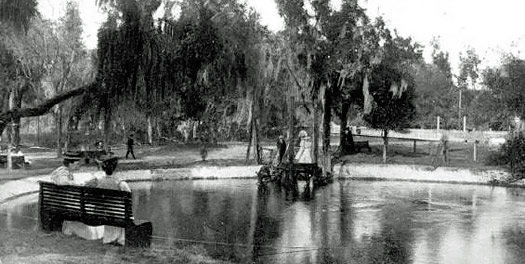 By 1908 the popularity of the once small resort community increased so drastically that a trolley line was built to Sulphur Springs by the Tampa and Sulphur Springs Traction Company. Visitors flocked to the spring for its healing waters; a 1911 Tampa tourist brochure touted Sulphur Springs as possessing "water which is especially beneficial in cases of chronic constipation, intestinal auto-intoxication and most kidney diseases where there is need of a cathartic and diuretic in combinations" (Tampa Board of Trade, 1911).
In 1920, Josiah Richardson opened an amusement park called Sulphur Springs Park. The park consisted of pools, bathhouses, an alligator farm, a dance pavilion, shops and a shed for the streetcar that was frequented by tourists and Tampans alike. He laid walks, erected elaborate bathhouses, opened 3 restaurants, docks, a high-dive platform, water slide and toboggan slide. Richardson also built a beach and tourist cottages which were later converted to year-round homes as tourists made the community their permanent residence. A vibrant commercial area grew up around the "Springs" and development flourished along Nebraska Avenue. In 1923 Tampa's city limits were extended to include Sulphur Springs.
In these days, the rich and famous often frequented natural springs for their healing properties and recreation, but Sulphur Springs tended to attract a more working-class visitor, known as "tin-can tourists" because they often traveled in campers.
In 1925 Richardson began construction of the Arcade, a source of pride and convenience for the community for fifty years. Richardson saw the springs as a mecca for vacationers of modest means, but refused to sacrifice quality in the development of its attractions. He contracted an artist from Europe to decorate the interior of the Arcade, and for the sidewalk he pioneered terrazzo, marble chips laid over concrete that were buffed to a luminous sheen.
(Continued in column at right)