Robert Mugge at around 25 years old,
about the time he came to Tampa. (1877)
Portrait from the family collection of his great-grandson, Robert E. Mugge.


The information used for this feature comes primarily from "Robert Mugge, Pioneer Tampan, by Margaret Regener Hunter, Sunland Tribune, Journal of the Tampa Historical Society, Vol. 15, Nov. 1989. and from Robert E.Mugge. Margaret was a granddaughter of Robert Mugge. Historical documents such as censuses and ship manifests, as well as newspaper articles from the period are also used in this feature, some of which provide facts differing from what Mrs. Hunter has written. Robert E. Mugge is Robert Mugge's great-grandson. Historic documents such as censuses, marriage licenses, etc., were obtained from Family Search.

obert Mugge literally helped build Tampa. He was the first to put up street lights in the neighborhood of his home in 1884, he owned a bottling plant near his home, built an electric light plant, and ice manufacturing plant (he bottled for Anheuser-Busch) on Central Ave., and opened the first legal distillery in Florida at Cass St. and Central Ave. Mugge became a successful beer distributor for Anheuser-Busch, and successful liquor and wine wholesaler all over central Florida, as well as being a watchmaker and saloon operator. He built several of the early brick buildings in Tampa, including the 10-story Bay View hotel in downtown Tampa, as well as bowling alleys and amusement parks. He even authored a book, Practical Humanity, which "has been selected by scholars as being culturally important, and is part of the knowledge base of civilization as we know it."

When he died in Tampa in 1915 at age 63, he was still working 18-hour days. His funeral was reported to be one of the largest ever held in Tampa and was held from the family home on a Sunday morning.

Robert Mugge devoted his life to the building of Tampa which he loved so well. He would invest every dollar he made in Tampa, back into the Tampa economy, thereby giving employment to thousands of breadwinners. He was a law-abiding citizen and would not tolerate any violation of any kind by his employees.

He, and his estate in later years, paid well over $1,000,000 in City and County taxes in addition to a large number of occupational licenses.

Upon his death, The Tampa Tribune published this eulogy, which begins:



Robert Mugge's great-grandson, Robert E. Mugge, is an American documentary film maker. He has focused primarily on films about music and musicians, but some of his earliest films were not music focused and he is now continuing to branch out as his interests and work evolve.

A GREAT MAN GONE

Robert Mugge was an old citizen of Tampa but not an old man, and was a remarkable character. A man of intelligence and business acumen. One of the most enterprising of our citizens. A man of energy; he fought the battles for fortune unsurpassed though afflicted physically. This was a "great" man, though few people knew it, nor did he..

The entire eulogy can be read towards the end of this feature.

R. E. Mugge has recently come into possession of many family records, including candid photos of his great-grandfather, and memoirs the senior Mugge typed up for the benefit of Robert E. Mugge's parents. He plans to create a documentary "portrait" of his great-grandfather when has enough material.

Check out Robert E. Mugge's website: www.robertmugge.com and stay tuned to this feature for updates.

obert Mugge was born Jan. 5, 1852 in Lauterberg, Harz, Germany, the son of Louis Mugge and Louisa Manzel1. He came to America on his own in at age 17, travelling in steerage class on the steamship Iowa, mastered by David Houston. Though the ship's manifest shows it departing from Glasgow, Scotland, German emigrants in this period almost always originated from the port of Bremen, Ger. to Glasgow, Scotland or Southampton, England, and then to New York on the same ship, or via a transfer. Robert likely originally departed from the Port of Bremen. He arrived at the Port of New York on Sept. 19, 1870.
____________________________

1According to his death certificate.

SS Iowa passenger manifest edited to conserve space.

"New York Passenger Lists, 1820-1891," database with images, FamilySearch , 334 - 30 Aug 1870-26 Sep 1870 > image 294 of 464; citing NARA microfilm publication M237 (Washington D.C.: National Archives and Records Administration, n.d.).

Modern day Bad Lauterberg
Photo from Wander Kompass
Modern day map showing location of Bad Lauterberg.
Place your cursor on the photo to see it during the time Robert Mugge was born.

Maps from Wikipedia.


Before Germany was unified into a politically and administratively integrated nation in Jan., 1871, it existed as approximately 39 separate states, or "duchies" in the mid-1800s, each ruled by its own Duke. The largest flow of German immigration to America occurred between 1820 and World War I, during which time nearly six million Germans immigrated to the United States. From 1840 to 1880, they were the largest group of immigrants to the U.S. Most of them came because of civil unrest, severe unemployment, deplorable conditions, and almost inconceivable hardships at home.

By 1890, an estimated 2.8 million German-born immigrants lived in the United States. A majority of the German-born living in the United States were located in the "German triangle," whose three points were Cincinnati, Milwaukee, and St. Louis.

Shortly after his arrival in New York, blonde, curly-haired 17-year-old Robert Mugge looked up some relatives in Terre Haute, Indiana and soon settled there. He was soon followed by his entire family; his parents, a brother Louis; a sister Bertha, and her husband, Wilhelm Mahn.2

Photo from National Park Service Castle Clinton National Monument, New York

Robert would not have seen the Statue of Liberty or Ellis Island upon entering New York Harbor; he arrived before these landmarks were in existence. Instead, he would have undergone immigrant processing at Castle Garden (sometimes called by its earlier name, Castle Clinton), an old fort on the lower tip of Manhattan, which was designated as an immigrant station under the supervision of the State of New York in 1855. When a new federal law was passed in 1882, Castle Garden continued to operate under contract to the United States government. By 1890, however, the facilities at Castle Garden had long since proved to be inadequate for the ever-increasing number of immigrant arrivals.

Read more about immigrant processing at Castle Island:

__________________________________

2In Robert Mugge, Pioneer Tampan, by Margaret Regener Hunter, William is misidentified as "Louis Mann." See below passenger manifest of the SS Hansa and 1880 Census of Tampa for evidence which shows he was Wilhelm (William) Mahn.
Passenger Manifest of the SS Hansa from Bremen to New York, 1871



Wilhelm and Bertha Mahn (Robert Mugge's sister) sailed on the SS Hansa from the port of Bremen,
arriving at the Port of New York on Sept. 17, 1871. Wilhelm was 28; his occupation was Tailor. Bertha was 25. Both of their ages are in agreement with their ages on the 1880 and 1885 censuses.
SS Hansa
Info & image courtesy of Immigrant Ship Information
Launched August 1861
Went missing July 1883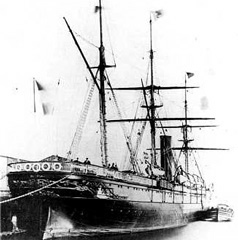 This steamship was built by Card & Co. of Greenock, Scotland for Norddeutscher Lloyd (North German Lloyd). She weighed 2,992 gross tons, had a length of 328 feet and a beam of 42 feet, one funnel, three masts, and a single screw. Her service speed was 11 knots. There was accommodation for 75 first-class, 105 second-class, and 480 third-class (steerage) passengers. She had a crew of 102.

Launched on 23 August 1861, she began her maiden voyage from Bremen to Southampton and New York on 24 November 1861. She made her last voyage for this company on 12 November 1878. In 1881, she was chartered to Adamson & Ronaldson, and given compound engines. Between May 1881 and March 1882, she made six round trip voyages from London to Boston.

In 1883 she was sold to the White Cross Line, Antwerp, who renamed her Ludwig. She sailed from Antwerp for Montreal on 2 July 1883 and went missing after making contact on 3 July with Prawle Point, 20 miles southeast of Plymouth. Twenty-seven passengers, 43 crew, and 433 head of cattle were lost.
1860 census, Mt. Vernon, Indiana
Possible family Robert Mugge joined in Terre Haute, Ind.

George Mugge and his family may have been the relatives that Robert joined in Terre Haute in 1870. George and his family have not been located on the 1870 census yet to see if they were in Terre Haute by that time, but in 1860 he and his family were about 140 miles south of Terre Haute in Mt. Vernon, Ind. George was from Hanover and worked as a distiller; an occupation which Robert would later take up. George may have taught Robert the basics of brewing beer and distilling liquor in the approximate 5 years Robert was there.


Robert Mugge's first marriage

Robert Mugge was a jeweler by trade. In 1875 in Vigo County, Ind., he married Alice McCullough, a milliner. They soon had three sons.

Robert's marriage license for first marriage - Alice McCullough, in Vigo County, Indiana. Notice the umlaut over the "U"-- Mügge. This is pronounced with a long "u" as in "uniform." Often, the umlaut is removed and substituted with "ue" as in Müller = Mueller.

The Mugge descendants today pronounce it like the weather in Florida during summertime--muggy.


Marriage License of Robert Mugge and Alice McCullough
1870 U.S. census of Ward 5, Terre Haute, Ind.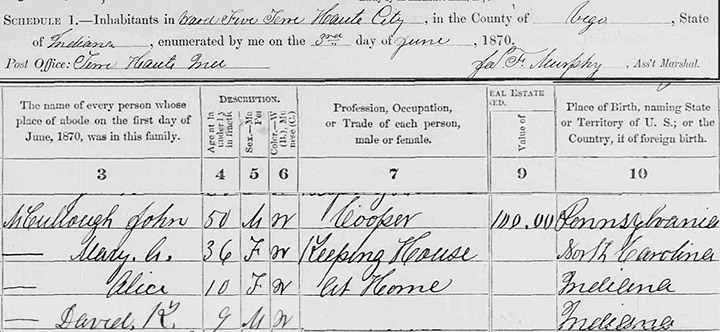 The 1870 census of Terre Haute, Indiana shows Alice's father was 50 and her mother was 36, born in North Carolina. Alice was 10 and her brother, David K. was 9, both born in Indiana.
According to the 1870 census of Ward 5, Terre Haute, Ind., Alice was the daughter of John & Mary McCullough. John was a cooper (barrel or cask maker or repairer) from Pennsylvania.
If Alice's age on this census is correct (10 years old), she was only 15 or 16 when she married Robert in 1875.
After the death of his father (who is buried in Terre Haute) Robert Mugge, an asthma sufferer, decided to go south to Cuba.3 He and his brother-in-law probably boarded a schooner in Mobile, which was to take them to Cuba via Tampa. (He probably sailed on a schooner run by James McKay, who had a shipping line between Mobile and Tampa in those years.)
The ship remained in Tampa for a few days to unload its cargo, giving Mugge enough time to see the town. He liked Tampa well enough to decide to settle here4 and so he did in 18775. Robert and William's wives in Indiana followed after about 3 years, probably to allow their husbands to establish their home site and businesses.6
Robert was a watchmaker, his brother-in-law was a tailor, so they decided to go into business together as a sideline and opened a grocery and general merchandise store. They bought a quarter of a block of land located at the northwest corner of the intersection of Marion and Jackson streets.7 According to records in the courthouse, they paid $50 for it. There they built a two-story wooden building.8 The store faced Marion Street with rooms for rent on the second floor. The families lived in another two-story building in the rear facing Jackson Street.
___________________

3According to Margaret Regener Hunter in Robert Mugge, Pioneer Tampan.
4Margaret Regener Hunter says Robert's family came along with him on the trip to Cuba with a layover in Tampa. The 1880 census shows both men living by themselves in Tampa. It is not known why Mrs. Hunter believes they came to Tampa by 1875.
5Mrs. Hunter has them in Tampa by 1875, but Robert's great-grandson, Robert E. Mugge, has come into possession of the first edition of his great-grandfather's memoirs, which is the source of the 1877 date.
6Mrs. Hunter says "His folks in Indiana followed shortly thereafter," but no other Mugge family member besides Robert and his brother-in-law is listed on the census of 1880 in Tampa, not even his wife or sons.
7Mrs. Hunter states the property was on the northeast corner, which is incorrect. It was the northwest corner of the intersection of Jackson and Marion, or the southeast corner of the BLOCK bound by Jackson, Marion, Monroe (Florida Ave.) and Lafayette (Kennedy Blvd.) See Sanborn maps below.
8Mrs. Hunter also says Robert bought the lot. However, on the 1880 census, William is the head of house and Robert is listed as a boarder (column 6 "Relationship to head of house), an unusual arrangement for Robert to be the tenant if he paid entirely for the property and construction of the house. The term "Boarder" should be listed in column 6 if there was no family relationship to the head of house. It should have read "brother-in-law".)
1880 Census, Hillsborough Co., Town of Tampa
Robert's brother-in-law was William Mahn, not Louis Mann. Mahn was 36, Robert 27. William and Robert were each married, but no mark is made for Robert. Robert was married in Sept. 1875, but it appears that their wives remained behind until the at least, June 1, 1880, probably waiting until the men had their living accommodations and businesses established. The interesting fact shown here is that it was Mugge who was the boarder, and Mahn the head of the residence. If Mugge bought this property and built this 2-story dwelling, why would he be listed as a boarder with Mahn the head? Mahn was a -- tailor/merchant, Mugge was a watch maker. Both are listed as being born in Florida, which is incorrect. Their parents birth places were listed as Prussia/Poland.


In 1876 Robert Mugge took out naturalization papers and became an American citizen9.

In February 1879, his wife Alice and their three sons died of the yellow fever epidemic and were buried in Oaklawn Cemetery9.

| | | | | |
| --- | --- | --- | --- | --- |
| Last Name | First Name | Cemetery | Section | |
| MUGGE | ALICE M. | OAKLAWN | 5 | |

| | | | | | |
| --- | --- | --- | --- | --- | --- |
| Block | Lot | Space | Age | | |
| 59 | 3 | 3 | | 2/1/1879 | |

Robert Mugge remarries

A few years after Alice's passing, Robert Mugge wished to remarry and corresponded with Caroline Rautenstrauch who lived in Goslar, Hanover, Germany. She was born in Braunschweig (Brunswick) Germany and came to America by boat, landing at Fernandina, Florida, where she and Robert Mugge were married Oct. 12, 1882. Mugge had chartered a schooner owned by Captain George Hansen of Tampa. The schooner traveled around the state of Florida to arrive in Fernandina. They returned to Tampa by the same schooner9.
_________________________

9Robert Mugge, Pioneer Tampan, by Margaret Regener Hunter

1885 State Census of Florida


In addition to the Federal censuses taken every 10 years on the first year of a new decade, the State of Florida collected three state censuses: 1885, 1925 and 1935. On the 1885 census the Mugge family was living nearby to merchant & future Tampa mayor Herman Glogowski, and former mayor and merchant, Josiah Ferris.

1885 Florida State census

This census shows Robert was 32, Caroline was 24, and their daughter Louisa was 1.
Robert's brother-in-law has passed away; living in their home was Robert's widowed sister, Bertha Mahn, age 40.
Also in their home was Karl Pinkert, age 23, a clerk by occupation. His relationship shows "inmate," which besides a prisoner (which obviously was not) could mean a hospitalized person.

However, reviewing what the law dictionaries tell us that the word "Inmate" means: a "person who lodges or dwells in the same house with another, occupying different rooms, but using the same door for passing in and out of the house" or "one who dwells in a part of another's house, the latter dwelling, at the same time, in the said house."

That's more the way it was used in the census: lots of places where people were perfectly free to come and go — like hotels and boarding houses and hospitals and convents — would have the residents listed as inmates. From The Legal Genealogist

The 1887 Sanborn map at left is from the University of Florida Library digital map collection. It shows Monroe Ave. which soon was renamed "Florida Ave." The Mahn/Mugge property was located on the southeast quarter of the block.

Unfortunately, this block is obscured on the 1884 Sanborn map. It only shows this notation:


"4 frame dwellings, 1 barn and 1 General Store in this block.

Notice their general store on the corner and Wilhelm's tailor shop in the middle of the Jackson St. block. Above the general store is a foundation; indication that something was going to be built there.

The 1889 Sanborn map at right is from the University of Florida Library digital map collection. It shows Monroe Ave. was renamed "Florida Ave."

The foundation on the 1887 map is now an ice house and a new structure has been added just north of it--a 2-story mineral water factory.

The tenements have become a dwelling and the space formerly occupied by the general store, upholsterer and tailor is mostly vacant. Preparations were apparently being made to convert the whole building into living space.

Notice Florida Avenue in place of Monroe.

Mrs. Caroline Mugge and daughters Louise, 7, and Frances, 2. Taken in Germany in 1890. -Photo by Georg Meyer, in Braunschweig, GER.
Photo from the Sunland Tribune, Journal of the Tampa Historical Society, Vol. 15, Nov. 1989. "Robert Mugge, Pioneer Tampan, by Margaret Regener Hunter.

The 1892 Sanborn map above is from the University of Florida Library digital map collection. It shows Binkley & Co. carriage shop has situated just west of the Mugge property. The structure at the lower right corner which was vacant in 1889 now is Mugge's lodging house.

The portrait of Caroline, Louisa and Frances was taken when the Mugges went back to Lauterberg and had Frances christened on June 6, 1890. Frances was born Frances Bertha Mugge in Tampa on Sept. 9, 188810. August Bremer Mugge was born Sept. 10, 1890 in Tampa, so Caroline was about 6 months in expecting August when the portrait was taken.
________________________

10Florida Births and Christenings, 1880-1935, database, FamilySearch, Robert Mugge in entry for Frances Bertha Mugge Reiner, 09 Sep 1888; citing Tampa, Hillsborough, Florida, reference File # 5-301; FHL microfilm 978,720.
THE MUGGE FAMILY PORTRAIT
Mrs. Caroline Mugge, widow of Tampa pioneer Robert Mugge, taken on her 65th birthday anniversary, June 16, 1927, at the Lake Magdalene home of Herman and Louise (Mugge) Regener and family. Back row, left to right: Anna, Hermina, Frances Regener, and Marie Mugge. Middle row: Gene Mugge, Jr., Otto and Ernest Reiner, Herman Regener, Jr., Grandmother Mugge holding Gretchen Petri, Margaret, Marnel and Lena Regener. Front row: Ruth Regener, Carmela Mugge, Carolyn Regener, Martha Petri, Pat Mugge (seated), Walter Reiner, Dora and Bob (Robert) Mugge.


Burgert Bros. Photo from the Sunland Tribune, Journal of the Tampa Historical Society, Vol. 15, Nov. 1989. "Robert Mugge, Pioneer Tampan, by Margaret Regener Hunter.

Together, Robert and Caroline started a large family--nine children--including two who died young. Tom died in September 1898 from typhoid fever and Alice in 1902 a few days after her birth. Some of the children were named after presidents and Nellie was named after a daughter of Adolphus Busch and his wife, Lilly (Anheuser) Busch of Anheuser-Busch Company fame.10 Mr. and Mrs. Busch spent their winters at the Tampa Bay Hotel and the two families were close friends.


10Margaret Hunter erroneously states that Nellie was Adolphus Busch's wife. Adolphus's wife was Eliz. Lilly Anheuser, daughter of Eberhard Anheuser.


Adolphus Busch & wife Lilly Anheuser Busch
circa 1870
Portraits courtesy of Missouri Historical Society
Their nine children were:
| | | | | |
| --- | --- | --- | --- | --- |
| | Name (married name) | Born | Married | Died |
| 1 | Louisa Melanie Mugge (Regener) | 1883 | | 1930 |
| 2 | Eugene George Mugge | 1885 | | 1939 |
| 3 | Frances Bertha Mugge (Reiner) | 1888 | | 1971 |
| 4 | August Bremer Mugge | 1890 | | 1979 |
| 5 | Melanie Wilhelmina Mugge | 1892 | | 1934 |
| 6 | Thomas Paine Mugge | 1895 | | 1898 |
| 7 | Martha Washington Mugge | 1897 | | 1978 |
| 8 | Nellie Busch Mugge (Petri) | 1899 | | 1982 |
| 9 | Alice Roosevelt Mugge | 1902 | | 1902 |
Robert Mugge 1900 U.S. Census in Tampa - 302 Marion St.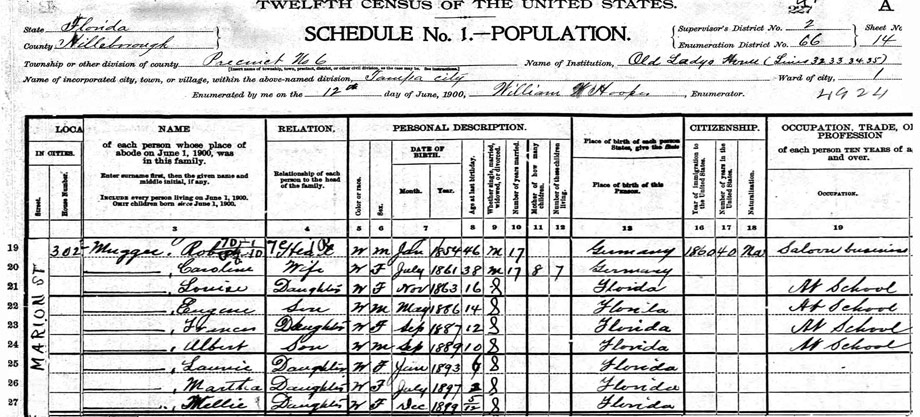 The 1900 US Census shows Robert Mugge living at 302 Marion St. in Tampa. It shows he was born in Jan. of 1854 in Germany and was age 46. It shows that he immigrated in 1860, had been in the US for 40 years and was a naturalized citizen, but this information appears to be inaccurate, possibly given by Caroline who was his 2nd wife. Ship passenger records of the SS Iowa show he arrived in 1870. See a portion of the list. He was married to Caroline for 17 years who was the mother of 8 children, with 7 living at the time. Robert's business was "Saloon business." Robert & Caroline's children were listed as Louise, Eugene, Frances, Albert (August), Lannie (Melanie), Martha and Willie (William, age 5 mos.).
In the ensuing years, Robert Mugge literally helped build Tampa. He was the first to put up street lights in the neighborhood of his home in 1884, he owned a bottling plant near his home, built an electric light plant, and ice manufacturing plant (he bottled for Anheuser-Busch) on Central Ave., and opened the first legal distillery in Florida at Cass St. and Central Ave. Mugge became a successful beer distributor for Anheuser-Busch, and successful liquor and wine wholesaler, as well as being a watchmaker and saloon operator.
At the time he came to Tampa (1877), the only equipment firemen had consisted of twenty buckets, two scaling ladders and some axes. Needless to say, more than a little difficulty was encountered in batting serious conflagrations. This was clearly shown May 8, 1886, when all the buildings except the First National Bank were wiped out in the block bounded by Franklin, Whiting, Tampa and Washington. Included among the structures destroyed were two buildings owned by W.B. Henderson, a new store of Friebele & Boaz, the Baldwin House, the furniture store of A. Glass & Bros., and the warehouse of Miller & Henderson. The loss was estimated at $30,000.

Immediately after this 1886 fire the town council decided it might be wise to invest in a fire engine so a $600 "hand pumper" was ordered, donated to the city by Robert Mugge.

Known as the Mugge pump it was equipped with 350 feet of two-inch hose and was dragged through the city streets by hand. It came July 30 along with the 350 feet of two-inch hose and a hose reel.


The Mugge property after demolition in 1922. The Bay View Hotel can be seen at the left side of the photo.
Burgert Bros. photo from the Tampa Hillsborough County Public Library digital collection.

Almost everyone in town turned out the next day to see the engine tested. The hose was run down to the river and six of the strongest firemen began laboring on the pumps. The results were splendid--a stream of water was thrown clear over the top of John T. Lesley's two-story building at Franklin and Washington.

To make effective use of the new equipment, the Tampa Fire Company was organized August 30, 1886, with A. C. Wuerpel as president, Robert Mugge as secretary, and Herman Glogowski as treasurer. Other members were G. B. Sparkman, Odet Grillon, H. Heargeist, C . Pinkert, John R. Jones, Leon Dartize, Charles G. Lundgren, J.O. Nelson, Vinsente deLeo, and Ernest Geistenberger. These men, and the members of the Hook & Ladder Company, served without pay.
In 1900 Tampa had three well-established wholesale groceries--J. Q. Brantley, I. S. Giddens & Co., and the Tampa Wholesale Grocery Company, operated by T . P. Lightfoot. Crenshaw Brothers and J. P. Hardee & Company were wholesale dealers in fruits and vegetables, Phillips & Fuller wholesaled building supplies. The Bentley-Gray Dry Goods Company was widely recognized as one of the leading wholesale dry goods firms of the state. Nick Kokin had built up a thriving business in tropical fruits. Both the Tampa Harness &: Wagon Company, operated by Thomas N. Henderson, and E. D. Hobbs & Company were wholesaling bicycles as well as wagons, buggies and harness. Robert Mugge sold beer and liquor all over South Florida and his business was flourishing.
Louisa Melanie Mugge (Regener) at age 16, around 1899.
Photo by MORAST, Tampa, from Robert Mugge, Pioneer Tampan, by Margaret Regener Hunter, Sunland Tribune, Journal of the Tampa Historical Society, Vol. 15, Nov. 1989.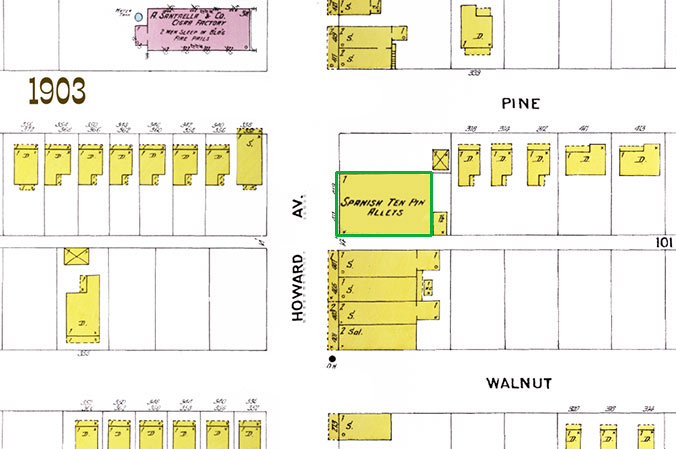 **The newspaper article which was the source of the info on the fire has their cigar factories flip-flopped. Santaella was on Howard, caddy corner to Mugge's "Spanish Ten Pin Alleys" as seen above. Leopold Powell was on Armenia.
WEST TAMPA FIRE
On April 4, 1904, Robert Mugge's West Tampa saloon caught on fire. The building, located on Pine Street near Howard Avenue, was quickly devoured by the hungry flames, and before volunteer firemen arrived with their hoses reels, the blaze had spread to nearby homes and businesses. Authorities say the fire could have been contained to the initial area, but high winds from the northeast fanned the flames southwestward across Howard Avenue and west down to Armenia Avenue, consuming everything in their path, including the A. Santaella cigar factory at 1906 N. Armenia.** The Leopold Powell Company on the northeast corner was spared due to the wind direction, but over 100 homes and 5 factories to the southwest were destroyed. All were constructed of highly flammable wood except for one factory, which was of brick. The high winds, lack of available water sources, and West Tampa's inadequate fire fighting capability were all blamed for the extensive damage. Losses were estimated to be $200,000. Read about this fire in detail.
Visit "Tampa's Bravest", a website dedicated to the history of Tampa's firefighters

In 1905, Mugge took on the pro-temperance movement and prohibitionists in the town of Kissimmee. Mugge said he "does not intend to take a dollar away from Kissimmee, but will spend two dollars for every one--of his profits--in buying and improving property and otherwise contributing to the up-building of the town."
Newspaper images from the University of Florida Digital Newspaper Library.

March 10, 1905


This article has been edited by removing items on the agenda not relating to Mugge to conserve space.

Mugge's application is examined by the city council
and ordered to be published.

Newspaper images from the University of Florida Digital Newspaper Library.

A crowd gathered at the courthouse on May 2nd, 1905, with ladies and a Methodist pastor, to protest approval of Mugge's permit. They objected on grounds that Mugge was not a law-abiding citizen of good character and they produced an affidavit signed by Tampa's clerk of police stating that Mugge had been recently convicted and fined for violating an ordinance of the city. They also produced a Tampa Tribune article relating to the violation. This was followed by an eloquent speech from the Methodist pastor representing the ladies asking that Mugge's permit not be granted. Board chairman R.T. Butler asked to be excused from acting in the matter due to his recent sale of is saloon to Mugee.

Mugge's attorney produced an affidavit signed by Tampa's current mayor Salomonson, former Tampa mayor and Florida senator John T. Lesley, and Judge W.B. Henderson, all attesting to Mugge's good character and law-abiding citizenship. Following a "forcible" argument by Mugge's attorney, the board of county commissioners granted Mugge's permit.


On May 12, 1905, the Kissimmee Valley Gazette printed a letter (below) from Chairman of the Board of County Commissioners R.T. Butler which was sent to the Jacksonville Metropolis. A week earlier, the Metropolis had printed a letter "Kissimmee Notes" from the Kissimmee paper which Butler claims "misrepresented the facts in regard to Mr. Mugge calling a preacher a liar" and other events which took place at the May 5th board meeting. Regarding those at the meeting protesting Mugge's permit application, he points out that there are "as many or many more people here who would welcome Mr. Mugge as a citizen than would reject him," and that not only does Mugge not intend to become a citizen of Kissimmee, his saloon is not a new business to Kissimmee, "and the same is conducted by parties who were already in the business." (For one, R.T. Butler himself, who sold his saloon to Mugge.) Butler sums up his letter by stating that the letter to the Metropolis did not bear a name, and "it would be well for him or her...in future attacks to confine more strictly to what really happened and not be so prejudiced." He ends by stating "...I deemed it necessary for those who might have read 'Kissimmee Notes' to know the truth of the matter" as he himself was one of those condemned in the article.

Beginning May 12, 1905, Mugge began running this ad in the Kissimmee Valley Gazette.
1905, May 23rd - Fire in Tampa destroys one of Mugge's buildings
A fire on May 23rd, 1905 destroyed Mugge's 2-story brick building, 60 ft x 100 ft, on the northwest corner of Franklin and Carew streets. Mugge then brought suit in the Circuit Court of Hillsborough County against Tampa Waterworks for failing to provide adequate fire protection, due to low water pressure, through a system that was supposed to be "First Class...with a reservoir capable of holding 100,000 gallons of water, sufficient to give a pressure on the mains from a hydrant located at the intersection of Washington and Franklin streets, and through 100 feet of fire hose and a 1-inch nozzle, to throw a stream of water vertically to a height or distance of 50 feet, giving a first-class fire protection..."
The Circuit court dismissed the suit, in favor of the Tampa Waterworks. But Mugge took the case all the way to the Supreme Court of Florida, where the judgment was reversed, "Error to Circuit Court, Hillsborough County, Joseph B. Wall, Judge. Read about the details of the case, Mugge vs. Tampa Waterworks Co..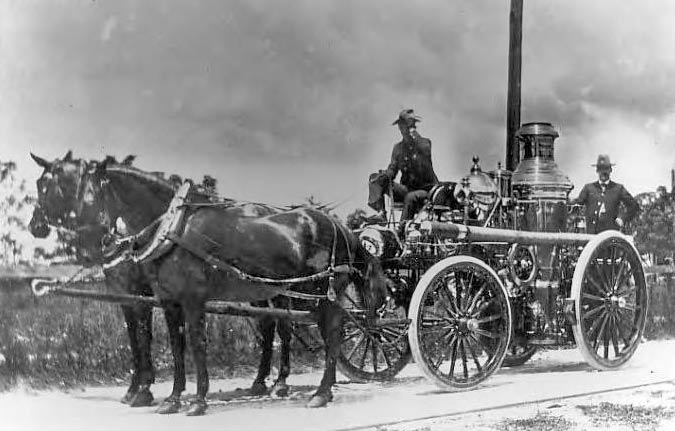 La France horse drawn steam piston pumper, named Elmer Webb, assigned to Station 4 of the Tampa Fire Department. Burgert Brothers photo from the Hillsborough County Public Library Cooperative Digital collection.
CHANGES BUSINESS INTERESTS
In the early 1890s the first floor of the building in which the grocery and general store was located was transformed into living quarters for the family. The building in the back was used for storage purposes. Robert Mugge abandoned the grocery, general store and jewelry business. He became the sole owner of the following enterprises:
BOTTLING PLANT
It was in the early 1890s (1892-1895) when Robert Mugge built the Bottling Plant adjoining his home on Marion Street with Caroline Mugge's garden in between the plant and their home. In the rear of the Bottling Shop was a huge wooden tank into which water was pumped daily from a well. (on the 1895 map it is labeled "Raised 20'.) In the shop itself, in one corner was the boiler room and in another the syrup room where Robert Mugge concocted the various syrups which were used in the manufacture of lemon, strawberry, sarsaparilla, and soda water. Old time machinery, the bottles were individually filled by a machine operated by the bottler, Robert Mugge. In another corner were the vats where the bottles were washed.


The location of the Mugge home, store, and bottling plant (just off camera at the right) at 308 Jackson, 1922. Burgert Bros. photo from the Tampa Hillsborough County Public Library digital collection.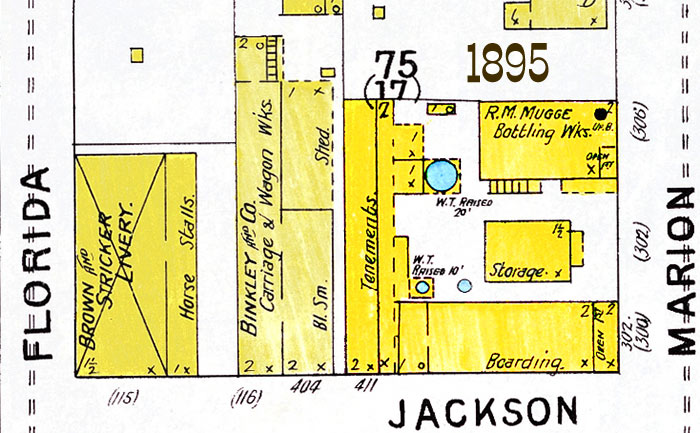 On the 1892 Sanborn map, the structure seen here marked "Bottling Wks." was marked "Mineral Water Factory." (below)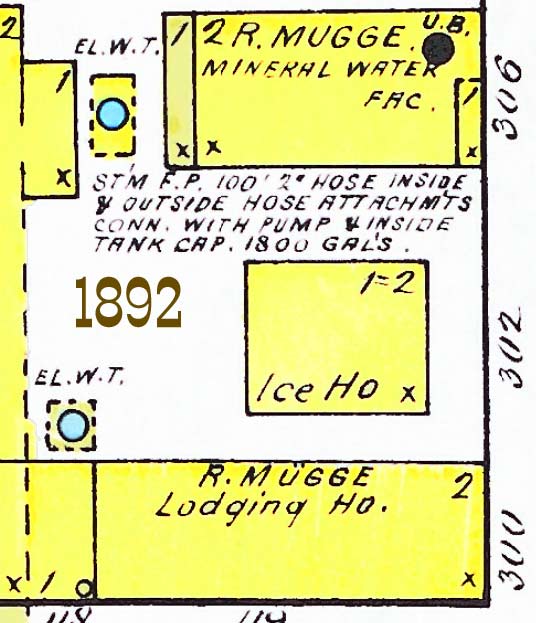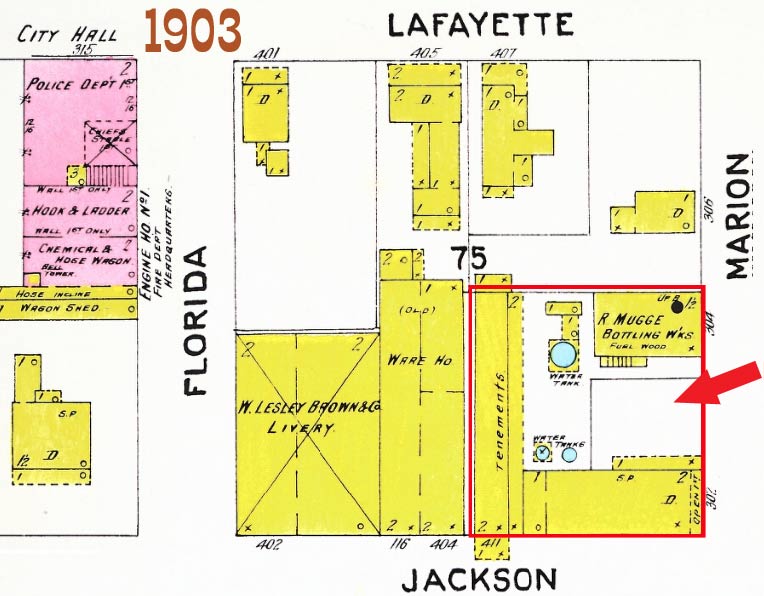 The 1903 Sanborn Fire Insurance map of Tampa shows Mugge's property was the southeast quarter of the block numbered 75.
Yellow buildings are wood frame, pink is brick. City Hall, the police dept and fire dept. can be seen on the block just to the west, at Lafayette St. and Florida Ave.
The 1922 photo above was taken from the direction of the red arrow; the bottling plant was just off camera to the right of the photo.
Map provided by the University of Florida Digital Library Map Collection.
In the fall of 1988, during excavation of Marion Street in preparation for the construction of the Hartline Bus Mall which would provide a central public transportation hub for Tampans, many broken bottles were dug up in the area of Jackson and Marion streets. Ironically, Lee R. Cullens, Jr. of Clearwater, superintendent of Nelson Construction Company, who was very distantly related to the Mugge family by marriage and who knew nothing of the family history of earlier days, brought a bottle home with the name "Robert Mugge" on it. When Lee Cullens' nieces saw the bottle they knew immediately that the bottle belonged to their great, great grandfather. The bottle had been buried in the ground for over a century. The unused, broken bottles had been used as a border for the paths in Caroline Mugge's garden. Correspondence and pictures from granddaughter, Marie Mugge Diegelmann of Germany, confirmed the bottles were indeed used in Caroline Mugge's garden. Marie was born in Tampa and lived on Pierce Street during her childhood and well-remembered the gardens of her grandmother.

ELECTRIC LIGHT & ICE MANUFACTURING PLANT
In the latter part of the 1880s Mugge built an electric light and ice manufacturing plant on his property at Central Avenue. It would start to operate at six in the evening and close down at midnight. Often the lights were very dim and often there were breakdowns. The boilers were at first fed with wood hauled from his acreage at Bloomingdale where the trees were felled and hauled in dummy engines and in teams to the factory. Later two huge tanks were sunk into the ground filled with oil which supplied the boilers. The plant never was a financial success. Mugge was instrumental in the building of an Electric Light Plant In Port Tampa City, selling, in 1891, the machinery and equipment adequate for a plant of sufficient power to serve the town including 25 miles of wire at one-half of what it would have cost from the manufacturer. There is a letter in existence dated July 15, 1891 to Captain J. W. Fitzgerald, general superintendent of the P. & O., in which he made the offer to sell. The plant was in operation for many years.

It was imperative that Mugge build the ice plant, since he had secured the agency of the Anheuser-Busch Brewing Company of St. Louis, brewers of Budweiser and other beers, draft and bottle. He eventually went into the wholesale and retail liquor business and had saloons In all sections of Tampa, St. Petersburg, Port Tampa City and Plant City. The wholesale establishment was located on Franklin Street in the 300 block, adjoining the city hall.
DISTILLERY
Robert Mugge became the owner of the first legalized distillery in the state of Florida. This was located in a wooden structure at the corner of Cass Street and Central Avenue.
The 1903 Sanborn map below shows the neighborhood of the Electric plant, Ice plant and Distillery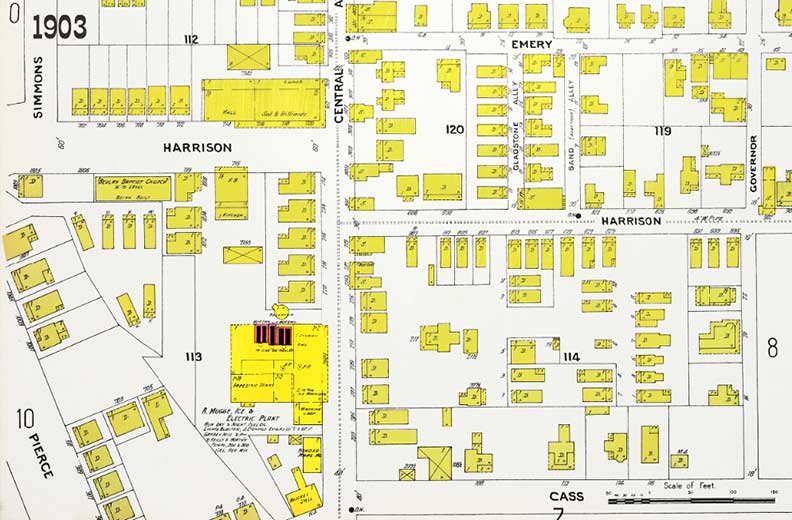 NEW ORLEANS-TAMPA TRANSPORTATION LINE
This was created in 1900. The Eva L Shenton, a three-master, which brought as its cargo, not only his goods, but was utilized by other merchants in Tampa. He chartered another ship that ran to Havana and Honduras. This ship sank during a terrific storm between Honduras and New Orleans. The storm in 1901 destroyed Galveston and the venture was abandoned. Robert Mugge owned some property along the waterfront. This was sold in 1925 to clear the right-of-way for the Platt Street Bridge.


Merchant Vessels at Google books

SUNLIGHT MANUFACTURING COMPANY (Map at right)
In 1906 Mugge became interested in this company. It produced individual operated gas installations for small towns where there were no gas accommodations. He became a stock holder and erected a two-story brick structure at the corner of Cass and Central Avenue in which the machine shop was housed. Later the firm went bankrupt and Robert Mugge took it over. It never was a paying investment and it was liquidated in 1921.

It would appear that the Electric and Ice plant was converted for use by his Sunlight Mfg. Co., but it was not made of brick, it was wood frame. In place of the dwellings just north of it was built a 3-story brick building in which the 2nd & 3rd floors was the Central Hotel. He erected the three-story brick building at the corner of Central Avenue and Harrison Street which was intended as a hotel for the black population. The Central Hotel was completed in late spring of 1914.

Also built by this time was a 3-story brick building labeled "Negro Club" just south of the Sunlight Mfg. Co. where Mugge's distillery was located in 1903.

Mugge's Corner

The photo below, taken from 15th Street and 7th Ave. in Ybor City, looking northwesterly in 1899, shows the north side of 7th Avenue. The intersection was known as Robert Mugge Corner because of one of Mugge's saloons located on the corner. It can be seen at the far right, the 2-story wood structure with the Anheuser-Busch Beer sign above the awning. The 2-story wood structure (behind the horse and buggy) is the location of Las Novedades Cafe.

Burgert Bros. photo from the University of South Florida digital collection.

Place your cursor on the photo to see the buildings identified.
ROBERT MUGGE-THE BUILDER
AMUSEMENT PARK
Mugge operated an amusement park in 1896 in partnership with Bautista M. Balbontin, a Spaniard cigar manufacturer and wine merchant. It was located outside the city limits in the eastern part of Tampa known as Palmetto Beach or De Soto Park. A dancing pavilion was built on the property in connection with a bar. The Forepaugh Family, trapeze artists, gave open air performances, with a balloon ascension in the afternoon. The balloon would ascend after having been filled with smoke and a parachute attached to it. The balloonist would perform all kinds of stunts before the parachute was detached. The balloon would fall to the ground or at times in the bay or in a tree. Bowling alleys were installed and a bath house was built. Great crowds came, mostly of the Cuban population. The old pavilion stood for many years even after the park had become city property.

Below, DeSoto Park circled in green, 1899

At right is a composite map which shows the amenities of the park in 1903 (green area) overlaid onto the street grid of 1915. 1903 was the earliest map which showed the amenities of the park, but didn't show the surrounding street grid in detail.

Link to the 1903 Sanborn map at the UF digital maps collection.

Photo from Wikipedia
Read about the Forepaugh family circus at Wikipedia

From 1900 to 1913, Mugge built a number of brick buildings and houses in all sections of Tampa. Some of them were:

One-story brick building at the corner of Scott and Central.
Two-story brick building at the corner of Central and Harrison.
Two-story brick building at the corner of Cass and Central.
Two-story building opposite Union Station.
Two-story building at the corner of 7th Ave. and 22nd St.
There were other brick buildings in West Tampa.
In 1906 Mugge leased a vacant lot at the northwest corner of Cass and Franklin Streets for 20 years and proceeded to erect a two-story brick building. Before it was completed, the second floor, which was to be occupied by an Armory was destroyed by fire.
From the Florida Memory Blog
Bone Dry: The Road to Prohibition in Florida

The question of whether and how to regulate or prohibit the sale of strong drink had been brewing in the individual states long before Congress dealt with the matter. In Florida, as in many states, the issue was hotly contested. Advocates of prohibition, or the "drys," argued that liquor production and consumption was destructive to society and ought to be outlawed for the sake of health and the integrity of the family. Those who opposed prohibition, known as "wets," countered that the government had no business interfering so deeply into the personal lives of citizens. Breweries and liquor distilleries added that to outlaw strong drink would destroy the jobs they provided to their workers.

The solution in Florida, for a time, was to provide each county with the option of whether to allow the sale or manufacture of liquor. A number of counties did become "dry" by vote of the local citizens, and they assured the rest of the state they were quite satisfied with the results. A.G. Campbell, the mayor of DeFuniak Springs, wrote in 1907 that he was sure that the crime rate in his town was very favorable to that of any wet town of the same size. W.B. Thomas, mayor of Gainesville reached much the same conclusion that year, noting that the total value of taxable property in the city was at least twice what it had been before the county went dry.

As time moved forward, prohibition became more political. The nationwide Anti-Saloon League began reporting on the progress of individual states toward prohibition, taking note of which politicians did or did not favor ending the sale and production of liquor. Carry Nation, the infamous anti-saloon activist who gained notoriety for smashing up bars with her hatchet, toured the Sunshine State in 1908 promoting a statewide prohibition law. She also endorsed Governor Napoleon Broward, who shared her views on spirituous drink and was up for reelection that year.

Whatever the voters' beliefs on prohibition, no third party had come anywhere close to defeating the Democrats in Florida since Reconstruction. Democratic primary candidate Sidney Catts took the Democratic Party establishment by surprise when he was declared the winner of the Democratic nomination following the primary in June 1916. Catts renewed his campaign efforts, however, and on Election Day in November 1916 he came away with the victory as governor of Florida. Sidney Catts would be the only non-Democrat to win the governorship between the end of Reconstruction in 1877 and the election of Republican Claude Kirk, Jr. in 1966.

By this time, the number of counties having voted to prohibit the sale and manufacture of liquor had increased, but statewide prohibition was still on the table. Bolstered in part by Catts' encouragement and also by the nationwide movement toward prohibition, the issue was finally approved by the state legislature in 1917, ratified by the voters in 1918, and put into effect in 1919. The legislature also approved the 18th amendment to the U.S. Constitution, which prohibited the sale and manufacture of liquor nationwide. Although Florida would be the setting for many violations of the prohibition law during its short lifetime, the Sunshine State would mostly be, as the saying goes, dry as a bone.

Below is the beginning of a lengthy July 9, 1909 article in the Ocala Star, followed by Florida Senator Donald C. McMullen's response in a letter.

He is responding to a letter (the "Wells article") by the anti-prohibitionists which stated if the amendment is ratified by the people, it will be ineffective due to the way it is structured and worded. McMullen responded with a long and verbose defense of the amendment, and summed it up with:

If anybody thinks that the liquor people believe with the author of the Wells article that the proposed amendment will be 'void if adopted,' just let them wait and see if the liquor people fight the adoption of it.

But their fight is a losing one. Robert Mugge, the biggest liquor dealer of this city, and possibly the largest individual dealer in the state, said in an article published in the Tampa Times of July 2nd (1909), that he expected to be looking for another position in about two years.

He ends with inflammatory statement to stir up the prohibitionists and a prediction on their margin of victory.

See the whole article here. (Click the article to enlarge full size.)

District 11, McMullen, Donald C., 1909-1912
Florida state senator who drafted the legislation to create Pinellas County. Another relative, Joel McMullen, was the first mayor of Largo in 1905.

It wasn't until 1911 that Pinellas severed from Hillsborough to become a separate political entity. Donald C. McMullen was a state senator and had pledged to get the enabling legislation before the senate. His predecessor had blocked passage in the previous session. The St. Petersburg Times stoutly advocated the Hillsborough-Pinellas division, but it was just as vociferously opposed by the Tampa Tribune and Tampa Times, and by Tampa's business leaders like Peter O. Knight.

Senator McMullen was a man of his word, and the controversial bill became law. He may have paid a political price, however, for he did not serve in the senate after 1911. Known as an able lawyer but perhaps better known as an avid prohibitionist, the senior McMullen once debated the issue in Tampa Auditorium with Clarence Darrow. He reportedly acquitted himself ably and well.

As his son, Neil, did years later, he became president of the Bar Association in Tampa. His sons, Fred and Neil, practiced as an integral part of Donald C. McMullen and Sons in the Petteway Building at the northwest corner of Twiggs and Florida Avenues.

When the former senator died thirty-six years after standing by his position despite opposition by the press in Tampa, the Tribune lauded him editorially as an uncompromising exemplar of public and private morals.

Chips Off the Old Bench- Neil C. McMullen,
Hillsborough's Connection to Famous Family of Pinellas
by Morison Buck, USF Digital Collections
1910 U.S. Census, Hillsborough County, City of Tampa
Click image to see larger.


This census indicates that Caroline was Robert's second wife they had been married for 27 years, this being Caroline's first marriage. This census also shows "Lannie" of the previous census was actually "Melanie". Another daughter of Robert and Caroline was born after the previous census; Nellie B. The 1910 census provides more detail in regard to middle initials: Louise M., Eugene G., Frances B., August B. (who is of age to have been the "Albert" listed in 1900) Melanie W., Martha W., and Nettie B.
Robert & Caroline's daughter Louise had been married for 6 years, but her husband (Herman H. Regener) is not listed in the household, and she is listed as a Mugge., The widowed sister of Robert Mugge is still in their home in 1910. Bertha Berger, widowed, who was married the first time to William Mahn, apparently remarried to a Mr. Berger who also passed away. Robert's daughter-in-law Wilhelmina Mugge was the wife of Eugene Mugge. She and Eugene had been married for 3 years. She was the mother of 2 children, with only one living, but oddly, their child is not listed in the home. Eugene was a travelling jewelry salesman, and Robert's occupation was wholesale liquor dealer. Robert & Caroline's son, August B. Mugge, was 19 and listed as a student. See section about August later in this feature.
On the 1920 census, Caroline is widowed, August is married and his wife is "Minnie" who is listed in the home as daughter-in-law to Caroline.
On on the 1930 census, August is found doing quite well in a home valued at $10,000 on Sunset Drive in Suburb Beautiful (today's Bayshore Blvd. area) with wife "Minna"and 4 children. August was the president of a real estate company.
Tampa's skyline grows upward in 1912
Tampa's skyline was jabbed by skyscrapers for the first time in 1912 when the eight-story, 320-room Hillsboro Hotel was completed and two ten-story giants were started--one by Robert Mugge and the other by the Citizens Bank & Trust Company, headed by John Trice.
Robert Mugge, builder of one of the first ten-story skyscrapers, first attracted attention in December, 1884, when he put up the first street lights in town in front of his Jackson Street home and bottling plant. The lights burned oil. At that time he also laid the first concrete sidewalk.
Said the TAMPA TRIBUNE: "Mugge's example is one that many other good citizens would do well to follow."
Six years later, in April, 1890, Mugge organized the Tampa Electrical Illuminating Company, installing a generator in his ice plant on Central Avenue, and started supplying electricity to the scrub district. But he could not get a street lighting contract from the city and the venture was unprofitable.
He more than made up for his loss, however, through his wholesaling of alcoholic beverages. His business grew year after year. Foreseeing even better business in 1898 when Tampa was first mentioned as an embarkation point for troops for the Spanish-American War, he wired the Anheuser-Busch Company for a trainload of beer. The company wired back: "There won't be a war and we don't sell beer by the trainload." But there was a war and Mugge did get beer by the trainload--and he profited handsomely.
BAY VIEW HOTEL
In 1912 Mugge built a ten-story warehouse on Jackson Street between Franklin and Tampa Streets. It was a very unsuitable location with no railroad track or wharf. The building was built of reinforced concrete. After its completion, he planned to change it into a hotel at an enormous expense. On each floor there was a large, ornately decorated lounge. Said Mugge "The way I've got it figured out this hotel is a cross between a YMCA and a ten-story bar room." The finished hotel was completed in January 1915 and was called the Bay View. The formal opening took place on Jan. 16, 1915. The hotel was demolished in 1980 to make way for the Paragon Building (now the 5th 3rd Bank).


1931 Sanborn map showing location of the Central hotel. By 1931 the Sunlight Manufacturing Co. was replaced with auto storage, and the "Negro Club" south of it became a cigar factory.


Bay View Hotel - Tampa, Florida. 1930.
Burgert Bros. photo from
State Archives of Florida, Florida Memory.


Robert Mugge never employed an architect. He had a foreman by the name of B. H. Davidson. He would inform him of his plans and gave him a free hand. Robert Mugge's son, August B. Mugge, returned from his schooling in Germany with a degree in engineering and architecture and in 1914 supervised the completion of the Bay View Hotel with Mr. Davidson as foreman.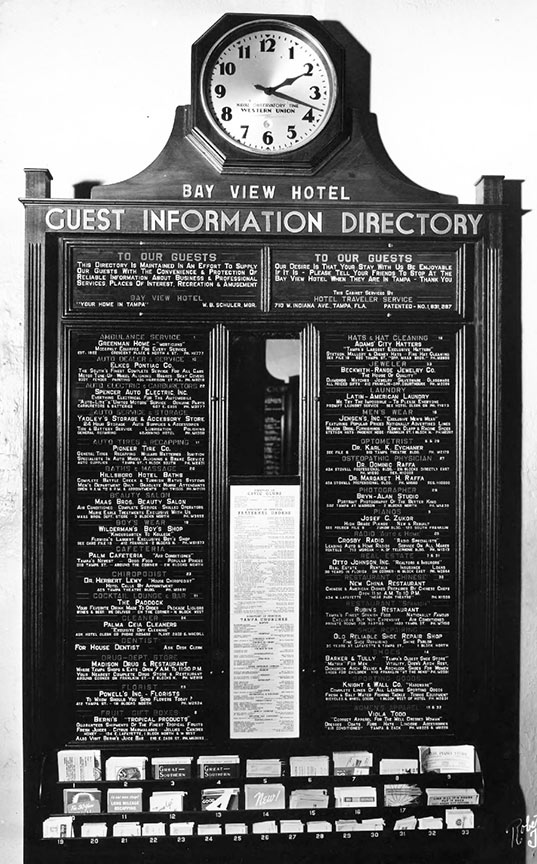 Bay View Hotel guest directory
1942
From Burgert Bros. photo from the University of South Florida digital collection.
See a full size front view photo of the guest directory seen in the front desk photo, on the left wall.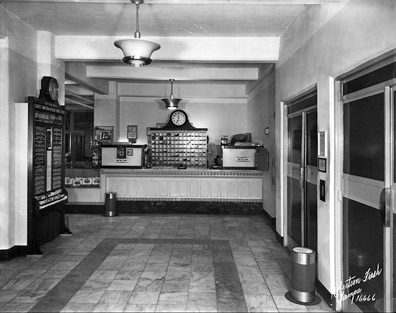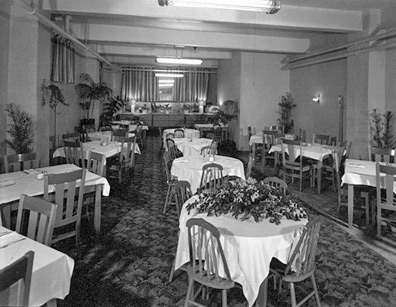 The Bay View front desk in 1942 and Dining Room in 1948

Bay View Hotel Demolition, 1980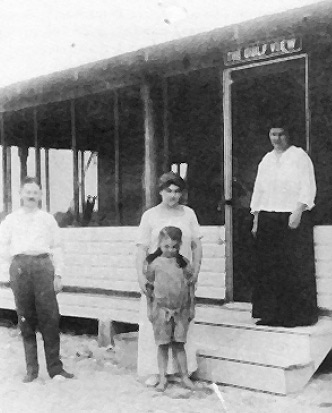 THE MUGGE BEACH HOUSE
The Gulf View, the Mugge beach house, about 1914. Left to right, Fritz Petri, Mrs. Eugene (Mimi) Mugge, daughter-in-law and her daughter Marie, and Mrs. Caroline Mugge.
BEACH HOUSE
In 1912 he built a summer home for the family in Anna Maria Key. The entire family took turns in visiting the island every summer. Robert Mugge never saw the house. The house stands to this day (1989) and is owned by Fernando and Gladys Torres of Tampa.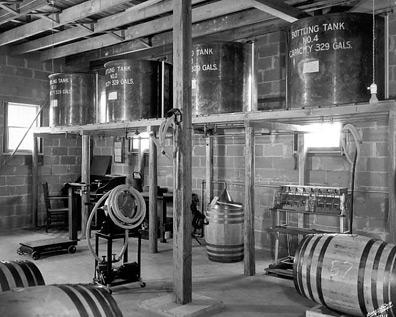 E. (Eugene) Mugge Wholesale Liquors at 4190 E. Hillsborough Ave., 1935 (above) and 1937 (below)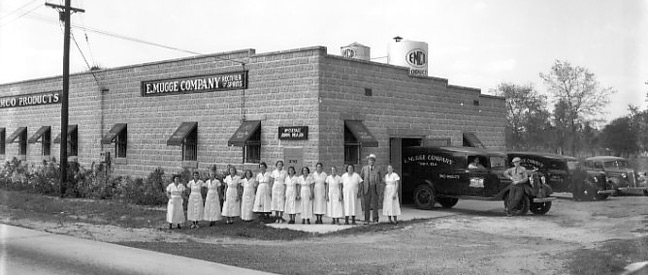 ROBERT MUGGE AND THE SPANISH-AMERICAN WAR, 1898
In 1898, during the Spanish-American War, American troops were brought to Tampa by rail and they marched up Franklin Street to the northern part of the city where many were encamped. The camp was in the neighborhood of Michigan Avenue (now Columbus Drive). The soldiers were mostly volunteers from the west and were commanded by General Shafter, who had his headquarters in the Tampa Bay Hotel. Robert Mugge built a large saloon in an orange grove near the camp. The contractor had to build the entire structure in one day, including fixtures. The counter had a length of 80 feet and the soldiers were served by eight bartenders. It was open at all times and was known as the "Noah's Ark."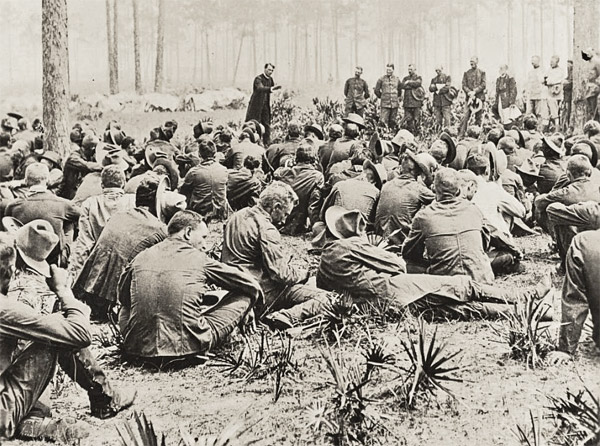 Rough Riders listening to a service delivered by chaplain Henry A. Brown, with Theodore Roosevelt, Leonard Wood, Joseph Wheeler and other officers standing next to the tree in the right of the photograph.
When Tampa was first mentioned as an embarkation for the troops, Robert Mugge, who owned the franchise for selling August Busch's Budweiser beer on Florida's west coast, anticipated the arrival of 30,000 potential customers, courtesy of the U. S. government. He wired the Anheuser-Busch main office for a trainload of beer. An indignant Busch wired back: "There will not be a war and we do not sell beer by the trainload." But there was a war and he got beer by the trainload, and he sold every drop of it. The "Green Goose Saloon" in Port Tampa also was supplied. The soldiers embarked from Port Tampa for Cuba, in all about 50,000 men. On the day the treaty was signed in August, the Noah's Ark was destroyed by fire.
Robert Mugge - The Man

Clad only with an undershirt, trousers, shoes and coat, Mugge would conduct his business. He wore bluish linen clothes, winter and summer the same and he was spotlessly clean. He was endowed with boundless energy, going full speed an average of 18 hours out of 24. He never employed a bookkeeper, nor owned a typewriter or adding machine. His office was a small space in the center of the wholesale establishment on Franklin Street where you could see a high desk with a stool and in the back of this, a small table and arm-chair. He transferred by hand from the order book to the bills which had to be collected on Monday morning. All letters were written by hand, no receipts kept, he had a remarkable memory and could give you an answer at a moment's notice. He could talk with you while he was writing letters or listening over the phone. At this time he would converse with Mr. Davidson, his plumbers or electricians in reference to a building under construction. He would read the daily papers while he was eating. In 1901 he became a member of the Board of Public Works. He aided many worthy causes, among them the Children's Home located on Washington and Marion Streets. His name appeared on the list of the month as one of the highest contributors.
In 1908 he wrote a book, in conjunction with Captain John R. Jones of Anna Maria Key, entitled "Practical Humanity." The book was published. The Library of Congress is unaware of any copyright restrictions for this item.
This work has been selected by scholars as being culturally important, and is part of the knowledge base of civilization as we know it. It was reproduced from the original artifact, and remains as true to the original work as possible. Therefore, you will see the original copyright references, library stamps (as most of these works have been housed in our most important libraries around the world), and other notations in the work.
This work is in the public domain in the United States of America, and possibly other nations. Within the United States, you may freely copy and distribute this work, as no entity (individual or corporate) has a copyright on the body of the work.
Excerpt from Practical Humanity: A Suggestion for the Destruction of Poverty, the Curbing of Cupidity, and the Lessening of Crime:
Good old Mother Nature can be made to produce an abundance to supply every human being on earth, with all the necessaries of life, all the comforts and not a few of the luxuries. Read this little book and learn how.
CHRISTMAS IN FEBRUARY
"It is told that Mr. Mugge operated the only store here which dealt in Christmas toys and such articles. One holiday season he had ordered his usual shipment from Mobile, which was to come forward by schooner. The Christmas ship was caught in a storm and was damaged so badly that it was necessary for it to go into dry dock for several weeks, missing its trip to Tampa. As Christmas approached and no consignment of toys had been received, nor any possibility for receiving them was held out, it was decided to postpone Christmas. Many native Tampans or old time residents of the city remember the postponed Christmas. The ship finally arrived along in February, according to Sheriff W. C. Spencer, who was a child at the time and upon whose mind the delayed celebration was greatly impressed. With the receipt of Christmas goods by Mugge's store, arrangements were made for an unseasonal visit of Santa Claus, and Christmas went off just as if the ship had been on time and Santa had made his usual rounds on December 25.
end newspapers http://ufdc.ufl.edu/UF00075924/00181/1x?search=mugge

obert Mugge died on Dec. 17, 1915, at age 63, and was buried in a newly acquired family plot in Woodlawn Cemetery. The funeral was reported to be one of the largest ever held in Tampa and was held from the family home on a Sunday morning. Robert Mugge devoted his life to the building of Tampa which he loved so well. He would invest every dollar he made in Tampa thereby giving employment to thousands of breadwinners. He was a law-abiding citizen and would not tolerate any violation of any kind by his employees. He and his estate in later years paid well over $1,000,000 in City and County taxes in addition to a large number of occupational licenses. Upon his death, The Tampa Tribune published this eulogy:
A GREAT MAN GONE

Robert Mugge was an old citizen of Tampa but not an old man, and was a remarkable character. A man of intelligence and business acumen. One of the most enterprising of our citizens. A man of energy; he fought the battles for fortune unsurpassed though afflicted physically. This was a "great" man, though few people knew it, nor did he. Greatness does not consist in any one attribute. There are many kinds of greatness. Mugge was great in his defiance of public opinion. Fashion and customs he did not regard. He was great in that he had a courage that the mediocracy do not know.

I am going to say that this man was earnestly honest, and honesty is a virtue. I do not believe that he loved money, but he certainly did like the game of finance.


Robert Mugge's death certificate shows he was a son of Louis Mugge and
Louisa Manzel. Robert died of "Bright's disease of the kidneys."
His doctor was a Tampa icon, Dr. Louis Oppenheimer.


Had he been worth $20,000,000 he would have been the same plain, simple, earnest working man. I knew him, I thought quite well of him, and I know that he was a friend to his friends. Though he was a much hounded and persecuted man, it is a fact that he cared little for the javelins of his enemies - those who did not see things as he did. He was a "strong" man, I mean a "great" man.


Mugges Interred in Woodlawn Cemetery, Tampa

Enlargement above is the blue area below.
AUGUST BREMER MUGGE
August B. Mugge was born in Tampa on Sept. 10, 1890. He had unusual educational advantages, both in this country and in Germany. After a few years in the public schools of Tampa, his father sent him to Germany at the age of 13, and he spent ten years as a student in the technical training courses of the universities of Darmstadt and Stuttgart, graduating from both of these world-famous institutions. He was trained in these colleges as an engineer and an architect.
Returning to Tampa, Mr. Mugge entered business with his father and was in position to succeed him in the management of his numerous interests when the elder Mr. Mugge died in 1915.

The Mugge Hotel in West Tampa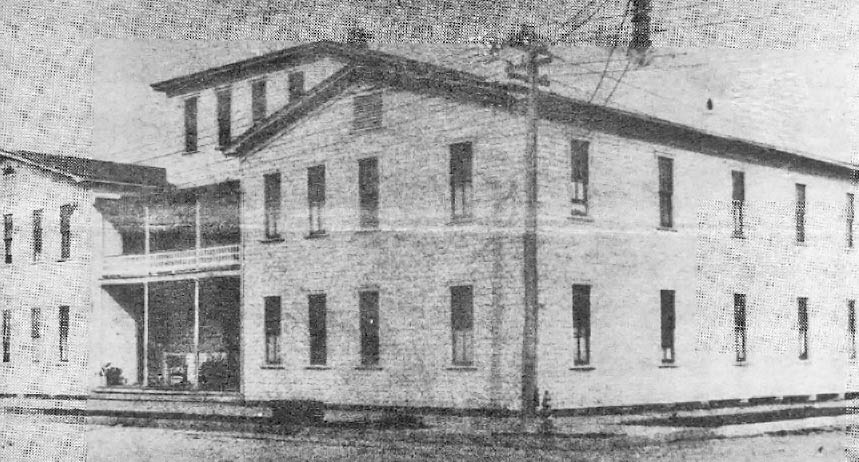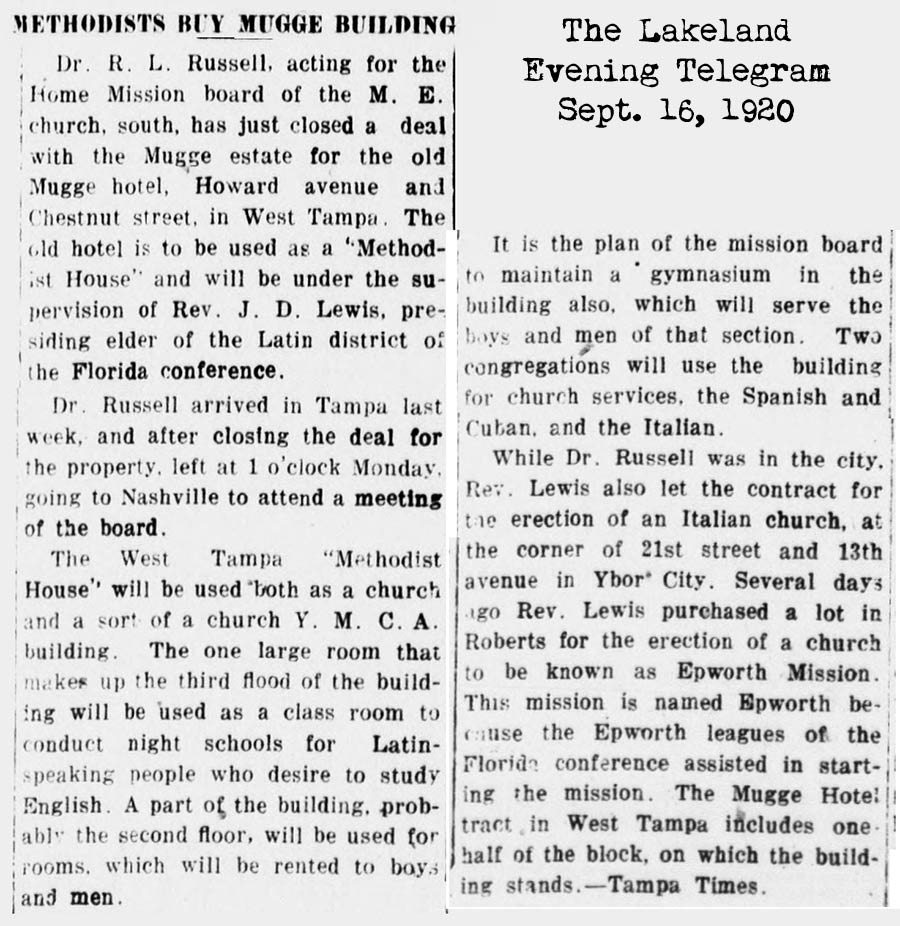 In 1922, Caroline Mugge and three of her daughters moved into a new home on Hills Avenue in Hyde Park. The family home and buildings on Marion and Jackson Streets were demolished and a two-story brick building was erected on this property. The building was leased to a Ford Agency for ten years. Presently, 1989, a ground level parking lot is located on this property.
The story behind the painting of Robert Mugge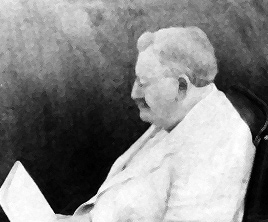 At the time the Bay View Hotel was completed, Robert Mugge installed bowling alleys and pool tables on his property on Franklin Street. On a Sunday morning in 1915, a photographer appeared and wished to take a picture of the alleys. On the finished picture, in the left-hand corner, appeared Robert Mugge reading the newspaper. This being the only picture of Mr. Mugge known to be in existence, the photographer enlarged the picture and shaded in the background dark. A few years following Mr. Mugge's death, his son August Mugge observed some paintings of former Tampa mayors on the walls of various council chambers. He secured the name of the artist from former Mayor D.B. McKay. A German artist, Wilhelm Teschner, was given permission to paint, in oil, this enlarged picture at a cost of $25. The artist had received small advances on the promised $25 and when the picture was finished the family was so well pleased they gave him an additional $75. A few months later the artist's body was found in an attic in Ybor City, with a brush and palette in his hands. He must have died of a heart attack. Since the artist had no relatives, the City of Tampa provided a lot in Woodlawn Cemetery and friends donated money to pay for funeral expenses. A Methodist minister officiated.
The above comes from the Sunland Tribune, Journal of the Tampa Historical Society, Vol. 15, Nov. 1989. "Robert Mugge, Pioneer Tampan, by Margaret Regener Hunter. Margaret Regener Hurner is a granddaughter of Robert Mugge.
She used as sources, Information taken from: "Memoirs " a biography of Robert Mugge, authored by his son, August B. Mugge. Also from the book "Tampa" by Karl H. Grismer, and various newspaper clippings over the years.
UPDATE - Jan. 21, 2018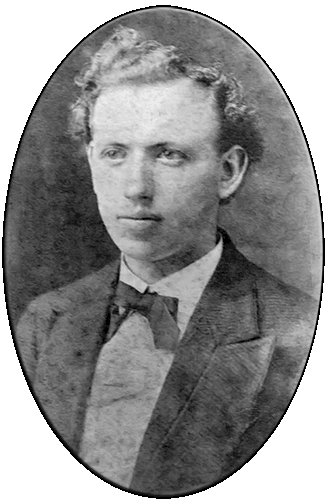 Family portrait of Tampa businessman Robert Mugge, courtesy of his great grandson Robert Mugge.
Robert Mugge, world renowned music filmmaker, great grandson of Tampa businessman Robert Mugge, has located a family photo of his great grandfather which casts doubt on the Burgert/Tony Pizzo photo shown below. At right is the real, young Robert Mugge. You can see there isn't any resemblance to the Burgert/Pizzo photo.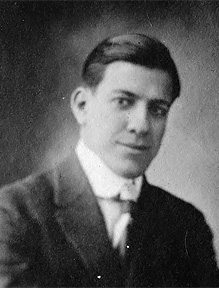 This portrait at left supposedly taken by the Burgert Brothers photographers in 1899 is part of the Tony Pizzo collection at the University of Florida Digital Collections, George A. Smathers Library.
The photo was originally described as "A Portrait of Robert Hugge" but upon contacting the librarian, a re-check of the back of the photo revealed that "Hugge" was a typo and it was indeed "Mugge." Although the title was corrected, the citation still carries "Hugge" in the title. See the citation and link to the full size photo here.

It is apparent that the one on the left is not Robert Mugge.

Mr. Pizzo was an accomplished Tampa historian whose photos were donated to several library archives in Florida. Other photos from Mr. Pizzo's collection can be found at the University of South Florida Special Collections and the Florida Memory Project.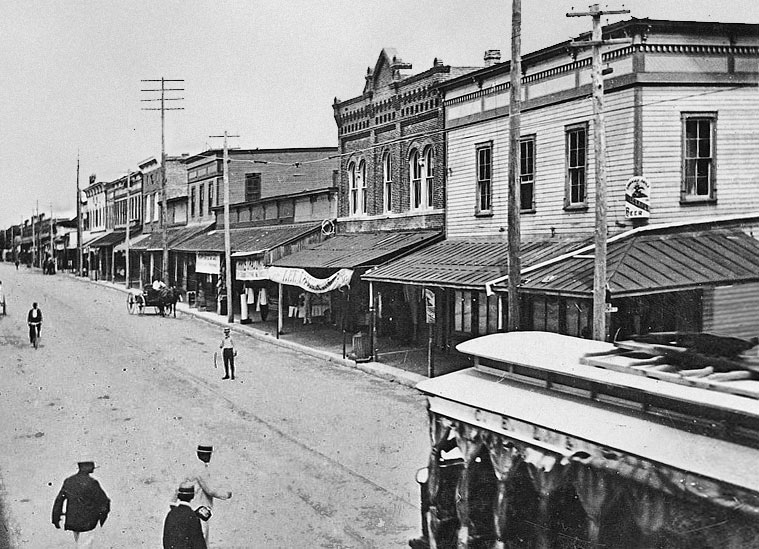 This photo was taken in 1899. It shows "Robert Mugge Corner" in Ybor City.
So named because of one of his saloons on the corner of 7th Avenue and 15th Street.
At right is an enlargement of the sign posted on the corner of the building, it appears to read "Anheuser Busch, Pale Lager Beer."
---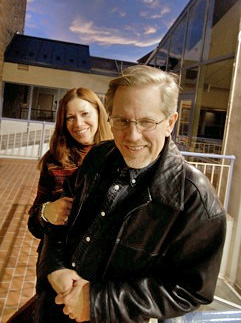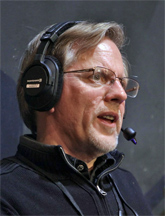 Robert Mugge's great-grandson, Robert Mugge, is an accomplished veteran music filmmaker known the world over. He's received countless honors and accolades for his work in the music documentary film industry and is holder of the Edmund F. and Virginia B. Ball Chair in Telecommunications at Ball State University.
If you're wondering how to pronounce his surname, he says it's pronounced "Muggy, like the weather."
Read more about Robert at his website.
At left, Robert directs the filming of a concert around 2010,
photo by Chris Bergin for the Muncie Star Press.
At right, Robert and his wife/production partner Diana Zelman at the
Starz Denver International Film Festival. Photo by Larry Laszlo for the festival.
Don't miss Robert's website at www.robertmugge.com!