Manuel "Manny" Garcia, III

Manuel Garcia, Jr. and his son Manny left the fine cuisine scene to enter the fast food scene, having purchased two Burger King restaurants in Orlando in 1969 and franchise rights in seven counties in central Florida. Manuel Garcia, Jr. was delighted with the sale of Las Novedades and planned to spend more time with his family, expecting that the fast food business was less demanding.

Manuel "Manny" Garcia III, a graduate of the Cornell Hotel School who was persuaded by his father

to get involved with Burger King, is one of the seminal forces in the Florida restaurant scene. Manny, who had just married his high school sweetheart, Gerry Ferlita, and with partners Charlie and Sam Davis of the Tamp Ship and Dry Dock Company, formed Davgar Restaurants and bought a pair of Orlando Burger Kings that were losing money and market. With what would soon be recognized in the company and then the industry as Manny's nonstop energy, hands-on management, drive an determination to be the best, to be No. 1, the two shops, which were losing $40,000 a year, were converted to winners. He grew his franchisee business to a total of 67 restaurants with annual revenues of over $100 million before selling the restaurants to Burger King Corporation between 1996 and 2000.

The Garcias bought other franchises and then bought out the Davis brothers. By the early 1990s, the empire was on of the top three Burger King franchises in the country, with 65 operations.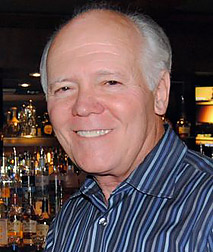 Manny Garcia
With the profits, an annual gross of $80 million, Manny invested in another newcomer, Miami Subs out of Ft. Lauderdale, becoming a master franchiser with 13 owned units and another 28 from Orlando to North Carolina that he supervised as overseer.
In addition to 106 separate operations and 3,500 employees, with a gross sales of more than $100 million, the restaurant entrepreneur who had started in his pre-teens washing dishes at Las Novedades saw potential with the California-based El Pollo Loco chicken in 1986. In four years, he had five of them, but being unprofitable, he sold them.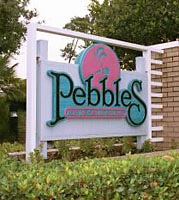 Far more successful was the Pebbles restaurant that he also started in 1986, opening the first in Longwood. As the menu proudly declared, it was "a special place to relax and enjoy," "A Casual Neighborhood Drop-In Restaurant" where you could "mix and match, pass the plates, share the Smoked Tuna Carpaccio, split a Nutty Cheesy Salad, or just stop in for Spicy Duck Wings and imported ale.
Other Pebbles were opened in Winter Park, Lake Buena Vista and Orlando and as far afield as Plantation, with ambitious plans to open in Tampa. Something similar to the Pebbles concept was tried on Orlando's International Drive in 1991, the Florida Bay Grill, but after three years of valiant struggle, it failed to meet expectations. Manny looked elsewhere for expansion space and inspiration. He did not have to look far, and he had the funds for financing. In 1996 Burger King bought back 57 Davgar franchises, three in southern Georgia, the rest in Orlando, Tampa and Tallahassee, for $55.6 million.
Manny's father, Manuel Garcia, Jr., owner of the Central Florida chain of Burger King restaurants and former proprietor of the internationally known Las Novedades classic Spanish restaurant in Tampa's Ybor City, died on April 20, 1988 at age 72. Garcia, of 621 Dommerich Drive in Maitland, died at Winter Park Memorial Hospital after a long illness.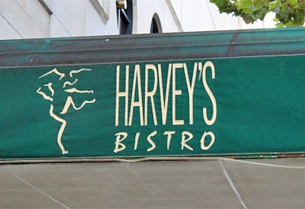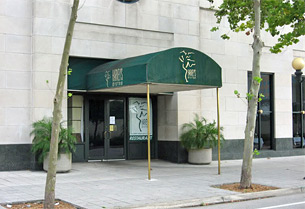 On the ground floor of Orlando's Barnett Bank building, Manny opened Harvey's Bistro in 1993 and the following year, on the penthouse level, the 28th floor, Manuel's on the 28th. The first was an instant hit with the downtown business community looking for a reliable spot to do lunch and light dinners, and Manuel's, the name honoring Manny's father, was an oasis for those looking for a sophisticated setting and formal service.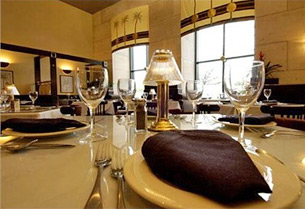 Manuel's numerous awards included the CitySearch Special Occasion Dining Award in 2006, the Audience View award in 2004, the Orlando Sentinel Foodie Award in 2009, and Frommer's Very Highly Recommended in 2009.
It was easy to notice Harvey's Bistro in a street-level corner of the Bank of America building. The upscale bar and restaurant, in business since 1993, was the younger brother of the outstanding Manuel's on 28th, but in 2009 both restaurants closed and Orlando lost two culinary landmarks. Now, the extraordinary view afforded by Manuel's space can only be appreciated by office workers, while on the ground floor, Terrace 390 has taken up residence.
See recipes from Harvey's Bistro and Manuel's
Service is at the heart of any Manny Garcia operation, and with the kind of training received by the staff from the headquarters teams, including Manny and Gerry's daughter Gina, the staffers genuinely reflect respect for what they're doing, for the product, confident that the folks in charge, starting with Manny, push for perfection. Manuel's earned Golden Spoon awards ever since it opened.
In 1998 Manny, with partners Hal Valdes and Tony Pace, established Culinary Concepts/Chef Creations to make soups and sauces for Harvey's and Manuel's, but the potential was soon seen for other customers. Now Sysco, the nation's largest distributor to restaurants, markets their products to upscale volume operations such as the Brio Tuscan Grills. Manny sold the Pebbles collection in 1998 but in mid-2002 reacquired the upscale Pebbles restaurant chain he launched in 1986. Garcia bought back the chain from Orlando-based Restaurant Partners Inc.
The company quickly struck what looks to be a mother lode in such outsourcing by upper midmarket restaurants, soaring in four years from annual sales of $600,000 to $8 million and expanding its production space from 3,000 square feet to more than 30,000.
Manny and his masterful team soon found another lode, this one to take over management not only in terms of food control and creation, but in concept, decor and regular restaurant operations. Recruiting and training chefs and management personnel, creating and standardizing recipes and executing favorable vendor contracts with their $25 million in buying power. The company is Garcia Stuart Hospitality, with Manny as chairman and Larry Stuart, president and CEO, a graduate of the Cornell Hotel School with a distinguished career in New York, Cincinnati, Walt Disney World's Dolphin Resort and Loews Hotels at Universal Orlando.
In 2011, the founders of Pebbles Restaurants, Harvey's Bistro & Manuel's on 28th, reunited to create City Fire American Oven & Bar, a comfortable neighborhood restaurant that combines both rustic and modern elements. City Fire reunites the culinary talents of owner Manny Garcia and executive chef Tony Pace. Over the past 20 years, this team has created several concepts that offered award-winning dining and legendary guest service.

City Fire American Oven & Bar at Lake Sumter Landing,
1018 Canal Street The Villages, FL 32162

The inspiration behind City Fire is "America in the early to mid-1900's." With determination, courage, and limitless drive, "the Greatest Generation" built some of the greatest cities on earth. They chose to honor this generation because like so many Americans it is a part of their family's heritage. The 6,000-square-foot space formerly housed an Urban Flats but other than retaining the large stone hearth oven, the entire interior has been gutted and redecorated to pay homage to Orlando's history.
It's always a greater challenge to repair and rebuild than it is to start fresh with something new. But the quiet and unassuming Manny thrives on meeting challenges-and on skiing and running marathons and winning all kinds of awards and serving his community, generously giving his time, talent and treasure.


Although Manny Garcia graduated from Cornell University's school of hotel and restaurant management, his mom, Clarita Garcia, said it was the things her son learned by watching his father run Las Novedades in Tampa that made his Burger Kings in Orlando successful in the late 1980s. ''The best food, a clean building, and courteous service,'' she said, ''the principles are the same and Manny has incorporated those into the Burger Kings. ''Anything he did, he did it his father's way of doing things,'' she said. ''All his life, he tried to please his father. Even when he was a child, he was asking me, 'You think Daddy will like this, Mama?' ''

Columbia Restaurant at Tampapix Tampapix Home