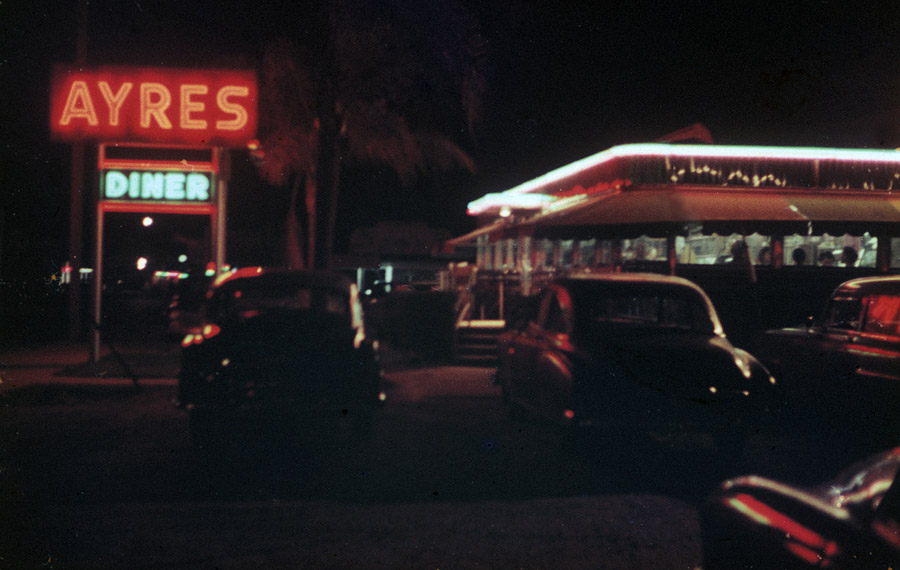 Ayres Diner in Seminole Heights, looking north, 4603 N. Florida Avenue
Elvis Presley ate here in 1956 while in Tampa for his concert at Ft. Homer Hesterly Armory. The neon sign was made by Cinchett Neon Signs and placed here in 1951 when the diner opened. It became "Nicko's" in 1980. (See photos)
The units were originally built by Mountain View Diners, founded by Henry Strys and Les Daniel. There were eventually four Ayres Diners in operation in Tampa, owned and operated by brothers Calvin and Mel Ayres. The first was located at 603 Lafayette St (photo at right), followed by the one at 4603 N. Florida Avenue (color photos). In 1956 Ayres opened at South Dale Mabry near Neptune St. and finally, a fourth location "bookended" the S. Dale Mabry one, near Cypress St. on the southbound side of N. Dale Mabry. Calvin took over operation of the Florida Avenue diner, while his brother Mel operated the other three.
After the first three Ayres locations closed, developers wanted to use the corner at Dale Mabry and Cypress for a new trendy restaurant. Mel originally declined the offer from the restaurant chain to buy the North Dale Mabry property; but around that time, the city had decided to construct a median in the middle of Dale Mabry, which effectively prevented any northbound traffic from turning left to enter the diner's lot. That (literally) cut off a great deal of the drive-in business that diners on busy highways depended on--and with that diner now being the only remaining one in operation, the decrease in business made its continued operation unsustainable.
The last Ayres Diner closed and was sold, and eventually the diner itself was moved in the early 1990s a couple of blocks away to 1002 N. Himes near Cypress St, where in 1992 it became the Galaxy Diner. In a 6-year span, it became Diner d' Ramon, Bay City Diner and finally, in 1998, the "New City Diner" owned and operated by Roger and Terry Lenzi (along with New City Bistro on Westshore Blvd.) It later closed and became vacant in the early 2000s, vandals stole the aluminum siding and the rest rotted away or was sold for scrap. See also "Golden Brown / Rentz Diner"on Hillsborough Ave.
Special thanks to David Ayres, son of Mel Ayres, for providing information and clarification about the four Ayres Diners in Tampa!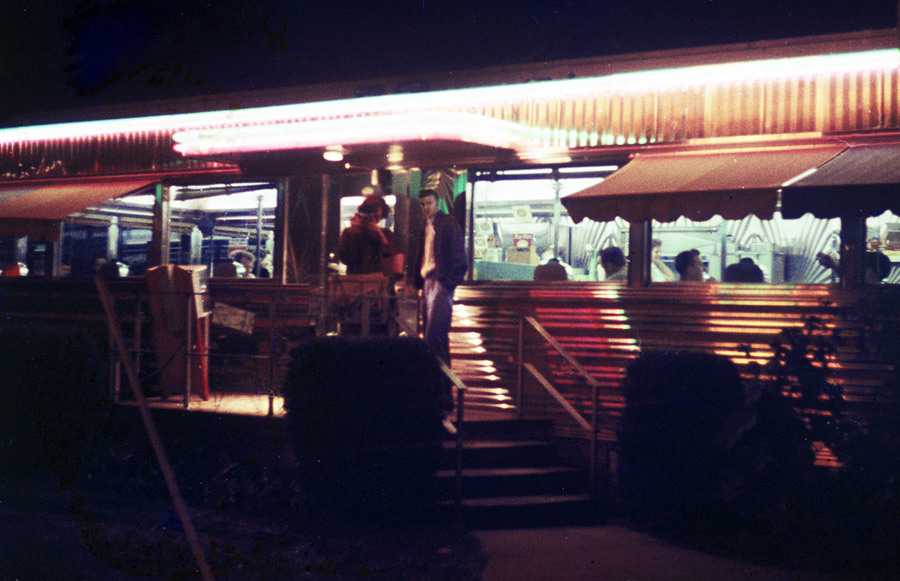 Ayres Diner in Seminole Heights, 4603 N. Florida Avenue
In 1872, Walter Scott of Rhode Island began the phenomenon of the fast-food eateries when he started a lunch wagon for workers in Providence. The popular lunch wagons soon evolved into stationary eateries that offered 24-hour service in the 1910s. The diners of the 1930s and 1940s displayed an art deco design and the use of stainless steel, tile, and glass for the exterior; Formica paneling, counters and stools, booths with jukeboxes, and tables with napkin dispensers and ketchup became synonymous with the interiors of the diners.

The popular "Streamline" style of diner was manufactured by Jerry O'Mahony during the 1940s. According to James P. Johnson, "In 1913, Bayonne's Jerry O'Mahony [1890-1969] noticed the resemblance between the local roadside lunch wagons and the railroad dining cars and coined the word "diner." His production of former trolleys or electric streetcars into restaurants, Johnson remarks, began in a local garage: "O'Mahony kept the wheels on his diners so they could both avoid building codes and change locations. He also encouraged his buyers to leave the doors propped open to attract those who dreaded the male-dominated atmosphere. By the 1920s, O'Mahony and others added tables and booths to attract the fairer sex. He moved his business to Elizabeth, NJ, and manufactured hundreds of diners there until 1956.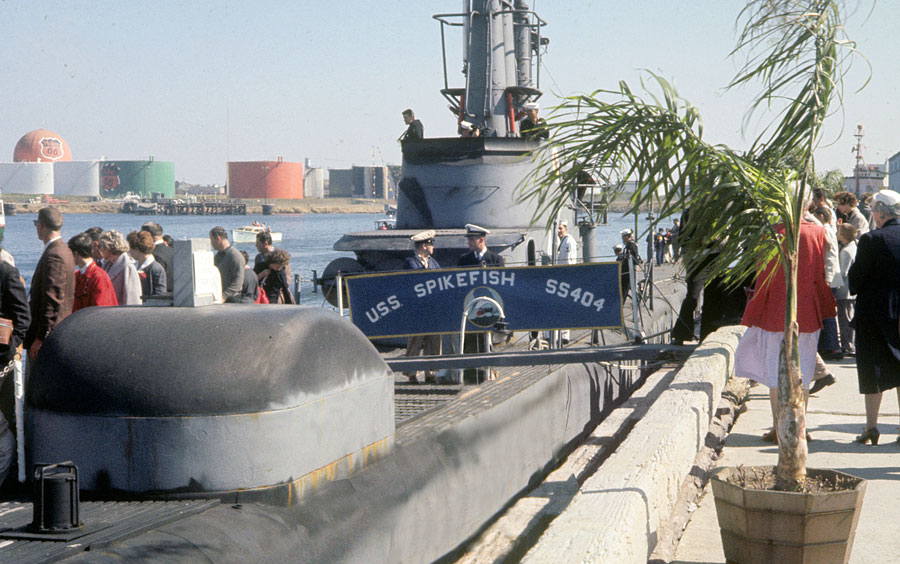 US Navy submarine USS Spikefish on display at Port of Tampa on McKay St. near 13th St banana docks
USS Spikefish (SS/AGSS-404), a Balao-class submarine, was a ship of the United States Navy and was the first United States submarine to record 10,000 dives.
She was launched April 1944 and saw extensive action in the Pacific during WWII at the Kuril Islands, the Sea of Okhotsk, Midway Island on 1 January 1945, the Ryukyus, Guam, Formosa, Sakishima Gunto, an uneventful patrol in the Yellow Sea and lifeguard duty off Shanghai. On 24 July, she bombarded Surveyor Island, off the China coast. On 15 August, an order was received to cease all attacks, as Japan had agreed to surrender. The submarine delivered her prisoners to Saipan on 21 August and proceeded to Pearl Harbor.
On 6 September, she sailed for the east coast of the United States. Spikefish transited the Panama Canal on 23 September and arrived at New London, Connecticut. on 29 September. She was in dry dock at the Portsmouth Navy Yard from 1 November 1945 to 15 February 1946. Upon her return to New London, her home port, she was assigned to Submarine Squadron 2 and trained personnel of the submarine school.
Her training duty was interrupted by an overhaul from 7 April to 22 September 1947; a cruise to Bermuda from 25 September to 2 October 1947; and another overhaul at Philadelphia Naval Shipyard from 16 May to 8 July 1948. Spikefish operated from New London, Connecticut, making training cruises along the east coast from Bermuda to Nova Scotia until 30 April 1955. On that day, she sailed for the Mediterranean and deployment with the 6th Fleet.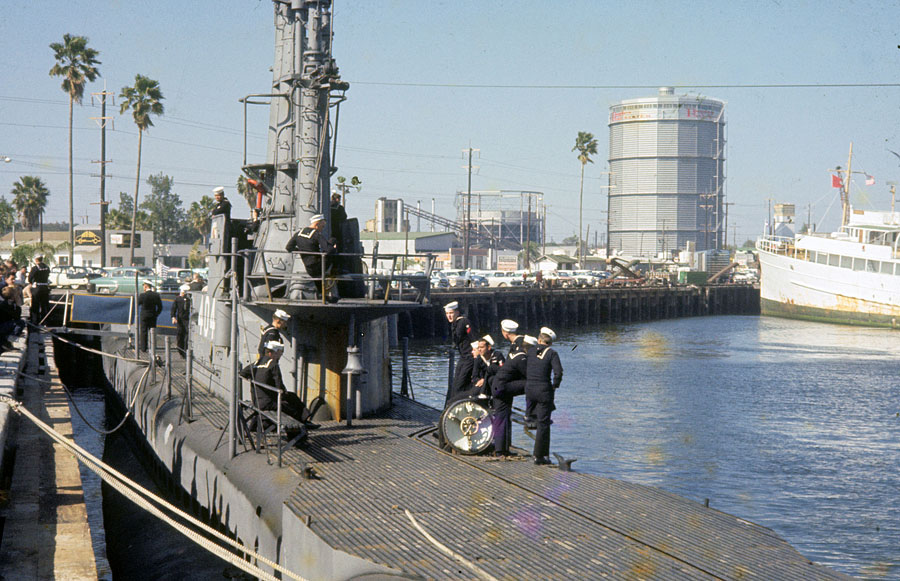 | | |
| --- | --- |
| | |
| | This photo, made July 1, 1915, was taken a short time after the 600,000 cubic foot tank was erected. |
A good view of the Peoples Gas tanks at 5th Ave. and 13th Street, Ybor City. The smaller tank was built in 1912 for the Tampa Gas Co. and at the time, its 212 foot height made it the tallest structure in Tampa. The tanks were disassembled in 1982 because they were no longer needed for storage and their upkeep was costly.
Spikefish returned to New London on 8 October 1955 and resumed her normal training duties until early 1963. On 18 March 1960, Spikefish became the first United States submarine to record 10,000 dives.
Spikefish was redesignated an Auxiliary Research Submarine AGSS-404 in 1962. She was decommissioned on 2 April 1963 and was struck from the Navy list on 1 May 1963. She was subsequently sunk as a target in August 1964 off Long Island, NY.

The Ybor City "Navy" consisted of one ship, this 60-foot cabin cruiser the SS Ybor
First used in 1956 as a prelude to the annual Gasparilla celebration on Gasparilla eve, the SS Ybor would seek support from the US Navy in defending Tampa from the attacking Jose Gaspar and flotilla. Feb. 5, 1956 article: "Ybor City Navy Ready For Gasparilla Pirates." By 1958, it seems that the SS Ybor took a different side--against Tampa. A Feb. 1958 article says that the crew of the SS Ybor (a host of admirals and a few seamen) would attack the US Navy who was defending Tampa. After successfully disabling the US Navy by pelting them with old Cuban bread, they would board the destroyer and its escorts and triumphantly raise the flag of Ybor City on them, in view of thousands of cheering spectators. See Feb. 10, 1958 "Ybor City's Navy In Attack On Destroyer". This 2009 article "Ybor Naval Invasion Clears Way for Pirates" seems to support the 1958 scenario: The Ybor City Naval Invasion has been part of Gasparilla week since 1954. Pirates hire the mayor of Ybor City and flotilla to get the navy out of the way for the invasion while the [US] Navy and Tampa try to fight off the Ybor City forces. Meanwhile, the Tampa Fire Department is supposed to help defend Tampa but gets paid off by Ybor City and turns on Tampa. After a wet hour that littered Garrison Channel with chunks of bread and left most participants soaked, a ceremonial truce was reached. The [US] Navy will withdraw and pirates will meet little resistance invading Tampa.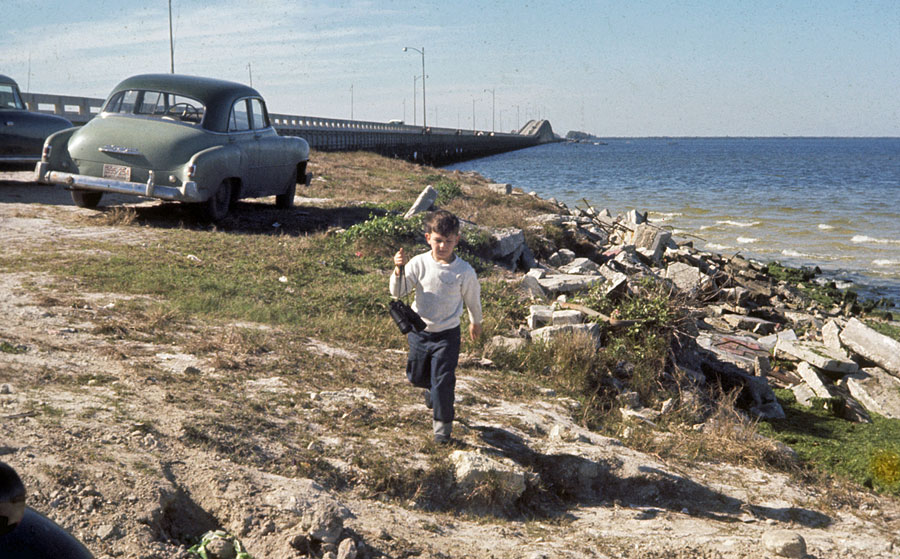 A boy and his family sightseeing at the Gandy Bridge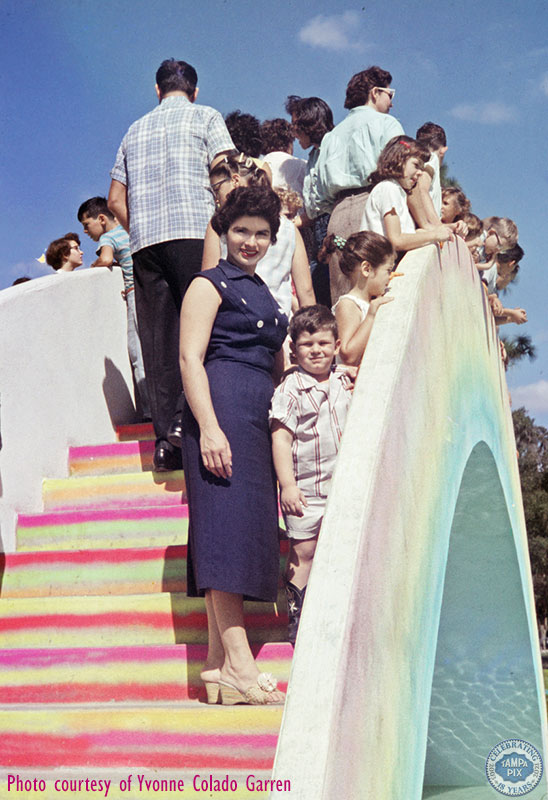 Lowry Park Rainbow Bridge to Fairyland, circa 1957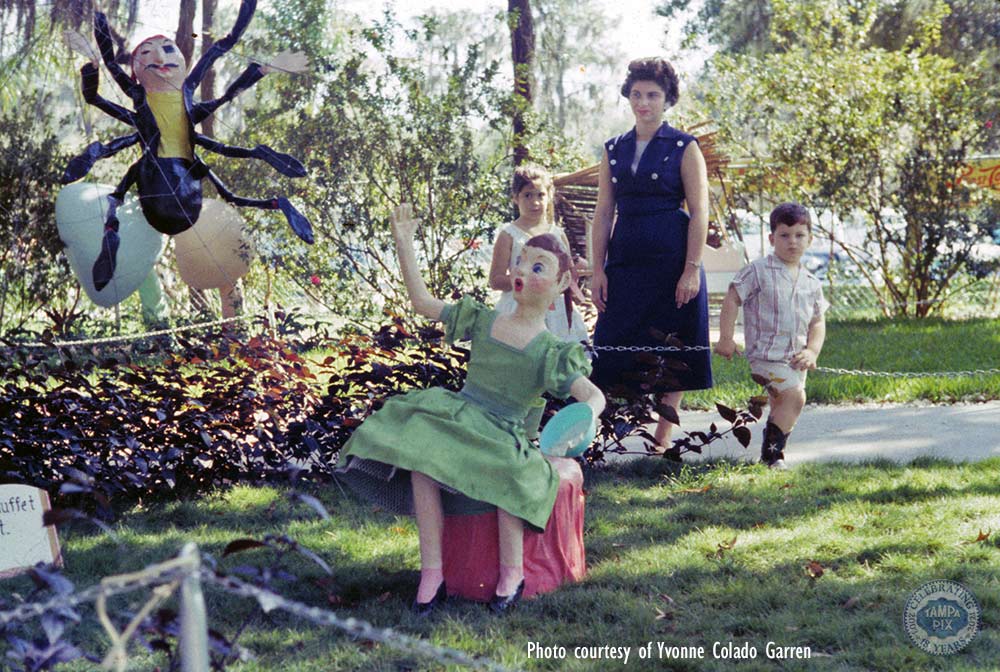 Little Miss Muffet storybook display at Fairyland, Lowry Park, circa 1957

See more old photos of Lowry Park and Fairyland here at Tampapix