Frank Cinchett operated a neon sign company in Philadelphia until 1947 when he visited Tampa and fell in love with it. He moved here a year later and set up shop at 4707 N. Florida Ave.
In 1956, Frank's son, John F. Cinchett, married West Tampa girl Delia Collera. They worked together at the sign shop with John's father, Frank. Delia was the secretary and often took photographs of the new neon sign work around the city while John went to collect payments from clients.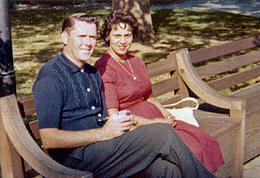 John had an artistic flair that manifested itself in his larger-than-life vibrant signs. The pictures were family mementos, but also served as a portfolio to show prospective clients.

In the 1950s, the Cinchett Neon Sign Company came to be Tampa's best-known sign maker. It was an era of new names: Fred Astaire Dance Studio, Kentucky Fried Chicken, Dairy Queen, Maas Brothers, Wolf Brothers, Kinney Shoes, J.C. Penney & Woolworths. All beckoned shoppers to visit; the neon signs drew them like moths to a flame.