General Sumter L. Lowry, Jr.

Sumter de Leon Lowry, Jr. was born in St. Augustine, FL on August 27, 1893 to Sumter de Leon Lowry and Willie Miller Lowry. Lowry, Jr. was a Lt. General in the National Guard, a businessman, and political activist.

In 1894 the Lowry family moved from Palatka to the Tampa Bay area, and by 1914 he began his military career. In 1916 Sumter married Elizabeth Bellamy Parkhill, together they had 5 children.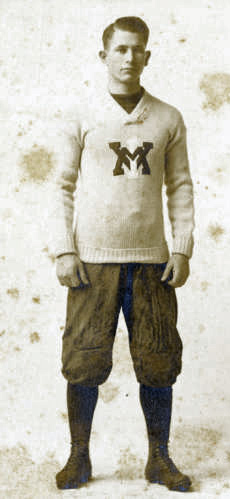 A 1914 graduate and veteran of two world wars, he set a pattern of accomplishment and distinguished service during his cadet days at Virginia Military Institute. He was a Cadet Captain and Company Commander, a varsity letterman in both football and basketball, president of the monogram club and captain of the basketball team.
At his graduation he became the first recipient of the Cincinnati Medal, awarded then as now to the graduate who is most distinguished in efficiency of service and excellence of character.
Sumter de Leon Lowry, Jr in his football uniform at VMI, 1914.
Photo from Virginia Military Institute Digital Archives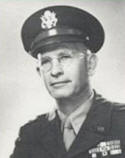 He was a long time member of the Florida National Guard and took part in that organization's service on the Mexican border in 1916, followed by service in Europe for the First World War, and in the Pacific for the Second World War as a brigadier general in the Army's 31st Division in the Pacific.

His military career included organizing the 116th Field Artillery Regiment of the Florida National Guard in 1921, as well as, establishing Benjamin Field camp (renamed Fort Homer Hesterly in 1940). By 1934 he received a promotion to Brigadier General and command over the 56th Field Artillery U.S. National Guard.
Concurrent with his military career, Lowry established the Victory National Life Insurance in 1921 serving as president. His company, Victory National Life Insurance Company, paid the $300,000 life insurance claim on D.P. Davis when he fell overboard on a cruise in 1926. Lowry investigated Davis' death and decided to pay off the policy. Later, he wrote in his memoirs that this act "gave the public a lot of confidence in my brand new insurance company.") In 1928, he served on the board for Gulf Life Insurance after a merger with Victory National Life Insurance.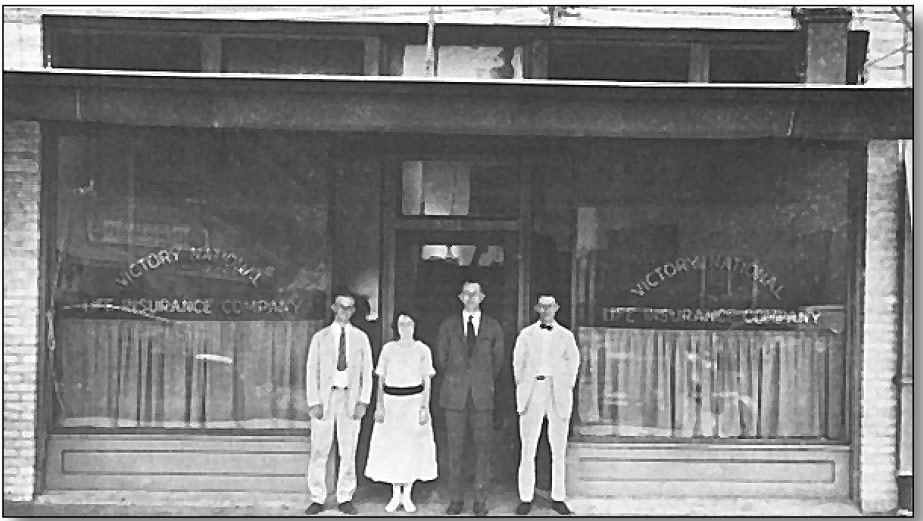 "Watch Us Grow!" was the slogan of the Victory National Life Insurance Company the day it opened for business on Nov. 5, 1923 in this small building on Marion Street just south of Lafayette (now Kennedy Blvd.). And grow it did. Later came the mammoth Gulf Life Insurance Company. Victory National Life was capitalized for $500,000, this being the only life insurance company organized in Florida at the time, by Florida men and with Florida capital. The entire operating staff that opening day is shown in this photo, left to right, Loper B. Lowry, sales force; Marjorie Giles Davis, Policy writer and stenographer; Sumter L. Lowry, President and General Manager, and D. S. Hull, Actuary.
Photo and caption from "A Life Insurance Company Is Born In Tampa", Sunland Tribune, Journal of the Tampa Historical Society, Vol. 6, No. 1, Nov. 1980.
In 1952, Sumter Lowry retired to civilian life as a Lt. General. He continued to be active in business, community affairs, and politics until his death in 1985 at the age of 91.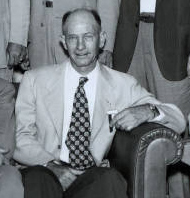 1949 Reunion of VMI Class of 1914 alumna.
Photo from VMI Digital Archives
Lowry was a recipient of the Distinguished Service Medal, and commendations from the state legislatures of both Florida and South Carolina.

A charter member of the Institute Society, Lowry was the donor of the Sumter L. Lowry Award, which yearly goes to the winner of the Cincinnati Medal. (VMI Cadet, Nov. 8, 1974)
Along with Lieutenant General Albert H. Blanding, he was one of the national founders of the American Legion. Lowry ran for governor on a segregation platform in 1956, losing to LeRoy Collins. General Lowry was well known to Floridians often as an outspoken right-wing conservative who was a vocal anti-integrationist and anti-communist for his entire life.
Sources:
Sumter Lowry Papers, University of S. Florida
"Distinguished Men Honored" VMI Cadet, Nov. 8, 1974.
"A Life Insurance Company Is Born In Tampa", Sunland Tribune, Journal of the Tampa Historical Society, Vol. 6, No. 1, Nov. 1980.