The Sicilian Society of West Tampa first appears in 1918 at 712 Main St., where they are located through 1926 (when they are listed as the Sicilian Benefit Society.) Their 1922 listing at this address also lists the Siciliana Italian Club. It is not until 1930 that the Sicilian Club is listed at 2001 N. Howard, the location we know today. It's apparent that if this brick building was built for the club, it was built in 1929, and not in 1919 as mentioned in other sources. (In 1920 this location is a rooming house; not a business that would be located in a building such as the one we see there now.)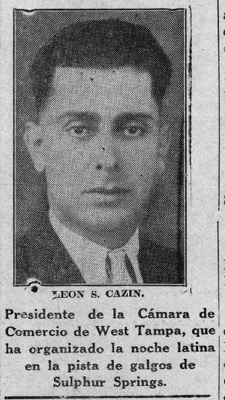 Leon S. Cazin, President of the West Tampa Chamber of Commerce who has organized Latin Night at the greyhound racetrack of Sulphur Springs. Photo from La Gaceta, 1933.
On the 1930 and 1935 census in Tampa, Leon Cazin was listed as the proprietor of a moving picture theater. His declaration of intention for naturalization (he was born in Havana) in 1919 shows that he was age 19 and worked as a moving picture machine operator and lived at 235 Main St. in West Tampa. He came to the US from Cuba at age 8 in 1909 on the Olivette, with his parents (his father Salim, which was also Leon's middle name, and his mother, Hala, both of whom were Syrian, and his brother, Cesar.) In 1910 the family lived in Raleigh, NC where Leon's father, Salim, worked as a peddler and was listed as Syrian from Turkey.
According to city directories, the Cazin family moved from Raleigh NC to Tampa by 1915 and lived at 235 Main St. in WT. Selim Casin was a druggist, but then by 1916 went in to business with J. Vicaris as "Casin & Vicaris", cigar manufacturers at 233 Main St. in West Tampa.
In 1920, Selim's son, Leon Cazin, was around 20 years old, living with his parents at 235 Main St., and working as a film operator, probably at the Spanish Casino Theatre (at 1536 Broadway) where he is listed as working from 1922 to 1924.
By 1925, Leon Cazin was operating a dry goods store at 237 Main St, next to the Cazin home at 235 Main. Leon was still in the dry goods business on the 1926 directory.

From 1927 to 1929, the Sicilian Benefit Society had moved to 2112 Main St. It is also in 1927 when Leon Cazin's "Cazin Theatre" first appears, but located at 1704 N. Howard (not the 2001 Howard location we see in the photos.) In 1928, Leon ran the theatre and the dry goods business, but by 1929, Leon started Cazin & Co, an insurance business, with two other partners, and was no longer in dry goods. He also ran the Cazin Theatre at 1702 Howard, which was probably the same building as 1704 Howard, but expanded.
It is also in 1930 that the Cazin Theatre moved from 1702-04 Howard to 2307 Cherry St., where it operated in 1931 as well. Leon also owned the Cazin Italian Theatre at 1731 Broadway in Ybor City in 1931 and was listed as the president of the WT Chamber of Commerce.
The first theatre to be mentioned at the Sicilian Club at 2001 N. Howard is the Sicilia Theatre in 1932. The theatre was operated by Butler E. Gore. Meanwhile, Leon Cazin was the operator of the Royal Theatre in 1932.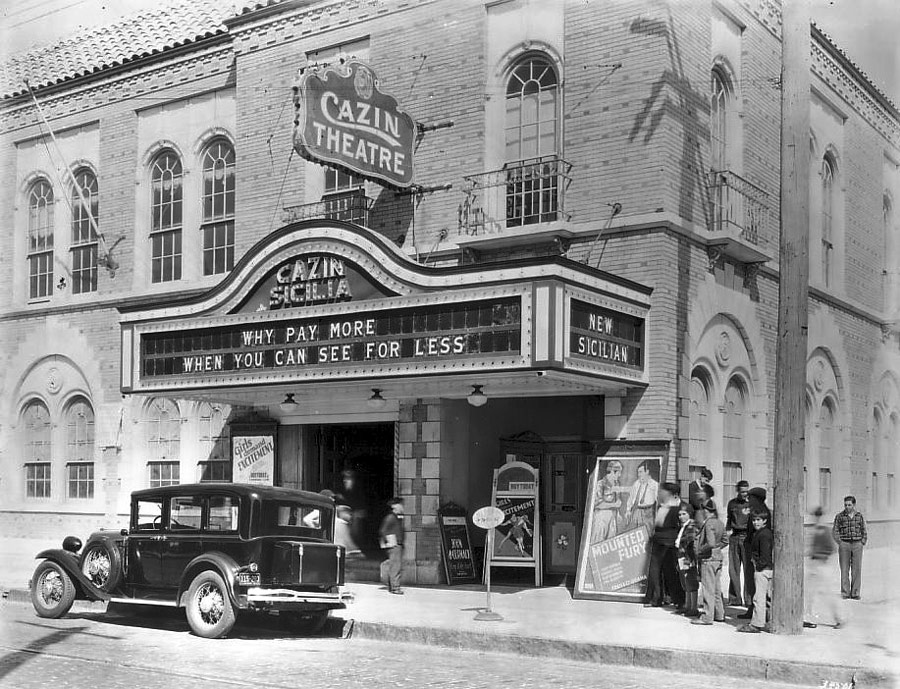 The Sicilian Club Cazin Theatre in 1932
Burgert Bros. photo courtesy of the Tampa-Hillsborough County Public Library
Notice the movie poster, "Mounted Fury." It came out in 1931 with Stuart Paton as Director, John Bowers as Jim Leyton, Blanche Mehaffey as Enid Marsh, Robert Ellis as Paul Marsh, Frank Rice as Sandy McNab, George Rigas as Pierre LeStrange, Lina Basquette as Nanette LeStrange, John Ince as Big McGraw, Lloyd Whitlock as Dick Simpson, and Jack Trent as Phil Grover.
Movie Plot: Jim Leyton and Paul Marsh, two army friends, start new lives after the war. Jim becomes a Royal Canadian Mountie and Paul does well in business and marries their mutual sweetheart, Enid. The fast life in the city brings Paul to the edge of a nervous breakdown. Intending to recuperate, he and Enid visit Jim in the North woods. Soon after they arrive, Paul becomes friends with Pierre LeStrange, a half-Indian, and his wife Nanette. Paul begins drinking heavily and falls in love with Nanette. He is about to run away with her, when Pierre walks in on them. Pierre pulls a knife on Paul, but is killed himself when Nanette stabs him. She blames the murder on the wounded Paul, but on his deathbed, Paul tells Jim the truth. Jim orders Nanette to leave the country and promises the dying Paul he will take care of Enid forever. Plot and cast from Turner Classic Movies
The first mention of the Cazin Theatre at 2001 N. Howard in the Sicilian Club building is in 1933, where it is also listed in 1934 when Leon is listed as the projectionist. It appears that the Sicilian Club was inadvertently omitted from the 1933 directory, but does appear in the 1934 directory in 1934 at the same location.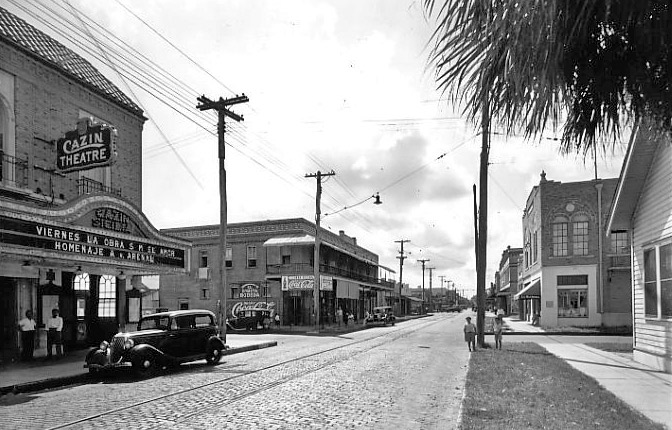 Looking south along Howard Avenue in 1934.

The Cazin Theatre no longer appeared in listings after 1934. In 1935 and 1936, Leon Cazin was a film operator at the Garden Theatre at 907 20th Ave. The Sicilian Club continued to operate at 2001 N. Howard in 1935 & 1936, but no theatre is listed there. Theatre listings for 1935 and 1936 also do no list the Cazin.
Burgert Bros. photo courtesy of the Tampa-Hillsborough County Public Library
Directory listings for Cazin and the Sicilian Club in West Tampa:
1914 Sicilian Society - no listing
Cazin - no listing

1915 Sicilian Society - no listing
Cazin, Salim 235 Main, druggist

1916 Sicilian Society - no listing
Selim Cazin, home 235 Main, S. Cazin & J. Vicaris, cigar mfrs, 233 Main

1917 Sicilian Society - no listing
Selim Cazin, cigar mfr 233 Main, home 235 Main

1918 Sicilian Society of West Tampa, 712 Main, Stephen Italiano pres,
Selim Cazin, cigar mfr 233 Main, home 235 Main.

1919 Sicilian Society, 712 Main, S. Italiano pres, S. Antinori treas, A. Cappello sec.
Cazin - no listing

1920 Sicilian Society, 712 Main St, A. Feraro pres, S. Antinori treas, A. Cappello sec,
Leon Cazin, home 235 Main, film operator.

1921 Sicilian Society of West Tampa, 712 Main, Stefano Italiano pres, Antonio Cappello sec.
Selim Cazin & Hala, cigar mfr 233 Main, home 235 Main. No listing for Leon.

1922 Siciliana Italian Club and Sicilian Society, 712 Main, S. Italiano pres, Vito Caruso VP, S Antinori treas, A. Cappelli sec. A.Vicari coll.
Leon Cazin, home 263 Main, works at Spanish Casino Theater

1923 Sicilian Society 712 Main, A. Capello sec.
No listing for Cazin, directory skips from Cam to Das.

1924 Sicilian Society 712 Main.
Leon Cazin, home 235 Main, film operator at Casino Theater (1536 E. Broadway)

1925 Sicilian Society 712 W. Main.
Leon Cazin dry goods 237 Main, home 235 Main

1926 Sicilian Benefit Society W. 712 Main.
Leon Cazin, dry goods and home, 237 Main.

1927 Sicilian Benefit Society, 2112 Main, Antonio Italiano, pres.
Cazin Theatre 1704 Howard, Leon Cazin 1137 1/2 Main.

1928 Sicilia Italian Club 2112 Main, Antonio Italiano pres. No mention of theater.
Cazin Theatre 1702 N. Howard, Leon Cazin Dry Goods 1137 Main, Leon Cazin 1137 1/2 Main.

1929 Sicilia Club 2112 Main, Tony Saladano mgr. No mention of theater.
Cazin Theatre 1702 N. Howard, Leon Cazin lives at 1137 main, Cazin & Co insurance at 2133 Main with Robt. L. Hendershot & Peter Albano.

1930 Sicilia Club at 2001 N. Howard. Antonio Italiano pres, Antonio Capello sec, Vito Caruso treas. No mention of theater.
Cazin Theater at 2307 Cherry, Leon Cazin Pres. WT Chamber of Comm, lives at 1139 Main.

1931 Sicilia Club at 2001 N. Howard. Daniele DiBona pres, Giuseppe Cimino sec. No mention of theater.
Cazin Italian Theater at 1731 E. Broadway, Cazin Theater at 2307 Cherry, Leon Cazin at 1139 Main St.

1932 Sicilia Club and Theater 2001 N. Howard. Philip Ciaravella sec. The theater operator is Butler E. Gore.
Leon Cazin is the operator of the Royal Theater and he lives at 1135 Main St. No listing for Cazin Theater.

1933 Sicilian Club, no listing.
Cazin Theatre, 2001 N. Howard, Leon Cazin home, 1914 Carmen.

1934 Sicilian Club, 2001 N. Howard, Philip Ciaravella sec.
Cazin Theatre, 2001 N. Howard, Leon Cazin, home 1914 Carmen, projectionist.

1935 Sicilian Club, 2001 N. Howard, Antonio Tagliarino pres, Joseph Ciaravella sec, Gatano Spoto treas.
Cazin Theatre, no listing. Leon Cazin, home 1914 Carmen, film opr Garden Theatre (907 20th Ave, Donald A. Holcomb, mgr.

1936 Sicilian Club - no listing
Cazin Theatre, no listing. Leon Cazin, home 1914 Carmen, film opr Garden Theatre (907 20th Ave, Donald A. Holcomb, mgr.)