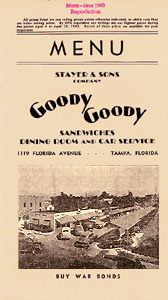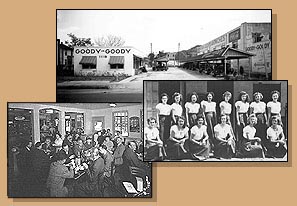 A reproduction of an original menu circa 1943
Click the menu to see larger images of the complete menu.
See a current menu selection. Yvonne bakes eight flavors of pie by hand, including apple, coconut, lemon, banana, butterscotch, pecan, chocolate and pineapple cream.
See more Goody Goody nostalgia and read a detailed history of the Stayer years.

2002 news feature, before renovations
Larry Cotton, food connoisseur Channel 8 News, interviews Yvonne Freeman at the Goody Goody. (Yvonne comments in quotes)
Stepping into Goody Goody is like stepping into the twilight hamburger zone. All the walls are jam-packed with a pictorial history of Tampa. Photographs, post cards, old advertisements, memorabilia, they all take you back to a time when Tampa was in its heyday and the beginnings of the drive-in burger stand. Although there have been many paint jobs over the years, the decor is basically the same as it was in 1930. Aluminum chairs, tile floors, and some very unusual and unique tables you won't find anywhere else. Yvonne: "The tables were made for this place, I don't know exactly when, but at least 70 years ago." And customers sat here and ate their meals? "Right, anytime, very popular." It seems like everyone I've talked to has had a Goody Goody burger, even the late great Col. Sanders--and you thought he only ate chicken. "Well, all the judges have been in, Sam Gibbons has been in now and then, even the mayor drops in once in a while." Everybody loves Goody Goody burgers, huh? "They seem to; nobody complains." Now you're not going to find that prepackaged food or fake French fries here. Now let's talk about your basic burger, and you call it the burger with POS. "Uh humm, pickles, onions and sauce." Ok, and what kind of sauce do you use, this secret sauce? "Well, we don't give out the recipe, but it's a tomato-based sauce; there's things in it like onions and garlic and seasonings." Now how did that tradition get started? "Whoever opened the place originally in 1925, that's the recipe they used, and it's always been this." So you want a shake to go with that burger? I tell you nothing beats an old-fashioned hand-dipped real ice cream milkshake. You're not gonna find many in town that tastes this good. "Well, we hand dip the ice cream just like we always have; we use fresh milk." And you make your basic milk--look how thick this is. "We make a good milkshake." Let me try it--it's the real deal! Now if you like pies like I like pies, and who doesn't like pies, then you have to try one of the really delicious pies made fresh here every day. So if you're hankerin' for just a good old-fashioned burger, get on down here to Goody Goody's. We'll see you next time on Good Eats.