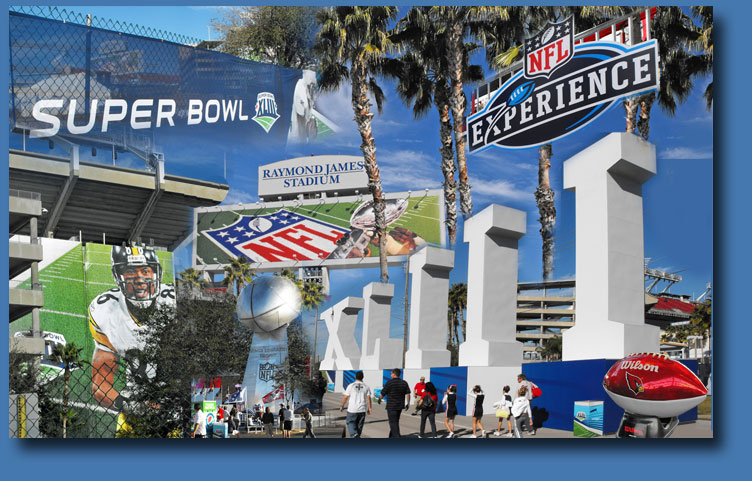 The montage at above was created with the 7 photos below.
Click the thumbnail images to see them larger in the viewer.

Proceeds from the ticket sales to this NFL Experience are donated by the NFL to the two NFL Youth Education Towns of Tampa. Both the facility in Mort Park as well as the center in Jackson Heights opened following Super Bowl XXXV and currently serve hundreds of children and their families. Youth Education Towns are multi-faceted educational and recreation facilities designed to improve the academic and physical fitness, as well as job-related skills, of at-risk youth. Established in 1993, the YET initiative is the living legacy created by the NFL for Super Bowl host cities.
| | |
| --- | --- |
| | |
| After a week of unusually cold weather and a couple of rainy days, Saturday, Jan. 24th brought "Chamber of Commerce" weather and picture-perfect skies to Tampa. | Having previously enjoyed Tampa's Super Bowl 35 (Ravens vs. Giants) NFL Experience in 2001, these fans returned nine years later for another great Experience. |
Attractions:

Participate in football related games designed to test your abilities (pp. 2, 3, 4, 6, 7)

See the Vince Lombardi Trophy up close (p.3)

Stroll down Lombardi Way to Lombardi Plaza, pose in team-uniformed NFL player mannequins (p.4)

See exhibits from the Pro Football Hall of Fame, including real Super Bowl Rings and giant Super Bowl Ticket replicas (p.5)

Watch an NFL Network film about the 2007 season at the NFL Network Theater (p.5)

Kids learn the skills of the game at the Football Clinic field (p.6)

See how you measure up to the pros & Bucs life-size team photo (p.7)

Free autograph sessions with NFL superstars - (Mike Alstott, Joey Galloway, Cato June (p.8)

Donruss Super Bowl Card Show, the largest football card show ever

Live television programming from the NFL Network

Visit the Kids Zone for scaled down versions of the adult size games

Watch how Wilson footballs are made, go inside the Samsung HD NFL Game day bus (p.8)

Visit the Super Bowl Store for official Super Bowl XLIII merchandise (p.9)

Put yourself in the middle of NFL action (p.9)

All State measure your passing speed & Obstacle Course, Bridgestone Challenge, Pepsi "Refresh the End Zone Dance" (p.10)

Much more--visit the NFL Experience website
Other stadium-related features here at TampaPix
Tampa Stadium History | Ray Jay Stadium Flyovers
2003 Ray Jay South Endzone View - One photo only
2006 October: Tour of Ray Jay Sponsored by FedEx
2009 Ray Jay decorated for Super Bowl 43
2009 NFL Experience for Super Bowl 43 in Tampa
2021 Super Bowl 55 Ray Jay Exteriors - Dressed For The Big Game - Feb. 5
2021 Super Bowl 55 Neighborhood parking/tailgating Game Day - Feb. 7
2021 Super Bowl 55 Flyover (Photos only) - Feb. 7
2021 Raymond James Stadium Exterior Views - Nov. 13