The Kress Building, Downtown Tampa
---
Samuel H. Kress wasn't from Tampa, but his European tastes and nationwide philanthropy took him to many more places than just early 20th-century Florida.

Kress' name adorns one of Tampa's most recognizable and ornate downtown landmarks, but like many historic buildings, it sits unused and decaying.

With its bronze marquees, coats of arms and Renaissance Revival terra-cotta facades, including glazed multi-colored trim and details, the S. H. Kress building is not just another pretty face. It also has a fire-proofed skeleton with concrete floors poured in place. Its two almost identical facades, one on the east face at Florida Avenue, and one on the west face on Franklin Street, are this building's claim to fame. The Florida Avenue face has a north side stairwell with windows facing east that makes this facade a little different from the Franklin Street side, and a bit asymmetrical.

This building was one of several Tampa buildings of the 1920s that enlivened the urban scenery with ornamental terra-cotta trimming. A few others were the Tampa Gas building in 1923 (gone), the Tampa Theatre Building in 1925 (saved, thankfully) and the First National Bank Building in 1926 (gone.)
Located between Florida Avenue and Franklin Street, Cass Street and Polk Street, the four-story Kress building stands in stark contrast to modern Sam Gibbons Federal Courthouse skyscraper across the street on Florida Avenue.
Above: The west face of the Kress building is on Franklin Street. The tall building is the new Sam Gibbons Federal Courthouse on Florida Avenue. Just above the Kress building you see the old Floridan Hotel, which is nearing completion of its renovation.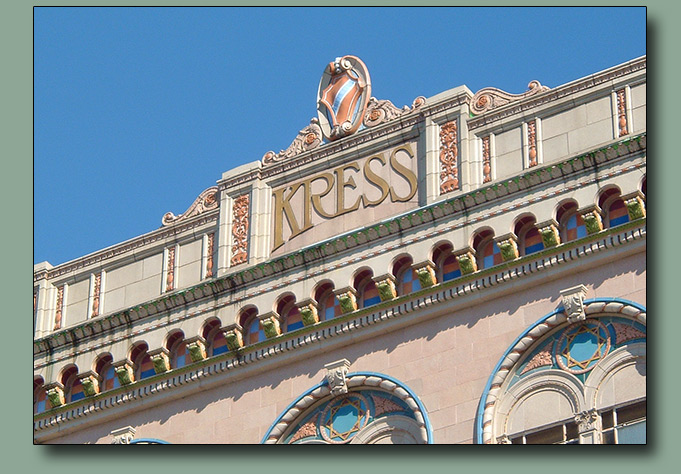 Kress' team of architects designed each store to stand out - while also fitting in - on a city's main street. Tampa's store blended with the traditional main street look. Miami's featured pastel colors and architecture characteristic of that city. Inside the buildings, Kress created a new kind of shopping experience, complete with wide, heavily stocked aisles and easy checkouts, a blueprint for modern department stores. Genesco Inc. bought Kress in 1964.


In its heyday, Kress was a five-and-dime store. But the history goes deeper than that. The owner and architect created the building as a piece of art, a symbol of old America when life bustled around main streets and malls were decades away.

Kress opened the first Tampa store on Franklin Street in 1900. In 1908, he relocated to a building on Florida Avenue (Photo at left, 1927)

In 1929, just before the Great Depression, he demolished the structure and replaced it with the building that stands today.
Samuel Henry Kress (July 23, 1863 – September 22, 1955) was one of seven children of a Pennsylvania coal-mining supervisor. Originally a Pennsylvania schoolteacher, Samuel Kress opened a stationery and notions shop Memphis, TN in 1887, which grew to a nationwide chain, S. H. Kress & Company. He would eventually own about 400 stores, including nine in Florida. A businessman and philanthropist, Kress was an art lover and with his fortune, Kress amassed one of the most significant collections of Italian Renaissance and European artwork assembled in the 20th century. In 1929 he established the Kress Foundation to sponsor traveling exhibitions, scholarships in art history, and restorations of monuments in Italy.

Samuel Henry Kress, by Leopold Seyffert (artist) American, 1887 - 1956 1953 oil on canvas overall: (50 1/8 x 40 1/4 in.)
Samuel H. Kress Collection 1953.2.3

Abandoning plans to open his own museum of Italian Renaissance art, Samuel Kress was the first to donate his collection in response to Andrew Mellon's call for contributions to create a national art museum. For the Gallery's opening, Kress gave 393 Italian paintings and pieces of sculpture, ranging from the 1200s through the 1700s. In 1945, a decade before his death, he was elected president of the National Gallery of Art. In the 1950s and 1960s, a foundation established by Kress would donate 776 works of art from the Kress collection to 18 regional art museums in the United States.
| | |
| --- | --- |
| Competition from strip malls hurt the business, however, and S.H. Kress and Co. was liquidated in 1980. Tampa's store made its way onto the National Register of Historic Places on April 7, 1983, saving it from the wrecking-ball. Sheets of plywood now surround the ground floor, blocking views of coffered ceilings and elaborate moldings. | |
| | |
Old photos of the Kress Building in its heyday
1 (1930) 2 3 4 (1947) 5 (1947) 6