Story from County's Oldest Library a West Tampa Treasure by Kathy Steele

The West Tampa Free Public Library was a gift from one immigrant - Scotsman and philanthropist Andrew Carnegie - to many more immigrants who sought the American Dream. In 1913 a tract of land off Howard Avenue was bought for $6,000 from Macfarlane Investment Co. and construction began on what today is the oldest of Hillsborough's 25 operating libraries. On New Year's Day 1914 a grand celebration marked the opening of the first library in Hillsborough County. It was one of 10 Carnegie libraries built in Florida from the early 1900s to about 1917. According to an account in the Tampa Morning Tribune, the building was filled with potted plants and flowers and the flags of the United States, Cuba, Spain and Italy. Three languages were spoken - English, Spanish and Italian - in acknowledgement of Tampa's immigrant population, many of whom worked in the cigar factories of Ybor City and West Tampa.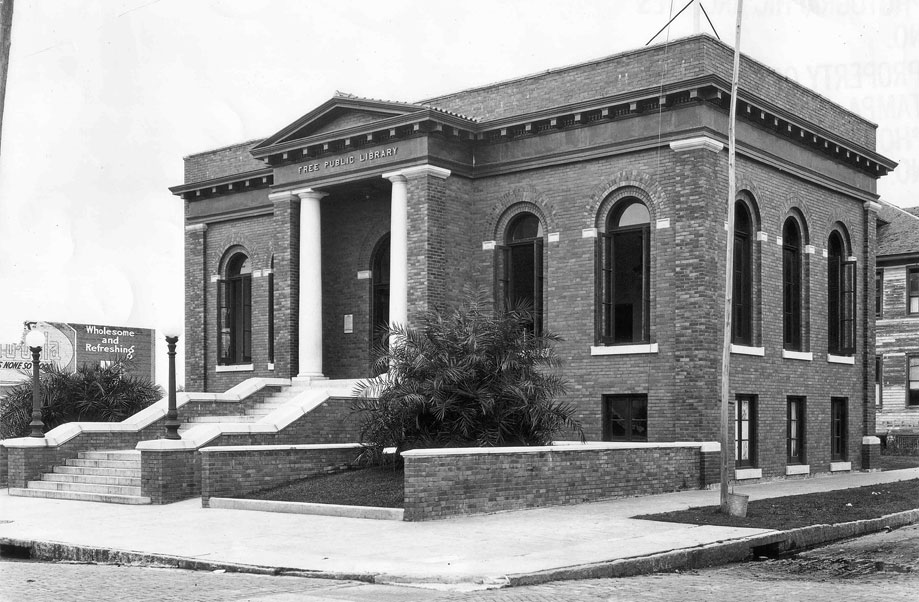 The West Tampa Library, March 6, 1918. Burgert Bros. photo courtesy of the Tampa-Hillsborough County Public Library
The West Tampa library, with its Spanish-language reading section, was a success. Often the readers, or lectors, who entertained and enlightened the cigar factory's workers found their books at the West Tampa library.
Carnegie began donating money to build libraries in the early 1900s. He had amassed a fortune as a steel magnate and builder of bridges, locomotives and railways. His family migrated from Scotland when Andrew was 13 years old. Carnegie's first job was in a Pennsylvania cotton factory.
In an 1889 essay, "The Gospel of Wealth", Carnegie preached that the wealthy were morally obligated to use their money to benefit the "common man." In 1913 he offered to donate $17,500 for construction of a library building in the city of West Tampa. Residents voted in a special election to accept the donation and a yearly tax to pay for the library's operating costs. The vote was 352 to 1. The identity of the lone dissenter isn't available. But critics of Carnegie said the industrialist was more interested in vanity monuments than in doing good works.
Carnegie had a reputation for being exacting in how he wanted his libraries designed. Patrons, he thought, should walk up grand stairways to enter the library as if climbing steps toward higher learning. Many of the more than 1,600 libraries built with Carnegie's donations were sturdy, imposing structures. The West Tampa library is in a Neo-classical revival style and is part of the West Tampa national historical district.
Carnegie even insisted on something rare in Florida: a basement. A Tampa city clerk, James Biggars, tried to explain basements were not successful in Florida. Carnegie got his way. Every time it rained the basement flooded. There were other issues. The building was like a refrigerator on cold days. Electricity was turned on and off at a wall panel that often shocked the user.
In 2004 the library completed a major renovation and expansion. The library's main floor became a second floor meeting room. An extension of 5,000 square feet was added to the back of the building and what was once the basement level became the library's main reading room. A lobby is decorated with paintings by Ferdie Pacheco and stained-glass windows were installed in the reading room. A cork tile floor was pulled up from the old reading room, revealing a wooden floor peppered with tiny nail holes which remain visible.

The city also operated a Carnegie library on Seventh Avenue that opened in 1917. In 1968 it was converted to a city building. Today it is the city's code enforcement office.