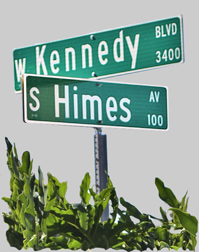 WHAT'S IN A NAME -- HIMES AVENUE and GRAY GABLES
That alternate route you sometimes take when Dale Mabry Highway is backed up bumper to bumper, Himes Avenue, was once a small stretch of a street in an area of Tampa known as "Gray Gables." Himes Avenue is now one of the main thoroughfares of Tampa and its naming is closely related to the development of the Gray Gables community.
In 1882, William Himes (who served as a Confederate officer from Alabama during the Civil War) and his second wife, Jessie Virginia Adams, along with their son William Fraser Himes, relocated to Florida. William Fraser Himes was born Jan. 22, 1879 in New Orleans. Upon moving to Florida, his family first settled in Sumter County where the senior William's family grew considerably in Florida, with a total of eight children being born in the Sunshine State.

William Fraser Himes studied law in the office of Col. John A. Henderson of Tallahassee and was admitted to the bar in 1898 at the age of 19, gaining fame as one of the state's youngest attorneys. On Nov. 6, 1901, W.F. Himes married Margaret May Rutland. They moved to Tampa in 1902 where W.F. continued his private law practice and their son, John Rutland Himes, was born in December of 1905. From June 1906 to April 1907, W.F. served as a Tampa City Councilman. Becoming involved in politics, W.F. served in the Florida Senate from 1913-1915; while there he introduced the bill which created the State Road Department. W. F. Himes became a lawyer in Tampa, setting a tradition which was carried on by his son, Judge John Rutland Himes., and his grandson, J. Fraser Himes. (W. F. Himes married a second time, to Dora H. Hilsman, in late 1926.)

Sen. W.F. Himes, 1915

In 1916 , W.F. became a member in the Tampa firm of Whitaker, Himes and Whitaker. He was appointed City Attorney during the administration of Mayor Horace Caldwell Gordon, and for 10 years was lawyer for the Board of Education in Hillsborough County. In 1926 he was chosen president of the Hillsborough County Bar Association, thus starting another family tradition, a source of great pride to the entire family.
The family occupied a stately 3-story red brick mansion at 801 South Delaware, on the corner of Inman, which W.F. Himes built in 1909. Still standing and destined to remain solidly intact for many generations to come. The house was later acquired by Jas. A. Griffin, president of The Exchange National Bank of Tampa.

HIMES AVENUE NAMED

During the early 1920s, W.F. Himes was the lawyer for the developers of Gray Gables Subdivision, and one of the major dedicated streets in the project was given his name, Himes Avenue.

The William F. Himes House at 801 Delaware is a three-story Greek Revival on over 1/2 acre. The elegant home has eight bedrooms, seven fireplaces and a ballroom on the third floor, along with a guest house. It was recently renovated and it was listed for 3.95 Million.
W. F. Himes was not bashful about aggressively asserting his rights when circumstances warranted. In the mid-1930s, he was employed by the County Commission as a special counsel for a particular legal proceeding. Upon completing his assignment, W. F. Himes submitted a bill of $1,000 for services. The Clerk of Circuit Court, C. E. Culbreath, and the County Commission refused to pay Himes, contending that the contract of engagement was not authorized because the county had its own lawyer. Represented by the Tampa law firm of McKay, Macfarlane, Jackson, & Ramsey, Himes promptly brought suit against Culbreath. The Supreme Court of Florida upheld the contract.
Sometime during that same era, there was in progress some sort of politically inspired feud (not uncommon in Tampa) between W.F. Himes and Peter O. Knight. If there were indeed hard feelings between those two men, they were exacerbated when, according to the story, Himes allegedly caused the automobile he was driving to collide with a streetcar on 7th Avenue. Tampa's streetcar system was owned by Tampa Electric Co., a creation of Peter O. Knight. An abstract of an article published September 25, 1994 in the Tampa Tribune described Knight as "a lawyer, a businessman, a philanthropist, and political kingpin." Martha (Mrs. James) Ferman remembers that until his death at age 70 in 1949, W.F. Himes (known as "Colonel" to his friends) was for many years treasurer of the first Methodist Church in Tampa.

William Fraser Himes died on Nov. 10, 1949 at age 70.

Peter O. Knight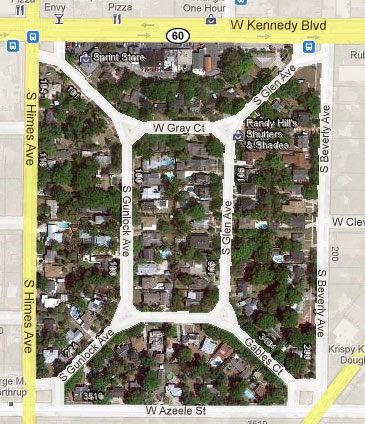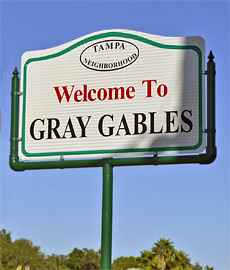 GRAY GABLES
Gray Gables is the neighborhood of curved streets immediately east of Himes Avenue and south of Kennedy Blvd. It is bounded by Kennedy Blvd. on the north, Himes Ave. on the west, Azeele St. on the south, and Beverly Ave. on the east.
In the 1930s, Gray Gables was a brand new suburb made up of modest houses, but nowadays many of those houses have been expanded or replaced with rather high-valued homes. It is now an upscale neighborhood.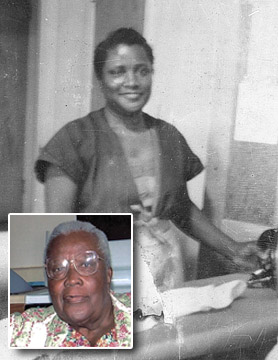 WILLIE L. HICKS - EXTRAORDINARY ORDINARY TAMPA PERSON
From around the late 1940s until she retired in the 1970s, a lady named Willie L. Hicks worked as the maid, housekeeper, and often substitute parent, for many Gray Gables households, each day working in a different neighborhood home.
She was a beloved and well-respected figure in the community and after her retirement, she continued to maintain close relationships with the neighborhood's children even into their adulthood, and until she passed away in 2008 after a long life of invaluable service.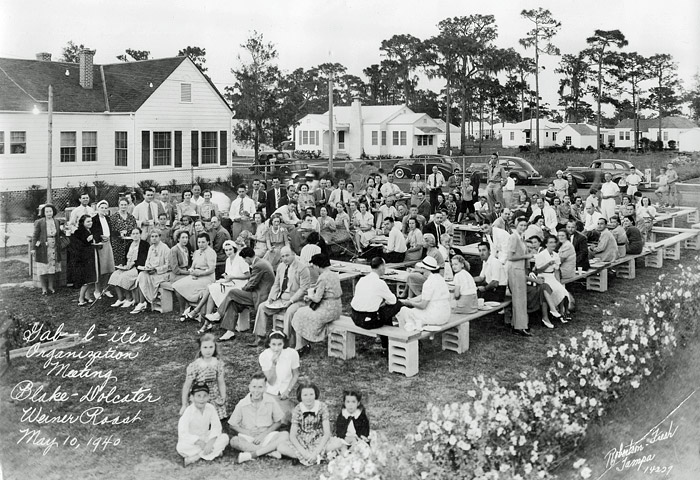 Outdoor meeting of the Gab-l-ites Organization, Blake-Dolcater Wiener Roast, May 10, 1940. Photo taken on Gable Court, looking northwest.

J.H. Dolcater was the "mover and shaker" in the Gray Gables neighborhood. He was well-known for having lavish, elegant outdoor parties at his house, as well as festive community picnics and barbeques on his adjacent spare lot to the north of his home. The lot was planted with a beautiful rose garden. Today, another house occupies this property.

John Dolcater was a prominent Tampa businessman, President of the Tampa Rotary Club, 1944, President of the Tampa Chamber of Commerce (1949 - 1951), and head of the Krauss Brothers Lumber Company of Florida.

Mr. Dolcater was also a founder of the Tampa Rose Society. The Tampa Rose Society was founded April 25, 1966 by Julia and John Dolcater Sr. at their home garden at 221 S. Glen Ave (Gray Gables), with 40 plus charter members.
J. H. Dolcater, enlargement from photo above and photo below.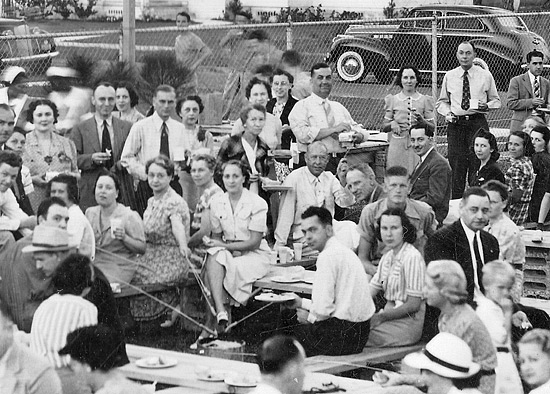 Close up of center portion of attendees roasting wieners, from above photo.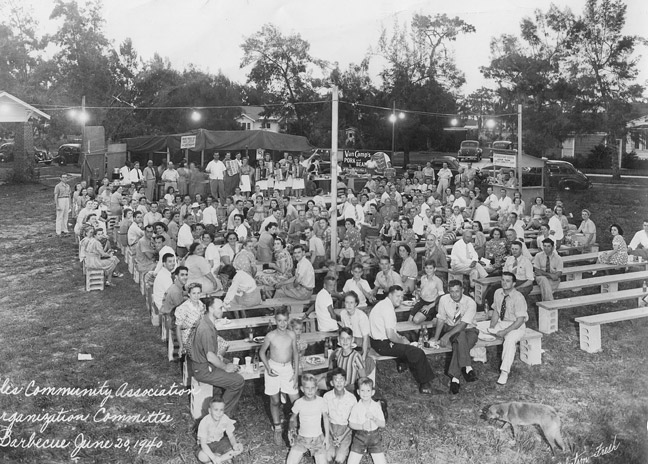 Gray Gables Community Association Organization Committee Barbeque, June 20, 1940
Close up of booth in above photo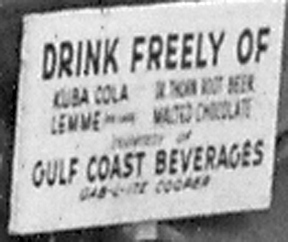 Close up of sign at background of photo, enlarged below. "Drink freely of Cuba Cola, Lemme, Dr. ---- Root Beer, Malted Chocolate, Courtesy of Gulf Coast Beverages.


Polka, polka! Everybody Polka!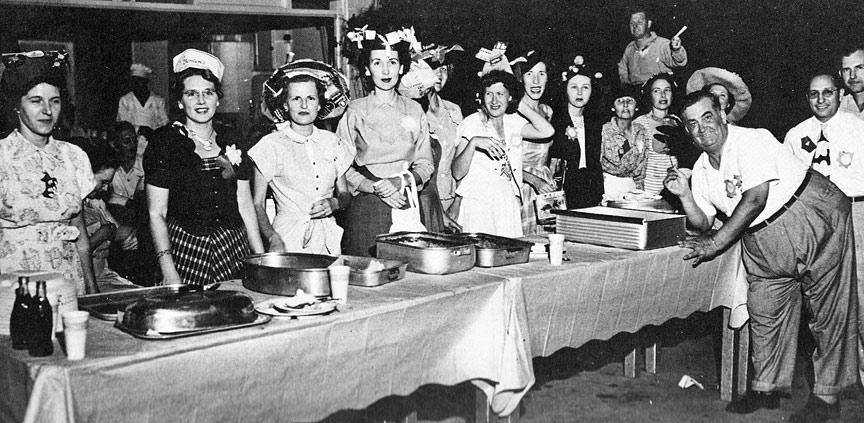 Another one of Mr. Dolcater's lavish outdoor parties, possibly at his lumber yard or his own home. Mr. Dolcater is at far right, leaning on the table. Women of the Gray Gables community can be seen in this photo so this could have been an event he held at his home.
Below are items from Gabe Winchell's column in the Gables Gazette, 1940. Not necessarily all from the same issue. The Gables Gazette was a small neighborhood newspaper, probably mimeographed, circulated for the residents of the area.
| | |
| --- | --- |
| | |
| Bon Air is the neighborhood to the immediate west of Gray Gables. Wm. V. Robertson, mentioned in the bottom note "DIAPER DIVISION", is William "Red" Robertson of Robertson & Fresh Photographers. Many old photos used here at Tampapix.com were taken by Robertson & Fresh. | William V. "Red" Robertson of Robertson & Fresh Photographers, setting up at Peter O. Knight Airport, Davis Islands, circa late 1930s. See the full size, uncropped photo showing the entire image. Afterwards, click the photo in your browser to see full size. |
Page 1 - What's In A Name? Page 2 - Fortune Street & Bridge Page 3 - Brorein St. and Bridge Page 4 Tampapix Home
Sources:
John Rutland Himes, The Man, The Judge, by Judge Morrison Buck
City Times, 2002, Prominent Lawyer, Public Official
Members of the 1915 Florida Senate
Tampa, A Pictoral History, by Hampton Dunn