Below is the full article above, left, that appeared in Vol 1, Issue 1 of Echoes.

The growth of Drew Field, one of the Army's newest air bases, has been a source of comment among both military and civilian airmen. Yesterday a cow pasture, almost overnight a modern flying field and school, humming with activity. Such is the picture presented by Drew.

It's early history is uneventful. A private landing field, the property was acquired by the city of Tampa in 1928 for the purpose of establishing a municipal airport. At that time, Drew presented the dreary prospect of damp marshy land, stretches of sand covered over with a sparse growth of palmetto scrub.

Practically nothing was done toward the development of the project until January, 1941, the United States government took over and plans were laid for the militarization of the site. Only then did the story of Drew Field begin to unfold.

Lt. Henry M. Sallery, Engineer Corps, was ordered from MacDill Field, Dec. 1, 1940 to supervise the preparation of the abandoned field for military use. Under his supervision, administrative buildings and barracks were erected. Jan. 16, 1941, Capt. James C. Hardwick, Air Corps, arrived, attached to the 27th Air Base Squadron and assigned to command of Base Detachment, Drew Field. He was accompanied by a force of 31 men, half of whom were detailed for guard duty.

An extract from the official Log Book gives the following information:
June 12, 1941 - 3rd Interceptor Command arrives, Gen. Walter H. Frank, commanding.
June 28, 1941 - Fire engine arrives
July 2, 1941 - 2nd Sig. Co, (OPN) (AW)
July 12, 1941 - 13th Transport Squadron arrives
July 14, 1941 - Hq. & Hq. Squ. 3rd I.C. activated
Special Orders No. 112, MacDill Field, dated May 7, 1941 relieved Lt. Col. Melvin B. Asp from assignment with the 44th Bombardment Group H and reassigned him to Air Base etachmen [sic], Drew Field and designated him as Commanding Officer of the field, still a substation of MacDill.
On August 18 of the same year, ceremonies celebrating the starting of work on the $663,700 runways were held. An interesting highlight of the dedication was the burial, by Col. Asp, of a paving brick each, from the cities of Tampa, St. Petersburg and Clearwater, in the first few buckets of concrete poured, thus symbolizing the union of social business and recreation interests of those places with Drew Field.

The selection of Col. Asp as first commander of the new independent field had its sentimental as well as military aspect. Col. Asp is a native of Tampa, having been graduated from Hillsborough High School. He began his army career in 1916 which necessitated his leaving the city. He had been a frequent visitor having flown in and out of the old Drew Field many times. The Colonel assisted at its dedication as Municipal Flying Field in 1928. He knew the field in the days when John H. Drew, contractor and real-estate operator, co-developer, with Hugh C. MacFarland [sic], the cigar king of West Tampa and adjacent sections, first bought the land and turned a subdivision into a private landing field. The Col. is well known as a designer of the Asplane, which has been described as the first successful small plane. He has been closely associated with aviation all his life.

Sept. 15, 1941, the field became divorced from MacDill and assumed the status of an independent air base. Again, referring to the Log we read:
Dec. 7, 1941 - War in Pacific. War declared on Japan. War declared on Germany and Italy.
Dec. 14, 1941 - 1700 enlisted men arrive from Camp Wheeler (3 train loads).
Dec. 15, 1941 - Lt. Col. Richard Gimble assgd. command of Sig. A.W. units
Captain Hardwick and Lt. Sallery were promoted to the grades of Major and Captain, respectively, in Oc.t 1941. Major Hardwick as continued in command of the present time.In January, this year, Lt. Col. Asp became a full Colonel. About the same time Drew Field became a school center for the Air Warning Service. And so the growth continues. An active future is envisioned for this lusty youngster among Uncle Sam's military airports.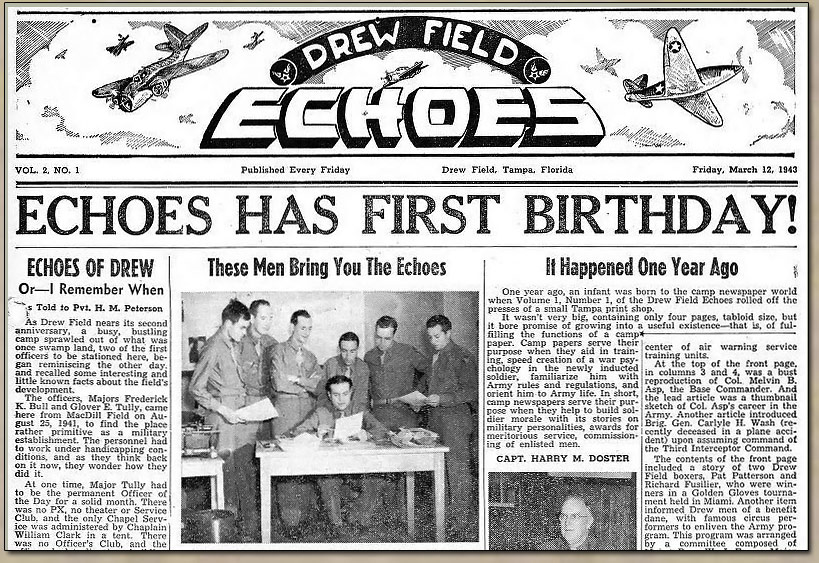 One year anniversary issue, March 12, 1943
The "Echoes" staff: Seated at desk, editor Cpl. Jesse S. Zimmerman, formerly with the Baltimore Sun. Standing, L to R: Pvt. Jackson K. Stewart, feature writer for the Signal units and Special Services; Pvt. Herman "Pete" Peterson, feature sports writer and formerly with the Philadelphia Record; Pfc harold R. Bradley, feature writer for the Hospital and Medical Detachment; Pvt. Delwyn Baggett, sports editor; Pfc. Alvin M. Amster, feature writer for the Thrid Fighter Command; Pvt.
Edward H. Solomon, art editor.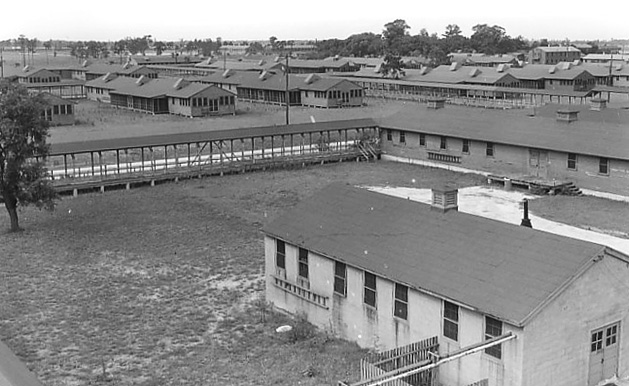 Base buildings and grounds, including covered walkways, at Drew Field, May 1946
Burgert Bros. photo from the Tampa Hillsborough County Public Library
THE BEGINNING OF TAMPA'S FIRST INTERNATIONAL AIRPORT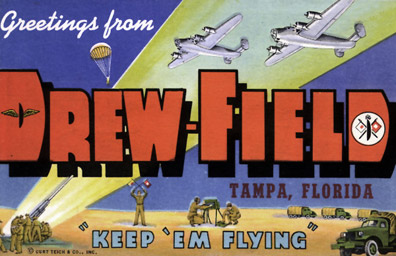 In 1946, Drew Field was inactivated by the Army, and turned over to the Federal government.
Later, the Federal government deeded most of the Drew Army Air Force Base to the Aviation Authority and Tampa airline operations, including National and Eastern Airlines moved to Drew Field from Peter O. Knight Airport on Davis Islands. The reason for the relocation was that the Peter O. Knight Airport was too small to handle the new Douglas DC-4, DC-6 and Lockheed Constellation prop-liners that were being placed into service. During this period the airlines were housed in the former Base Operations Building which was converted into a terminal.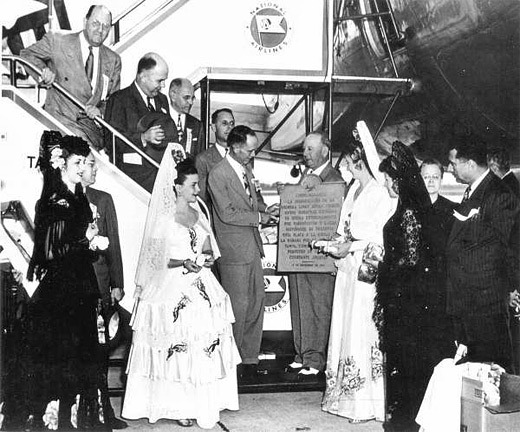 When National Airlines inaugurated international service December 15, 1946, Tampa's Mayor Curtis Hixon (standing left of plaque) received a commemoratory bronze plaque from W. L. Waring, Jr., vice president of the Tampa Chamber of Commerce. American "seńoritas" from Tampa's Ybor City wore brilliant traditional gowns and lace mantillas on the initial flight to Havana, Cuba. Trans Canada Airlines also inaugurated international flights and Drew Field was renamed Tampa International Airport.

Photo from Florida Memory State Archives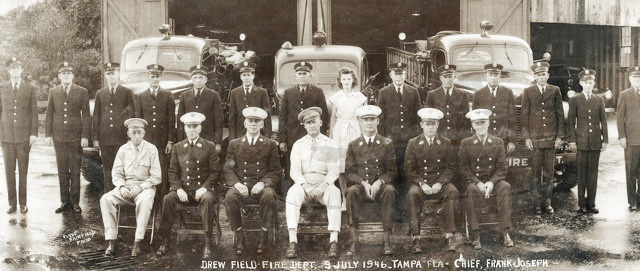 Drew Field fire department, July 1946
Photo courtesy of Bill Townsend, tampasbravest.com

Eastern Airlines ticket office at the Tampa Terrace hotel, downtown, Oct. 19, 1941.
Robertson & Fresh photo from the USF Digital Collections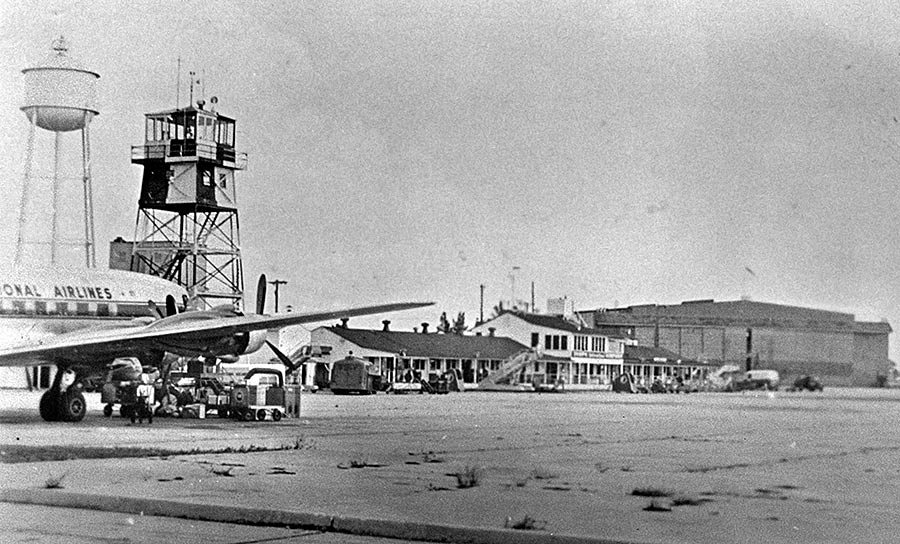 Tampa's International Airport at Drew Field, 1947.
Photo by Hampton Dunn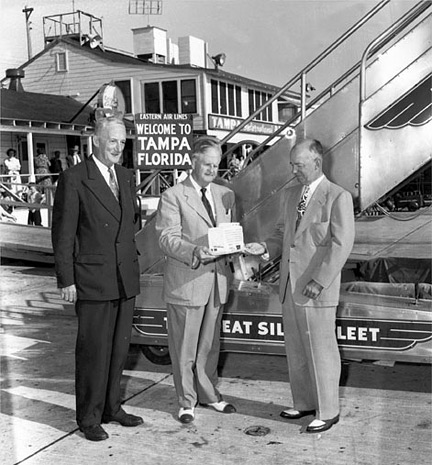 A presentation welcoming Eastern Airlines to Tampa International Airport at the Drew Airfield site on February 20, 1951.
Notice the passenger terminal in the background, formerly the base operations building of Drew Field.