Located at 7101 N. Florida Avenue, Bo's was the creation of Kenneth Miller Bosanko. Born around 1907 in Guthrie, Oklahoma, "Mr. Bo" was a World War II and U.S. Coast Guard veteran.

He came to Tampa in 1954 from Cleveland and started the ice cream shop as the original owner and operator. The early days were tough; Bosanko sold greeting cards to make ends meet. Eventually, Bo's became the place to go for ice cream.
For over 50 years the shop was family owned and operated. Mr. Bosanko's son Robert was 8 years old when he began working there. Bob took over from his dad and ran the shop for 25 years until around 1991. Bob passed away in 1992 and his brother Kenny, who was 9 when his dad started the business, took over Bo's in the early 1990s.
At right, Bob Bosanko in 1987
Around 1994 to 1995, the company name changed a to "DK-BO, Inc." and Douglas D. Snow, Jr. became VP. Afterward, it became K-BO, Inc.
2006 Kenneth J. Bosanko, registered agent of Bo's Ice Cream, Inc.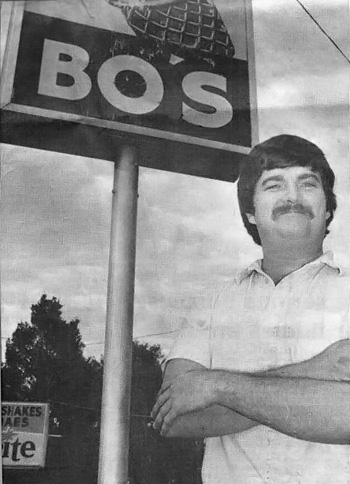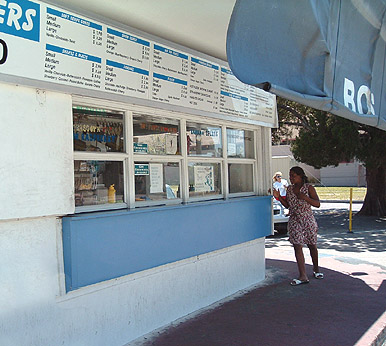 Kenneth M. Bosanko passed away on July 4, 2000 at age 92; his son Kenny continued with the business. As of 2004, the shop was still family owned, although there was talk of them selling. The Bosanko's gem of an ice cream stand continues to satisfy young and old alike with sweet-tooth pleasing ice cream treats.
In the summer of 2005, at age 59, Kenny Bosanko said his seven-day workweeks were catching up with him. His knees and ankles bothered him, as did his chest pains. Buying a nice piece of land in Hernando or Citrus counties and building a house with his wife, Cecelia, was sounding good. Bosanko said four separate parties were trying to arrange financing to make an offer on the business and its land. His asking price was $1.64 million. One of those parties was a group of employees. If all the suitors offered the same money, Bosanko said he'd prefer to sell to the employees. Just the same, Bosanko said, all the interested parties are "people that want to keep it the way it is."