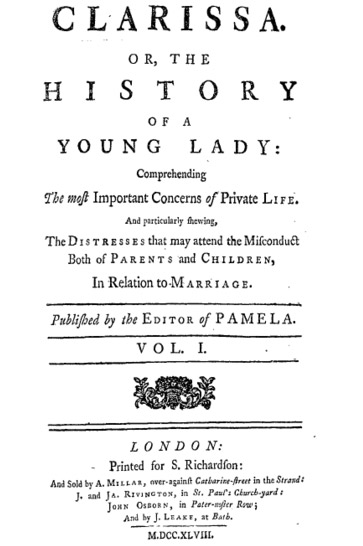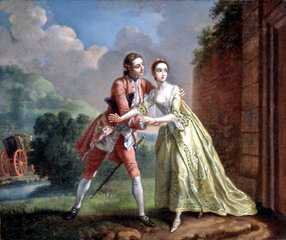 Early Life through 1897
---

Clarissa "Clara" Harlowe Barton was born on December 25, 1821 in North Oxford, Mass. She was the youngest by ten years of five children of Capt. Stephen Barton and his wife, Sarah Stone Barton.
Clara was named for Capt. Barton's sister, Clarissa Harlowe Barton (Foster) born in 1770, the wife of Richard Foster (b. 1770).

"Clarissa Harlowe" was a character in a novel titled Clarissa, or, the History of a Young Woman, written by Samuel Richardson in 1748. It tells the tragic story of a heroine whose quest for virtue is continually thwarted by her family, and is regarded as the longest novel in the English language (based on estimated word count). It is generally regarded as Richardson's masterpiece. Richardson was considered to be an important author in his time and his books were popular well into the 1800s.
Clara Barton, Founder of the American Red Cross, by Barbara Somervill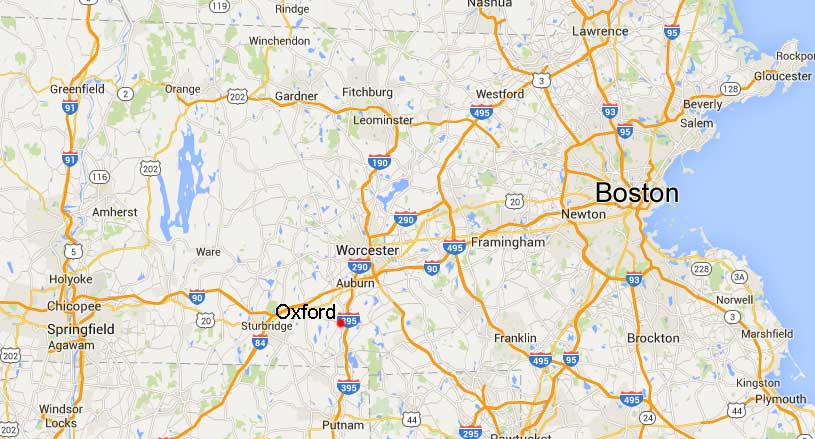 The Story of My Childhood, by Clara Barton
---
In 1907, when she was 86 years old, Clara Barton wrote about her childhood in "The Story of My Childhood." Clara neglected to mention dates and so it is difficult to pinpoint when many of the events she writes about took place, but there are a few references to her age, and some events that can be dated approximately based on the context of the event. It appears that some events in her book may not be chronological order according to external sources of dates, such as records of births, deaths, marriages, and other historical information. How well could you remember the events of your childhood, and when they occurred, if you were over 80 years old? The information presented in this section of Clara's childhood has been arranged to best fit the clues found in the context of her writing.
Preface to "The Story of My Childhood"
---
Dear Miss Clara Barton:
Our classes in The History of the United States are studying about you, and we want to know more.
Our teacher says she has seen you. That you live in, or near Washington, District of Columbia, and that, although very busy, she thought you might be willing to receive a short letter from us, and I write to ask you to be so kind as to tell us what you did when you were a little girl like us. All of us want to know. I am almost thirteen. If you could send us a few words, we should all be very happy. I write for all.
Your little girl friend,
Mary St. Clare, New York.
October third, nineteen hundred, six.

Miss Clara Barton:
I am studying about you in my History, and what you did in the war, and I thought I would write and ask you what you did afore you did that.
Yours truly,
James C. Hamlin.
Center, Iowa, May 24th, 1906.

Dear Children of the school,
Your oft-repeated appeals have reached me. They are too many and too earnest to be disregarded; and because of them, and because of my love for you, I have dedicated this little book to you. I have made it small, that you may the more easily read it. I have done it in the hope that it may give you pleasure, and in the wish that, when you shall be women and men, you may each remember, as I do, that you were once a child, full of childish thoughts and action, but of whom it was said, "Suffer them to come unto Me, and forbid them not, for of such is the Kingdom of Heaven."
Faithfully your friend,
CLARA BARTON.
Glen Echo, Maryland, May twenty-ninth, 1907.
Early Family Life
---
Clara wrote about her own arrival into the Barton family in "The Story of My Childhood"
There can be no doubt that my advent into the family was at least a novelty, as the last before me was a beautiful blue-eyed, curly-haired little girl of a dozen summers.* That the event was probably looked for with interest is shadowed in the fact of preparations made for it.

*Clara was the youngest by 10 years and 9 months.

Clara became the seventh member of a household consisting of her father and mother, two sisters and two brothers. Each one showed an increasing personal interest in the new arrival, and as soon as Clara was capable, they each set about teaching her their various fields of expertise.
Ancestry
---
Clara's father, Capt. Stephen Barton (b. 1774), was one of twelve children of Dr. Stephen Barton (b.1740 at Sutton, Mass.) and Dorothy Moore (dau. of Elijah Moore and Dorothy Learned). Dr. Stephen was a trader in the mid 1760s, then landlord of the town tavern before becoming physician. He was a one of four children of Edmond Barton (b. 1714) and Anna Flynt of Salem. They settled in Sutton (Millbury). Edmond was a soldier of the French War. He was one of 8 children of Samuel Barton of Framingham, Mass. and Hannah Bridges (prob. dau of Edmund Bridges, Jr. of Salem.) The first record of Samuel was as a witness at a Salem witch trial. He was later warned against settlement at Watertown in June 1693. In 1716 Samuel bought the Elliott grist mill in Oxford. He died in 1732, leaving all his lands and moveable estate to his son Caleb.
History of the Town of Oxford, Mass, With Genealogies & Notes on Persons & Estates,1892
Sarah Stone was the daughter of David Haven Stone and Sara Treadwell. David was originally surnamed Haven, but he adopted his step-father William's name of Stone. In his marriage intention of June 8, 1776, he is called David Haven, but in the marriage record of July 25,1776, he is called David Stone. Find a Grave History of the Town of Oxford with Genealogies

Clara Barton Ancestry Tree
---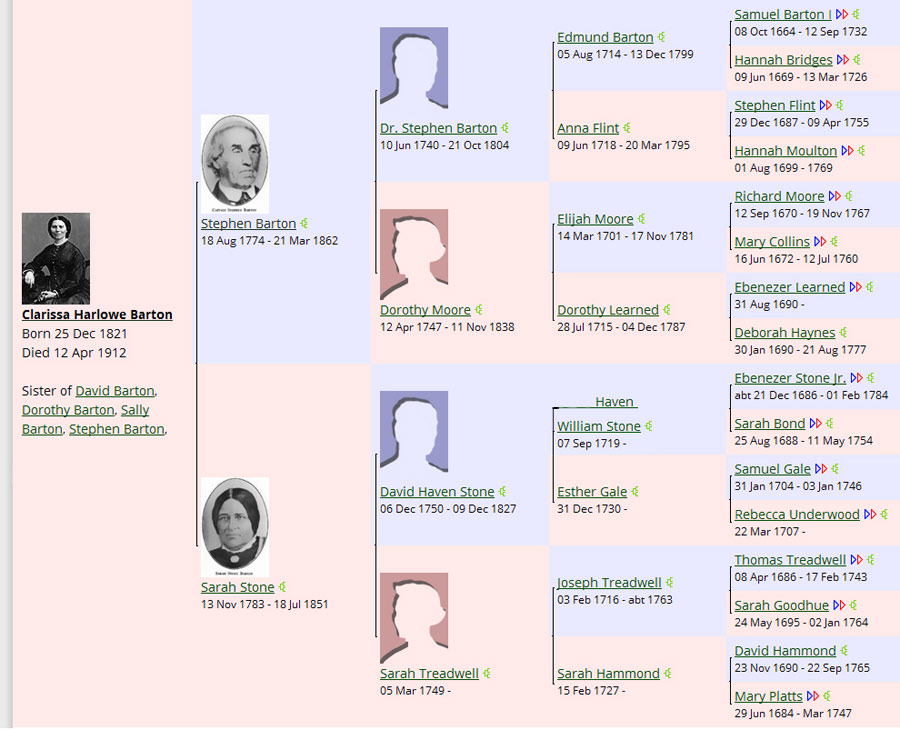 William Stone was David Haven Stone's step-father, so David's Stone & Bond ancestors shown here aren't blood-relatives.
Clara's father, Capt. Stephen Barton
---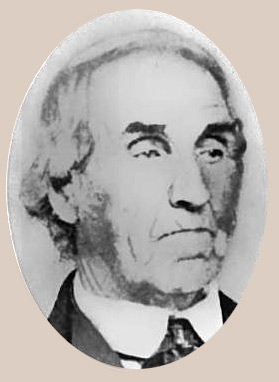 According to History of the Town of Oxford, Massachusetts: With Genealogies and Notes on Persons and Estates, Clara's father enlisted at age 21 in the Northwestern Indian war, marched by way of Philadelphia from Oxford to Detroit, Mich., and served 3 years under Gen. Anthony Wayne.** Soon after his return he was chosen commander of the the local militia. He married April 22, 1804 to Sarah Stone, daughter of Capt. David Stone and wife Sarah Treadwell Stone. Stephen and Sarah then settled in the west part of Oxford near Charlton and later built a house about a mile north of Ben Learned Hill. Afterward they resided at the Col. Ebenezer Learned house at North Oxford.
**If Stephen Barton enlisted when he was 21, it would have been in 1795, the year the treaty of Greenville was signed to end the war. Serving for 3 years under Gen. Wayne would have been impossible since Wayne died in 1796 at age 51. He may have enlisted when he was younger than 21. The Northwest Indian War (1785–1795), also known as Little Turtle's War and by other names, was a war between the United States and a confederation of numerous Native tribes, with minor support from the British, for control of the Northwest Territory (which is now our northern Midwest states).
Capt. Barton was a man of much force of character, strong physique, a clear head, quick wit, with integrity and manly firmness which rendered him a leader among his fellow-citizens, and in politics, was a Democrat. As a soldier, he didn't attain the rank of captain but he preferred using the title and everyone who knew him accepted it. He was socially aware, charitable, had kindly disposition, and was a believer in abolitionism and the importance of education. Capt. Barton was often in town office, a selectman, representative and moderator. He was a warm patriot and at the beginning of the Civil War declared his belief that Lincoln should have called for 200,000 instead of 75,000 men. He was a Royal Arch Mason and was buried with the honors of the order. He died age 87, March 21, 1862.
History of the Town of Oxford, Massachusetts: With Genealogies and Notes on Persons and Estates, 1892

Clara's father provided a generous income for the family, owning their farm, a sawmill and a grist mill. He was a lover of horses, and one of the first in the vicinity to introduce blooded stock. He had large lands, for New England. He raised his own colts; and Highlanders, Virginians and Morgans pranced the fields in idle contempt of the solid old farm horses.

Clara's mother, Sarah Stone Barton
---
Clara idolized her father but had different feelings for her mother. Clara's mother, while in agreement with her husband on abolitionism, was outspoken on women's rights, eccentric, thrifty, and possessed a fiery temperament and a strong will. She married at 17 years old. She was plain and stern. Sarah usually rose before dawn to begin her chores and ran a tight, efficient home with her daughters sharing in the baking, cooking, sewing, and cleaning. Quick-tempered and sharp-tongued, she frequently scolded her children when they had done wrong.
My mother, like the sensible woman that she was, seeming to conclude that there were plenty of instructors without her, attempted very little, but rather regarded the whole thing as a sort of mental conglomeration, and looked on with a kind of amused curiosity to see what they would make of it. Indeed, I heard her remark many years after, that I came out with a more level head than she would have thought possible.
With Clara's parents frequently at odds with one another, the sometimes stormy couple created a volatile home for their three daughters and two sons. As a result of growing up as the youngest child in an uncertain environment, Clara was timid and withdrawn. Clara was very sensitive, and being scolded hurt her deeply. Throughout her life she would always seek acceptance and confirmation of her worth.
The Biography of Clara Barton "The True Heroine of the Age" Life stories of Civil War Heroes
Heritage Education: Medical Angels - Clara Barton and the Red Cross
When she was three years old (not an uncommon age to start a formal education at the time) Clara was sent to school with her brother Stephen, who carried her nearly a mile through the snow drifts on his shoulders. Among her childhood teachers was Col. Richard Stone.
My home instruction was by no means permitted to stand in the way of the "regular school," which consisted of two terms each year, of three months each. The winter term included not only the large boys and girls, but in reality the young men and young women of the neighborhood. An exceptionally fine teacher often drew the daily attendance of advanced scholars for several miles. Our district had this good fortune.

I introduce with pleasure and with reverence the name of Richard Stone,** a firmly-set, handsome young man of twenty-six or seven, of commanding figure and presence, combining all the elements of a teacher with a discipline never questioned. His glance of disapproval was a reprimand, his frown something he never needed to go beyond. The love and respect of his pupils exceeded even their fear. It was no uncommon thing for summer teachers to come twenty miles to avail themselves of the winter term of "Col." Stone, for he was a high militia officer, and at that young age was a settled man with a family of four little children. He had married at eighteen.

The opening of his first term was a signal for the Barton family, and seated on the strong shoulders of my stalwart brother Stephen, I was taken a mile through the tall drifts to school. I have often questioned if in this movement there might not have been a touch of mischievous curiosity on the part of these not at all dull youngsters, to see what my performance at school might be. I was, of course, the baby of the school.
**No known connection has been made or implied between Clara's teacher, Col Richard C. Stone (b. July, 1798, R.I.), and Clara's maternal grandfather's adopted family, the stepfather of David Haven Stone; William Stone and his father, Ebenezer Stone, Jr. Richard C. Stone was a descendant of Hugh Stone of Warwick, R.I., 1659. Richard's grandfather was Samuel Stone of Cranston, son of Rufus Stone and Sarah Lewis.
When, after a few weeks, Clara's brother Stephen was declared by the committee to be too advanced for a common school, and was placed in charge of an important school himself, Clara's unique transportation became the responsibility of her other brother, David. No colts now, only solid wading through the high New England snow drifts.


Serious illness - age five
---
Clara had no recollection herself, but in later years she was told that when she was five years old, she became so seriously ill that the doctor was summoned from a nearby town by a rider who rode out on his fastest, strongest horse, with such haste, that those who saw him knew something bad had happened at the Barton's. When he returned with the doctor, people of the town had gathered in the yard and along the road.
Shortly the verbal bulletin went out: A sudden, unaccountable and probably fatal attack of bloody dysentery and convulsions. There was no more for the sympathetic neighbors to do; they turned sadly away, and with them went the report that Captain and Mrs. Barton had lost their little baby girl.
Clara wrote about her first recollection of the event--her recovery:

I had occupied as a bed a great cradle which had been made for some grown invalid, and preserved in the household. I was bolstered up in this cradle, with a little low table at the side on which was my first meal of solid food. How I had previously been nourished I do not know, but I can see this meal as clearly as if it had been yesterday. A piece of brown bread crust, about two inches square, rye and Indian, baked on the oven bottom; a tiny wine glass, my Christmas gift, full of home-made blackberry cordial, and a wee bit of my mother's well cured old cheese. There was no need to caution me to eat slowly ; knowing that I could have no more, and in dread of coming to the last morsel, I nibbled and sipped and swallowed till I mercifully fell asleep from exhaustion.
Clara shows advanced learning abilities, but excessive shyness
---
Early on, Clara's teachers were impressed with the quiet girl's advanced reading abilities, and soon were also pleased with her accomplishments in writing, arithmetic, and geography, but her shyness hindered her ability to make many friends or have playmates. At school, the only known friend Clara Barton had as a child was Nancy Fitts.
The next May the summer school opened, taught by Miss Susan Torrey. My sisters were both teaching other schools, and I must make my own way, which I did, walking a mile with my one precious little schoolmate, Nancy Fitts. Nancy Fitts! The playmate of my childhood; the "chum" of laughing girlhood; the faithful trusted companion of young womanhood, and the beloved life friend that the relentless grasp of time has neither changed, nor taken from me.

On entering the wide open door of the inviting schoolhouse, armed with some most unsuitable reader, a spelling book, geography, atlas and slate, I was seized with an intense fear at finding myself with no member of the family near, and my trepidation became so visible that the gentle teacher, relieving me of my burden of books, took me tenderly on her lap and did her best to reassure and calm me. At length I was given my seat, with a desk in front for my atlas and slate, my toes at least a foot from the floor, and that became my daily, happy home for the next three months.

Years of change - ages six through eight
---
For the next few years, Clara indulged herself by writing verses. Colonel Stone had closed his series of common schools, and opened a special institution on Oxford Plain, known as the "Oxford High School." Its fame had spread for miles around, and it was regarded as the "Ultima Thule" for teachers, and in a manner a stepping stone or opening door to Harvard and Yale.

Her brother Stephen had succeeded Col. Stone in the winter terms of the home school, and her sisters mainly had charge of them in summer. Thus six months of each year offered little change for Clara, the others were long vacations in which the out-of-doors played by far the most prominent part. There were garden and flower beds to be made, choice pet animals to look after, a few needy families with little children to be thought of, and some sewing to be attempted. These latter were in accordance with her mother's recommendations. Clara wrote,
I recall no season of dolls, and believe they were never included in my curriculum. Meantime, I fell heir to my mother's side saddle, a beautiful piece of workmanship, and with some difficulty learned to adjust myself to it, a rather useless adjustment it seemed to me at the time, which opinion I still entertain.
These were years of change in the Barton family. Her brothers had become of age and were young men of strength, character and enterprise. They had bought their father's two large farms and commenced business in earnest for themselves. Their father had purchased another farm of some three hundred acres, a few miles nearer the center of the town. It was a place of note, having been one of the points used for security against the Indians by the old Huguenot Settlers of Oxford, and which has made the town historic. Their main defense was on "Fort Hill," several miles to the east.
Clara was naturally greatly interested in the changes, and gave them all the time she could spare from her increasing studies.

Clara starts high school
---
Due to her advanced academic capability for her age, when Clara was eight years old, her parents tried to help cure her of her shyness by sending her to Col. Richard Stone's high school in Oxford, but their strategy failed. Clara became more timid and depressed and would not eat. She was immediately removed from the school and brought back home to regain her health.
I can recollect even now that my life seemed very full for a little girl of eight years. During the preceding winter I began to hear talk of my going away to school, and it was decided that I be sent to Col. Stone's High school, to board in his family and go home occasionally. This arrangement, I learned in later years, had a double object. I was what is known as a bashful child, timid in the presence of other persons, a condition of things found impossible to correct at home. In the hope of overcoming this undesirable mauvaise honte, it was decided to throw me among strangers.
Clara recalls the events of starting high school
---
It was a cold and bare April when Clara's father took her to the school in his carriage; she brought with her a small dressing case which she dignified by calling it a "trunk," something she never had. Col. Stone's house adjoined the school, and both seemed enormously large to Clara.
The long family table with the dignified preceptor, with my loved and feared teacher at three years at its head, seemed to me something formidable. There were probably one hundred and fifty pupils daily in the ample school rooms, of which I was perhaps the youngest, except the colonel's own children.

My studies were chosen with great care. I remember among them, ancient history with charts. The lessons were learned to repeat by rote. I found difficulty both in learning the proper names and in pronouncing them, as I had not quite outgrown my lisp. One day I had studied very hard on the Ancient Kings of Egypt, and thought I had everything perfect, and when the pupil above me failed to give the name of a reigning king, I answered very promptly that it was "Potlomy." The colonel checked with a glance the rising laugh of the older members of the class, and told me, very gently, that the P was silent in that word. I had, however, seen it all, and was so overcome by mortification for my mistake, and gratitude for the kindness of my teacher, that I burst into tears and was permitted to leave the room.



Seth Chandler, (1806-1889) was a Universalist minister, one of the leaders of the Restorationist Controversy within the denomination, minister of the First Parish Congregational Society (Unitarian) in Shirley, Massachusetts for forty-five years, and the author of the first significant history of the town. Photo from Dictionary of Unitarian & Universalist Biography See website for more info about him.

I am not sure that I was really homesick, but the days seemed very long, especially Sundays. I was in constant dread of doing something wrong, and one Sunday afternoon I was sure I had found my occasion. It was early spring. The tender leaves had put out and with them the buds and half open blossoms of the little cinnamon roses, an unfailing ornamentation of a well kept New England home of that day.

The children of the family had gathered in the front yard, admiring the roses and daring to pick each a little bouquet. As I stood holding mine, the heavy door at my back swung open, and there was the colonel, in his long, light dressing gown and slippers, direct from his study. A kindly spoken "come with me, Clara," nearly took my last breath. I followed his strides through all the house, up the long flights of stairs, through the halls of the school rooms, silently wondering what I had done more than the others. I knew he was by no means wont to spare his own children. I had my handful of roses so had they. I knew it was very wrong to have picked them, but why more wrong for me than for the others? At length, and it seemed to me an hour, we reached the colonel's study, and there, advancing to meet us, was the Reverend Mr. Chandler, the pastor of our Universalist church, whom I knew well.

He greeted me very politely and kindly, and handed the large, open school reader which he held, to the colonel, who put it into my hands, placed me a little in front of them, and pointing to a column of blank verse, very gently directed me to read it. It was an extract from Campbell's Pleasures of Hope," commencing, "Unfading hope, when life's last embers burn." I read it to the end, a page or two. When finished, the good pastor came quickly and relieved me of the heavy book, and I wondered why there were tears in his eyes. The colonel drew me to him, gently stroked my short cropped hair, went with me down the long steps, and told me I could "go back to the children and play." I went much more easy in mind than I came, but it was years before I comprehended anything about it.

Clara's health deteriorates due to anxiety and lack of food
Clara admits that her shyness was her greatest problem in her childhood, resulting in a great fear of public speaking, and that it was with her all her life:
My studies gave me no trouble, but I grew very tired, felt hungry all the time but dared not eat, grew thin and pale. The colonel noticed it, and watching me at table found that I was eating little or nothing, refusing everything that was offered me. Mistrusting that it was from timidity, he had food laid on my plate, but I dared not eat it, and finally at the end of the term a consultation was held between the colonel, my father and our beloved family physician, Dr. Delano Pierce, who lived within a few doors of the school, and it was decided to take me home until a little older, and wiser, I could hope. My timid sensitiveness must have given great annoyance to my friends. If I ever could have gotten entirely over it, it would have given far less annoyance and trouble to myself all through life.

To this day, I would rather stand behind the lines of artillery at Antietam, or cross the pontoon bridge under fire at Fredericksburg, than to be expected to preside at a public meeting.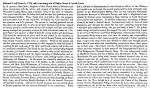 More about Richard C. Stone and his school, from
History of the Town of Oxford, Massachusetts: With Genealogies and Notes on Persons and Estates,
Click the image at right.
Clara's second home
---
Around 1830, when Clara was around 9, her family relocated to help a family member, Susannah Learned, as her husband Captain Jeremiah Learned had died in 1829 and left her with four children and a farm.
The house that the Barton family was to live in needed painting and repair. Clara was persistent in offering her assistance, for which the painter was very grateful. After the work was done, Clara felt at a loss because she had nothing else to do to help and not feel like a burden to her family.
Clara's memories of her second home, from "The Story of My Childhood" by Clara Barton:
Referring to the breaking up of the first home, and the removal of my father and mother to the new one, it might be well to state the reasons for the change. A favorite nephew of my father, Mr. Jeremiah Learned, had died after a lingering illness, leaving a widow and four children, from thirteen to six years of age, on the fine farm which had descended to him from his father, Captain Jeremiah Learned, one of the leading men of the town.** Unfortunately, during his long illness the farm had become involved to the extent of necessitating a sale. This would result in depriving the widow and her small children of a home, and in order to prevent this, and the disadvantages of a creditor's sale, it was decided that my father and a brother-in-law of Mrs. Learned, Captain Sylvester Mclntire, who had no children, purchase the farm, and remove there, keeping the widow and children with them.
**The Jeremiah Learned whom Clara refers to actually had two relationships to Clara's father.
On the Barton side, Capt. Jeremiah Learned (2) was a son of Dolly Barton Learned, Capt. Stephen Barton's sister. So Capt. Jeremiah Learned (2) was Capt. Stephen Barton's nephew.
But Capt. Jeremiah Learned (2) and Capt. Stephen Barton were also 1st cousins, once removed, on their Learned side of the family. Jeremiah's father, Capt. Jeremiah Learned (1), was married four times. Jeremiah (2) was his son from his 3rd marriage. After his 2nd wife died, Jeremiah (1) married in 1793 to Dolly Barton, his sister's granddaughter (the daughter of Dr. Stephen Barton and Dorothy Moore Barton.) Dolly was 55 years younger than her husband Jeremiah Learned (1). When they married in 1793, Jeremiah Learned (1) was 60, his wife Dolly was 15. Dolly had a twin sister named Polly. Dolly died in 1799 and Jeremiah Learned (1) married one more time. See chart below.
Jeremiah Learned, History of the Town of Oxford, etc. Barton Genealogies, History of the Town of Oxford, etc.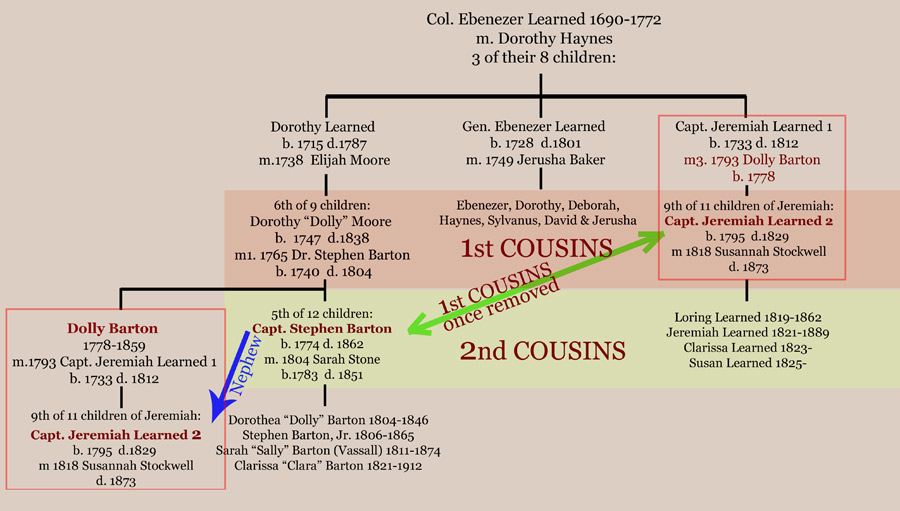 In the tree chart above, the family of Dolly Barton and husband Capt. Jeremiah Learned 1 appears twice; once due to Dolly being a sister of Capt. Stephen Barton, and once due to her husband Jeremiah Learned 1 being a son of Col. Ebenezer Learned.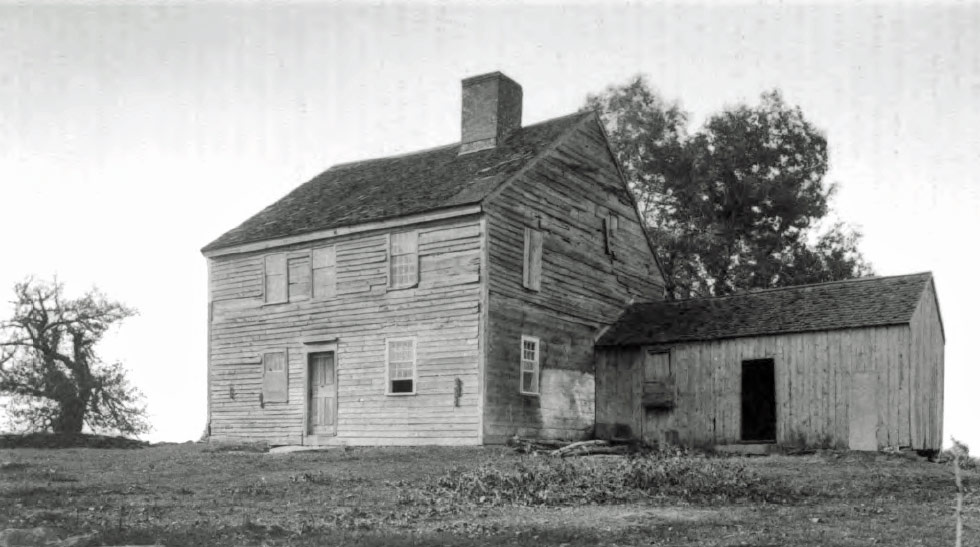 Gen. Ebenezer Learned's homestead, from "A History of the Town of Oxford...etc."
The two Learned hill farms were sold to Clara's brothers who entered into a partnership as the well-known firm of S & D Barton, a firm they mainly continued in throughout their lives. Thus, Clara became the occupant of two homes; her sisters remained with their brothers, none of whom were married.

Clara takes an interest in helping to renovate the house
---
Clara's removal to the second home was a great novelty to her. She became observant of all changes made. One of the first things found necessary on entering a house of such ancient date, was a rather extensive renovation, even for those days, of painting and papering. The leading artisan in that line in the town was Mr. Silvanus Harris, a courteous man of fine manners, good scholarly acquirements, and who, for nearly half a lifetime, filled the office of town clerk. The records of Oxford bear his name and his beautiful handwriting as long as its records exist.
Clara recalled:
Mr. Harris was engaged to make the necessary improvements. Painting included more then than in these later days of prepared material. The painter brought his massive white marble slab, ground his own paints, mixed his colors, boiled his oil, calcined his plaster, made his putty, and did scores of things that a painter of today would not only never think of doing, but would often scarcely know how to do.

Coming from the newly built house where I was born, I had seen nothing of this kind done, and was intensely interested. I must have persisted in making myself very numerous, for I was constantly reminded not to "get in the gentleman's way." But I was not to be set aside. My combined interest and curiosity for once overcame my timidity, and encouraged by the mild, genial face of Mr. Harris, I gathered the courage to walk up in front and address him: "Will you teach me to paint, sir?" "With pleasure, little lady, if mama is willing, I should very much like your assistance." The consent was forthcoming, and so was a gown suited to my new work, and I reported for duty.
I question if any ordinary apprentice was ever more faithfully and intelligently instructed in his first month's apprenticeship.
Clara learned how to hold her brushes, and how to take care of them. She was allowed to help grind paints, shown how to mix and blend them, how to make putty and use it, to prepare oils and dryings, and learned from experience that boiling oil was a great deal hotter than boiling water. She was taught to trim paper neatly, to match and help to hang it, to make the most approved paste.
...[I] even varnished the kitchen chairs to the entire satisfaction of my mother, which was triumph enough for one little girl.

So interested was I, that I never wearied of my work for a day, and at the end of a month looked on sadly as the utensils, brushes, buckets and great marble slab were taken away. There was not a room that I had not helped to make better; there were no longer mysteries in paint and paper. I knew them all, and that work would bring calluses even on little hands.

When the work was finished and everything gone, I went to my room, lonesome in spite of myself. I found on my candle stand a box containing a pretty little locket, neatly inscribed, "To a faithful worker." No one seemed to have any knowledge of it, and I never gained any.

The new home presented a phase of life quite unfamiliar to Clara. From not having had any playmates, she now found herself as one of a very lively body of six--three boys and two girls, nearer of an age than would have been probable in the same family. (Her father had taken charge of the young son of a friend, Lovett Stimpson, a fine, robust, intelligent lad of about Clara's age, who lived with them.)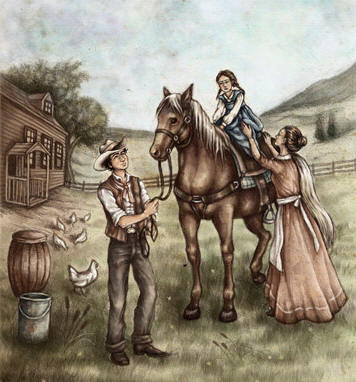 Clara's male cousins were surprised that she was good at keeping up with such tasks as horseback riding. It was not until her late childhood after she had injured herself that Clara's mother began to question her playing with the boys and began to steer her towards more girlish activities, so she invited one of Clara's female cousins over to help develop her femininity. Upon learning from her cousin, she gained proper social skills as well.
To gain her parents' acceptance, Clara began to take on traditionally feminine household tasks, embracing the strong work ethic they instilled within her.
Commissioned painting by Rose Colligan from Deviant Art website

Clara's first nursing patient, her brother David
---
In the summer of 1832, when Clara was 10, her brother David fell from the rafters at a barn-raising and soon developed complications. Clara took it upon herself to nurse him back to health. She learned how to give him the prescribed medication as well as how to place leeches on his body to bleed him. (This was a regular treatment during this time.) Clara continued to care for David with great devotion for two years. He eventually made a full recovery.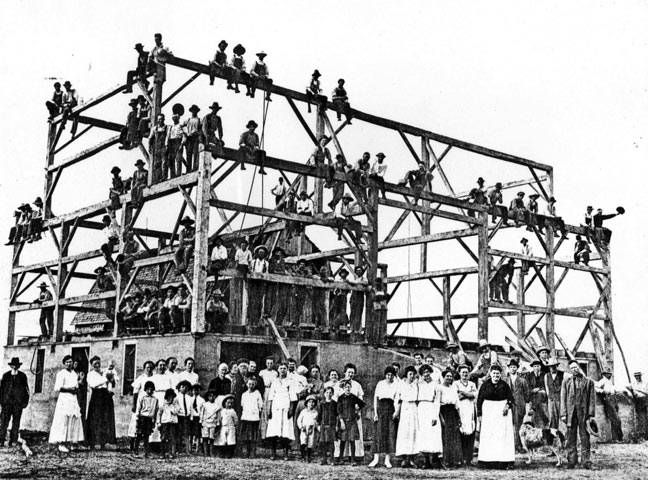 An early 20th century barn raising, from Three Things Barn Raising Teaches Us About Doing Ministry
Upon one occasion, an uncommonly large barn, with what was then still more uncommon, a cellar beneath, was to be raised. The rafters must be affixed to the ridgepole, and David Barton was assigned to this duty. While in its performance, a timber on which he was standing, having been weakened by an unobserved knot, suddenly gave way, and he fell directly to the first floor, striking on his feet on another timber near the bottom of the cellar.

Without having fallen over, he leaped to the ground, and after a few breathless minutes declared himself unhurt, but was not permitted to return aloft. It was spoken of as a "remarkable adventure' "a wonderful escape," etc., and for a few days all went well, with the exception of a slight and quite unaccustomed headache, which continued to increase as the July weather progressed. At length he showed symptoms of fever; the family physician was called, and here commenced a system of medical treatment quite unknown to our physicians of the present day, other than as results of historical research and milestones of scientific advancement.

He was pronounced in a "settled fever" which must not be "broken up," and could only be held in check by reducing the strength of the patient. He had "too much blood," was "too vigorous, and "just the patient for a fever to go hard with" it was said. Accordingly, his blood was taken from time to time, as long as it seemed safe to do so. The terrible pain in the head continued and blisters were applied to all possible places, in the hope of withdrawing the pain. Sleepless, restless, in agony both physical and mental, his case grew desperate.

He had been my ideal from earliest memory. I was distressed beyond measure at his condition. I had been his little protégée, his companion, and in his nervous wretchedness he clung to me. Thus, from the first days and nights of illness, I remained near his side.

The fever ran on and over all the traditional turning points, seven, fourteen, twenty-one days. I could not be taken away from him except by compulsion, and he was unhappy until my return. I learned to take all directions for his medicines from his physician (who had eminent counsel) and to administer them like a genuine nurse.

My little hands became schooled to the handling of the great, loathsome, crawling leeches which were at first so many snakes to me, and no fingers could so painlessly dress the angry blisters; and thus it came about, that I was the accepted and acknowledged nurse of a man almost too ill to recover.


19th century leech advertisement by J & A Churchill, New Burlington Street, London, W.
From Collect Medical Antiques

Finally, as the summer passed, the fever gave way, and for a wonder the patient did not.

Late in the autumn he stood on his feet for the first time since July. Still sleepless, nervous, cold, dyspeptic, and a mere wreck of his former self. None were so disturbed over his condition as his kind-hearted, and for those days, skillful physicians, who had exhausted their knowledge and poured out their sympathy and care like water, on the patient who, for his manliness and bravery, they had come to respect, and for his suffering learned to love with a parent's tenderness.

It now became a matter of time. Councils of physicians for twenty miles around sat in judgment on the case. They could only recommend; and more blisters, setons and various methods of external irritation for the withdrawal of internal pain followed, from month to month and season to season. All these were my preferred care.

I realize now how carefully and apprehensively the whole family watched their little nurse, but I had no idea of it then. I thought my position the most natural thing in the world; I almost forgot that there was an outside to the house.

This state of things continued with little change--a trifling gain of strength in my patient at times for two years, when, entirely unexpected, the most tabooed and little known of all medical treatments, restored him to health.

Read more about leeching in Re-imagining Bleeders: The Medical Leech in the Nineteenth Century Bloodletting Encounter

A "Steam Doctor" cures David Barton
---
It was at this time that a disciple of Thomsonianism, a "Steam Doctor," named Dr. Asa McCullum resided in a neighboring town and had followed David's remarkable case with interest and pity and was convinced that the right remedies had not reached been tried.
"Thomsonian Medicine" or Thomsonianism was an alternative system of medicine developed by Samuel Thomson, a self-taught American herbalist and botanist, whose system enjoyed wide popularity in the United States during the 1800s. In the first half of the 19th century his system had numerous followers, including some of his sons. Thomsoniansm was based upon opening the paths of elimination so that toxins could be removed via physiological processes. There were also many skeptics who called it quackery.
It was not to be wondered at that the slightest departure from the beaten track, under these conditions, was held as unpardonable and punishable quackery. There are young physicians of good historical knowledge today, who have never learned that "Thompsonianism" was that "ism," that Dr. Samuel Thompson fought that fight, that it was he who first advanced the theory (in this country at least,) and that fever was not the foe, but the friend of the patient. But that a better way to treat disturbances was to open the pores generally, by a vapor bath designated "Thompson's Steam Box," and greatly to be feared. He and his few followers were known as "Steam Doctors" and the public warned against them.

Dr. McCullum ventured at length to approach my father on the subject; then my brother, who was willing to attempt anything short of suicide. The result was the removal of the patient to the home asylum of the doctor for treatment.

In three weeks he was so far restored as to return home and take his place in his business, like one come back from the dead. I remember the greetings the tears of gladness on the blessed face of our family physician when he came to welcome him home: And so, David, something good has come out of Nazareth.

David's cure leaves a void in Clara's life
---
Now that David was cured, Clara once again felt free. Life seemed strangely idle to her. She wondered that her father took her riding so often, and that her mother hoped she could make her some new clothes, because in the two years past she had not grown an inch, had been to school only half a day, and only gained one pound.
This period of Clara's young life had longer term effects. In some ways it served to heighten serious defects in her personality. The seclusion caused her bashfulness to increase. She grew even more timid; shrinking and sensitive in the presence of others. She wrote:
I was absurdly careful and methodical for a child; afraid of giving trouble by letting my wants be known, thereby giving the very pain I sought to avoid, and instead of feeling that my freedom gave me time for recreation or play, it seemed to me like time wasted, and I looked anxiously about for some useful occupation.
As usual, her sister, Sally, came to her rescue. She took advantage of Clara's all-absorbing love of poetry and made a weapon of it by providing Clara with poetical works of Walter Scott, whom she previously had not read, and proposed that they read them together.
The ice skating accident
---
Directly in front of Clara's home was a small, circular, natural pond, fed by springs in the bottom and surrounded by hills forming a basin in which the little pond during the winter "becomes a thing of beauty and a joy forever to the skater." From its sheltered position it froze smooth and even and had no danger spots. The little pond was Clara's early love; the home of her beautiful flock of graceful ducks.
Her brothers were all fine skaters, and Clara wanted to skate, too, but skating had not then become customary, in fact, not even allowable for girls; and when, one day, her father saw her sitting on the ice attempting to put on a pair of skates, he seemed shocked, sending her to the house, and saying something about "tomboys." But this did not cure Clara's desire; nor could she understand why it was not as well for her to skate as for the boys; she was as strong, could run as fast and ride better, indeed they would not have presumed to approach her with a horse. Neither could the boys understand it, and this misconception led them into an error and got Clara into trouble.
One clear, cold, starlight Sunday morning, I heard a low whistle under my open chamber window. I realized that the boys were out for a skate and wanted to communicate with me. On going to the window, they informed me that they had an extra pair of skates and if I could come out they would put them on me and "learn" me how to skate. It was Sunday morning; no one would be up till late, and the ice was so smooth and "glare." The stars were bright, the temptation was too great. I was in my dress in a moment and out.

The skates were fastened on firmly, one of the boy's wool neck "comforters" tied about my waist, to be held by the boy in front. The other two were to stand on either side, and at a signal the cavalcade started. Swifter and swifter we went, until at length we reached a spot where the ice had been cracked and was full of sharp edges. These threw me, and the speed with which we were progressing, and the distance before we could quite come to a stop, gave terrific opportunity for cuts and wounded knees. The opportunity was not lost. There was more blood flowing than any of us had ever seen. Something must be done. Now all of the wool neck comforters came into requisition; my wounds were bound up, and I was helped into the house, with one knee of ordinary respectable cuts and bruises; the other frightful. Then the enormity of the transaction and its attendant difficulties began to present themselves, and how to surround (for there was no possibility of overcoming them), was the question.

The most feasible way seemed to be to say nothing about it, and we decided to all keep silent; but how to conceal the limp? I must have no limp, but walk well. I managed breakfast without notice. Dinner not quite so well, and I had to acknowledge that I had slipped down and hurt my knee a little. This gave my limp more latitude, but the next day it was so decided, that I was held up and searched. It happened that the best knee was inspected; the stiff wool comforter soaked off, and a suitable dressing given it. This was a great relief, as it afforded pretext for my limp, no one observing that I limped with the wrong knee.

But the other knee was not a wound to heal by first intention, especially under its peculiar dressing, and finally had to be revealed. The result was a surgical dressing and my foot held up in a chair for three weeks, during which time I read the "Arabian Nights" from end to end. As the first dressing was finished, I heard the surgeon say to my father: "that was a hard case, Captain, but she stood it like a soldier." But when I saw how genuinely they all pitied, and how tenderly they nursed me, even walking lightly about the house not to jar my swollen and fevered limbs, in spite of my disobedience and detestable deception (and persevered in at that), my Sabbath breaking and unbecoming conduct, and all the trouble I had caused, conscience revived, and my mental suffering far exceeded my physical. The Arabian Nights were none too powerful a soporific to hold me in reasonable bounds. I despised myself and failed to sleep or eat.

My mother, perceiving my remorseful condition, came to the rescue, telling me soothingly, that she did not think it the worst thing that could have been done, that other little girls had probably done as badly, and strengthened her conclusions by telling me how she once persisted in riding a high mettled unbroken horse in opposition to her father's commands, and was thrown. My supposition is that she had been a worthy mother of her equestrian son.

The lesson was not lost on any of the group. It is very certain that none of us, boys or girls, 'indulged in further smart tricks. Twenty-five years later, when on a visit to the old home, long left, I saw my father, then a grey-haired grandsire, out on the same little pond, fitting the skates carefully to the feet of his little twin granddaughters, holding them up to make their first start in safety, I remembered my wounded knees, and blessed the great Father that progress and change were among the possibilities of His people.

I never learned to skate. When it became fashionable I had neither time nor opportunity.

Clara's desire to take dancing lessons
---

Clara recalled another disappointment that was also indicative of the times. During the following winter, when Clara was around 12 years old, a dancing school was opened in the hall of the one hotel on Oxford Plain, some three miles from their home. It was taught by a personal friend of her father, a polished gentleman, resident of a neighboring town, and teacher of English schools. By some chance Clara got a glimpse of the dancing school at the opening, and was seized with a most intense desire to go and learn to dance.
With my peculiar characteristics it was necessary for me to want a thing very much before mentioning it; but this overcame me, especially as the cordial teacher took tea with us one evening before going to his school, and spoke very interestingly of his classes. I even went so far as to beg permission to go. The dance was in my very feet. The violin haunted me. "Ladies change" and "all hands round" sounded in my ears and woke me from my sleep at night.

The matter was taken up in family council. I was thought to be very young to be allowed to go to a dancing school in a hotel. Dancing at that time was at a very low ebb in good New England society, and besides, there was an active revival taking place in both of the orthodox churches (or rather one a church and the other a society without a church), and it might not be a wise, nor even a courteous, thing to allow. Not that our family, with its well known liberal proclivities, could have the slightest objection on that score; still, like St. Paul, if meat were harmful to their brethren they would not eat it, and thus it was decided that I could not go. The decision was perfectly conscientious, kindness itself, and probably wise; but I have wondered if they could have known (as they never did) how severe the disappointment was, the tears it cost me in my little bed in the dark, the music and the master's voice still sounding in my ears, if this knowledge would have weighed in the decision.

I have listened to a great deal of music since then, interspersed with very positive orders, and which generally called for "all hands round" but the dulcet notes of the violin and the "ladies change" were missing. Neither did I ever learn to dance.

The ox trauma
---
With so much land, and three large barns, there was plenty of cattle on the Barton's farm. A small herd of 25 milk cows came faithfully home at the end of each day, for their milking and their extra supper which they knew awaited them. With the customary greed that accompanies childhood, Clara laid claim to three or four of the handsomest and tamest of the herd, and believed herself to be their real owner. Every evening, Clara went faithfully to the yards to receive them and look after them, with her little milk pail in hand, and became proficient in the art of milking them.
Clara recalls the time she accidentally witnessed the slaughter of one of the farm's oxen:
One afternoon, on going to the barn as usual, I found no cows there; all had been driven somewhere else. As I stood in the corner of the great yard alone, I saw three or four men, the farm hands, with one stranger among them wearing a long, loose shirt or gown. They were all trying to get a large red ox onto the barn floor, to which he went very reluctantly. At length they succeeded. One of the men carried an axe, and stepping a little to the side and back, raised it high in the air and brought it down with a terrible blow. The ox fell, I fell too; and the next I knew I was in the house on a bed, and all the family about me, with the traditional camphor bottle, bathing my head to my great discomfort. As I regained consciousness they asked me what made me fall? I said "some one struck me." "Oh, no," they said, "no one struck you," but I was not to be convinced and proceeded to argue the case with an impatient putting away of the hurting hands, "then what makes my head so sore?" Happy ignorance! I had not then learned the mystery of nerves.

I have, however, a very clear recollection of the indignation of my father (my mother had already expressed herself on the subject), on his return from town and hearing what had taken place. The hired men were lined up and arraigned for their "cruel carelessness." They had "the consideration to keep the cattle away," he said, "but allowed that little girl to stand in full view." Of course, each protested he had not seen me. I was altogether too friendly with the farm hands to hear them blamed, especially on my account, and came promptly to their side, assuring my father that they had not seen me, and that it was "no matter," I was "all well now." But, singularly, I lost all desire for meat, if I had ever had it and all through life to the present, have only eaten it when I must for the sake of appearance, or as circumstances seemed to make it the more proper thing to do. The bountiful ground has always yielded enough for all my needs and wants.

Circa 1836, Clara in her early teens
Great changes had taken place during the two or three preceding years. Her energetic brothers had outgrown farming, sold their two farms on the hill, and come down and bought from their father all his water power on the French River, as well as all obtainable timber land in the vicinity. Sally had married Vester Vassall in 1834 and settled in her home nearby, and Stephen Jr. had married Elizabeth Rich the year before. Mrs. Learned, the widow to whose assistance Clara's father had gone to in her early desolation, had found her children now so well grown as to make it advisable to move to one of the factory villages, where she became a popular boarding house keeper, and her children operatives in the mill.
Clara wrote of these times,
Thus, I was again left to myself. The schools were not the best, but all that could be done for me, in or out of them, was done. I had been especially well taught to sew and liked it, but knitting was beyond me. I could not be held to it, and it was given up. Through the confirmed invalidism of my elder sister, Dorothea, I lost her beautiful guidance, but the watchful care of my sister, now Mrs. Vassall, was truly empathetic. She never lost sight of my welfare, and her fine literary taste was a constant inspiration.
Clara's memories of the mills:
The staunch old up-and-down saw still stood in its majesty for the handling of the forest giants too massive for a lesser power, but it was surrounded by a cordon of belted "circulars," whirling with a speed that quite obscured their motion, screaming, screeching and throwing out the product of their work in all directions; shingles, laths, thin boards, bolters and slitters. New dams had been thrown across the shifty, flighty stream, to be swept away in the torrents of the spring freshets and floating ice, but replaced at once with an obstinate manliness and enterprise that scarcely admitted of an interruption in the work.

In a new building along the side of the dam, the great burr-stones of that date ground out the wholesome grain of all the surrounding country, and where I had first seen it under the control of the one lone sawyer, now fifty of the strongest working men that could be procured, and great four-horse teams covered the once quiet mill yard. The entire line of factories above had caught the inspiration, and the French River villages of North Oxford were models of growth and activity.
Clara's education continues, at home
---
The Barton home was located midway between the two district schools, but a good mile or so from either one. The experiment of sending Clara to school was not repeated, and accordingly, she continued to receive her education at home. Her mathematical brother, Stephen, took charge of that department, and her sister Sally, the other needed studies, while her former patient, brother David, the equestrian teacher of her early youth, continued his practical teaching.
Clara on her brother David's teaching:
I recall vividly the half impatient frown on his fine face when he would see me do an awkward thing, however trivial. He detested false motions; wanted the thing done rightly the first time.
If I started to go somewhere, go, and not turn back; if to do something, do it. I must throw a ball or a stone with an under swing like a boy and not a girl, and must make it go where I sent it, and not fall at my feet and foolishly laugh at it. If I would drive a nail, strike it fairly on the head every time, and not split the board. If I would draw a screw, turn it right the first time. I must tie a square knot that would hold, and not tie my horse with a slip noose and leave him to choke himself. These were little things, still a part of the instructions not to be undervalued. In the rather practical life which has sometimes fallen to me, I have wondered if they were not among the most useful, and if that handsome frown were not one of my best lessons.
Clara returns to public school
---
Finally, a school opened in the north of Oxford that Clara could attend. It was undertaken by Mr. Lucian Burleigh, a younger member of the noted Burleigh family, and brother of William H. Burleigh, the poet. It seemed very strange to Clara to be in school again; she had so long been accustomed to governing herself that she wondered how anyone should need others to govern them. Clara had no doubt that her teacher sensed this in her, and that she seemed equally unaccountable and prudish to him, and so he treated her with the greatest consideration and kindness; advising such changes and additions as seemed suitable, and most in accord with the studies she had taken with her. The school even formed some new classes in branches outside of the customary routine of the public school; as elementary astronomy, ancient history, and the "Science of Language."
After a busy summer another stroke of good fortune came to Clara during the next winter term of school. Mr. Jonathan Dana, one of Oxford's most scholarly men and a teacher of note, commenced the winter school to the south of the Bartons. Clara considered his instruction invaluable as well as the pains he took with her as his eager pupil.

In spite of the labor of a school of sixty pupils of all ages, with no assistant, I was permitted to take philosophy, chemistry and elementary Latin all to be taught outside of school hours. With no laboratory at hand, I have often marveled at the amount of experimental instruction he found it possible to give me. So generally appreciated was the excellence of the school that the term was continued beyond the customary three months.

My grateful homage for my inestimable teacher and his interest in his early pupil, became memories of a lifetime, and the social acquaintance was never interrupted until the late summons came to him, white haired and venerable, to go up higher.
Clara's family was gratified by her progress and deportment as a student, but still she was different, timid, non-committal, afraid of giving trouble, and difficult to understand. Her physical growth had not met their expectations nor their hopes. She grew slowly and was still a "little girl" in appearance. This went to show how positive the early check had been, and how slowly the repairs were made, for it was said in later years that she gained an inch in height between the ages of twenty and twenty-one.

Early Adulthood - Clara's first job
---
In 1838, Clara wanted to work at her brother's satinet mill in town, but her parents objected. Her brother Stephen stepped forward to speak in her behalf and provided her first employment in his cloth factory as a bookkeeper and clerk when she was sixteen years old.
Satinet is a finely woven fabric with a finish resembling satin, but made partly or wholly from cotton or synthetic fiber. The process developed in Mesopotamia around 5000 BC.
Satinet mills in North Oxford

Previous to 1728, Col. Ebenezer Learned, father of Gen. Ebenezer Learned, built on the site of the Hugenot Mills, a dam and grist mill, which remained in his possession until his death in 1772. It was then owned by his son, Capt. Jeremiah Learned (I), and after his death in 1812, the property passed into the hands of is sons. In 1829, Stephen Barton, Jr. was in possession and used the sawmill and in 1834 added a grist mill. This was converted into a satinet mill in 1837 and leased to Holbrook and Paul Parsons. On March 17, 1839, the mill burned and was rebuilt of wood for a cotton factory, and leased to Royal Chapin and Orsamus Taft. It burned a second time in March, 1852 and was rebuilt of stone the same year. The woolen mill was built in 1848, burned in January 1856 and rebuilt in 1858. Stephen Barton, Jr. sold this mill to H.D. Stone and the latter to Chamberlin, McGaw & Co.

History of Worcester County, Massachusetts, Embracing a Comprehensive History of the County from Its First Settlement to the Present Time, with a History and Description of Its Cities and Towns, Vol. II.


Women workers posing by the satinet machines in the Taft or 'Old Huguenot Mill approximately 1880.
Collection of the Oxford Free Public Library Historical Museum
Clara on the subject of getting her first job:
The firm of my brothers, S. & D. Barton, had added to their ever increasing business the manufacture of cloth. A factory had been erected and a partnership entered into with Messrs. Paul and Samuel Parsons, two elegant gentlemen among the earlier manufacturers of satinet in this country, and the new factory was known as "The Satinet Mill of North Oxford." A very superior article of cloth was made, the operatives almost entirely American, and very largely from families of the neighborhood or surrounding country.

Occupations for women were few in those days, and often the school and music teacher, weary of the monotonous life, sought change in the more remunerative loom of the factory. I name this as a matter of history, as the North Oxford Mills were the third, if not the second after Slater, who produced the first spindle and power looms in America, at the risk of his life.

I had been taken through the new factory by my brother; had seen these young persons at work; watched the shuttles fly under the deft fingers of the weavers, and felt that there was something I could do. There was no school, I was idle. After a little quiet reflection I astonished the family by announcing my desire to go into the mill. I wanted to weave cloth.

At first they tried laughing at me. I was too sensitive to be dealt with in that way. Then reasoning. I was "too small"; it was not a proper thing for me to do. But I was not easily dissuaded. One day in the midst of a family council, my brother Stephen chanced to call. He listened attentively, saw that I was anxious and troubled, and was giving trouble to others as well. At length he spoke. Addressing my mother, he said: "I do not see anything so very much out of the way in the request. I wonder if we are not drawing the lines too tightly on our little sister? A few years ago she wanted to learn to dance; this was denied as frivolous and improper; now she asks to work. She took up a work by herself and did it two years, a work that no child would be expected to do, and did it well. She is certainly a properly behaved little girl, and I cannot understand why we should trouble ourselves or her so much concerning the proprieties of her life. For my part, I am very willing to arrange a pair of looms for her and let her try." A hush fell on the group. My anxious mother seemed relieved. The big brother had spoken. I crept shyly up under his stalwart arm and kissed his bearded cheek.
As Clara grew into adolescence, her parents encouraged her involvement in charitable work such as tutoring children and nursing poor families during a small pox epidemic. Unlike most persons her age, Clara chose to spend most of her free time actively assisting others by alleviating their illnesses or troubles. This was the beginning of a lifetime of work from which she would always receive her greatest satisfaction. Clara Barton, founder of the American Red Cross
Noted Phrenologist L. N. Fowler advises a teaching career for Clara
---
When Clara was sixteen years old, the famous Fowler brothers (Lorenzo and Orson) visited Oxford. The Fowler brothers were phrenologists--"scientists" who studied the bumps on a person's head to determine their future. After studying her, Lorenzo Fowler declared that a career in teaching would cure Clara of her painful shyness. Clara Barton Birthplace Museum
I think it usually occurs in small communities that there is one family, or one house, to which all strangers or new comers naturally gravitate. Nothing was plainer than that ours was that house. All lecturers, upon any subject, clergymen on trial, whoever had a new idea to expound and was in need of an abiding place meanwhile, found one there. My father's active and liberal mind inclined him to examination and toleration, and his cordial hospitality was seconded by my mother's welcome to any one who could bring new thought or culture to herself or her family.





These were the very earliest days of phrenology. The famous brothers, O. S. and L. N. Fowler, worthy disciples of Spurzheim and Coombe, were commencing their lifelong work. Young men of advanced ideas, thought, energy and purpose.

The "Phrenological Journal," if existing at all, was in its infancy. The Fowler brothers were among the most interesting and popular lecturers in the country. Two courses of lectures by L. N. Fowler were arranged for our town; one for North and the other for South Oxford, or "Oxford Plain," as it is better known. He very naturally became the guest of my father and mother. Aside from this was his aid and comfort to my mother in her perplexity concerning her incomprehensible child.

I recall the long earnest talks in which it was evident that I was the prime subject, although not clearly realizing it at the time. Upon one occasion there was no question. I was ill (of mumps, I believe) and to avoid loneliness was permitted to lie on the lounge in the large sitting room through the day. Forgetting my presence, or believing me asleep, the conversation went on in my hearing, portions of which at this late day I recall. My mother remarked that none of her children had ever been so difficult to manage. "Was I disobedient, exacting or wayward?" asked Mr. Fowler. Oh no! she often wished I were, she would then know what to do, for I would make my wants known, and they could be supplied. But I was so timid and afraid of making trouble that they were in constant fear of neglecting me; I would do without the most needed article rather than ask for it, and my bashfulness increased rather than diminished as I grew older. As an illustration, she stated that only last Sunday the child appeared with bare hands when we were ready for church. Upon being asked where were her gloves, she reluctantly replied that she "had none. They were worn out." Upon being asked why she had not said so and asked for others, the reply was a burst of tears and an attempt to leave the room. "We would not permit this unhappy day at home alone, and took her as she was," said my mother. All this sounded very badly to me as I heard it rehearsed. It was all true, all wrong; would I, could I ever learn to do better?

Mr. Fowler replied that these characteristics were all indicated; that, however much her friends might suffer from them, she would always suffer more. "They may be apparently outgrown, but the sensitive nature will always remain. She will never assert herself for herself she will suffer wrong first but for others she will be perfectly fearless."

To my mother's anxious question, "what shall I do ?" he replied, "Throw responsibility upon her. She has all the qualities of a teacher. As soon her age will permit, give her a school to teach." I well remember how this suggestion shocked me. I should not have remembered all these advices, but years after they were found with much more among my mother's carefully preserved papers; some correspondence must have followed. The depth and faithfulness of the interest felt, was shown in the fact that the great reader of human character, through his long life in foreign lands as well as his own, never forgot the troublesome child. Occasional correspondence and valued meetings across the sea marked the milestones of life, till one road came to an end. A great and true man and friend of humanity had gone, and the world was better for his having lived in it.

Clara Barton the school teacher
---
In May of 1839, Clara passed examinations and began a teaching career at the age of 18, teaching at District School Number 9 in rural Massachusetts. Bordentown Historical Society
Clara on passing the exams and her first day of school as a teacher:
At the close of the second term of school, Mr. Fowler's advice was acted upon, and it was arranged that I teach the school in District No. 9. My sister resided within the district. How well I remember the preparations the efforts to look larger and older, the examination by the learned committee of one clergyman, one lawyer and one justice of the peace; the certificate with "excellent" added at the close; the bright May morning over the dewy, grassy road to the schoolhouse, neither large nor new, and not a pupil in sight.


On entering, I found my little school of forty pupils all seated according to their own selection, quietly waiting with folded hands. Bright, rosy-cheeked boys and girls from four to thirteen, with the exception of four lads, as tall and nearly as old as myself. These four boys naturally looked a little curiously at me, as if forming an opinion of how best to dispose of me, as rumor had it that on the preceding summer, not being en rapport with the young lady teacher, they had excluded her from the building and taken possession themselves.

All arose as I entered, and remained standing until requested to sit. Never having observed how schools were opened, I was compelled, as one would say, to "blaze my own way." I was too timid to address them, but holding my Bible, I said they might take their Testaments and turn to the Sermon on the Mount. All who could read, read a verse each, I reading with them in turn. This opened the way for remarks upon the meaning of what they had read. I found them more ready to express themselves than I had expected, which was helpful to me as well. I asked them what they supposed the Saviour meant by saying that they must love their enemies and do good to them that hated and misused them? This was a hard question, and they hesitated, until at length a little bright-eyed girl with great earnestness replied: "I think He meant that you must be good to everybody, and mustn't quarrel nor make nobody feel bad, and I'm going to try." An ominous smile crept over the rather hard faces of my four lads, but my response was so prompt, and my approval so hearty, that it disappeared and they listened attentively but ventured no remarks.

With this moderate beginning the day progressed, and night found us social, friendly and classed for a school. On the second or third day an accident on their outside field of rough play called me to them. They had been playing unfairly and dangerously and needed teaching, even to play well. I must have thought they required object lessons, for almost imperceptibly either to them or to myself, I joined in the game and was playing with them.


My four lads soon perceived that I was no stranger to their sports or their tricks; that my early education had not been neglected, and that they were not the first boys I had seen. When they found that I was as agile and as strong as themselves, that my throw was as sure and as straight as theirs, and that if they won a game it was because I permitted it, their respect knew no bounds. No courtesy within their knowledge was neglected. Their example was sufficient for the entire school. I have seen no finer type of boys. They were faithful to me in their boyhood, and in their manhood faithful to their country. Their blood crimsoned its hardest fields, and the little bright-eyed girl with the good resolve, has made her whole life a blessing to others, and still lives to follow the teaching given her. Little Emily has "made nobody feel bad."


My school was continued beyond the customary length of time, and its only hard feature was our parting. In memory I see that pitiful group of children sobbing their way down the hill after the last good-bye was said, and I was little better. We had all been children together, and when, in accordance with the then custom at town meetings, the grades of the schools were named and No. 9 stood first for discipline, I thought it the greatest injustice, and remonstrated, affirming that there had been no discipline, that not one scholar had ever been disciplined. Child that I was, I did not know that the surest test of discipline is its absence.


If the published school report, so misunderstood by me, had given me displeasure, it had also given me a local reputation, quite as unexpected. I soon found myself the recipient of numerous invitations to teach in the nearby towns, especially such schools as required the "discipline" so largely accredited to, and so little deserved, by me.


Declination, on my part, was not to be thought of. All members of the family were only too grateful for the progress I had made towards proper self-assurance to permit any backsliding, and it was early settled that I accept the application of the honorable committee, to teach the next summer school at what was known as the "Millward" in the adjoining town of Charlton, commencing on the first Monday in May of the following year a "master" teaching the winter term.
Clara Barton and the wedding of her brother, David, Sept. 30, 1839
---
One early September, Clara's brother David, who was one of the active, popular businessmen of the town, invited her to accompany him to Maine to be present at his wedding and return home with them. Clara wrote:
There was now more lengthening of skirts, and a rush of dressmaking such as I had never known before; and when, two weeks later, I found myself with my brother and a rather gay party of ladies and gentlemen, friends of his, at one of the most elegant hotels in Boston (where I had never been) waiting the arrival of a delayed steamer, I was so overcome by the dread of committing some impropriety or indiscretion which might embarrass my brother that I begged him to permit me to go back home. I was not distressed about what might be thought of me. I did not seem to care much about that; but how it might reflect upon my brother, and the mortification that my awkwardness could not fail to inflict on him.


I had never set foot on a vessel or seagoing craft of any kind, and when, in the glitter of that finely equipped steamer, I really crossed over a corner of the great Atlantic ocean, the very waves of which touched other continents as well, I felt that my world was miraculously widening.

It was another merry party, and magnificent spans of horses that met and galloped away with us over the country to our destination.

But the crowning astonishment came when I was informed that it was the desire and decision of all parties, that I act as bridesmaid. That I assist in introducing the younger of the guests, and stand beside the tall, handsome young bride who was to be my sister, while she pledged her troth to the brother dearer to me than my own life.

This responsibility seemed to throw the whole world wide open to me. How well I remember the tearful resolution with which I pledged myself to try to overcome my troublesome propensities and to strive only for the courage of the right, and for the fearlessness of true womanhood so much needed and earnestly desired, and so painfully lacking.

November found us home again. Under the circumstances, there must naturally be a share of social gayeties during the winter, and some preparations for my new school duties; and I waited with more or less apprehension for what would be my first life among strangers, and the coming of my anticipated "First of May." With slight variation I could have joined truthfully in the dear old child refrain:

"Then wake and call me early, Call me early, mother dear," For that will be the veriest day "of all the glad New Year."

Clara's teaching career
---
The 1840s found Clara embarking upon her first crusade to aid the distressed and underprivileged. She worked for 12 years as a school teacher at various schools in the area, often working without wages in poorer areas. In 1845 she established a school for the children of her brother's mill workers.
At one school, having taught classes in a dilapidated building and finding the textbooks and supplies inadequate and the attendance inconsistent, Clara carefully drafted a plan for improvements and presented her ideas at the town meeting. Clara's efforts were rewarded when the school was reestablished in one of the area's largest central mills, equipped with maps, blackboards, and a clock for teaching purposes, per her specifications. Consequently, her 70 pupils—ages four through 24, comprised of American-born, as well as English, Irish, and French-born students—were able to attend her class regularly and receive a better education in reading, writing, and arithmetic, algebra, bookkeeping, philosophy, chemistry, and ancient and natural history.
Clara's students regarded her with respect and admiration, and her innate shyness seemed to dissipate before her attentive, appreciative audience. Her own interest in learning was infectious; her treatment of her students was judicious and fair, and she had a talent for being a disciplinarian without needing to use force. However, as much as she cared about her students and the classrooms in which she taught, the unique challenges of each school held her interest, and once overcome, she pursued new challenges elsewhere.
On April 19, 1846, Clara's sister Dorothea (Dolly) Barton, died.

Higher Education
---
In 1849, Clara contemplated the years ahead and dreaded to think of the limitations for a woman of the time living in a milling and farming community. She needed challenges beyond teaching in a small town, and decided to further her education so she could advance her career. With few schools offering a higher education to women, in 1850 at age 29, she enrolled out of state at Clinton Liberal Institute, a well-respected, co-educational academy in Clinton, New York, run by the Universalist Church (the denomination of the church in which she had been raised). It was here that she made several new friends from all over including Mary Norton of Hightstown New Jersey.
Being 10 years older than the average female student at the academy, she did not easily find friends among her peers, but her dedication to her studies in language and writing skills occupied most of her time. An even greater difficulty to overcome was dealing with her separation from home and family. For though she was adventurous and ambitious, deep inside she was still the timid girl of her childhood.
In July 1851 when her mother passed away, Clara was overwhelmed by a feeling of helplessness. With the death and financial difficulties weighing heavily upon her, Clara left Clinton regretfully, her education incomplete and her career and future uncertain. In October of 1851, Clara travelled to Hightstown, New Jersey to visit Mary Norton, a school friend from her time at Clinton, and resumed her teaching career by teaching at local schools in the area. There, she was bored and restless, and lacked privacy in the Norton household.
A social visit to Bordentown made an impression on Clara; looking around the streets she saw ...
"idle boys. But the boys! I found them on all sides of me. Every street corner had little knots of them, idle, listless, as if to say what shall one do when they have nothing to do?"
Clara immediately sought out the chairman of the school committee and asked for an interview. Laws existed in New Jersey for free public education but were never implemented. There were plenty of private schools and pauper schools but neither alternative offered an opportunity for most of the children of the community. Clara was given a ramshackle one room school house. On the first day six children showed up for school. They spent the first few days cleaning up the school house and getting it ready for children. By 1853 there were over 600 children in the program, receiving lessons from teachers housed in locations all over the city.
Fanny Childs, a friend from Oxford, came to assist Clara with the teaching. The people of Bordentown were so impressed with their new free school that they spent $4,000 to build a new and much larger brick building with 8 classrooms to accommodate 600 students. When Schoolhouse Number One opened in the fall of 1853, enrollment grew rapidly under her leadership and attendance grew to 603. Clara was stunned to learn that the school board decided that a school with so many students was beyond the administrative capability of a woman, let alone one this young. Instead of hiring Barton to to be headmaster, the board hired J. Kirby Burnham and paid him twice as much ($500) as they were paying Clara. Clara was demoted to "female assistant" with disastrous results. The teaching staff became widely divided, quarrels ensued over instructional methods, and Clara's health began to deteriorate. She grew weak and lost her voice. By February of 1954, Clara and Fanny Childs had both resigned and the Bordentown free school was in disarray. Burnham himself was dismissed at the end of the school year, and finger-pointing by the local newspaper and townspeople added to the contention.
In 1854, Clara and Fanny Childs decided to journey to the nation's Capital in search of new employment opportunities. Once settled in Washington and becoming familiar with the town and how to get around, Clara sought out Alexander DeWitt, the congressman from her district in Massachusetts. DeWitt opened doors for Clara, to both the political and social worlds. Among those he introduced her to was Charles Mason, Commissioner of the Patent Office. DeWitt remained supportive of Clara as long as he was in Congress, but it was Mason who emerged as her patron. DeWitt suggested to Mason that Clara would make a valuable worker in the Patent Office. Mason was impressed with her skills as a conversationalist, fair judgment, and political awareness. He offered her the coveted job of a recording clerk-copyist where she began working in July 1854, copying patent applications, caveats, and regulations at a rate of 10 cents per 100 words copied.
Clara grew remarkably skillful at this and from it she learned a great deal about the state of developing technology in a variety of fields. In this respect, the job was part of her continuing education, something that she actively pursued all her life. To boot, she earned an average of about 80 dollars a month, enough for her to live in modest comfort. Her carefully scripted writing style and the rigorous honesty displayed in her work soon made Clara virtually indispensable to Mason. Mason was a relentless foe of corruption, whether it was the matter of a clerk-copyist selling patent information or simple carelessness due to lack of moderation or restraint. Mason relied on Clara in confidential matters that came before him, and she gave him her undivided loyalty.
Clara's typical work day
Clara's day started as early as 4am. After a scripture reading and prayer of thanksgiving, she dressed and then studied French. French recitation followed breakfast and then a walk of a mile to the Patent Office. She arrived at 9am and worked until 3:30pm. When allowed, she would take work home. After dinner the copying was taken up again, sometimes in the company of Samuel Ramsay, her good friend from Clinton days who was in Washington to write a history of Virginia.
Women in the U.S Government workforce
Barton's position and that of several other female copyists at the Patent Office was not a standard arrangement. The Federal bureaucracy, though small in size, was still a man's world. Mason was one of the few superintendents who was willing to hire women, even sparingly. He believed women usually made very good copyists and were more industrious than most of the male copyists. He tried to protect Clara's job for the years she worked there by not publishing her name in the official roll.
Mason's chief, Robert McClelland, Secretary of Interior, was of a different opinion. By pressuring Mason to dismiss his female workers, Barton's position was always at risk. McClelland deemed it unacceptable for men and women to work side by side. He wrote DeWitt: "there is such and obvious impropriety in the mixing of the sexes within the walls of a public office that I am determined to arrest the process." In Barton's behalf, Mason resisted the attempt to deny him his most trusted subordinate. As the controversy built up, Mason, for personal reasons, resigned his office only to resume it several months later.
Clara receives equal pay but sexual harassment in the workplace
Clara's prospects improved immediately upon Mason's return and for the next year and a half she was paid at an annual rate of $1,400. By the standards of the day, this was a goodly sum, Mason's salary being only $3,000.
Mason once again took up the war on the corrupt issuing of patents, and Clara, working with him, developed a nose for "rotten eggs in the basket." But the consequences of her return to favor was considerable sexual harassment and she became the target of cat calls and tobacco juice. Clara was working in a masculine domain, where she believed she had every right to be, and it would take more than dirty looks and bad language to dislodge her. She was more efficient than any of her male competition; Clara knew it and so did the men. So long as Judge Mason was conducting the business of the Patent Office, she was sure her right to work would be honored.
Clara's social and political life in Washington D.C.
Winds of change were blowing across the nation in the mid-1850s and Washington was at the center of this increasingly ominous storm. Being the daughter of Sarah Stone Barton, Clara had long deplored the evils of the slave system. With the majority of Americans, Clara was strongly opposed to the extension of slavery in the territories but she was not a fiery abolitionist. The new Republican Party appealed to Clara because of its stand against the spread of slavery westward.
Barton's attraction to politics and public life and her friendship with Congressman DeWitt often took her to the halls of Congress. In 1856 she witnessed Senator Charles Sumner of her own state of Massachusetts deliver his famous "Crime against Kansas" speech, denouncing the "Slavocrats" who were determined to make Kansas a slave state. He drove home his point for Clara. She said in retrospect, "The American Civil War began not at Sumter, but at Sumner."
Buchanan's election to the presidency brought a drastic change in government patronage appointees which had an adverse effect for Clara. Though she was unable to vote, she had made public her support for John C. Fremont, the Republican opponent of Buchanan. At one social gathering her strongly stated views caused one of her friends to plead understanding because, he said, Clara had too many cups of coffee. Fremont was defeated and DeWitt was turned out of office. With Jacob Thompson as Secretary of Interior, Judge Mason's days were numbered. There would be new faces all around the Patent Office, those of deserving Democrats. Barton's government service appeared to be at an end, and before the year was out, she found herself out of a job and heading to North Oxford, to home and family.
Read a full text transcript of Charles Sumner's The Crime Against Kansas speech, delivered in the Senate of the Unites States - May 19, 1856.
Stephen Barton, Jr., Clara's Brother
---
In 1856 Stephen purchased a tract of timberland and a steam sawmill on the Chowan River in Hertford County, North Carolina. At this site, about two miles north of the mouth of Meherrin River, Barton and a crew of New England artisans, including several members of his family, built another mill town, Bartonsville. A post office was established there, along with wharves, lumberyards, a gristmill, warehouses, and other facilities. In 1860 he acquired North Carolina rights to machinery for making plow-handles and plowbeams, and he had produced many thousands by the time the Civil War broke out in the spring of 1861.
NCPedia Barton, Stephen, Jr.
Clara's family problems back home
---
For the next four years Clara was almost totally occupied by family matters, most of which were very troublesome. Clara spent time with friends and family in New York and Massachusetts where she enrolled in French and art classes. But her dedication to helping others would never desert her. Her brother-in-law, Vester Vassall, appeared unable to provide for her sister Sally and their two children. This was especially troubling for Clara because one of the boys, Irving, had long been a favorite. Born in Oxford in 1840, at 16 he became consumptive. His mother came with him to Washington to live with Clara for a while, hoping the milder weather would cure him. When he showed no improvement there, Clara took him to Minnesota at no small expense to herself, hoping the dry, cold air would help. After some time there, Irving wrote that he was very unhappy and his health showed no improvement. His demands for money put considerable stress on Clara who continued to worry about his condition. But Clara recognized that he was self-indulgent and that she by her kindness may have helped make him so. He passed away on April 9, 1865 in Washington.

Vassall family photos courtesy of Library of Congress

Then there was Mattie Poor, a young relative studying music in Boston. Clara had paid some of her expenses, but the girl refused to take a job and continued to badger Clara for money. Worries mounted due to growing anxiety about Clara's father's advanced age and declining health. He had moved in with his son David and his wife, after the death of his own wife, Sarah. When Clara came back to North Oxford, she too stayed with David and her father, and a feeling of resentment on the part of David with his wife Julia became more pronounced the longer Clara stayed with them.
Clara would return to the Patent Office building again during the Civil war, when it functioned as a hospital for wounded soldiers. Her story is entwined with the history of the Patent Office Building—first in its use as a federal facility, later as a Civil War hospital, and today as the art museum that houses her portrait--the National Portrait Gallery.
Miss Barton was 40 years of age when she first turned her attention to the great works of humanity which have made her name famous. She might properly be called the Florence Nightingale of America. Like her British prototype, her works of mercy were not confined to her native land, but were carried even into the eastern hemisphere.
The Civil War
---
On April 12, 1861, the Civil War began with the firing on Ft. Sumter, South Carolina. On April 19, en route to defend the nation's capital, the 6th Massachusetts Infantry was attacked by mobs of southern-sympathizing Baltimoreans as the soldiers marched across town. They arrived in Washington, DC, beaten and with several members of their regiment dead. Clara found them temporarily quartered in the Senate Chamber of the U.S. Capitol and provided supplies from her own household for their comfort. The overwhelming response to her request for additional supplies for the troops marked the start of her career as the Angel of the Battlefield.
Clara exuberantly assisted the Union army by gathering and purchasing provisions for the soldiers, and it wasn't long before local women and relief societies learned of her charitable activities and brought her boxes of goods to deliver to the men.
During the First Battle of Bull Run (First Manassas by the Confederates) in Fairfax County and Prince William County, Virginia in July 1861, the U.S. government—ill-prepared for an escalating war—sent scores of wounded men to the neighboring city of Washington where makeshift hospitals sprung up overnight in homes and unlikely buildings such as the Patent Office. Clara tended to wounded soldiers as they arrived in Washington, DC. and established a distribution agency after receiving additional supplies sent in response to an advertisement in the Worcester Spy.
After aiding the soldiers in Washington, she was inspired by her former landlady Almira Fales to actively administer assistance to the wounded on the battlefields. Clara soon would no longer be working at the Patent Office, but would still receive wages from the government due to her staunch support of the Union army.
Stephen Barton, Jr. Clara's Brother
---
Caught with most of his manufactures in storage at the start of the Civil War, Stephen Barton, Jr. sent his crew north and determined to sit out the war at Bartonsville, NC, in order to protect his investment. Stephen was married to Elizabeth Rich of Charleston, Mass., and by her had three sons, one of whom was Samuel R. Barton, who assisted him in creating the mill town at Bartonsville.
Although Stephen opposed both slavery and secession, he maintained a neutral position in the war and local Confederate garrisons, respecting his position, left him alone. Union gunboat officers operating on the Chowan also understood Barton's situation and did not annoy him, although they were sometimes able to deliver to him mail or news from his friends and relations in the North. In the meantime, his relations, particularly his sister Clara, plotted scheme after scheme for bringing him out of North Carolina, only to be blocked by his determination to maintain his lonely vigil at Bartonsville. NCPedia Barton, Stephen, Jr.

Death of Clara's father
---
In late 1861, Clara's father fell ill, so she went home to be by his bedside. On his deathbed, he encouraged Clara Barton to continue her patriotic support for the Union.
They talked of the war and of her work with the soldiers in Washington. She wanted to provide for the wounded on the battlefields, but as a woman, she was afraid. Her father alleviated her fears and she later confided, "As a patriot he bade me serve my country with all I had, even my life if need be; as the daughter of an accepted Mason, he bade me seek and comfort the afflicted everywhere, and as a Christian he charged me to honor God and love mankind."
Stephen Barton presented his daughter his gold Masonic emblem, asserting that she was to wear it.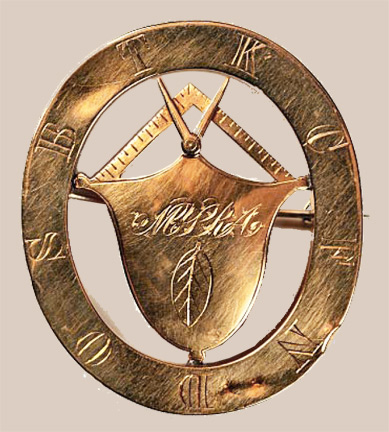 Stephen Barton died on March 21, 1862 at his home in Oxford. After his death, Clara returned to Washington, D.C. and pursued a new direction for her relief work. She obtained travel passes and headed for the battlefields. Emboldened by her father's sentiments, she faced her relief efforts with a new courage. She wore her father's Masonic pin throughout the Civil War and later recalled, "My father gave it to me when I started to the front, and I have no doubt that it protected me on many an occasion."
Clara Barton A Lifetime of Service, The National Park Service, Clara Barton National Historic Site

Clara Barton in the field of war
---
Clara was not heartily welcomed by army officials who initially refused her assistance and supplies, believing that she would be more of a hindrance than a helper on the field. In that day and age, society frowned upon an unmarried woman straying out of the home, believing that at best she belonged in an organization of women; certainly not alone among men. Though Governor John Andrew of Massachusetts (who was also commander-in-chief of the Massachusetts forces) supported her cause, Clara had to persist in her efforts to convince the quartermaster that she would be a valuable asset on the front lines. Finally, in Aug 1862, Miss Barton gained official permission from an officer named Rucker to transport supplies to battlefields.
When supplies were delayed or suppliers were under orders not to advance for fear they would be captured by the enemy, Barton was there to assist. As she noted, "that was the point I always tried to make, to bridge that chasm, and succor the wounded until the medical aid and supplies should come up."
Despite her lack of formal training as a nurse, her efficiency and drive had a huge impact: she assisted in surgeries, extracted bullets, comforted the dying, and helped establish field hospitals. As her biographer Stephen Oates noted, Barton loved associating with the common soldiers and considered herself one of them. They, in turn, loved and respected her. She understood more than most the terrible cost of the war, having experienced it firsthand. In its aftermath, she turned to helping families find lost soldiers and relatives.

Clara's work at Civil War battle sites
---
On August 2, 1862, Clara delivered her supplies to Fredericksburg, Virginia and, in her first encounter with the field hospital, was appalled by the chaos of untrained ambulances, the lack of clean bandages and fresh water, and the delay in the arrival of government issued supplies.
The Battle of Cedar Mountain (Culpepper), Virginia on August 9, 1862 was the first documented battle at which Clara Barton served in the field. She rushed to Culpepper, arriving on August 13, where wounded soldiers filled the train depot that served as a makeshift relief station. The sight that greeted Clara horrified her. Surgeons in pus and bloodstained coats routinely amputated a countless number of shattered limbs, tossing them in heaps outside the door. The filth of the hospital and conditions in which recuperating men lingered sickened her and touched her with sadness. She and a couple of friends who had accompanied her on this mission prepared food, made bandages, held hands, cleaned the hospital and men, and assisted the surgeons in any way that they could. She spent two days and nights tending the wounded. Not long afterwards, her impartial care for the sufferer would take her to a hospital of Confederate prisoners, where she brought every article of food and clothing she could obtain for the comfort of the sick or wounded.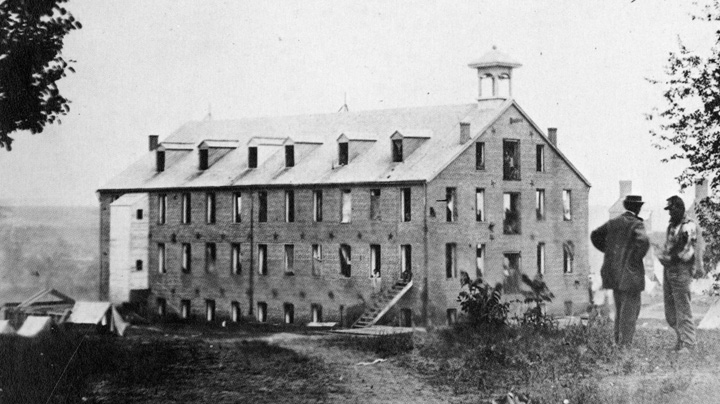 The Second Battle of Manassas (Bull Run), Virginia took place on August 28-30, 1862. The woolen mill just north of town, visited by Clara Barton in 1862, before her service during the Second Manassas campaign.. It was here that she saw her first-ever amputation. From "Mysteries & Conundrums" National Park Service
Battle of Chantilly (Ox Run)
After the Second Battle of Bull Run in late August 1862, Clara arrived at Fairfax Station on Sept. 1, tended to the wounded from the Battle of Chantilly, Virginia and prepared the injured for evacuation by train to Washington, DC. Many of these men had received no food or water for two days. Dismayed to see thousands of wounded soldiers blanketing the hillside beneath the blazing sun, Clara immediately prepared them a kettle of cornmeal, and after this was gone created a concoction of what meager provisions were available: crushed army biscuits ("hardtack"), wine, water, and brown sugar. She brought them clean shirts, bound their wounds, gave them their last rites, and offered words of kindness and encouragement to the weary, working without food or rest for two days. Though she endured more than one person's share of work, she discovered that she enjoyed working alone.
Two weeks later on September 14, 1862, at Harpers Ferry and South Mountain, accompanied to the battlefields by two women, Clara found it preferable to do the work herself than delegate orders to others.
Antietam (Sharpsburg)
---
On September 17, 1862, Clara was one of few women among the Union and Confederate armies waiting for the bloody Battle of Antietam (Sharpsburg) to begin. She described the experience as
...a miserable night. There was a sense of impending doom. We knew, every one knew, that two great armies of 80,000 men were lying there face to face, only waiting for dawn to begin the battle. It gave a terrible sense of oppression.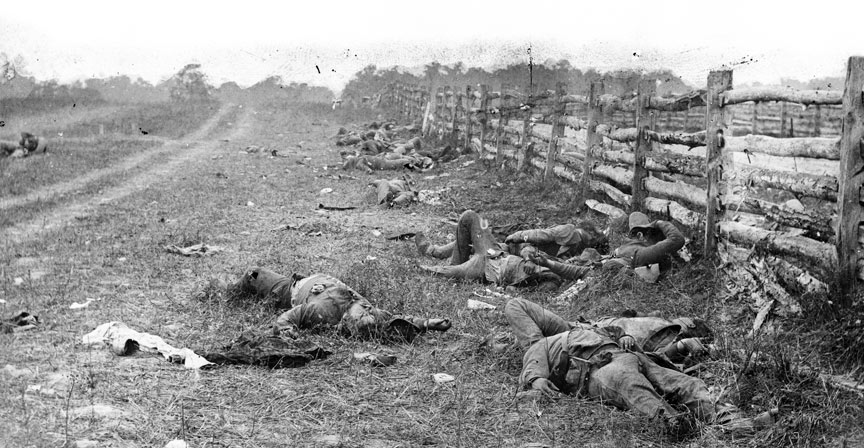 Dead Confederate soldiers from Starke's Louisiana Brigade, on the Hagerstown Turnpike, north of the Dunker Church, Antietam.
Photograph by Alexander Gardner, from Wikipedia
Her presence—and the supplies she brought with her in three army wagons with the Army of the Potomac prior to the battle—was particularly welcome by overworked surgeons who were trying to make bandages out of corn husks. She provided surgeons with desperately needed medical supplies. Clara provided assistance to the surgeons at the Poffenberger Farm (among them Dr. James Dunn whom she had met at Culpeper). By now, having witnessed numerous surgical procedures, Clara no longer flinched at the sight of an amputation that was performed without the use of chloroform on a patient, and neither did she cry when learning of the death of a former class pupil. Although lacking medical training, at the insistence of a wounded soldier, she extracted a bullet from his cheek, using her pocket knife, and while holding the face of another soldier to offer water, had a bullet pass through her sleeve and into the wounded victim. Barton organized able-bodied men to perform first aid, carry water, and prepare food for the wounded.
Through all she endured thus far in the war, Clara had become a stronger, confident woman. The appreciation she received from those she nursed gratified her and gave her a feeling of self-worth. Watching her perform her tasks tirelessly, dutifully, compassionately, and without fear, Dr. Dunn's wife remarked that Clara was "the true heroine of the age, the angel of the battlefield."
For six weeks Clara ceaselessly toiled in the field, until she was stricken ill with typhoid fever. After a month's recuperation in Washington, she Clara travelled with the Army of the Potomac as it pursued the retreating Confederates into Virginia in Sept. and Nov. of 1862. She caught up with the army at Harpers Ferry and provided aid to the wounded at several minor skirmishes and accompanied patients to hospitals in Washington, DC.
Fredericksburg
---
Clara Barton came to Fredericksburg on the eve of a major battle in December 1862 to provide supplies and nursing skills to Union medical staff. She wrote in her journal:
Dec. 7, 1862

I went to 1st Division - 9th Corps hospital, found 8 officers of the 57th lying on the floor with a blanket under them, none over.

About 200 left of the regiment. Went to the old National Hotel found some hundreds, perhaps 400 western men badly wounded, all on the floors - had nothing to eat. I carried a basket of crackers and gave two apiece as far as they went and some pots of coffee. They had no food that day and there was none for them. I saw them again at 10 o'clock at night. They had had nothing to eat. A great number of them were to undergo amputations sometime, but no surgeons yet. They had nitclippers (?) for one in ten. I saw no straw in any hospital and no mattresses, and the men lay so thick that gangrene was setting in and in nearly every hospital there has been set apart an erysipelas ward.

There is not room in the city to receive the wounded and those that arrived yesterday mostly were left lying in the wagons all night at the mercy of the drivers. It rained very hard. Many died in the wagons and their companions, where they had sufficient strength had raised up and thrown them out into the street. I saw them lying there early this morning - they had been wounded two and three days previous, had been brought from the front and after all this lay still another night without care or food or shelter, many doubtless famished after arriving in Fredericksburg.

The city is full of houses and this morning broad parlors were thrown open, and displayed to the view of the rebel occupants the bodies of the dead Union soldiers lying beside the wagons in which they perished.

Only there must slightly wounded have been taken on to W. (Washington) The roads are fearful and it is worth the life of a wounded man to move him over them. A common ambulance is scarce. Sufficient to get through we passed them this morning four miles out of town full of wounded with the tongs broken and wheels crushed in the middle of a hill in mud from one to two feet deep. What was to be done with the moaning suffering occupants God only knew.

Dr. Hitchcock most strongly and earnestly and indignantly remonstrates against any more removals of amputated limbs. He declares it little better than murder and says the greater proportion of them will die there if not better fed and afforded more room and better air. The surgeons do all they can but no provision has been made for such wholesale slaughter on the part of any one and I believe it would be impossible to comprehend the magnitude of the necessity without witnessing it.
On Dec. 13, 1862, Clara assisted in a hospital of the IX Corps, which was established at the Lacy House (Chatham Manor).



Chatham Manor, from Mysteries & Conundrums, the great sycamore tree at Chatham Manor, National Park Service blog
Clara tended to wounded soldiers in the temporary hospital established at the Lacy plantation house, and noted in her pocket journal information about the soldiers she encountered, should loved ones want to find the soldiers after the battle. Recording the identities of soldiers in her diaries was a practice she continued throughout the war.
Lacy House Riley Falkner – 7th Mich. Shot through lungs in Boat Sat for days in 3rd room at Lacy House – Ward 10-B23 Resides in Denmark. Astubula Co Ohio – Emory Hospital Ward K. John Daley-Co K 28th Mass Milford-flesh [wound?] thigh Wm Otersen. 59th NY. Co. K. NY. City. Arm shattered.
During the brutal battle in mid-December, she and fellow worker Walt Whitman assisted Clarence Cutter (the old regimental surgeon of the 21st Massachusetts) at the hospital set up in the Lacy House. She worked there through the last week in December 1862, living in a tent beside her wagon, and returned to the Capitol only when her supplies were depleted and most of the wounded men had either died or were sent on to Washington for treatment. It would be a long and bitter winter, with no end in sight for the war or its suffering victims.
Throughout the war, Barton and her supply wagons traveled with the Union army giving aid to Union casualties and Confederate prisoners. Some of the supplies, like the transportation, were provided by the army quartermaster in Washington, D.C., but most were purchased with donations solicited by Barton or by her own funds. (After the war she was reimbursed by Congress for her expenses.)
The intensity of her work in the field gave Clara little time to dwell on any personal feelings of sorrow, but likewise there was also little which brought her personal happiness, aside from the appreciation of thousands of soldiers and their loved ones. The summer of 1863 would change her fortune.

Charleston, Hilton Head, and Morris Island, SC - Clara befriends Gen. John J. Elwell
---
In 1863, Clara traveled to the Union controlled coastal regions around Charleston, South Carolina. She arrived at Hilton Head in April of 1863 in preparation for the anticipated bombardment of Charleston. There in Hilton Head, she was pleased to be reunited with her brother David who had just been appointed quartermaster and Steven E. Barton, her fifteen year old nephew who was serving in the military telegraph office.
But it was meeting General John J. Elwell of Cleveland, Ohio, chief quartermaster for the Department of the South, that rejuvenated her spirit. She and Elwell discovered that they shared many common interests and, though he was married, became close friends. For a while Clara felt a strong connection with someone for the first time in her life. Elwell found himself mesmerized by this witty, intelligent, and courageous woman, and encouraged their relationship despite the impropriety of the situation. Albeit unconventional in her thought and demeanor, as a realist Clara knew their relationship could not go beyond friends, and did not wish to break up Elwell's marriage, so neither pursued the other once their work on the island was terminated, though they would always remain fond of each other.
There are several websites and blogs that purport the photo at left is Clara Barton and John J. Elwell. Some even claim "confirmation" of this. All are pure wishful thinking and pure imagination.
Considering that Mathew Brady's famous portrait of Clara is also believed to have been taken in 1865, differences of their facial features are obvious--Clara had a much wider, rounder face, with eyes further apart, than that of the woman at left. Also, taking into account the evidence of the circumstances that Clara met and was with John J. Elwell, never having before met until their time at Hilton Head, it is even more conclusive that this is not Clara. And finally, knowing Clara's personality--her intense shyness which was with her all her life, she never would have flaunted such a relationship by have a portrait taken of herself with Elwell.
As for her dress and hair style, this was the style and fashion of just about every woman of this social class in this time period.
But if all this is not sufficient enough to convince, see this photo analysis.
In May, Clara met Frances D. Gage, and together they worked to educate former slaves and prepare them for their life beyond slavery. Here, Clara developed an interest in the growing movement for equal rights among women and African Americans.
On July 14, 1863, Clara moved from Hilton Head Island to Morris Island to tend the growing number of sick and wounded soldiers - a list that would greatly expand after the failed Union assault on Fort Wagner on July 18, 1863. Later in the Morris Island campaign, working out of her tent, she would seek to address the growing problem of sickness on the island by passing out fresh food and mail to the troops in the trenches. Despite her great efforts, Barton herself would become gravely ill and would be evacuated to Hilton Head island.
"We have captured one fort - Gregg - and one charnel house - Wagner - and we have built one cemetery, Morris Island. The thousand little sand-hills that in the pale moonlight are a thousand headstones, and the restless ocean waves that roll and breakup on the whitened beach sing an eternal requiem to the toll-worn gallant dead who sleep beside."
- Clara Barton on Morris Island
At the Siege of Ft. Wagner, South Carolina, August 10 - 11, 1863, Clara helped to establish field hospitals and distributed supplies following the failed assaults.
She then returned to Washington, DC from January to May, 1864 to collect supplies and to recuperate.
At the Battles of the Wilderness and Spotsylvania Court House near Fredericksburg, Virginia in May 1864, Clara arranged for the opening of private homes for the care of wounded with the assistance of Senator Henry Wilson, chairman of the Military Affairs Committee.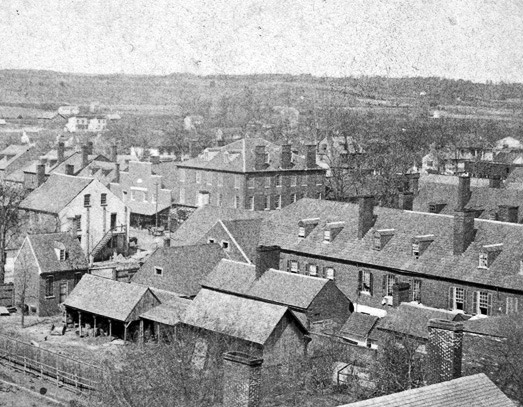 Planter's Hotel - Planter's is the large square building in the middle distance, at the corner of Charles and George Streets.

Barton visited here in May 1864, when men of the Ninth Corps wounded at the Wilderness and Spotsylvania were brought here.
"I was struck with their fine soldierly figures and features remarkable even in terrible extremity," wrote Barton, "and stopping by one I asked 'where are you from—' 'Michigan,' and so on 'Michigan,' 'Michigan,' up one flight of stairs and another. Still 'Michigan.' At length in my surprise I said without reflection, 'Did Michigan take up this hand and play it alone'? Yes, faintly answered a poor fellow at my feet wounded all over, who evidently understood better what he was saying than I did, 'Yes, and got euchred.' I thought he was correct."
From "Mysteries & Conundrums" National Park Service
Fredericksburg in June 1864 continued to be an important hospital and logistical center for the Union Army, as wounded poured in from the overland campaigns advancing upon Richmond.
From June 23, 1864 to 1865, Clara was placed in charge of diet and nursing at an X Corps hospital near Point of Rocks, Virginia, appointed as superintendent of the nurses by Army of the James Commander Major General Benjamin F. Butler The "flying hospital" served the wounded from the almost daily fighting outside Petersburg.

The International Red Cross established in Geneva, Switzerland
---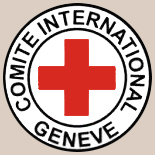 The first Geneva Convention for the Amelioration of the Condition of Wounded in Armies in the Field was held in Geneva, Switzerland in August 1864, where the International Committee of the Red Cross was established. Clara was unaware of this event and the United States did not join the organization.
Jean Henri Dunant (8 May 1828 – 30 October 1910), also known as Henry Dunant, was the founder of the Red Cross, and the first recipient of Nobel Peace Prize. The 1864 Geneva Convention was based on Dunant's ideas. In 1901 he received the first Nobel Peace Prize together with Frédéric Passy, making Dunant the first Swiss Nobel laureate. Dunant was a Swiss businessman and social activist. During a business trip in 1859, he was witness to the aftermath of the Battle of Solferino in modern-day Italy. He recorded his memories and experiences in the book A Memory of Solferino which inspired the creation of the International Committee of the Red Cross (ICRC) in 1863. Info and photo from Wikipedia.
Stephen Barton, Jr. dies after capture and imprisonment by Union
---
In 1864, Clara's brother Stephen, who was standing vigil at his mill in Bartonsville, North Carolina, along with the families of Confederate soldiers in Hertford were beginning to suffer from want of supplies due to the blockade. Stephen Barton and a few sympathetic friends arranged to bring supplies from Norfolk in exchange for their own cotton. With a pass from Union officers who controlled the eastern side of the Chowan, Stephen himself made several trips by wagon into Pasquotank County, where Union agents purchased his cotton and gave him bacon and other commodities for distribution to the poor of Hertford County.
On one such mission, Barton was arrested by Union authorities on suspicion of being a Confederate agent, imprisoned at Norfolk, and mistreated by prison officials. His health broke, and, by the time Clara was able to learn of his condition and have him freed, he was near death. He joined Clara at a field hospital near Richmond, and the two of them went to her home in Washington, D.C., where he died on March 10, 1865. Clara accompanied his remains to Oxford, Mass., where Stephen was buried in the Barton family cemetery.
Three weeks later, on April 1, a Union cavalry patrol arrived at Bartonsville and, on the assumption that it was Confederate property, burned the entire establishment.
Clara appointed by President Lincoln to help locate missing soldiers and notify their families
---
In March 1865, with the assistance of Senator Wilson, Miss Barton won the approval of President Abraham Lincoln to address the problem of large numbers of missing soldiers. President Lincoln appointed her General Correspondent for the Friends of Paroled Prisoners. She reported to work on this task at the War Department in Annapolis. This department provided food, clothing, and assistance with correspondence for prisoners of war returning from Belle Isle and Andersonville, and also was responsible for recording the deaths of soldiers.
Observing that the soldiers seemed the most knowledgeable on identifying the names of other soldiers—distinguishing the living from the dead—she thought to solicit their assistance. Clara published, posted, and distributed lists of the names of missing soldiers in sources such as newspapers and post offices, and at various organizations. She established The Office of Correspondence with Friends of the Missing Men of the United States Army on March 11. Recognition by the War Department followed two months later. She received an overwhelmingly positive response from the public, and helped to reunite countless soldiers with their loved ones. For four years her job was to respond to anxious inquiries from the friends and relatives of missing soldiers by locating them among the prison rolls, parole rolls, or casualty lists at the camps in Annapolis, Maryland. To assist in this enormous task, Barton established the Bureau of Records of Missing Men of the Armies of the United States and published Rolls of Missing Men to be posted across the country.
Through this project, Clara was led to another project that called for the identification and formal burial of thousands of Andersonville prisoners.
End of the Civil War and Clara's involvement with the Army in identifying and burying the dead
---
On April 9, 1865, Confederate General Robert E. Lee surrendered to General Ulysses S. Grant at Appomattox Court House, Virginia, signaling the end of the Civil War.

In 1861 the War Department had issued orders directing the US Army Quartermaster General to assume responsibility for the burial and documentation of the nation's war dead. The first national cemeteries were established the next year in 1862. Between 1862 and 1871, the US Army Quartermaster created national cemeteries at battlefields, hospitals, and prison sites throughout the north and south. Many of these were established between April 1865 and 1871 as part of what was known as the Federal Reburial Program.
In the fall of 1865, U.S. Quartermaster General Montgomery Meigs ordered an assessment of the condition and location of graves to ensure their protection, an increasingly urgent issue in face of growing bitterness and defiance in the defeated South. Units of northern soldiers searched across the battle fronts of the war for slain Yankees, inaugurating what became over the next six years a massive federally supported reburial program. Ultimately, 303,536 Union soldiers were reinterred in 74 new national cemeteries, and Congress officially established the national cemetery system. Careful attention to the content of graves and to the documentation that poured in from families and former comrades permitted the identification of 54 percent of the reburied soldiers. Some thirty thousand of the reinterred were black soldiers. Just as they were segregated into the U.S. Colored Troops in life, so in death they were buried in areas designated "colored" on the drawings that mapped the new national cemeteries. Among these national cemeteries established by the US Army Quartermaster during the Federal Reburial Program was Andersonville.
This federal effort included only Union soldiers. Outraged at the official neglect of their dead, white southern civilians, largely women, mobilized private means to accomplish what federal resources would not. In Petersburg, Virginia, for example, the Ladies Memorial Association oversaw the re-interment of 30,000 dead Confederates in the city's Blanford Cemetery. What was to become the cult of the Lost Cause in the latter decades of the century found an origin in the rituals of Confederate reburials. The federal reburial program represented an extraordinary departure for the United States Government, an indication of the very different sort of nation that had emerged from civil war. The program's extensiveness, its cost, and its location in the Federal Government would have been unimaginable before the war created its legions of dead, a constituency of the slain and their mourners, who would change the very definition of the nation and its obligations. The memory of the Civil War dead would remain a force in American politics and American life well into the 20th century and beyond.
From Necessity to Honor: The Evolution of National Cemeteries in the United States, National Park Service
Civil War Era National Cemeteries: Honoring Those Who Served, National Park Service
Clara Barton, Dorence Atwater, and the Andersonville Myth
---
Andersonville, or Camp Sumter as it was known officially, held more prisoners at any given time than any of the other Confederate military prisons. It was built in early 1864 after Confederate officials decided to move the large number of Federal prisoners in and around Richmond to a place of greater security and more abundant food. During the 14 months it existed, more than 45,000 Union soldiers were confined here. Of these, almost 13,000 died from disease, poor sanitation, malnutrition, overcrowding, or exposure to the elements. Civil War Trust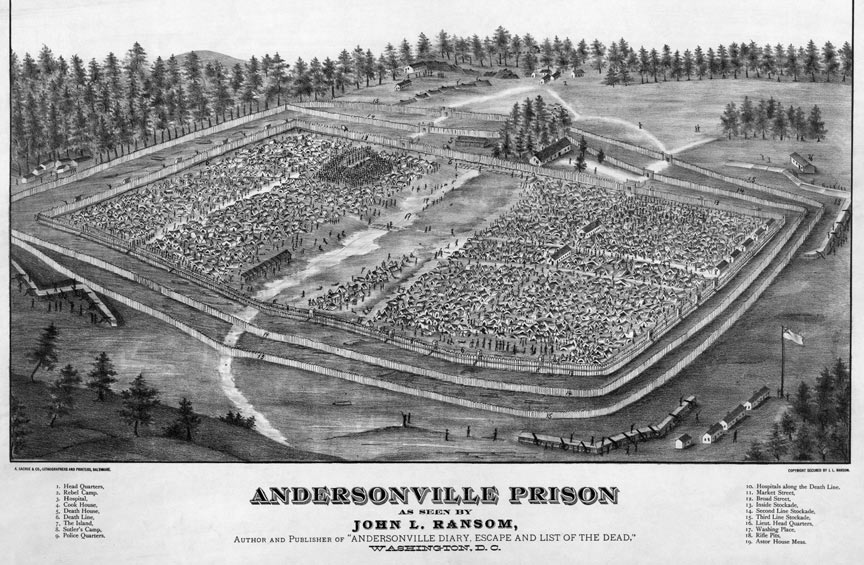 Click to see larger image, then click in browser to see full size. Photo from Wikipedia.
Paroled prisoners maintained lists of soldiers who died at Andersonville, and the burial crews ensured that the grave numbers on these lists corresponded with the grave number in the cemetery. Most famous among these was a young soldier from Connecticut named Dorence Atwater. When he left Andersonville in February of 1865, Atwater took copies of the burial list with him, and he turned these over to the army in the late spring of 1865. The Army Quartermaster office then used his list, combined with the Confederate copy that was captured at the prison hospital in May 1865, as the basis for documenting and identifying the graves.
On June 22, 1865 Atwater wrote Barton a letter introducing himself to her, and asked for a copy of her missing soldiers lists, suggesting that he could provide information on many of those listed. Barton then contacted Secretary of War Edwin Stanton and asked that she be given access to the Atwater lists, which by this point were in the possession of the army and being copied. Granting her request for access, Stanton invited Barton to accompany the expedition, which left Washington, DC on July 8, 1865.
The expedition to Andersonville was led by Captain James Moore, Assistant Quartermaster General, and veteran of the cemetery system. Moore had organized the burial efforts at Fort Stevens in 1864 and in the summer of 1865 he was assigned to lead expeditions to the Wilderness & Spotsylvania, which he did in June, and to Andersonville, which took place in late July and early August. After leaving Andersonville, Moore was assigned the responsibility for all cemeteries and burials in Virginia, and he also supervised the burial details at Antietam in preparation for the 5th anniversary of the battle. All total, Moore supervised the burial of more than 50,000 soldiers in cemeteries around the South.
Moore and Barton bickered throughout the journey to and from Andersonville. For example, while staying in Augusta en route to the prison site, Barton complained that Moore refused to wait for her at dinner. Moore considered Barton a nuisance to the work, complaining, "Some people don't deserve to go anywhere. And what in hell does she want to go for?" The tension between the two combined with the popularity of Barton ensured that Barton's version of the story was what the public saw.
Arriving at Andersonville on July 25th, the team worked with members of 137th USCT out of Macon, GA to physically replace the numbered headboards in the cemetery with proper headboards that listed each soldier's name, rank, unit, and date of death. By mid-August, nearly 13,000 graves were identified, with 400 graves marked "Unknown U.S. Soldier." With the help of Atwater, a total of 22,000 men would be identified before work on the missing soldiers project would come to a close. Fences and walkways were constructed and the graveyard at Andersonville was transformed into a national cemetery. Barton had access to the burial lists, and she spent much of her time responding to countless letters from loved ones. She also worked as a nurse for the work teams, several of whom became quite ill. Barton also spent a great deal of time meeting with area civilians, both black and white, discussing their thoughts about the prison and their plans for the future.
On August 17, 1865 a small ceremony was held in the newly established Andersonville National Cemetery. Clara Barton was given the honor of raising the American flag during this service, which also featured the playing of the Star Spangled Banner. Barton later claimed that the expedition to Andersonville was her idea, and the Harper's Ferry illustration of her raising the flag helped fuel this perception.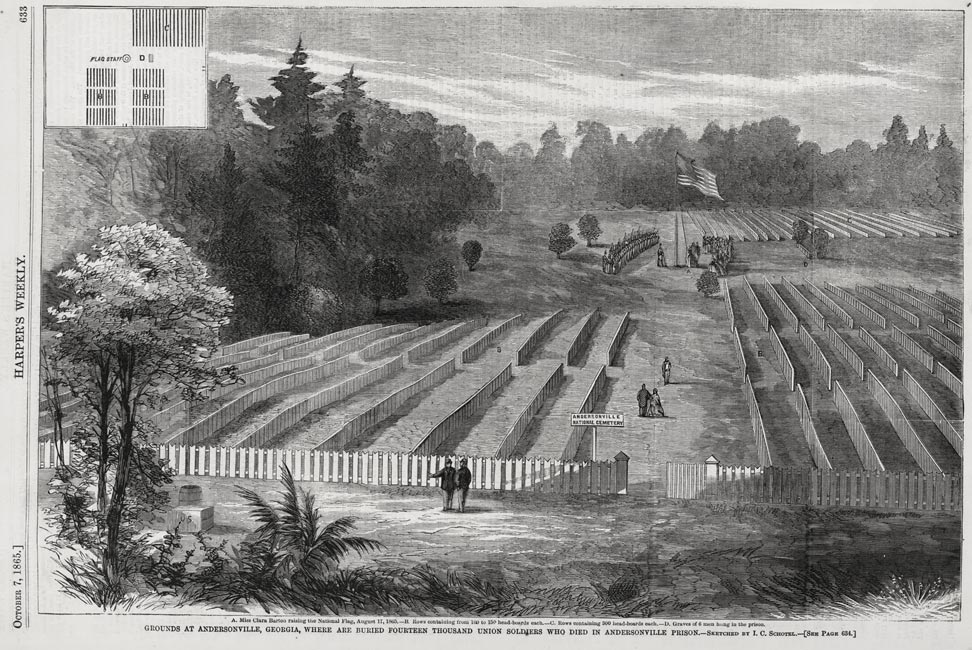 Barton's work at Andersonville was important. The army had an efficient system for establishing these cemeteries, but it lacked a system for informing family members that a loved one died in service. Barton filled this role, and continued to do so long after she left Andersonville.
Clara Barton collected relics at Andersonville and went on a national speaking tour raising awareness and funds for her work at the Missing Soldiers Office.
National Park Service - Andersonville Myth
Clara Barton, the lecturer
---
In the fall of 1866, at the suggestion of Fanny Gage, Clara embarked on an exhausting lecture tour. She began lecturing on her Civil War experiences in lyceum halls, churches, town halls and schoolrooms. Though she never felt comfortable in front of an audience, wherever she spoke she was well-received, and soon the tales of her work on the battlefields became widely known and even legendary. Clara was even asked to speak on behalf of women's rights, and at a Universal Franchise Convention in 1868 proclaimed that blacks had suffered far greater wrongs than women in their oppression. Her contemporary biographer Percy Epler wrote that "a tear-stained multitude thronged everywhere to hear her," for she made it her mission to show, as she said, not "the glories of conquering armies but the mischief and misery they strew in their tracks; and how, while they march on . . . some one must follow closely in their steps, crouching to the earth . . .faces bathed in tears and hands in blood. This is the side which history never shows."
On February 21, 1866, Clara testified during the 39th Congress about her experience in Andersonville. On March 10, Congress appropriated $1500 (according to her obituary) to reimburse Miss Barton for expenses associated with her search for missing men.
From 1866 through 1868, Clara delivered over 200 lectures throughout the northeast and Midwest regarding her Civil War experiences. She shared platforms with other prominent figures including Frederick Douglass, Ralph Waldo Emerson, William Lloyd Garrison, and Mark Twain. She often earned $75 to $100 per lecture.
It was during these lecture tours, on November 30, 1867, that Clara met Elizabeth Cady Stanton and Susan B. Anthony. The resulting friendships aligned Miss Barton with the suffrage movement.
Clara lost her voice in Dec. of 1868 from fatigue and mental prostration while delivering a speech.
In 1869, Clara closed the Office of Correspondence with Friends of the Missing Men of the United States Army, having received and answered 63,182 letters and identified 22,000 missing men.

The Biography of Clara Barton At the front: Clara Barton & the Civil War
Clara Barton Chronology, National Park Svc.

Clara in Europe - Geneva, Switzerland
---
On the advice of her doctor, in September of 1869, when she was 48, Clara traveled to Europe for a much needed rest. She embarked on a whirlwind tour with her sister Sally, and remained overseas even after Sally returned home to the United States. While in Switzerland, Clara was visited by Dr. Louis Appia of the International Convention of Geneva. He had heard of Clara's work during the Civil War and hoped that she could persuade the U.S. government to acknowledge the articles of the Geneva Convention.
Twelve nations originally ratified the Treaty of Geneva. These articles—which legally bound the signatory nations to an agreement that impartial relief would be provided to the wounded, sick, and homeless during wartime—formed the basis of the International Red Cross, organized during conferences held in 1863 and established in 1864 by Swiss businessman (Jean) Henri Dunant. In 1859, Dunant had witnessed the horrors of the bloody aftermath at the Battle of Solferino, Italy, and was inspired by the compassionate acts of the peasant women who bound the wounds of their soldiers as well as the enemy's while murmuring that "all are brothers." Miss Barton was amazed to learn that the United States government had rejected the idea of the war relief organization and had not joined, even while she toiled as a private citizen to supply the needs of the wounded on the American battlefields during the Civil War. Clara was inspired to push for the adoption of both in the United States.
The Biography of Clara Barton: Birth of the Red Cross National Park Service Manuscript
Dr. Louis Appia photo and info from Wikipedia
Clara in Europe - The Franco-Prussian War
---
On July 18, 1870, Napoleon III declared war on Prussia and its German allies, thus starting the Franco-Prussian War. Miss Barton worked under the sponsorship of the International Red Cross and the German Red Cross. During this service, on September 17, 1870, Clara met and established a lifelong friendship with the Grand Duchess Louise of Baden (Germany), the daughter of Kaiser Wilhelm I and the Empress Augusta. She was a noted philanthropist and was credited with founding the German Red Cross, advocated women working in disaster relief, and supported the establishment of nursing schools. Their friendship had a lifelong influence on Clara.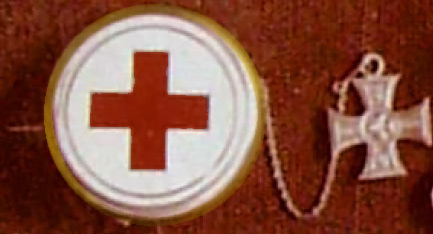 The Grand Duchess gave Clara her first Red Cross pin, issued her a railroad pass and sent her to the besieged city of Strasbourg, France. Miss Barton wore this pin throughout her second war relief experience, the Franco-Prussian War. There in Strasbourg, under the sponsorship of the Grand Duchess, Clara met Antoinette Margot, who became her co-worker, travelling companion, and translator. In Strasbourg, they organized relief efforts and established sewing factories in order to provide clothing for the residents and employment for women.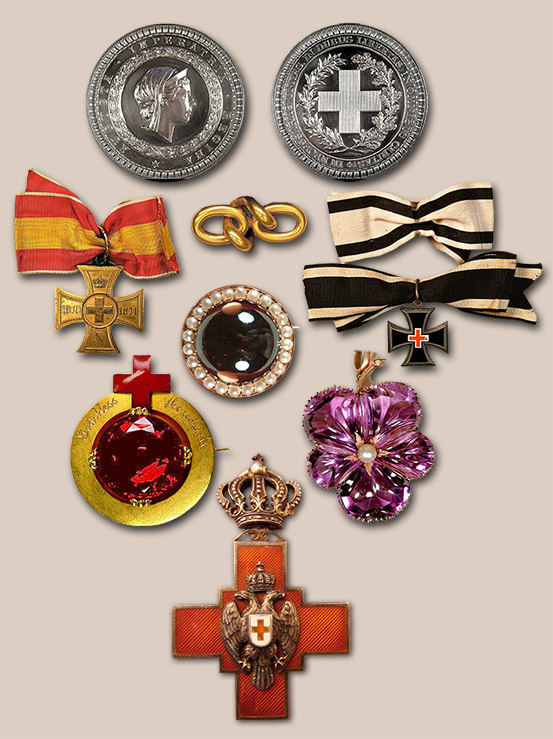 Clara's work with the Red Cross during the Franco-Prussian War contributed to her international legacy. Kaiser Wilhelm I and the Empress Augusta recognized Miss Barton's accomplishments and honored her contributions to the war relief efforts with several awards. The Grand Duke and Duchess of Baden also accorded Miss Barton official recognition and presented her with awards and gifts.
The amethyst pansy brooch (bottom right) and smoky topaz (bottom center) brooch presented to Clara by her dear friend, the Grand Duchess Louise, became her most cherished possessions.
Clara Barton A Lifetime of Service, The National Park Service, Clara Barton National Historic Site
Bottom pin is the Red Cross of Sebia, awarded in gratitude for Balkan War relief in 1885.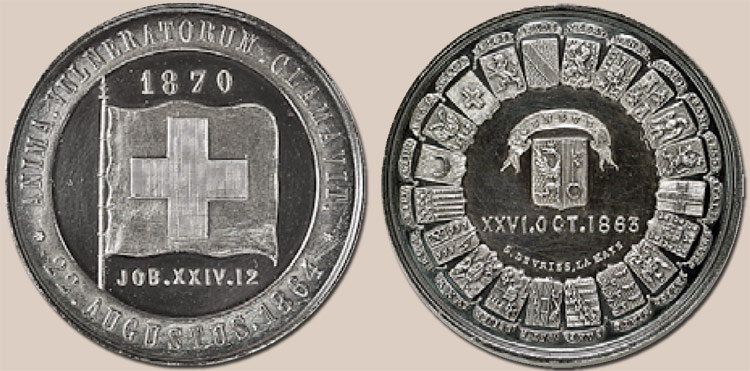 1870 Dutch Token for Sanitation
Flag with the Geneva cross, Job XXIV.12 (From the city men groan, And the souls of the wounded cry out; Yet God does not pay attention to folly.) Anima.Vulneratorum.Clamavit. 22.Augustus1864 Founding date of the International Red Cross. Reverse. Arranged in circle, twenty armorial shields, with names of the respective countries, beginning above : Neerl., Denem., Spanie, Franc, Hesse, Italie, Portug., Pruiss, Wurtb, Saxe, Oost. R, Beijer, Zw. N. W., Brita, Americ, Egijpt, Rusl., Swit.l., Belgie, Bade In field, the Arms of Geneva. Above, upon a scroll : Geneve. Below : XXVI. (26) Oct. 1863 (date of the Geneva Convention). I S.De Vries.La Haye Silver, aluminum, bronze.

Clara directed relief work in Paris for six weeks in 1871, establishing workrooms in Lyon, and providing assistance in Besancon and Belfort. From 1872 to 1873, she suffered from nervous exhaustion and temporarily lost her eyesight. She traveled to England in an attempt to recuperate.
In October 1873, Clara returned to the United States, but nervous strain continued to plague her. Her condition worsened after her sister, Sally Barton Vassall, died on May 24, 1874.
In 1876 Clara moved to Dansville, New York, first to a sanitarium and later to her own home. Relaxation, a healthful diet, and congenial company allowed her to regain her health. She met Julian Hubbell, a chemistry teacher, who eventually became her most devoted follower, and began her campaign to convince the government to ratify the 1864 Geneva Convention and found an American Red Cross Society.
Clara was so inspired by the efforts and triumphs of the volunteers of the International Red Cross that she took this movement all the way to President Rutherford B. Hayes in 1877 where it was unfortunately rejected.
From 1877 to 1881, Clara concentrated on educating the public and garnering support for an American society of the Red Cross.
She wrote and distributed the pamphlet, The Red Cross of the Geneva Convention. What It Is, in 1878 and met with President Rutherford B. Hayes to inform him about the Red Cross and enlisted the aid of friends to help publicize the organization. Later, President James Garfield was supportive of her appeal but did not get a chance to sign it for he was assassinated.
Despite failed attempts to persuade the American government to sign the Geneva Convention and extended visits to Washington, Barton and her associates founded the American Association of the Red Cross in Washington, D.C., on May 21, 1881. Barton, urgently wanting to strengthen the support and increase the size of the newly formed Red Cross, returned to her home in Dansville and began promoting the organization.

The First American Red Cross Chapter, Dansville, NY,
---
On August 22, 1881, Barton, supported by friends and town leaders, started the first local auxiliary in Dansville, N.Y., now known as the Clara Barton Chapter No. 1. There were 57 initial members and ultimately 92 names listed as charter members of this first chapter. The auxiliary was loosely structured, with annual dues of 25 cents. Over the next few months, additional chapters were formed in other towns and cities.
The fire left thousands homeless and without crops, livestock or jobs. As soon as news of the Michigan fire reached Barton in New York, she seized the opportunity to provide relief through the Red Cross. She distributed broadsides requesting donations of clothing, food, household items and cash. Barton designated the Dansville auxiliary as the Red Cross coordinator for relief donations to the survivors.
The first shipment to Michigan was sent from Dansville in eight large crates. Barton did not travel to the disaster site, but instead sent Mark Bunnell, son of the Dansville newspaper editor, to Michigan to oversee the relief operation along with Dansville resident Julian Hubbell. Barton remained in New York and continued soliciting donations and conducting meetings to promote the Red Cross, using the Michigan disaster to underscore the need for a centralized organization capable of processing and distributing the nation's outpouring of humanitarian relief. By 1882, she was successful in persuading the U.S. government to sign the Geneva Convention. Clara Barton maintained a residence in Dansville from 1876 to 1886, and her legacy lives on in the Clara Barton Chapter No. 1 of Dansville, N.Y., which still exists today.
Red Cross Retrospective: Home of the First Red Cross Chapter
The U.S. Joins the International Red Cross
---
In March of 1882, Clara's efforts were repaid when following unanimous ratification by the Senate, President Chester A. Arthur signed the Treaty of Geneva. On March 16, 1882, America joined the International Red Cross.


Clara's work from 1882 to 1890s
---
In the Spring of 1882 and 1883, while aboard the ship Mattie Belle, Clara directed American Red Cross relief work during flooding along the Mississippi River and its tributaries.
In May 1883, Clara was appointed superintendent of the Massachusetts Reformatory Prison for Women in Sherborn. She accepted the temporary position at the request of Governor Benjamin F. Butler, but resigned after eight months. She spoke at the International Conference on Prison Reform held in Saratoga, New York.
Miss Barton delivered numerous lectures promoting the Red Cross from 1884 to1890.
In February 1884, severe flooding of the Ohio River left over 5,000 families homeless. Clara directed the relief effort and the American Red Cross distributed $175,000 in cash and supplies.
Clara travelled to Europe in August 1884 as one of three U.S. delegates to the International Conference of the Red Cross at Geneva, Switzerland. The "American Amendment," which allowed the Red Cross to provide peacetime disaster relief, was adopted due in large part to Miss Barton's innovations with the American Red Cross.
In December 1884 a typhoid fever epidemic in Dansville, New York prompted The American Red Cross to provide financial and medical assistance to the stricken town.
Railroads provided free transportation as the American Red Cross donated supplies, including 130 barrels of flour during the November 1885 Galveston, Texas fires.
At the request of the International Red Cross in December 1885, American societies provided Balkan War Relief with financial assistance during the Bulgarian and Serbian War. The DePauw and St. Louis Red Cross Societies in Missouri provided $500 and $200, respectively.
Clara moved to Washington, DC in March 1886. During the following summer, she attended the National Encampment of the Grand Army of the Republic (GAR) in San Francisco, California.
The "Grand Army of the Republic" (GAR) was a fraternal organization composed of veterans of the Union Army (United States Army), Union Navy (U.S. Navy), Marines and the U.S. Revenue Cutter Service who served in the American Civil War for the Northern/Federal forces. Founded in 1866 in Decatur, Illinois, and growing to include hundreds of posts (local community units) across the nation, (predominately in the North, but also a few in the South and West), it was dissolved in 1956 when its last member, Albert Woolson (1850–1956) of Duluth, Minnesota, died.
GAR Medal
Charleston, SC Earthquake
---
On Aug. 31, 1886, an earthquake lasting just under a minute struck Charleston, South Carolina at 9:50pm. After the 1811 and 1812 earthquakes in New Madrid, Missouri, it was one of the most powerful and damaging earthquakes to hit the southeastern United States. It caused severe damage in Charleston, damaging 2,000 buildings and causing between five and eight million worth in damage ($125 to 200 million in 2014 dollars), while in the whole city the buildings were only valued at approximately $24 million. Between 60 and 110 lives were lost. Very little to no historical earthquake activity occurred in the area prior to it, which is unusual for any seismic area. Clara Barton travelled to the scene and the American Red Cross donated $500. Offers were made by Miss Barton for additional assistance, but were not accepted.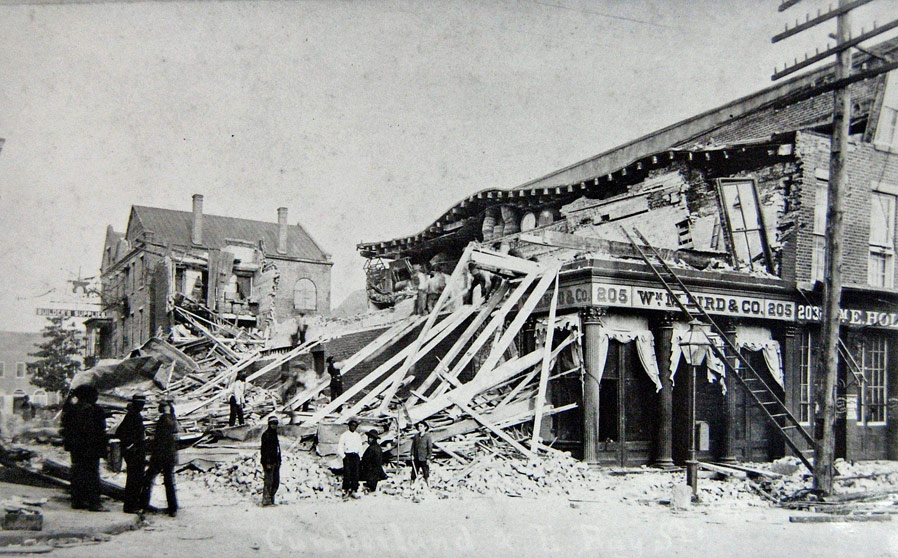 Photo from Drop, Cover, Hold' a reminder of earthquake risk in Charleston, The Post and Courier
Clara's report of the drought in Central Texas in 1887 motivated the state legislature to send $100,000 to the stricken area.
In June 1887, Clara volunteered the services of the American Red Cross at the National Drill and Encampment in Washington, DC. Within 6 days, 200 cases of illness were treated in a mobile hospital.
Clara served as a delegate to the International Congress of the Red Cross at Karlsruhe, Germany in September 1887.
In 1888 Clara attended meetings of various women's suffrage associations and spoke at several rallies in New York, New Jersey, and Massachusetts. She served as a vice president and was a featured speaker of the First International Woman's Suffrage Conference in Washington, DC. First Conference of the International Woman Suffrage Alliance
Miss Barton and the American Red Cross assisted 3,000 homeless by providing food, shelter, and clothing for victims of a tornado in Mount Vernon, Illinois, February 1888.
March 15, 1888 Clara Barton's brother, David Barton, died.
In August 1888, Clara visited affected areas of Jacksonville, Florida due to a yellow fever epidemic, coordinating relief with the Howard Association. Red Cross nurses immune to the disease were provided by the New Orleans chapter.
On May 31, 1889 Clara arrived to direct relief operations after over 2,000 died and thousands more were left homeless in the Johnstown, Pennsylvania flood. During four months of work, over $200,000 in supplies and $39,000 in cash were provided. This disaster relief program became the most celebrated effort in the early history of the American Red Cross.
In the 1890's The Red Cross provided disaster relief following fires in Milwaukee, Wisconsin, a drought in South Dakota, and severe storms across Kentucky, Texas, and Iowa.
Red Cross warehouse in Glenn Echo
A building was constructed for Miss Barton in 1891 as part of Edwin and Edward Baltzley's Chautauqua in Glen Echo, Maryland, a few miles northwest of Washington, DC. Early in the year the brothers convinced Clara to locate her headquarters at Glen Echo. As an enticement they gave her land and offered her free labor to construct a building. Miss Barton had lumber from the Johnstown flood, Pennsylvania, Red Cross Hotel (Hospital) with which she wished to build the structure. The lumber was "rough and full of nails" according to Edwin Baltzley but in order to comply with Miss Barton's wishes a portion were "woven into the structure." To match the other Chautauqua buildings the Red Cross Building was given a massive granite facade with a large red brick cross above the second story windows. Having once served as a hotel for homeless victims of the epic flood, the large warehouse at Glen Echo, Maryland served as the first permanent headquarters of the national Red Cross organization as well as a residence for Clara.
Clara at home in Glen Echo, Maryland
---
Clara's large frame house was partially constructed from lumber salvaged from emergency buildings built by the Red Cross at Johnstown, Pennsylvania in the wake of the Johnstown Flood of 1889. The lumber of the dismantled buildings was brought to Washington via the Chesapeake and Ohio Canal to avoid flooding the local market in Johnstown. The lumber was stored on a lot owned by Barton in Washington D.C. until early in 1891 when construction began on land donated by Edwin and Edward Baltzley, who were developing a Chautauqua assembly at Glen Echo. The house was designed by Dr. Julian B. Hubbell, the first field agent of the American Red Cross. Hubbell oversaw the construction work performed by Baltzley's construction team. The original structure included a massive stone front in a style in keeping with the rest of the Chautauqua buildings. In 1897, when Barton moved into the house permanently, the central part of the stone facade was dismantled, creating flanking stone towers. The addition of pointed roofs accentuated the effect on the deep, narrow house. In spite of its massive size, the house is sparely detailed and furnished for utility. The interior is designed as if it were a Mississippi River steamboat. The house contains 36 rooms and 38 closets, with three tiers of rooms facing a central gallery lighted by clerestory windows of colored glass. The Clara Barton House was listed on the National Register of Historic Places in 1974. Information from Wikipedia.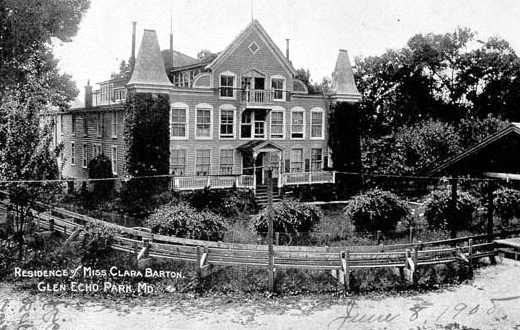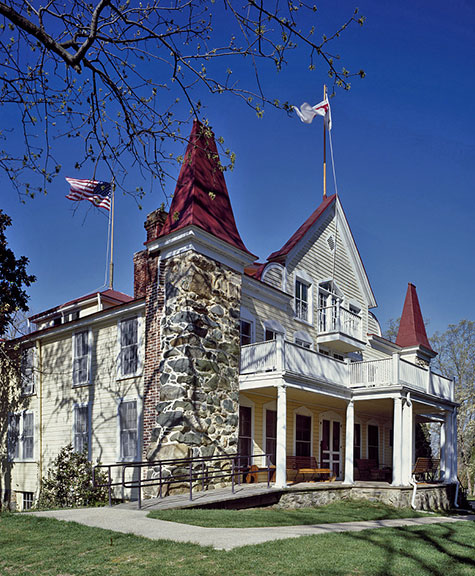 See interior photos at the Library of Congress website. See architectural drawings and floor plans at the Library of Congress website
Clara Barton the Reformer
---
Clara was intensely interested in social reform throughout her life, and her actions during the war gave her a platform to speak out for equal rights for women and African Americans. In 1892, Barton wrote and delivered a poem she had written about the women who worked on the front lines; "The Women Who Went to the Field." She addressed the doubts of those who scorned the idea of female nurses, asking, "Did these women quail at the sight of a gun? / Will some soldier tell us of one he saw run?" The work that she and many others performed during the war was an important prelude to the movement for women's suffrage, in which Barton took an active role.
"The Women Who Went to the Field" was written by Clara Barton. She read the poem during a reception on November 18, 1892 at the Willard Hotel in Washington, D. C. for the Potomac Relief Corps, a unit of the National Woman's Relief Corps. The poem has been reprinted in various sources, this transcription is from Angel of the Battlefield - The Life of Clara Barton by Ishbel Ross. Published by Harper & Brothers Publishing, 1956.

From the National Park Service website

The Women Who Went to the Field

The women who went to the field, you say,

The women who went to the field; and pray

What did they go for? just to be in the way!-

They'd not know the difference betwixt work and play,

What did they know about war anyway?

What could they do? - of what use could they be?

They would scream at the sight of a gun, don't you see?

Just fancy them round where the bugle notes play,

And the long roll is bidding us on to the fray.

Imagine their skirts 'mong artillery wheels,

And watch for their flutter as they flee 'cross the fields

When the charge is rammed home and the fire belches hot;-

They never will wait for the answering shot.

They would faint at the first drop of blood, in their sight.

What fun for us boys,-(ere we enter the fight;)

They might pick some lint, and tear up some sheets,

And make us some jellies, and send on their sweets,

And knit some soft socks for Uncle Sam's shoes,

And write us some letters, and tell us the news.

And thus it was settled by common consent,

That husbands, or brothers, or whoever went,

That the place for the women was in their own homes,

There to patiently wait until victory comes.

But later, it chanced, just how no one knew,

That the lines slipped a bit, and some 'gan to crowd through;

And they went, - where did they go? - Ah; where did they not?

Show us the battle, - the field, - or the spot

Where the groans of the wounded rang out on the air

That her ear caught it not, and her hand was not there,

Who wiped the death sweat from the cold, clammy brow,

And sent home the message; - "'Tis well with him now"?

Who watched in the tents, whilst the fever fires burned,

And the pain-tossing limbs in agony turned,

And wet the parched tongue, calmed delirium's strife

Till the dying lips murmured, " My Mother," " My Wife"!

And who were they all? - They were many, my men:

Their record was kept by no tabular pen:

They exist in traditions from father to son.

Who recalls, in dim memory, now here and there one.-

A few names where writ, and by chance live to-day;

But's a perishing record fast fading away.

Of those we recall, there are scarcely a score,

Dix, Dame, Bickerdyke, - Edson, Harvey and Moore,

Fales, Wittenmeyer, Gilson, Safford and Lee,

And poor Cutter dead in the sands of the sea;
(Continued at top of next column)

And Frances D. Gage, our "Aunt Fanny" of old,

Whose voice rang for freedom when freedom was sold.

And Husband, and Etheridge, and Harlan and Case,

Livermore, Alcott, Hancock and Chase,

And Turner, and Hawley, and Potter and Hall,

Ah! the list grows apace, as they come at the call:

Did these women quail at the sight of a gun?

Will some soldier tell us of one he saw run?

Will he glance at the boats on the great western flood,

At Pittsburgh and Shiloh, did they faint at the blood?

And the brave wife of Grant stood there with them then,

And her calm, stately presence gave strength to his men.

And Marie of Logan; she went with them too;

A bride, scarcely more than a sweetheart, 'tis true.

Her young cheek grows pale when the bold troopers ride.

Where the "Black Eagle" soars, she is close at his side,

She staunches his blood, cools the fever-burnt breath,

And the wave of her hand stays the Angle of Death;

She nurses him back, and restores once again

To both army and state the brave leader of men.

She has smoothed his black plumes and laid them to sleep,

Whilst the angels above them their high vigils keep:

And she sits here alone, with the snow on her brow -

Your cheers for her comrades! Three cheers for her now.

And these were the women who went to the war:

The women of question; what did they go for?

Because in their hearts God had planted the seed

Of pity for woe, and help for its need;

They saw, in high purpose, a duty to do,

And the armor of right broke the barriers through.

Uninvited, unaided, unsanctioned oft times,

With pass, or without it, they pressed on the lines;

They pressed, they implored, till they ran the lines through,

And this was the "running" the men saw them do.

'Twas a hampered work, its worth largely lost;

'Twas hindrance, and pain, and effort, and cost:

But through these came knowledge, - knowledge is power.-

And never again in the deadliest hour

Of war or of peace shall we be so beset

To accomplish the purpose our spirits have met.

And what would they do if war came again?

The scarlet cross floats where all was blank then.

They would bind on their "brassards" and march to the fray,

And the man liveth not who could say to them nay;

They would stand with you now, as they stood with you then,

The nurses, consolers, and saviours of men.
March 1892 Russian Famine Relief - Supervised by Clara Barton and Julian Hubbell, the American Red Cross sponsored its first overseas operation. Flour and cornmeal shipments fed 7,000.
1893 - 1894 Sea Islands, South Carolina, Hurricane - After a hurricane and tidal wave left over 5,000 dead, the American Red Cross labored for ten months to aid the predominantly African American population of the barrier islands.
1896 - Armenian Famine Relief, Ottoman Empire - Miss Barton travelled to Istanbul and supervised the relief of the starving and sick through the encouragement of more advanced farming techniques and hygiene practices. Miss Barton distributed over $115,000 in aid despite the hostile conditions presented by the Ottoman-Armenian conflict.
February 28, 1897 - The warehouse in Glen Echo, Maryland, became Clara Barton's permanent residence and national headquarters for the American Red Cross. She remodeled and occupied the house until her death in 1912.
Clara Barton Early Life through 1897 Clara Barton 1898 through 1912 Clara Barton Spanish American War Timeline
---
Photo and Information sources:
Barton's mills in Oxford, Google Books: History of the Town of Oxford, Massachusetts: With Genealogies and Notes
Biography of Clara Barton "The True Heroine of the Age" Life stories of Civil War Heroes
Chatham House National Park Service Wordpress A tiny witness grown grand MAY 25, 2011 / MYSTERIES&CONUNDRUMS
Clara Barton at Weebly.com
Clara Barton Birthplace Museum
Clara Barton, by Susan and William Harkins
Clara Barton earliest known photo ca 1850 Civil War Scholars
Clara Barton, Founder of the American Red Cross, by Barbara Somervill
Clara Barton house in Glen Echo in 1904 U.S. National Library of Medicine
Clara Barton in the Civil War: Facts, Timeline & History Study.com Clara Barton in the Civil War: Facts, Timeline & History
Clara Barton: In the Service of Humanity by David Henry Burton Google Books
Clara Barton in Tampa at 305 Plant Ave Red Cross Blog
Clara Barton journal at Library of Congress
Clara Barton's life as written in 1867 in Woman's Work in the Civil War: A RECORD OF HEROISM, PATRIOTISM AND PATIENCE BY L. P. BROCKETT, M.D.,
Clara Barton Papers Library of Congress
Clara Barton, Professional Angel By Elizabeth Brown Pryor Google Books
Clara Barton photos from the National Park Service
Clara Barton portrait ca 1865 Brady National Portrait Gallery Face to Face
Clara Barton, The Story Of My Childhood - Google books
Genealogy of Stephen Barton Google Books - History of the Town of Oxford, Massachusetts: With Genealogies and Notes on
Grounds at Andersonville, Georgia Library of Congress
Heritage Education: Medical Angels - Clara Barton and the Red Cross
History of Phrenology - The Fowlers
History of the Town of Oxford, Massachusetts: With Genealogies and Notes on Persons and Estates, 1892
National Park Service - Andersonville Myth:
National Park Service Clara Barton Chronology
Old Stone Schoolhouse Fairhaventours.com
Photo of Lorenzo Fowler Medical Antiques Archives
Planters Hotel - National Park Service - Mysteries and Conundrums Mystery undone: Clara Barton's Fredericksburg hospitals
Rear Admiral William T. Sampson Library of Congress
Sally Barton Vassall Clara Barton Birthplace Museum
Tampa Bay History SPRING/SUMMER 1998 VOLUME 20, NUMBER 1 "THE ROCKING-CHAIR WAR": VIEWS OF TAMPA IN THE NEW YORK PRESS DURING 1898 by William A. Lorenzen IV, USF Digital Archives
The Red Cross in Peace and War Project Gutenburg
The Women who went to the field by Clara Barton Life Stories of Civil War Heroes