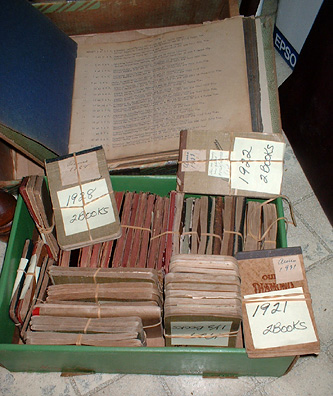 The Trail of the Maria Messina Midwife Records
Mrs. Greco found the midwife books in their closet one day, in this green citrus shipping box. Her husband told her about his cousin's wife, Maria Messina Greco, a truly remarkable woman. When Maria Messina Greco's husband (the older Salvatore) took ill and was unable to shave himself, it was his cousin Salvatore who would come to his home every day to shave him. In her later years, Maria was cared for by this Salvatore and later, Maria's daughter and son-in-law. Salvatore still had a wool cap which Maria made for him.
There are about 62 books which cover from 1908 to 1939. At the top here you can see the translation which someone started to type. The translation covers from 1908 through 1912.
Upon the suggestion from her friends, in 1992 Adele donated the records to the LDS church and they microfilmed the books on two rolls. She didn't expect them to return the records, but when they did come back, she put the records back in the closet without opening the box again.
In the summer of 2003, I was engaged in genealogical research for a friend in Havana, Cuba, whose mother was birthed by a midwife in Tampa. I discovered that the Family History Center in Tampa had two rolls of microfilmed midwife records so I visited the history center to review them. Though I did not find what I was looking for, I did find one of a distant relative in my own family.
At the beginning of the microfilm roll was the image of the letter that the LDS church wrote to Salvatore Greco, thanking him for submitting the records. The letter bore his address in the Tampa Bay area, so I also wrote him to thank him for his contribution. I included my email address and in a few weeks, received an email from Adele requesting that I call her. In the course of our long discussion about Tampa history, Salvatore's family and her family, Adele invited me over to visit and said she and Salvatore had no use for the records and wanted me to have them.