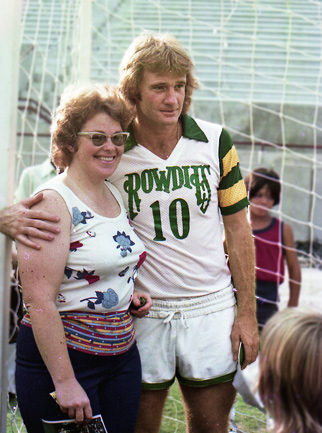 After the '76 season with the Rowdies, Rodney signed for Cork Hibernians before briefly returning to Fulham during the 1976-77 season; linking up with old friends George Best and Bobby Moore to play for the last time together in England.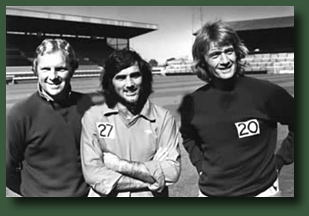 Rodney returned to the Rowdies in 1977, was a first-team all star selection in 1978, and played with the Rowdies until 1979. In all, he played 4 seasons for the Rowdies, scoring 48 goals in 94 games. He appeared in Soccer Bowl '79 (having missed Soccer Bowl '78 due to a leg infection). He was also named to two NASL All-Star teams.
He was a fine player, a marvelous showboat, peerless in the put-upon fall after a penalty he would allege, the best known of all the Rowdies. His fascinating skills, coupled with his outlandish showmanship and tantalizing unpredictability incited the cheers of hundreds of thousands of fannies.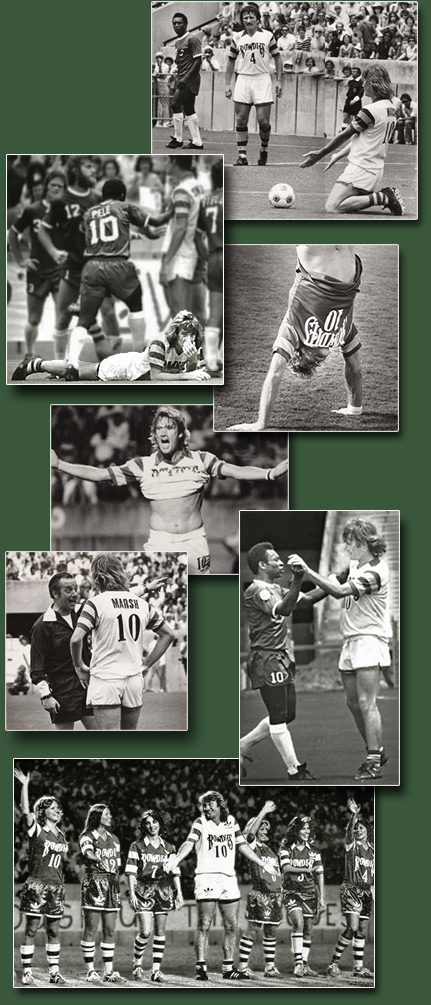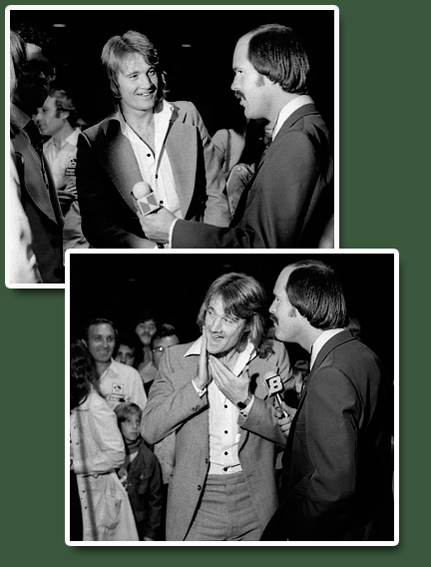 Rodney Marsh arriving at Tampa International Airport from England for the 1977 NASL season. Reporter is Bob South.

Rodney Marsh
"The Clown Prince of Soccer"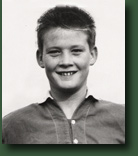 Rodney William Marsh was born October 11, 1944 in Hatfield, Hertfordshire, England. He was named after the HMS Rodney by his father, who served on the battleship. He played for Fulham F.C., Queens Park Rangers, Manchester City and the England national team before joining the Tampa Bay Rowdies.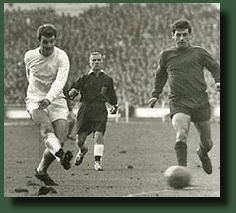 Marsh was one of a generation of highly talented "maverick" players that emerged in English football during the 1960s and 1970s. He began his career as a 15-year-old youth player at West Ham and and a year later went on to play for Fulham, for whom he made his debut in 1963. During his time at Fulham, in the act of heading a spectacular goal, a collision with a goal post and an opposing defender cost him the hearing in his left ear. The result: an outwardly engaging but personal lifetime habit of tilting his head to one side during conversation.
He was Fulham's top scorer with 18 goals the season before he was sold in 1966 at age 21 to join the Queens Park Rangers, then in the 3rd Division. Rangers supporters who had been used to good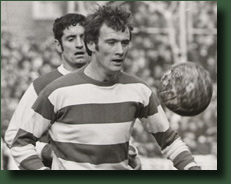 honest hard working forwards suddenly had a skillful forward with bewitching trickery that mesmerized opposing defenses. With his teammates help, Rodney was able to use his full repertoire of tricks to dismantle most teams. In the league, the Rangers scored 103 goals, 30 of them were by Rodney in 41 appearances.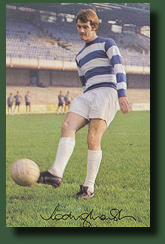 Marsh was adored by the locals, becoming 3rd Division and 2nd Division Champions, and inspiring triumph at Wembley in a League Cup Final, coming back from 2-0 down to win 3-2 in the final, with Marsh scoring the equalizer. Rodney scored 44 goals in 53 games in one season and a total of 134 goals in 242 appearances. Rodney became the crowd favorite and the fans used to chant 'Rod-nee-Rod-nee' which went right around the ground. The following year, QPR was promoted again to reach the First Division.
Marsh was picked to the England National Team while a 3rd Division player, unheard of in today's profession. He made his debut against Switzerland in 1971 and won a total of nine caps, scoring one goal, which came in a 3-0 victory over Wales.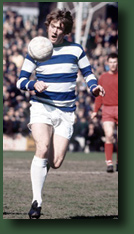 For a big man (over 6ft) he had incredible ball control and had a trick where he could pass to himself as he was running. He used to pass with his right foot but the ball would hit his left foot as he was running, making the ball veer the other way, which threw the defense and he could amble towards goal.
Rodney can be remembered as an extrovert who seldom did the expected during his career in England. Fans at Ipswich will remember a penalty kick he was awarded against them. Rodney ran toward the ball from the halfway line, swerving, jumping in the air and looking as though he was pedaling a bike. He got to the ball at the penalty spot, stopped, the goalie dived and he rolled it into the other corner. In 211 league appearances with QPR, Rodney scored 106 goals. All memorable.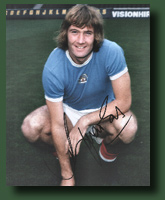 In 1972 he signed with Manchester City for a then club record transfer fee of £200,000. Despite his claim that his style simply did not suit that of the team, he became one of City's star players, scoring 19 goals in 1972-73 and often dazzling the crowd with his skills. Marsh led the club to a League Cup final in 1974, but were beaten by the Wolverhampton Wanderers. He left the club shortly into the 1974-75 season after disagreements with new manager Tony Book.
Rodney left Manchester City in 1976 with the exodus of international footballers to play in the NASL. He signed with the Tampa Bay Rowdies in 1976 where he made over 100 appearances and became the fan's favorite, going on to captain his team. (Continued at top of left column)
Years
Club
Games (Gls)
1962-66
1966-72
1972-75
1976
1976-77
1977-79
1986-1987
Fulham
Queens Park Rangers
Manchester City
Tampa Bay Rowdies
Fulham
Tampa Bay Rowdies
Tampa Bay Rowdies (indoor)

(22)
211 (106)
118

(36)
23

(12)
16

(5)
87

(41)
20

(13)

63
August 21, 1976 article after the Rowdies 3-1 victory over the Cosmos - "Pressure can't stop Marsh's fun"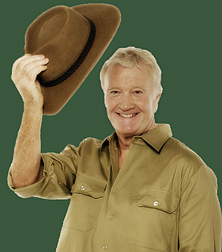 Read about Rodney's media career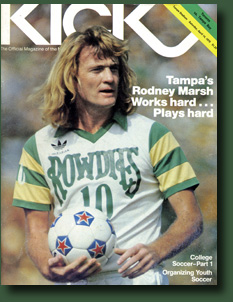 Marsh retired after 1979, and coached the New York United and Carolina Lightnin' teams in the ASL, before returning to the Rowdies to coach their final NASL season in 1984. He was head coach from 1984 to 1986, and was the team's chief executive for 11 years. In 1986, he came out of retirement to play one last season with the Rowdies, this time with the American Indoor Soccer Association (AISA). Marsh played in twenty games during the 1985-1986 season, scoring 13 goals.
Video: A great series of plays by Marsh in 1976 with teammates George Best & Bobby Moore at Fulham. Starting at the 1:10 minute mark of the video, a near goal by Marsh, then 2 great goals.
Video: Rodney Marsh goals from his English league days
Aug. 24, 1979 Article after winning American Conf. Championship: A Fitting Show for Broadway