"Monthly Weather Review, The Hurricane of October 25, 1921 at Tampa, Fla." Continued:

When the storm was at its height and despite its fury, anxious visitors filled the weather office, whose employees were busy taking special observations and looking after instruments. The concerned citizens continually provided damage reports to the weather bureau workers and brought news of the brave work of those who were assisting unfortunates to escape the rising tide.

The highest tide was calculated later by U.S. Engineers, to be 10.5 feet above mean at 2pm. This was by far the highest ever, the previous record being 5.55 feet during the hurricane of 1848. Egmont Key and Sanibel Island were practically covered over with water.

Minimum atmospheric pressure was reached on Tuesday, the 25th as the eye of the hurricane made landfall over Tarpon Springs. In Tampa, the pressure was recorded at 2:45pm to be 28.81 inches. In Tarpon Springs, the barometer read by A. P. Albaugh showed 28.12 inches at 2:15pm with dead-calm winds, the only reading to that point known to be taken directly in the eye. Albaugh reported that the calm lasted for an hour or more. An observer in Tarpon Springs was quoted as saying, "Some blue sky was seen, then the wind broke out from the west, blowing to beat the band." The lowest ever recorded in Tampa prior to this was in 1910 at 28.95 inches, though the hurricane of 1848 may have been lower.

The master of the S.S. Truxillo weathered the storm while approximately 24 miles west of Egmont Key. On Nov. 22, 1921, he sent Tampa meteorologist Walter J. Bennett his log entries during the storm. Beginning with Oct. 24th at midnight and ending with Oct. 25th midnight, he made entries every 1 to 2 hours and recorded the lowest barometric pressures from on the 25th from 10:20am to 10:50am; 28.28 inches. Prior to this time, wind speeds were hurricane force from the east, dropping to dead zero at this time, then quickly resuming hurricane force afterwards from the west.

By 3pm, the barometer had begun to rise as the storm turned towards the east and Ocala. By 8pm, winds in Tampa were from the west at 24mph, with gusts reaching 30mph during the night.

The total recorded rainfall in Tampa was 8.53 inches, but it is believed that more probably fell and was blown out of the rain gage. Tarpon Springs recorded 8.7 inches and Brooksville, 9.5 inches.

The lack of communication technology of the 1920s resulted in many preliminary news reports on the 1921 hurricane damage to be quite exaggerated, especially in regard to Pass-a-Grille being completely wiped out.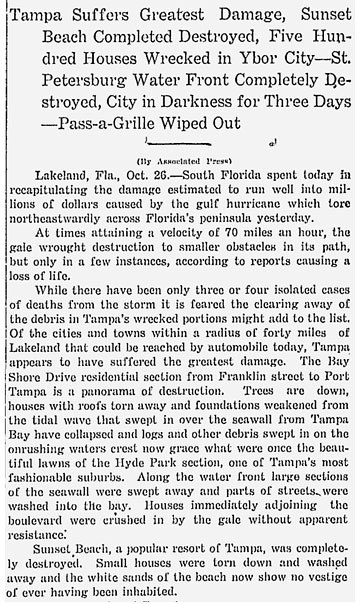 This article continues below