NHRA announcer Bernie Partridge tagged Garlits with the famous and favorable "Big Daddy" nickname at the 1962 U.S. Nationals. In the 1950s, when Garllits broke speed barriers and whipped the Southern Californians with his crude Swamp Rat I, they called him "Tampa Don," "Don Garbage," and "Swamp Rat."

Introduction

Donald Glenn "Don" Garlits (born January 14, 1932, Tampa, Florida) is an American drag racing driver and automotive engineer and is considered the father of drag racing. He is known as "Big Daddy" to drag racing fans around the world. Always a pioneer in the field of drag racing, he perfected the rear-engine "top fuel dragster design", an innovation motivated by the loss of part of his foot in a dragster accident. This design was notably safer, since it put most of the fuel processing and rotating parts of the dragster behind the driver. The driver was placed in "clear air," in front of nearly all the mechanical components, thus protecting the driver and allowing him to activate a variety of safety equipment in the event of catastrophic mechanical failure or a fire. Garlits was also an early promoter of the full-body, fire-resistant driver's suit - complete with socks and gloves, often branded as Nomex.

Garlits was the first drag racer to officially surpass the 170, 180, 200, 240, 250, and 270 miles per hour marks in the quarter mile; he was also the first to top 200 in the 1/8 mile. He has been inducted into several Halls of Fame and has won many awards during his career.

In May of 2014 at age 82, Garlits set a 184 mph speed record in an EV dragster, a battery-powered electric vehicle that does not burn fuel.


Information for this feature has been combined from these sources:

Life in the Fastest Lane by Ed Komenda 9-24-2014 - SBNation.com
Helen Lorenz Martino memorial
Orlando Sentinel - Deaths Hard-working Helen Martino was mother of race legend Don Garlits By Linda Florea, March 15, 2006
Don Garlits, Drag Racing's Golden Icon - Dragzine
Don Garlits, in the Beginning - Hemmings.com 2006 article
Pat Garlits, the great woman behind the man Aug. 28, 2012, Phil Burgess, National Dragster Editor
Wikipedia - Don Garlits
Don Garlits Speed Shop Tampa interior photos by LowKat at JalopyJournal.com
Ancestry.com

Early Life and Ancestry - Garlitz & Lorenz

Donald Glenn Garlits is a son of Edward Elmer Garlits (originally Garlitz) and Helen (Magdalena) Lawrence (Americanized, originally Lorenz).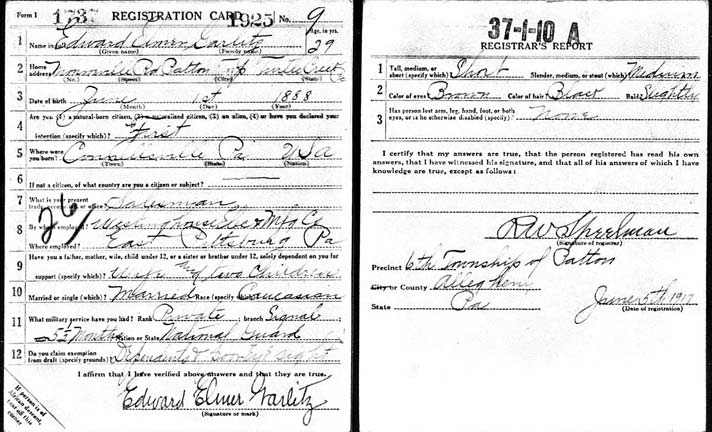 When Ed Garlits registered for the WW1 draft on on June 5, 1917, he was 29 and spelled his name "Garlitz." He was working as a salesman for Westinghouse Electric & Mfg. Co. in East Pittsburgh and had served 5-1/2 months as a private in the Signal Corps of the National Guard. Ed cited exception from the draft due to having dependants (a wife and two children) and poor eyesight. He was described as short, medium build with brown eyes, black hair and slightly bald.
Edward E. Garlits was born in Connellsvile, Pennsylvania on June 1, 1888. He was one of 9 children of Maryland native Theodore Henry Garlitz and Pennsylvania native Eliza Ann Eicher.
Theodore (Dec. 12, 1851 Maryland - Mar. 8, 1926 WV) was a son of John C. Garlitz & Mary Garlitz, Maryland natives.
Edward was 21 when he first married in Pennsylvania to Mabel Irene Booth McMullen. At the time, Ed was working as an apprentice for Westinghouse Co. (Mabel Booth, a daughter of Reuben Booth and Harriet Brown, was first married to David McMullen.)
With Mabel, Ed Garlits had sons Edward Elmer Garlits, Jr. in 1912 and George Garlits in 1916. On the 1920 Census, which was taken on Jan. 1, Ed was working as a clerk for Westinghouse. In May of 1920, they had son Merrill Roy Garlits who lived only for around 2 weeks.
Edward Garlits Sr. later became a Westinghouse engineer and was credited with helping design and build their first electric iron. Ed and Mabel divorced around 1926 with Mabel keeping the children and later working as a nurse.
Westinghouse Model "M"
The story of George Westinghouse is a fascinating one, the details of which fill volumes. His first endeavor, Westinghouse Air Brake Company, was founded in 1869 and would be the first of over 60 Westinghouse companies. At its peak, Westinghouse was the largest private employer in industrial history. In 1924, the company introduced an automatic non-adjustable clothes pressing iron employing a very clever, sturdy, compact, bimetal disc-type thermostat. This "Klixon" controller, so named for the sharp clicking sound it produced, was later incorporated into the company's top-of-the-line waffle irons. The Westinghouse clothes iron that first used the "Klixon" was the model "M" seen below. So far I have found magazine ads for the M as early as 1922 and as late as 1925, but it's only in the 1925 ad that its temperature control feature is touted. (Information and photos from Vintage Electricians Blogspot)
Don's mother
Don's mother, Helen Lawrence (Magdalena Lorenz) was born in 1910 in Austria-Hungary and came to the United States with her parents Anton & Katherine Lorenz when she was 3 months old.
| | |
| --- | --- |
| | |
| Magdalena (Helen) Lorenz, center, with her sisters Theresa on her right and Anna on her mother's lap, circa 1912. Photo from Kubik Family Tree, Ancestry.com | Anton Lorenz (Anthony Lawrence) ca. 1946 from Kubik Family Tree, Ancestry.com |
Helen's father, Anton Lorenz, b. Jun 21, 1886, a native of Erdevik, Hungary, worked as a swift tender for the wire cable company that earlier helped build the Brooklyn Bridge in New York. He and his wife Katharina Guth Lorenz (b. 1889, Austria-Hungary) lived with their children in company quarters in Trenton, N.J.
Helen had one older sister, three younger brothers and three younger sisters. According to her granddaughter Donna Garlits Perry, she was taken out of school in the eighth grade to take care of her siblings when her mother died.

Census records tell a slightly different story. On the 1920 census of Burlington Co., Florence Town, NJ, at 223 Fifth Ave., Anton is listed as "Anton Lawrence" with wife Kathryn and children Theresa, Lena (Magdalena/Helen), Tony, Joseph & Jacob & Kathryn. Anton was a furnace tender in the wire works industry.
Anton's 1930 census record in Trenton, NJ, at 250 Jersey St. near Beatty St. indicates he was still married, but Katherina was not listed in the home, she was listed in the New Jersey State hospital in 1930 when Helen would have been 20. It appears that Helen may have been removed from school after the 8th grade to take care of her siblings when her mother was hospitalized sometime between 1920 and 1930. Helen would have been in the 8th grade around 1923-24. Katharine was still listed in the NJ State hospital in Trenton, NJ in 1940. According to unverified personal family tree records, Katharine died in 1957.

Ed Garlits in Trenton, NJ

Trenton, NJ directory listings show a more detailed history for Ed. From 1925 to 1928, Edward E. Garlits was listed living at 25 Reeger Ave. as the proprietor of Garlits Health Food Store at 15 N. Montgomery, then at 121 E. Hanover in 1928 and residence at 25 E. Reeger. It's here in Trenton where Ed probably first met Helen.

Ed and Helen Garlits in Florida
The Garlits family story is that Helen eloped to Florida at age 16 when she married Edward Elmer Garlits.
"Ed and Helen Garlits came to Florida with about $100,000, which was a lot of money in 1927, and settled in a mansion in Tampa. Their wealth was short-lived, however. A Lakeland bank that held much of their money failed, and the couple lost everything except a piece of property outside Tampa, near Seffner, where they lived in a tool shed until Ed Garlits built a house."
Ed's next appearance after the NJ directory listings is on the 1930 census in Limona, Florida, where he owned a poultry farm.


Click image to see larger
On their 1930 census in the unincorporated area named Limona, Ed was 41, Helen was 19. This was the only census to ask at what age each person first married. Helen claims to have been 18 when she first married. (This is possible since Ed was still listed in Trenton directories in 1928.) They lived on a poultry farm and Ed owned their home which was valued at $2000. They were both able to read and write and speak English. Ed as well as his parents were born in Pennsylvania. Helen was from Austria and so were her parents. German was spoken in her home before coming to the US in 1910. She was a naturalized citizen Ed's occupation code was VVVV. The first two Vs were his occupation level and indicate he was a proprietor, the second two VVs indicate the industry which was agriculture. He was a poultry man on his poultry farm. The "O" indicates "working on his own account," in other words, self-employed. (Deciphering Occupation Codes Appended to the 1930 Census in One Step & Instructions to 1930 census enumerators)
Ed Garlits' Mansion on Bay Shore Blvd
Ed Garlits isn't listed on Trenton's or Tampa's city directories in 1929 through 1931. Even though Ed and Helen were listed in rural Tampa on a poultry farm in 1930, Ed was listed on Tampa's 1932 city directory as a manager, living at 3711 Bay Shore Blvd. with his wife Helen.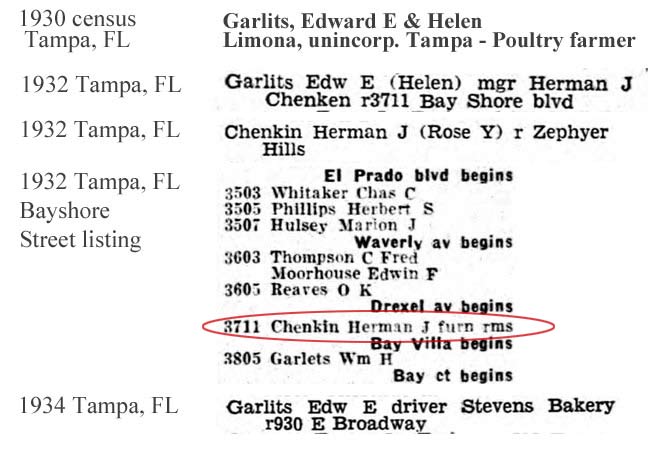 Herman J. Chenkin is also listed with him, which turns out to be the owner of the furnished room he's living in. It's not clear if he is the manager of the apartment building or if Helen actually lived there with him. Chenkin himself lived in Zephyrhills and the 1932 street listings show "Hermen Chenkin furnished rooms" at 3711 Bay Shore between Drexel and Bay Villa (south of El Prado.) There is a William H. Garlets living on the next block; it is not known if he was related to Ed, but his censuses in Tampa show he was also born in PA.
In 1934 Ed was listed as a driver for Stevens Bakery in Ybor City at 930 E. Broadway. This was his residence as well as the location of the bakery.

In 1885, 1935 & 1945, Florida took state censuses. Here in 1935, the Garlits family was living outside the Tampa city limits on Rt. 3. Ed was 41, born in Pennsylvania, had a college education, owned his home and worked as a peddler. Helen was 25, born in Austria, had a grammar school education and was "domestic." Donald was 3 and Edward L. was 1.
The Garlits family story is that Ed worked on a truck farm (a farm that produces vegetables for market) and loaded vegetables onto his Model-T Ford every day to sell in Tampa. Donald was born in 1932 and a couple of years later, his brother Edward Lawrence Garlits was born.

Riches to Rags
"From being a rich young wife in a mansion on Tampa's Bayshore Drive to living in a tool shed after the onset of the Great Depression wiped out the family fortune, Helen thrived. She raised her two boys during one of the most difficult times in America. She and the young boys were often seen in the strawberry fields in Plant City Florida, picking strawberries to help buy food for the Garlits table. Her husband Edward Elmer Garlits had a peddlers route selling vegetables and fruit in Tampa to provide the rest of the income."

"They came here to make a life for themselves and learned a good work ethic," granddaughter Donna Garlits Perry said from Abingdon, Va. in 2006, after her grandmother's death. "She went from wealth to rags. To go through something like that taught her that survival instinct, and she had that all her life."


Big Daddy's Childhood Memories
Son "Big Daddy" Don Garlits said some of his earliest memories are from that time. "My brother was a preemie, and she would put him in a tomato basket and I would carry him," Garlits said. "She would pick strawberries for a penny a quart to supplement their income."
Big Daddy tells stories like he's told them a thousand times. The story of his upbringing, as Big Daddy tells it, is one of overcoming adversity and impressing a father who did not dole out his love very often.
One story Big Daddy likes to tell happened in March 1934, when he was a little over 2 years old. His parents had moved to Florida in 1927 to start a life. For a while he made a living growing oranges, but he lost his business to a crumbling economy the year Don Garlits was born. Then, in March of 1932, a fire destroyed the Garlits' home and nearly killed baby Big Daddy before his father ran inside and saved him from the flames. His father started to rebuild the house from scratch, and two years later was preparing to build a fireplace.
"This truck dropped off a load of bricks," Big Daddy said of the day he believes he became a man. "[My father] wanted him to drop off the bricks where the fireplace was gonna be." It was a wet day, and the man with bricks refused to drive the load up to the house. He dumped them in the dirt driveway while Don's mother hollered and hollered. "She's only 22 and in a sack dress and no shoes," Garlits said. "Heart of the Depression: '34"

Then Ed Garlits came home from work and went ballistic. "He was ranting and raving and all of a sudden he got this bright idea," Garlits said. "He said: 'The boy can move the bricks.' And boy, did Don like that. But his mother piped up: "The baby can't move the bricks, Bill!" Helen yelled. "It's cruel!"

"It's not cruel," Ed said. "He can do it!" For the first time, baby Don felt like a contributing adult. His mother said he couldn't do something, but his father, a strong but often abusive man, said he could. He wanted to make his father proud.

"I'm already gearing up to do it. My dad said I could do it. My mother said I couldn't do it. I thought to myself: 'What in the world is she talking about? Who's the baby? You're holding the baby!" Garlits said of his little brother Ed, who had been born earlier that year.

Big Daddy's father went out to the dirt road and got out his engineer's slide rule. He walked up to Don's little red wagon and put five bricks in. He then looked at his pocket watch. He did some math, and said, "The boy can move the bricks in seven days, if he starts when I drive out this driveway in the morning at daylight and he stops when my truck comes in at dark."

Helen screamed and screamed: "The baby!" Garlits recalls. "Every other word was baby." As it turned out, Garlits said, the baby moved the bricks in five days and became a man.


The 1940s


The Garlits family's 1940 US Census shows they lived on a farm in a rural area between Wilson Rd. and Brandon Rd. The value of their home was $1200. Ed was 52, born in Pennsylvania, completed 4 years of college and worked as a peddler of retail vegetables. Helen was 29, completed 8th grade, born in Austria and listed as an alien.. Don was 8, completed 1st grade, and his brother Ed was 6.
In 1942 Helen and Edward divorced, and Helen married Alexander James Weir, moving just north of Lowry Park in Tampa. Don and his brother Ed grew up with a stepfather Alex Weir, who raised cows for a living. They bought a small dairy farm and had about 50 cows, establishing Weir's dairy in North Tampa. Helen raised calves and bottled milk for Lorton's Dairy, a small creamery located on the Weir's Dairy property. "Mom raised calves and washed bottles for the delivery route," Don Garlits said. "We milked the cows. We were paid $10 a week to do that." Alex Weir passed away in 1953 and Helen had to sell the dairy.


The Weir's 1945 Florida state census shows them living at 8124 N. Edison. Alex Weir, Jr. was 41, born in Georgia, had a 12th grade education and worked as laborer. Helen was 34, born in Austria, and again shows an 8th grade education. Don was 13, completed 8th grade, Ed was 11, completed 6th grade.


8124 N. Edison on Google Street View
| | |
| --- | --- |
| | |
| | Dance marathon at the Sulphur Springs ballroom, 1931. Burgert Bros. photo courtesy of the Tampa-Hillsborough Co. Public Library. |
Helen then met Frank Martino in Sulphur Springs at a dance and the two fell in love; several weeks later they were married.
Helen Martino
Don said that during the next 45 years, his mother became known as the "Orchid lady of Tampa." She was a founder of the Tampa Bay Orchid Society and was listed in the National Orchid Register for creating hybrid orchids. Frank Martino died in 1997.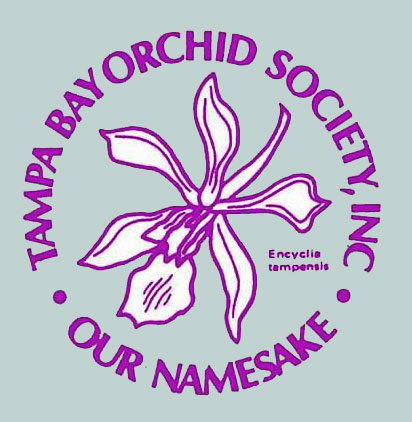 In her later years, Helen's sight began to fail due to glaucoma. Helen then moved to Ocala to live with her oldest son, Donald, at the Drag Racing Museum complex. Helen became the official greeter in the Antique Car Museum, a part of the Garlits Auto Museum facilities. She became a part of the legend of Don Garlits, telling the childhood stories of Don and Ed growing up. She spent a lot of time at the Don Garlits Museum of Drag Racing.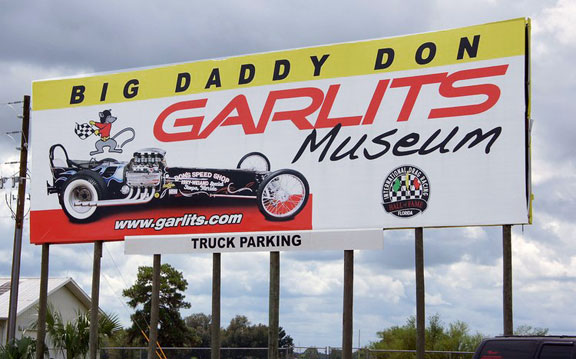 Photo from Tbucketplans.com
In 2005, at age 94, her health began to fail and she had to have constant care so her son Donald had the Bridges of Ocala care for her. She passed away peacefully in her bed there, on March 12, 2006, at age 95.
Edward Elmer Garlits married Laura Luella Fuller in Tampa in 1952, they divorced in Dec. 1961. He passed away in Seffner on May 11, 1966.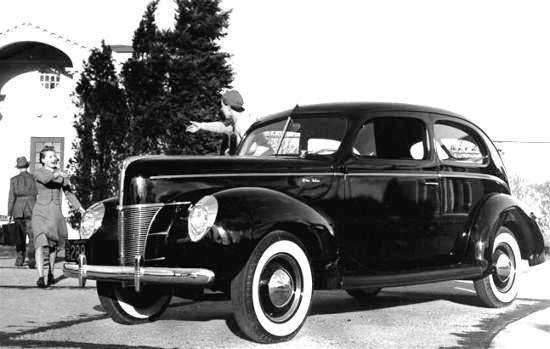 1940 Ford Tudor sedan
Photo from Americanautomobiles.com
"BIG DADDY" DON GARLITS
Before Don Garlits was Big Daddy, he was a mechanically inclined Eagle Scout from the swamps of western Florida who fell into drag racing by accident. It wasn't until Don was a senior at Hillsborough High School that he picked up his first car, a 1940 Ford Tudor sedan. It was around this time that Don enrolled in a metal shop class and began reading Hot Rod magazine.
Don's photo in the 1950 HHS yearbook "Hilsborean." Seniors were asked if they could be an animal, what would they want to be?
Photo courtesy of Rex Gordon, Hillsborough High School historian
After he graduated high school, he worked a short time in the accounting department of the Mass Brothers department store in downtown Tampa. Don then decided he hated the work, so on the advice of his stepfather to pursue his dreams as a mechanic, Don quit his job and got another one at a body shop.
Garlits traded his Blue 1940 Ford Tudor sedan for a 1940 Ford convertible stocked with a 1941 Mercury engine. That's the car he'd take to an Army Air Corps landing strip used for training pilots in Zephyrhills, Fla., for his first official race.
By the time Garlits got his first taste of victory on a quarter-mile strip in the 1950s, the public viewed drag racing as less of a sport and more of a pastime for outlaws in black leather jackets.
My first car was a Washington Blue 1940 Ford Tudor sedan, bone-stock and worn out from not having the oil changed regularly. The vehicle was driven during World War II and didn't get much service. As soon as I graduated from high school I traded it for a cute 1940 Ford convertible with a 1941 Mercury engine. This is the car I took to my first official drag race in Zephyrhills, Florida.

The local car club borrowed the old Army Air Corps training field from the city fathers. This was a common practice back then, the U.S. government would decommission the field and give it to the city or county, wherever the field was located. A local sheriff attended the event to keep order. Hot rodders had a very bad reputation back in 1950--we were considered "black leather jacket hoodlums." About 18 of us attended this first drag race and we had a ball. It was so much fun racing all day long and not having to keep looking in your rearview mirror for cops. We raced at Zephyrhills for several years until the county activated the airfield for private planes.
Drag racing's first couple, Patricia Louise Bieger a "pretty, petite brunette senior," and Don Garlits, a 20-year-old hot rodder in his '40 Ford ragtop, met at Florida's Lake Magdalene in 1952. He wrote in his book, "It was love at first sight."
I eventually customized the '40 Ford convertible and installed a Cadillac engine. I really loved that car. However, one day while at my buddy's Sunoco gas station, he said, "Let's go out to the lake and do a little water skiing." I agreed, and away we went to Lake Magdalene. It was here that I met my future wife, Patricia Bieger. When I went to her home for our first date, I could see the contempt her father had for the "hot rodder." Pat and I hit it off from the start, so the next day I traded the hot rod Ford for a bone-stock 1950 Ford Tudor sedan. My buddies thought I was crazy and I was... over Miss Bieger.
They dated for eight months – "dancing, bowling, the movies, at the beach, no drag racing. "I never even mentioned it," he recalled. They were married on Feb. 20, 1953, and celebrated their 60th anniversary in 2013.
Pat proved she was going to be his good-luck charm when he won his first trophy at an airstrip in Lakes Wales, Fla. and she understood his need for speed. He was hooked on racing just a month after they married, when Pat and Don decided to picnic in Lake Wales. From that day forward, Pat supported Don through every race.
| | |
| --- | --- |
| | Less than a year later we were married and we still are. About a month into the marriage we were on our way to a picnic at the Bok Tower, in Lake Wales, Florida, when I saw a small sign by the road on Highway 60 into Lake Wales that read "Drags Today," with an arrow pointing down this dirt road. I said to Pat, "Let's check it out," and she said, "Fine." The guy at the gate wanted 50 cents each and asked me did I want to run the '50 Ford? I said yes, and he charged me another 50 cents. I ran in the stock class (we didn't have classes at the Zephyrhills events), and I won my first trophy. I still have it and it sits proudly in my office. Pat and I had a wonderful time that afternoon and, of course, I was into drag racing for the rest of my life. |
| Twenty-year-old Don Garlits was Pat Bieger's senior-prom date in 1952. They were married the next year and were inseparable ever since. Photo courtesy of NHRA.com | |
When he won a $450 paycheck-poker "hand" at work (he was working at the American Can Co. as well as painting cars for a living), they toyed with the idea of putting it down for a house, but Pat told him, "Honey, why don't you get that Mercury crank and pistons you've wanted. Enjoy yourself; you might not be able to later." At the time, Garlits was a member of the Florida National Guard and was on standby to be deployed into action in the Korean War. Fortunately for him, hostilities ended before that happened, but he never forgot. "This is the kind of support I have always received from Patricia Louise throughout our entire marriage," he wrote.
Pat herself even drag raced for a short time in 1962, wheeling Don's bright-red 413-powered Super Stock Dodge in Powder Puff competition at Golden Triangle Drag Strip.
"I usually won, but it had nothing to do with my driving abilities," she was quoted in Mike Mueller's book, The Garlits Collection. "My Dodge was simply always the fastest car out there. It always had the strongest engine; Don wouldn't have it any other way. I just stepped on the gas and held on. I won a couple trophies, but after a while, I decided Don was the racer in the family."
Motorsports in general and drag racing in specific can never thank her enough or repay what she did to help her husband's legendary career.
She was there with Don when he was a wide-eyed kid, dreaming of a big-time racing career. They often embraced after a record-shattering performance — like the first time Garlits became the fastest drag racer on the planet, clocking 176.4 mph in 8.78 seconds on Nov. 10, 1957 — the camera snapping around them, the claps and hollers making it impossible to hear a sound.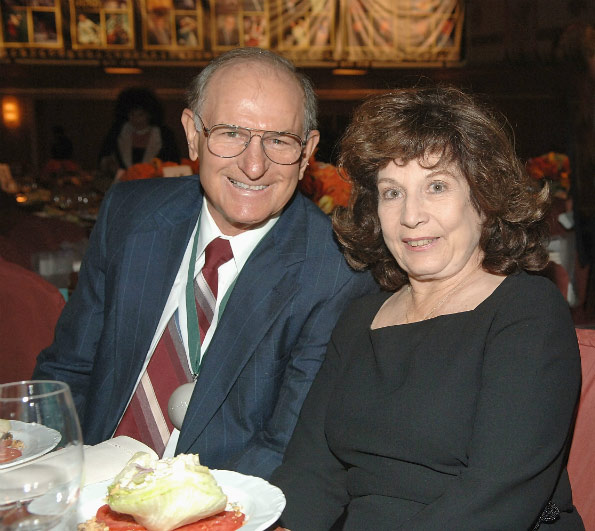 Don's wife, Pat Garlits, his soul mate of 61 years who was the only person who could ever keep him under control, lost her battle with Alzheimer's in February of 2014. Patricia's obituary
Read more about Pat Garlits and her influence in Don's life
Photo at left from SBNation.com at above link.
The Development of the First Dragster
In the early days of drag racing, post-World War II Central and Western United States military aircraft pilot training fields had become available for alternate uses, including auto racing. Don Garlits' first drag racing car was built under an oak tree at his home in North Tampa in 1954. Don decided to build a T roadster because that's what the guys in California chose as the ultimate lightweight speedster. A used car lot owner friend of Don's had a '27 T roadster project that just wasn't coming together like the California hot rod T's and in frustration sold his pile of parts to Don for $50. Don then built it into a drag racing modified roadster under a tree in his yard. An electric welder and a gas torch modified an old 1927 Ford Model "T" Roadster to accept a 1948 Mercury block, a 1939 Ford floor shift transmission, and a 1948 Ford differential and axle. That early T-Bucket's quarter mile performance was a 13.5 second elapsed time, at a top speed of 93 mph.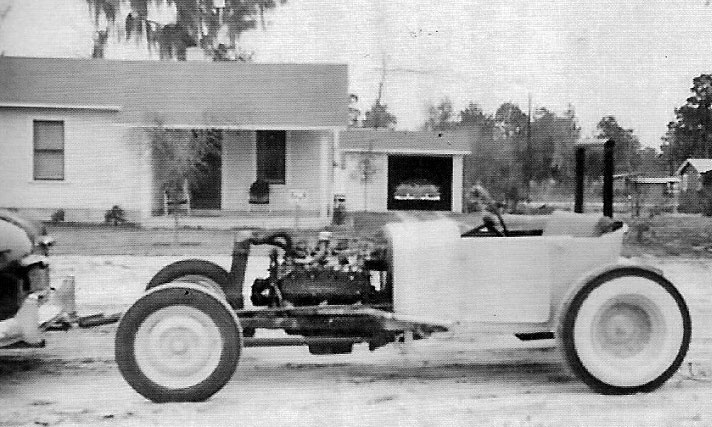 The 89″ wheelbase Model-T roadster that became the foundation for Don Garlits first dragster
Photo from tbucketplans.com "Don Garlits First Dragster had T-Bucket Roots."

Photo from tbucketplans.com "Don Garlits First Dragster had T-Bucket Roots."
It was this successful, formative roadster that would give Don the beginnings of his first rail-job dragster. He took off the body, moved the engine back and located the seat behind the drive axle, a design invented that same year by Mickey Thompson. This would be the 12.1 second, 108 mph slingshot dragster with which Big Daddy would win the first NHRA race he entered, when the NHRA Safety Safari came to Lake City, Florida.
Three years later, he became a professional drag racer. The first national drag racing meet, sponsored by the National Hot Rod Association was held on an airfield near Great Bend, KS in 1955. Garlits, being from Florida, was somewhat of an outsider. He was sometimes referred to as "the Floridian," before permanently adopting the nickname, "Swamp Rat," which also became the name for each generation of his innovative dragster designs.
Don tells about the transition from his old Ford sedan to the first dragster:
The Ford sedan was not fast enough, so we got a 1936 Ford five-window coupe, channeled it six inches and put in a hopped-up '50 Mercury engine. However, the coupe still couldn't win Top Eliminator, so I built a 1927 Ford T roadster and installed the Mercury engine. This was an instant success and I then took Top Eliminator on a regular basis.

Then one day I removed the roadster body and presto, I had my first dragster. With this machine I won Top Eliminator at the NHRA Drag Safari at Lake City, Florida in 1955. This was my crowning achievement up to that point. I was a member of a local car club known as the Strokers. After the big NHRA race, the club presented my wife and me with a little tea set in recognition of my winning the entire event: Nobody else in the club had won anything. Upon presentation of the tea set the president said to me, "Well Don, I guess you will retire now," and I asked him why I should do that. He said, "Because you can never beat the Californians."

I didn't answer him, but I wondered what he saw when he looked at me and why he thought I was not capable of beating the racers in California.


Photo from tbucketplans.com "Don Garlits First Dragster had T-Bucket Roots."


Photo from tbucketplans.com "Don Garlits First Dragster had T-Bucket Roots."

I was towing my little flathead dragster with a Chrysler-powered 1939 Ford coupe. The engine was a 1954 Chrysler Hemi with 331 cubic inches. The Hemi had lots of torque and was perfect for towing on the two-lane roads we had in the 1950s.

One day at Macdill Field, the local SAC base, I broke the transmission in the flathead dragster. The base commander liked the hot rodders and he built some very nice clocks, so we could time-trial our cars once a month. This was good because not all the strips had clocks yet. Well, there I was, Pat and I had a picnic lunch and a broken dragster. I decided to time the coupe. Pat cautioned me to be careful and not speed-shift the transmission or we would be walking home. The coupe, on an easy pass, recorded 114 mph in 14 seconds! The dragster had only run 110 mph in 12.5 seconds. While the dragster had a better ET, it only weighed 1,200 pounds, while the coupe weighed 3,600 pounds. On the way home I said to Pat, "The first person who puts a Chrysler Hemi in a dragster will beat our flathead."

"Why don't you put the Hemi in the dragster first?" she said.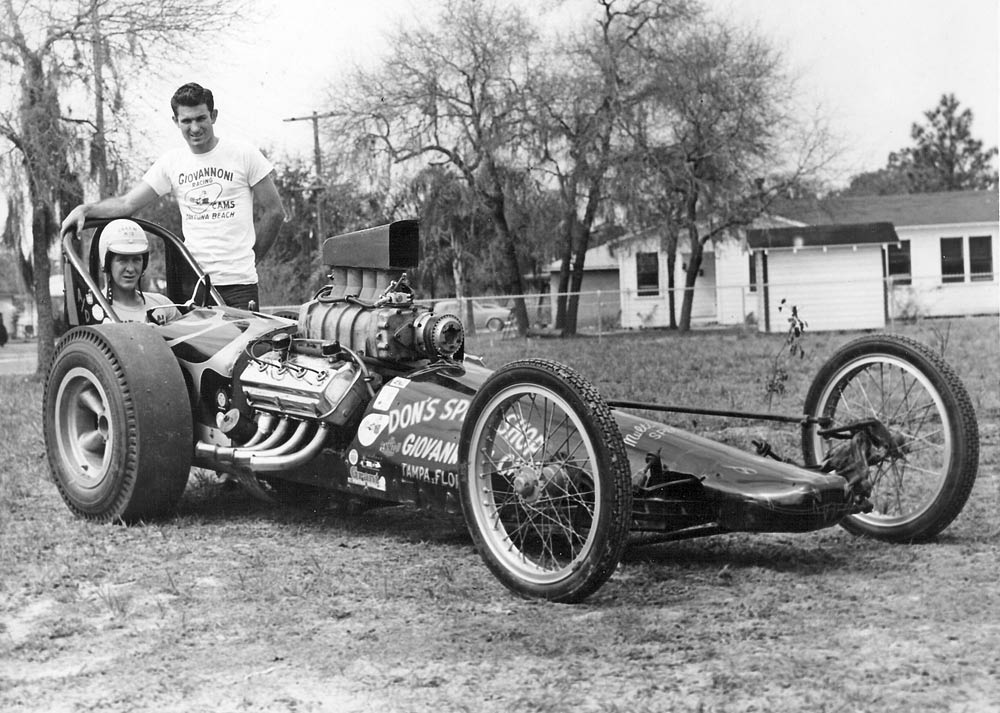 Don Garlits with drag racing pioneer Art Malone in the driver's seat of the dragster that would become Swamp Rat 1. Malone grew up in the Tampa area, a childhood friend of Don Garlits, with whom he rode a school bus. Garlits recalls punching out a bully who was picking on the tall, quiet Malone, who, as he grew up, proved to be fearless.
Photo and info from Hemmings Daily, April 5, 2013 Indy veteran and drag racer Art Malone dies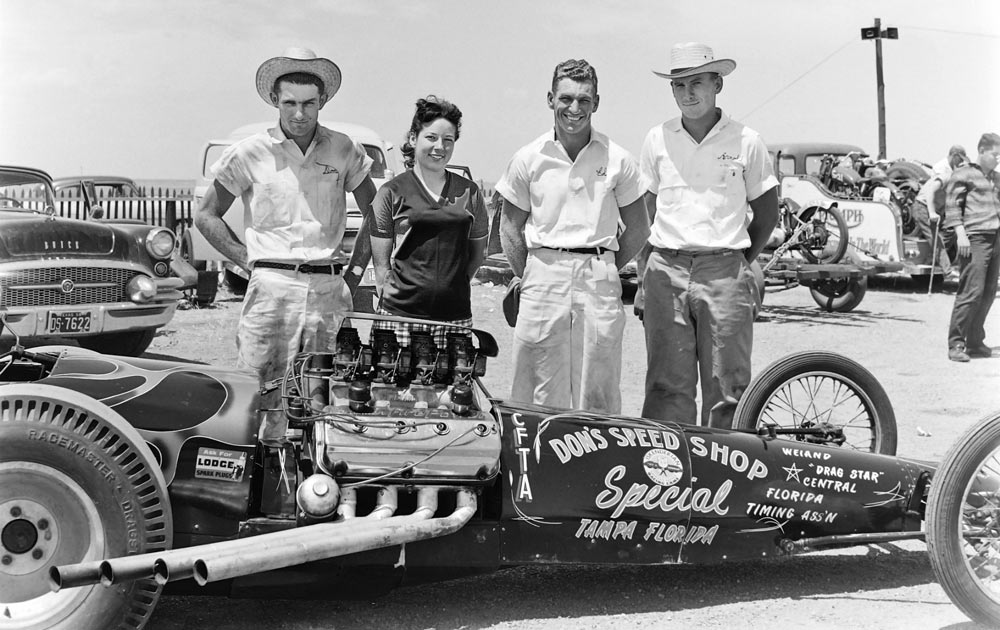 The dragster that became Swamp Rat 1 - Don Garlits, far left, with his wife Patricia and the rest of the Don's Speed Shop crew (Ed & Arnold) at a 1958 race in Texas. Photo from "Life in the Fast Lane" at SB Nation
The next week I installed the Chrysler into the 1927 Ford frame and went to Brooksville for the drags. The little racer turned 128 mph in 10.8 seconds, but the trip to and from Brooksville took its toll on the old T rails. Both of the frame rails were bent very badly after we got home, the Chrysler was just too heavy for the small rails. I then went to the junkyard and purchased a frame from a 1931 Chevrolet passenger car. This was the perfect frame for what I wanted to do, it had just the right kick to go over the rear and now I had a real race car that would later be known as Swamp Rat I. On November 10, 1957, I drove the Chrysler Hemi to 176.4 mph in 8.78 seconds to become the fastest man in drag racing and the first over the 170 mph mark.

I still have this car and the rest is history. (Image above from Pinterest)
In 1959, Garlits traveled to Bakersfield, California for the US Fuel and Gas Championships, later to be named the "March Meet", to show that the times he was setting were as legitimate as those set by the west coast racers. Over 30,000 people attended the event, the largest attendance at a drag race at that point. His presence helped to grow the sport of drag racing beyond its California base. In 1964, after winning the U.S. Nationals at Indianapolis, Garlits traveled to England, with Tommy Ivo, Tony Nancy, Dante Duce and other racers, to participate in the first International Drag Festival, a six-event series that did much to promote the sport of drag racing in the UK.
Garlits' drive later helped him build a résumé that is unmatched in drag racing. He was the first racer to top nearly every speed record.
When Garlits entered the U.S. Nationals in 1967, he had something to prove. He was far from through setting speed records. An NHRA announcer declared into the microphone, "Don Garlits has arrived at the nationals as a decided underdog. Some experts are saying he's gone over the hill, citing the fact that he's been unable to break the 7-second elapsed time barrier."
Earlier in the season, Garlits had vowed not to shave until he broke the 7-second E.T. barrier.
This time Garlits swept the competition, clocking a time of 6.77 seconds, again the fastest time ever recorded on the quarter-mile track. His win finally in the books, Big Daddy then ran to the starting line, lathered his face with shaving cream and shaved the black stubble from his face in front of dozens of cameras and a thousand screaming fans spilling from the stands.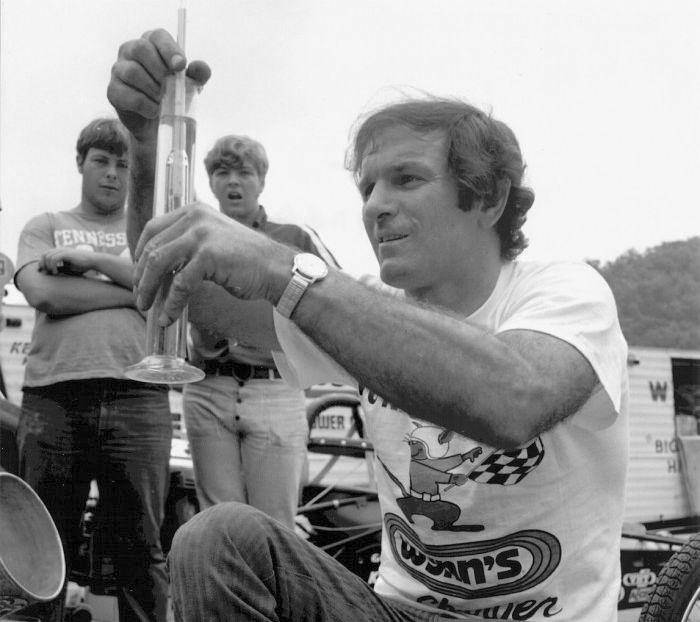 Photo from "Racing Heroes - Don Garlits at Hemmings.com


In 1970, Garlits was driving Swamp Rat XIII, also called the Wynnscharger, a front-engine slingshot rail, when the vehicle suffered a catastrophic failure. The two-speed transmission Garlits was developing exploded and took a piece out of his right foot; he was out for the remainder of the season. In an interview by Florida Trend, Garlits said this of the incident: "In 1970, the transmission exploded in my dragster on the final run, and it cut my foot off and cut the car in two. That's when I drew up plans for what I thought would be a championship rear-engine car. I would go out to the shop in Seffner on my wheelchair, saw stuff out on the band saw and make the parts."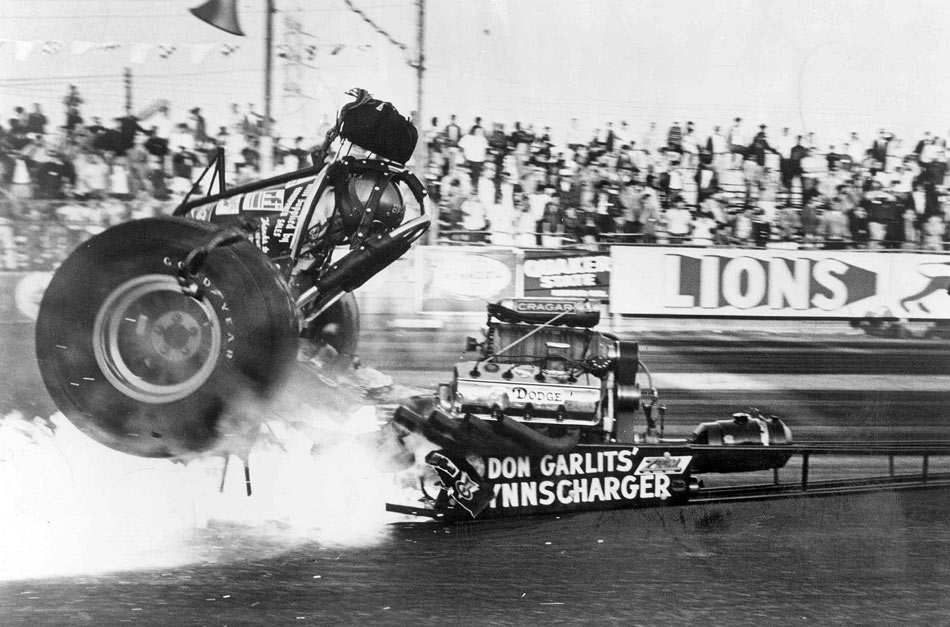 Photo from SBNation.com Life in the Fastest Lane by Ed Komenda 9-24-2014
The picture is one of the most famous in the history of drag racing. If not for its starkly beautiful composition, then for the horror it captured. One look at the image and the thought is bound to cross your mind: Most guys would've quit after an accident like this.
It happened on March 8, 1970 at the Grand American Series of Professional Drag Racing, at the Lion's Drag Strip, a once-popular track near Long Beach, Calif. More than 20,000 fans had showed up for the sunny Sunday races. Don Garlits arrived ready to smoke the competition, rolling out the sharp-nosed Swamp Rat 13, his fastest car yet, equipped with a brand new Quartermaster two-speed transmission.
After a few lopsided races, with Big Daddy blowing past the finish line first, the legend found himself in the finals against Richard Tharp, a top racer out of Tulsa. Before the final race, Garlits performed one of his famous "fire burnouts." His building partner, Tommy "Top Cat" Lemons poured gasoline on the strip, and Big Daddy spun his tires, throwing the fuel's vapors into the exhaust headers of his 426 CI Hemi engine. Flames burst into the air. Thousands of heads turned toward the action on the Strip: It was time to race.
Tharp inched his dragster to the starting line. Garlits followed, hoping to get into Tharp's head and freeze him at the green light. The race lights began their dance: Yellow ... Yellow ...
On green, Big Daddy pulled his foot from the clutch. Everything went black until he realized his car had exploded into pieces. Garlits thought he had made it halfway down the track. But the dragster had only traveled a few feet. Swamp Rat 13's brand new transmission had exploded, cutting the dragster in half and sending a shards of steel from the clutch through Garlits' right foot and into the stands, where they broke the arm of a drag racing fan. Metal shot into the sky and rained on the track.
Trapped in the driver's seat, Big Daddy helplessly rolled down the track, tumbling over three or four times. Blood covered his helmet and goggles. When help arrived, Garlits landed in the back of an ambulance, where a medic accidentally slammed his injured foot in the door. He writhed, screaming in pain, until the medic realized what he had done and opened the door, freeing his foot.
At Pacific Hospital in Long Beach, Garlits had to wait for the operating room to open. Inside, Tim Ditt, the unsuspecting 17 year old fan hit by the shrapnel of Swamp Rat 13, awaited surgery. Doctors had to amputate Big Daddy's toes and put him on morphine. He was back racing less than a year later.
He returned to Pomona in 1971 with Swamp Rat XIV, a brand new mid-engined, front-cockpit rail, also dubbed the "Swamp Rat I-R" by Hot Rod Magazine in the article introducing it to their readers.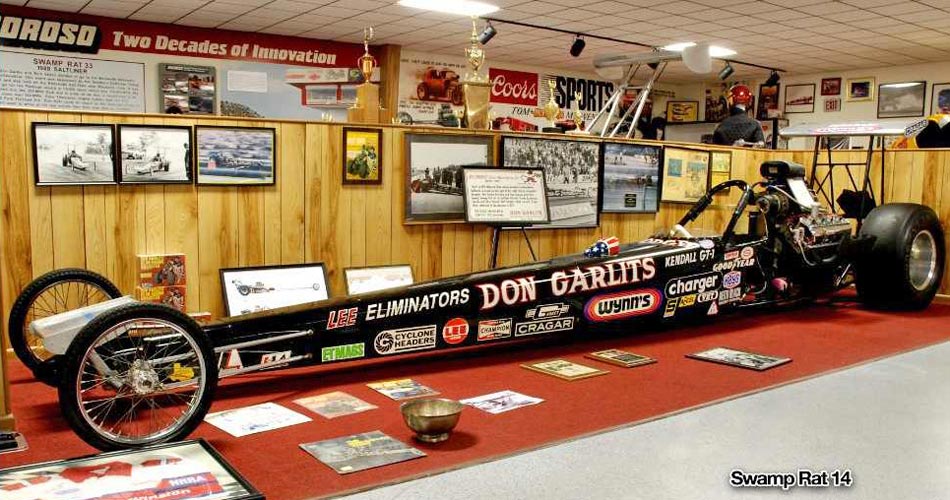 Swamp Rat 14
Photo from Don Garlits Museum of Drag Racing

Don Garlits High Performance World in Tampa was on Main St. just east of Himes Ave. and Montgomery Wards on the north side of today's I-275.

Photos above and right from Don Garlits, Drag Racing's Golden Icon - Dragzine

Inside Don Garlits High Performance Speed Shop on Main St. in Tampa, 1971
Photo above and below from JalopyJournal.com, Pix of old Speed Shops by LowKat

Early film footage of Don Garlits shows a skinny, dark-haired kid with a spark in his eye, always turning a wrench or hoisting a trophy. Photographs show some of the scars. In 1959, driving Swamp Rat 1 in Chester, S.C., the car's manifold exploded and nearly burned Big Daddy to death. Surgeons wanted to amputate his hands, but Garlits refused to accept the doctor's orders. As the legend tells it, they soaked his hands in a saline solution and, weeks later, his hands recovered.

He's carried the scars with him for years: the long-faded circles around his eyes, where his goggles saved his eyeballs. The faint, white circle around his mouth, where the flames once licked away most of his lips.


Ad from 1977 Hillsborough High School newspaper "Red and Black"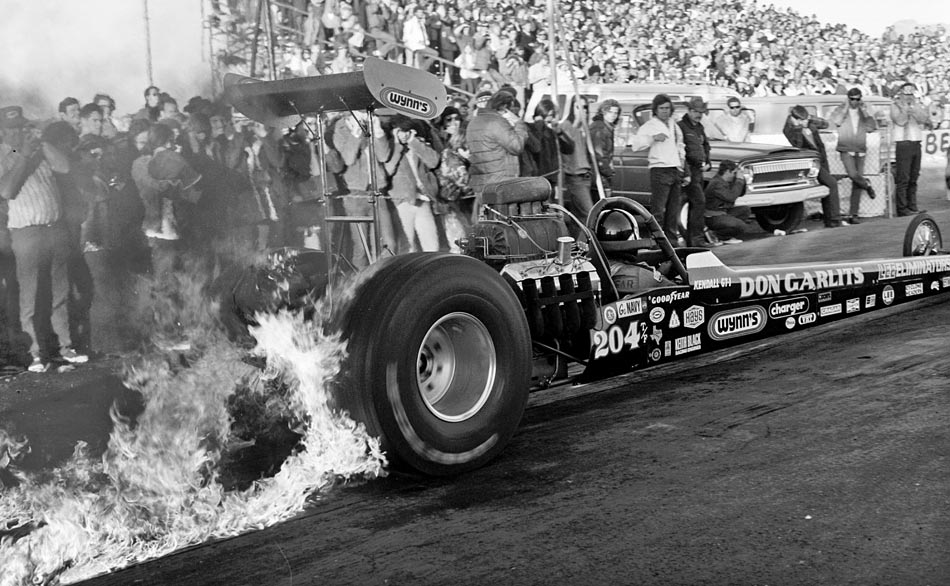 Don Garlits performing his signature "fire burnout" during a 1973 race in Arizona
Photo from SBNation.com Life in the Fastest Lane by Ed Komenda 9-24-2014
Between his record runs, Big Daddy landed on Car Craft Magazine's All-Star team as its Top Fuel Driver of the Year eight times between 1969 and 1979. In 2001, the year he returned from retirement and drove a dragster 303.37 mph in 4.72 seconds, the NHRA voted him the best drag racer for the last 50 years. The next year, in 2002, he entered the U.S. Nationals and drove 318.54 mph in 4.76 seconds.
Almost half a century later, Garlits grew a beard, his first since that glorious win in 1967. His hair lost its color long ago, and his whiskers are white. He reenacted the shave in August at the 2014 U.S. Nationals in Indianapolis.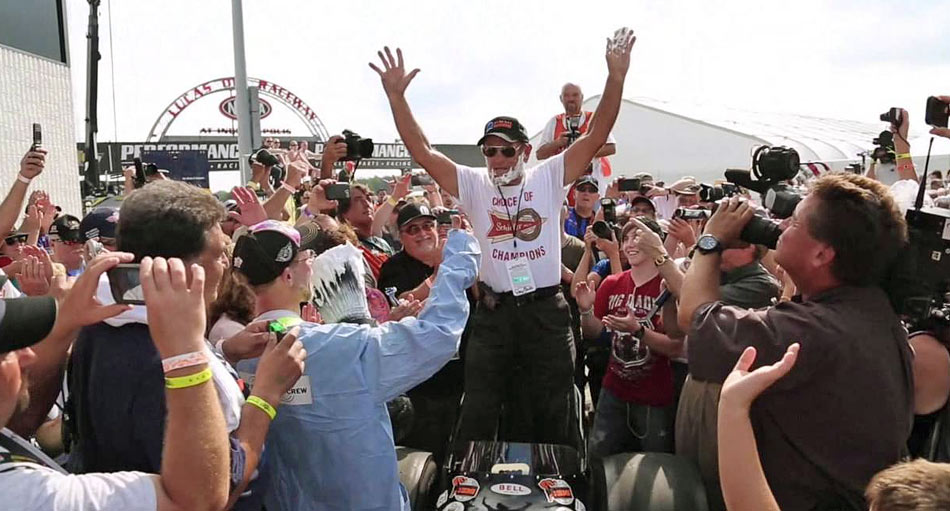 Don Garlits performs his epic shave for fans one more time at Indy, 2014
Photo from YouTube

The violent rumbling of Garlits' cars has caused permanent deafness in his right ear. "It's destroyed my hearing," he says. "There's a lot worse things to lose." Garlits can hear low tones, such as a man's voice, but he has trouble hearing the higher pitched voices of women. "It's a constant battle," Garlits says, "Every day you struggle with it." Big Daddy knew what he was getting himself into. It was in the 1970s when his ears first began ringing.
Walking through his museum in Ocala, Big Daddy still felt the pain throbbing in his right foot. He can't stand for too long. "I feel the pain every day," Garlits said. "The pain never went away." To Big Daddy, the accident was worth the agony. "I survived all my accidents," he said, "and from that I was able to make it better and safer for the next guy."
Garlits hopes to eliminate horrific crashes from the sport altogether.
Today, if you're a drag racer and you want to use nitromethane, the racer's fuel of choice, a volatile and dangerous compound, you have to register with the Department of Homeland Security. If Garlits has his way, nitromethane would go away. In its place? Electric.
"It's too dangerous. Look at these explosions. Somebody can hurt people with this," Garlits said. "We don't care about these drivers, but what about if a guy builds one of these bombs and takes it into a stadium or something?"
Controversial statements are nothing new to Big Daddy. He seems to thrive on them, trading nasty words with everyone from fellow drivers to shop mechanics to the highest-ranking officials in the NHRA. He doesn't care; Big Daddy's word is golden. But his confidence with words sometimes gets him in trouble, like when he ran for Congress and lost back in 1994 and made barbed statements regarding homosexuality and minorities that seemed anachronistic. Today, he steers clear of those topics, focusing his mind on building engines and cars.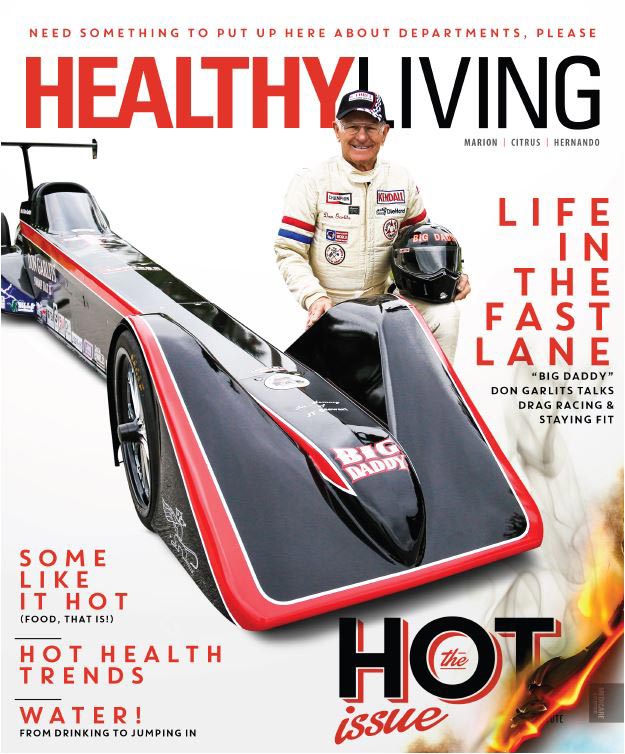 It was April 30, 2014, when Big Daddy and his team first rolled out the electric Swamp Rat 37 at the Bradenton Motorsports Park for testing. It took seven runs for Garlits to get comfortable behind the wheel. When the lights turned green and Big Daddy hit the "gas," Swamp Rat shot up to 184 mph. Getting out of the car, the team waited for what Big Daddy had to say. "Straight as a string ... Just needs more power," Garlits said. "Put the nitro in it." The crowd around the legend laughed wildly. Garlits smirked and took off his black racing jacket, done for the day.

Don Garlits and his EV dragster, Swamp Rat 37
Photo from Don Garlits Museum of Drag Racing
At the car's second test run, Swamp Rat 37's engine failed after two runs. When Big Daddy drove down the track for a test run on August 9, he topped 185.60 mph in 7.274 seconds, the fastest time ever recorded in an electric dragster. In an email to a friend, Garlits recapped the experience: "We have reached the limit with what we have. Need to make some changes for 200 mph."
Published on May 16, 2014 "Big Daddy"
Don Garlits and The Quest for 200MPH on Batteries team at Bradenton Motorsports Park set 1/4 mile electric vehicle world record!! Mike Gerry inspired, piloted by "Big Daddy" Don Garlits, chassis by Brad Hadman, power supplied by Shawn Lawwless (Lawless Industries), Derek Barger (High Tech System), custom GE motors, Zilla controllers, and comfort by Jeff Garvin. Media contact- thequestfor200mph@gmail.com.
After Pat Garlits' health began to deteriorate, Big Daddy began building old engines, and putting them on stands in his garage, not to race, just to fire up and admire. He's got the engine of a 1932 Ford truck, one of his favorites. Big Daddy sometimes gives tours of the room where he keeps his engine stands, revving them up to show off their raw power.
"I learned how to do this at a young age, so what would happen: I would get these pictures in my mind of what I wanted to do, but you could never ever say you can't do it," Garlits says, "I can do anything I want to do if I put my mind to it."
In late 2014, Garlits was focused on moving forward, putting the last chapter of his life together the way he'd want the world to read it. He had a new girlfriend, a photographer who worked for the Ocala Star-Banner who coaxed Big Daddy out of the house to ride bicycles and take long walks when he was too depressed to leave the house after Pat's death. The relationship helped take his mind off all the hurt that was welled up inside him.
"He has a girlfriend. It's a distraction, and I don't think it's anything serious," said Donna Garlits, Big Daddy's daughter and the woman in charge of the legend's museum. "It's just a distraction for him, but I think that everything he does and everything he's about now, he's always thinking about it with her [Patricia]. Even though she's not there, his thoughts are about her. If he goes somewhere and does something, it's, 'Oh, I remember your mother and I.' I hear this all the time. You never ever get over the loss of a loved one. You learn to keep living without them in your life. That's what he's doing."
Today, his family calls him "Papa Smurf," poking fun at his white beard he's growing for his trip to Indianapolis. Garlits is strong; the muscular lines of his forearms looking like those of an athletic man much younger. He eats healthy foods, a habit carried over from his father, who, Big Daddy says, was an early pioneer in the health food industry after the Great Depression.
"I've given you some advice that will make you successful," Garlits says. "Follow your dream. You do what you love. You don't pay no attention to what anybody else says about whether it's successful or whatever it is. If you feel it's right, you do it. Don't sleep in in the mornings. Get up. If you feel sleepy, you go to sleep, but if you don't feel sleepy, you work. That was a good rule. That was my father's rule."
Instead of chasing rabbits, he chased his dreams and caught them on the quarter-mile strip.
Don Garlits Museum of Drag Racing website

TampaPix Home "Did You Know?" at TampaPix.com