MANUFACTURE & PHOSPHATE MINING YEARS
1907 - 1928
The Lowry Park "Choo-Choo train" was a steam locomotive type 0-4-0T built by the Vulcan Iron Works foundry in Wilkes-Barre, PA. In 1907, the Florida Phosphate Mining Corp. in Green Bay, Fla. ordered three Vulcan locomotives, one of which was our Lowry Park "Choo-Choo."
Green Bay was an early phosphate mining community starting around 1907. It was located about 6 miles southwest of Bartow and about 5 miles southeast of Mulberry. Typical of a company town like many others in Polk County, it was designed for workers and their families.
In those days the phosphate mines were isolated and usually there were few if any good roads leading to them, and even fewer workers with automobiles to get there. Employers had to provide housing for their workers or found it impossible to find help.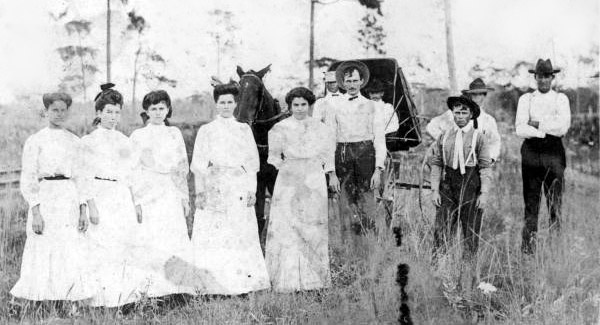 People assembled for group portrait in the fields, 1916 - Polk County, Florida
This gathering took place at the home of Frank Jones in the area of Old Green Bay Mine, located about 6 miles south west of Bartow. L-R: Laura Register, Callie Waters, Beulah Mizell, Jennie Mizell, Nettie Taylor, Owen Mizell, George Reynolds, R.M. Waters (Behind Reynolds), Frank Reid. In the buggy are Joe Peeples and Sam Mizell. State Archives of Florida, Florida Memory.

By the 1950s the situation had changed, with phosphate and chemical operations filling the area. The industry no longer needed to offer housing and the company owned phosphate communities all disappeared.
This photo of phosphate workers at Green Bay posing for a picture is courtesy of the State Archives of Florida, Florida Memory project. https://www.floridamemory.com/items/show/4404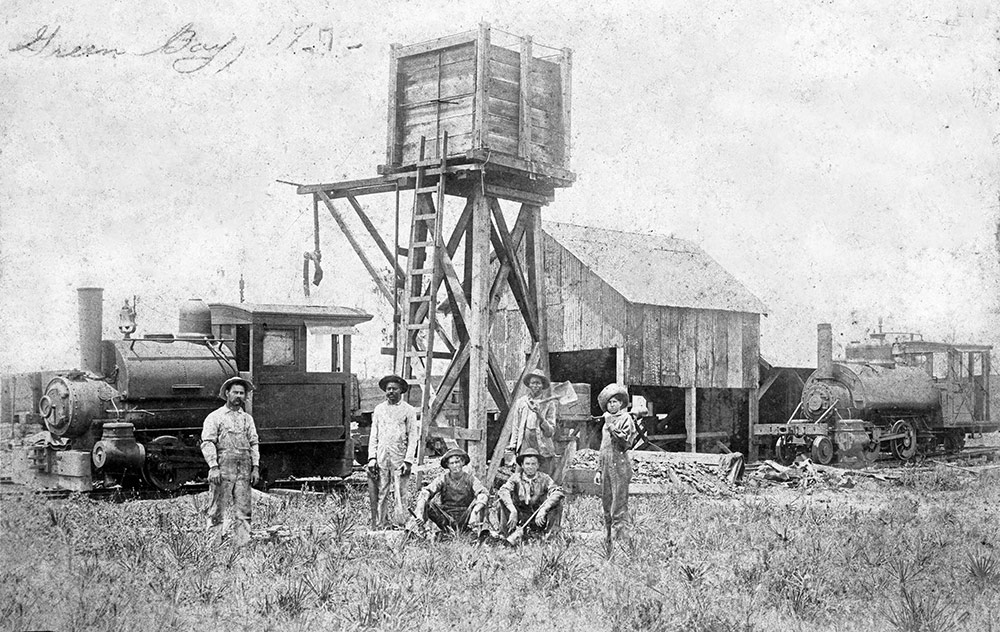 Phosphate workers posing for a picture, Green Bay, Fla. 1907 - Far left: Joe Reid. Seated (L-R): Frank Mans, Sam Mizell.
Courtesy of the State Archives of Florida, Florida Memory. https://www.floridamemory.com/items/show/4404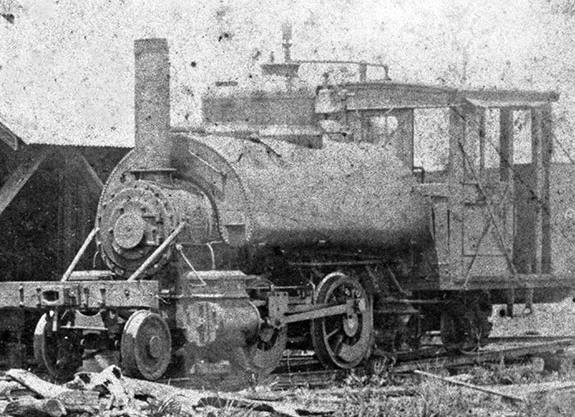 The Lowry Park engine went into use in Green Bay originally as "Florida Phosphate #2."
It does not appear to be in this photo; the two shown are similar yet have clearly visible differences with the Lowry Park engine. A reliable source (Steel Rails, Jan. 1953) states that our Vulcan locomotive left the Vulcan plant in Sept. 1908. If the year of this photo is correct, this photo predated the arrival of our Lowry Park loco.
Our Lowry Park loco was used by the Florida Mining Co. until 1928 to haul phosphate to various areas and probably into Tampa where the phosphate docks were located on the west side of Seddon Island.
In 1928 Florida Phosphate Mining Corp. sold the Vulcan locomotive to Dantzler Lumber Co. in Tampa and it was renumbered 1147. (Steel Rails magazine, Jan. 1953)

THE DANTZLER LUMBER COMPANY - Background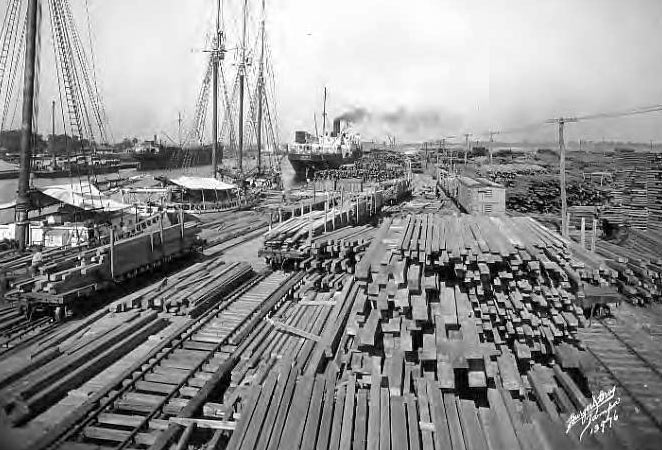 View of Roux-Askew & Dantzler Lumber Yard on Seddon Island, April 29, 1925.
Burgert Bros. photo courtesy of the Tampa-Hillsborough County Public Library System.
The L. N. Dantzler Lumber Company had its beginning shortly before the American Civil War, when William Griffin acquired a sawmill at Moss Point, Mississippi. Griffin's daughter married in 1857 to Lorenzo Nolly Dantzler who purchased the sawmill from his father-in-law in the 1870s. Dantzler persuaded two of his sons, John Lewis Dantzler and L.N. Dantzler, Jr., to join the company, and the three incorporated as the in 1888. The lumber company became the first privately chartered corporation in Mississippi.

For 20 years, the company relied on contract loggers to supply their sawmills, but in the 1890s, the company began buying large tracts of land to insure a more reliable source of timber.
By the 1920s, L.N. Dantzler Lumber Company had leased the shipbuilding plant on the property of the Tampa Shipbuilding & Engineering Company in Tampa where it was in the business of building and repairing wooden ships.
In 1924 the lumber interests of E. T. Roux and Harry Lee Askew were purchased by Lorenzo Nolly Dantzler, Jr., and the name changed to Roux-Askew-Dantzler, Inc., one of the biggest and most successful lumber exporting companies in the Southeast, with E. T. Roux and Harry Lee Askew as copartners. As the Roux-Askew Dantzler Company, they had docks and a lumber yard on Seddon Island. L.N. Dantzler, Jr. ran the company in Tampa with Harry Lee Askew as Vice President. Later they became the Dantzler Lumber & Export Company. In 1951, L.N. Jr. died suddenly of a heart attack in Tampa.
Lumber World Review, Volume 49 Askew Family website America's Maritime Progress By George Weiss
Tampa Shipbuilding & Engineering - The new company was called Tampa Shipbuilding Company, or TASCO.
Tampa Shipbuilding & Engineering (now Gulf Marine Repair) was founded in 1917 and was a merchant ship builder. The yard built ships under the United States Maritime Commission's pre-war long-range shipbuilding program. Shortly after starting work on its initial USMC contract, it got into financial difficulties and was sold to George B. Howell.
The new company was called Tampa Shipbuilding Company, or TASCO. At its peak, the yard employed 16,000 people and was the largest employer in Tampa. TASCO closed at the end of the war, and few traces remain of its facilities. The area is now Gulf Marine Repair, a Hendry Marine Industries Company, at1800 Grant St.
The Burgert Bros photo at right from the Tampa-Hillsborough County Public Library is titled "Sailors and civilians along with military band celebrate E-Day at TASCO construction yard" and is dated July 7, 1944.

There was no such day as "E-Day" but there was "VE-Day" which stood for "Victory in Europe Day." However, VE-Day was May 8, 1945. So either this isn't VE-Day or the date of July 7, 1944 is incorrect.
| | |
| --- | --- |
| | The configuration of the buildings at the upper right of the photo correspond to those shaded in gray on the 1931 Sanford Fire Insurance Map at left. |
| | |
Aerial view of Tampa Shipbuilding Company (TASCO) in 1946.

Burgert Bros. photo from the Tampa-Hillsborough County Public Library System.
THE DANTZLER YEARS, 1928 - 1955

This Burgert Brothers photo is from Hampton Dunn's "Yesterday's Tampa" where he says "Vintage of this old locomotive is not determined, but it's an interesting reminder of the past."
She's in great shape here, so probably from the very early Dantzler years, 1928-1930.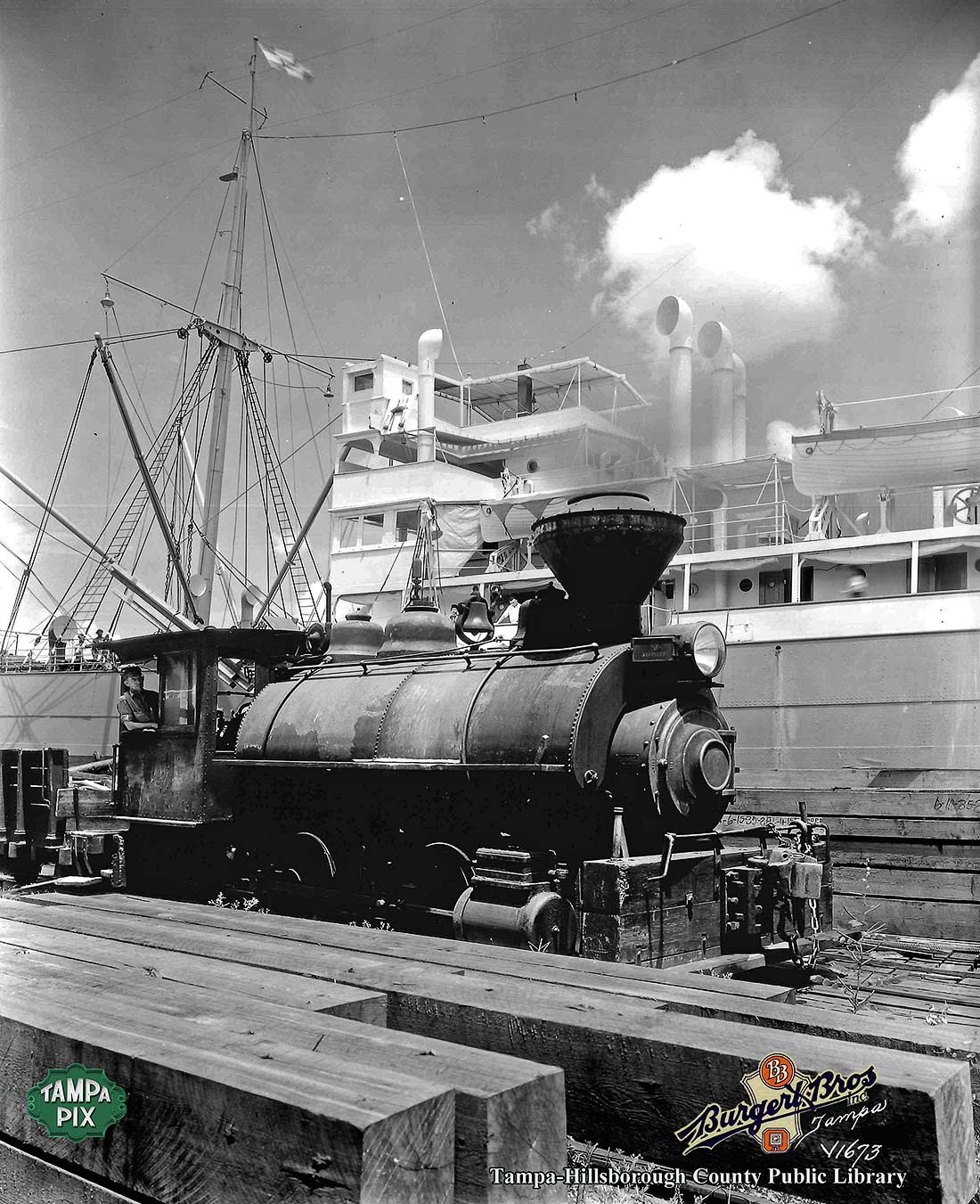 1935 at the Port of Tampa
Dantzler lumber yard
In the early years at Dantzler, before the engine number was added and the star was added to the front.
Burgert Bros. photo courtesy of the Tampa-Hillsborough County Public Library

Our "Choo-choo's" career with Dantzler is best explained by this 1953 article in Steel Rails.

Special thanks to Kimi Lau-Costanzo for locating an actual copy of this magazine on eBay, purchasing it., and scanning it. The only library that had it was located at Stanford University in California, and they were less than cooperative when asked to send TampaPix a scan of this article, a "teaser" of which was found on Google Books.
A PDF scan of the article can be seen and downloaded here in a TampaPix DropBox folder.
FLORIDA'S WOOD BURNER by C.C. Campbell - Steel Rails magazine, Jan. 1953
Florida's shortest railroad is the mile-long tracks on Seddon Island in Tampa Harbor, on which an antiquated wood burning steam locomotive is still holding its own, in these days of the modern diesel.

Switching cars of lumber and empties back and forth between the Seaboard Air Line tracks and the Dantzler Lumber Company's Export Docks, this short, stocky old wood burner was built by the one hundred year old Vulcan Iron Works for the Florida Phosphate Mining Corporation of Green Bay, Florida and left the Vulcan plant in September, 1908. Purchased from the Phosphate Corporation by the Dantzler Lumber Company of Tampa in 1928 at a cost of $2,000, this old locomotive has given them nearly a quarter century of constant, faithful service. With proper care, the locomotive apparently will be useful for many years to come.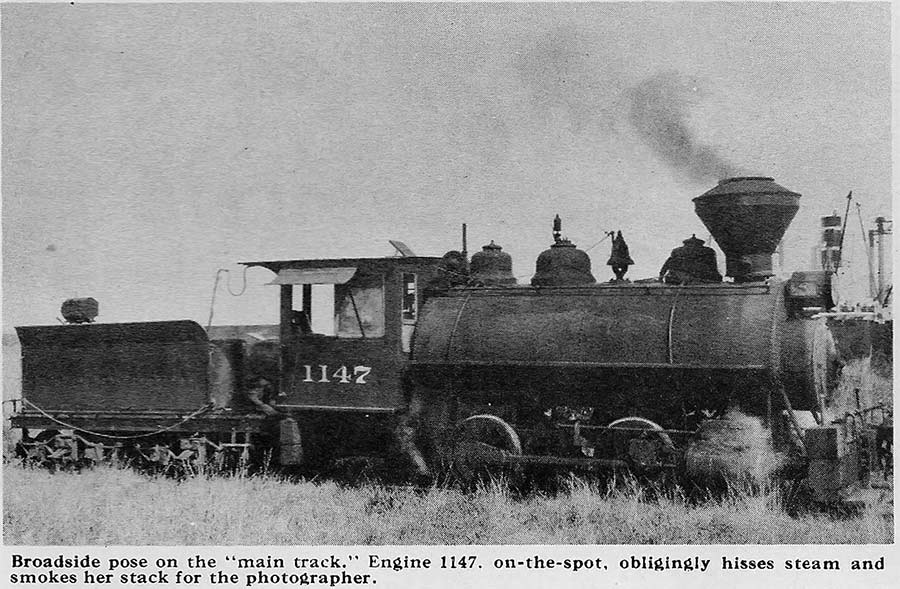 Originally built as a coal burner, Dantzler converted the old engine to a wood burner by the installation of a cabbage head stack,** furnished by the Vulcan Works, and a set of wood type grates. A standard tender from a scrapped Seaboard engine, with the top of the tank portion cut away made an ideal wood tender and completed the conversion job. The boiler is equipped with a saddle type water tank. Thus their fuel problem was quickly solved. In normal times there is always enough scrap wood and lumber around the yards, which costs nothing extra, to supply the needs. About two cores are required for the average day's work.
**Regulations provide that all wood-burning locomotives must be equipped with a spark arresting stack, commonly known as the cabbage head type.
No. 1147 has not always burned coal or wood. During the Second World War, when fuel was scarce, the old timer had a vital part in handling millions of feet of lumber and heavy timbers which went into large Naval and Air Installations in the West Indies and other foreign points. During that period the engine was regularly fired on coconut shells, very likely the only locomotive in the world ever fired on such a fuel, or at least in the United States. This fuel was obtained from a near-by candy factory which processed thousands of coconuts each day. If you want a rip-roaring, hot fire just try a few shovelfuls of the "monkey fruit" shells!
Not only does the old wood burner handle eighteen to twenty cars of heavy lumber per day and drag out the empties, but it also unloads them. By the use a of gin pole and an arrangement of pulleys and cables, the engine pulls forward lifting the heavy timbers above car level where they are skidded onto the docks ready for the ship's winch to take them aboard.
Nor has it always hauled phosphate and lumber. In the pre-war years when some of the foreign countries were buying all the scrap iron they could get, the engine was earning a nice income for its owners by switching and providing power to unload thousands of tons of scrap for a large salvage company. The scrap was loaded aboard various foreign and domestic vessels.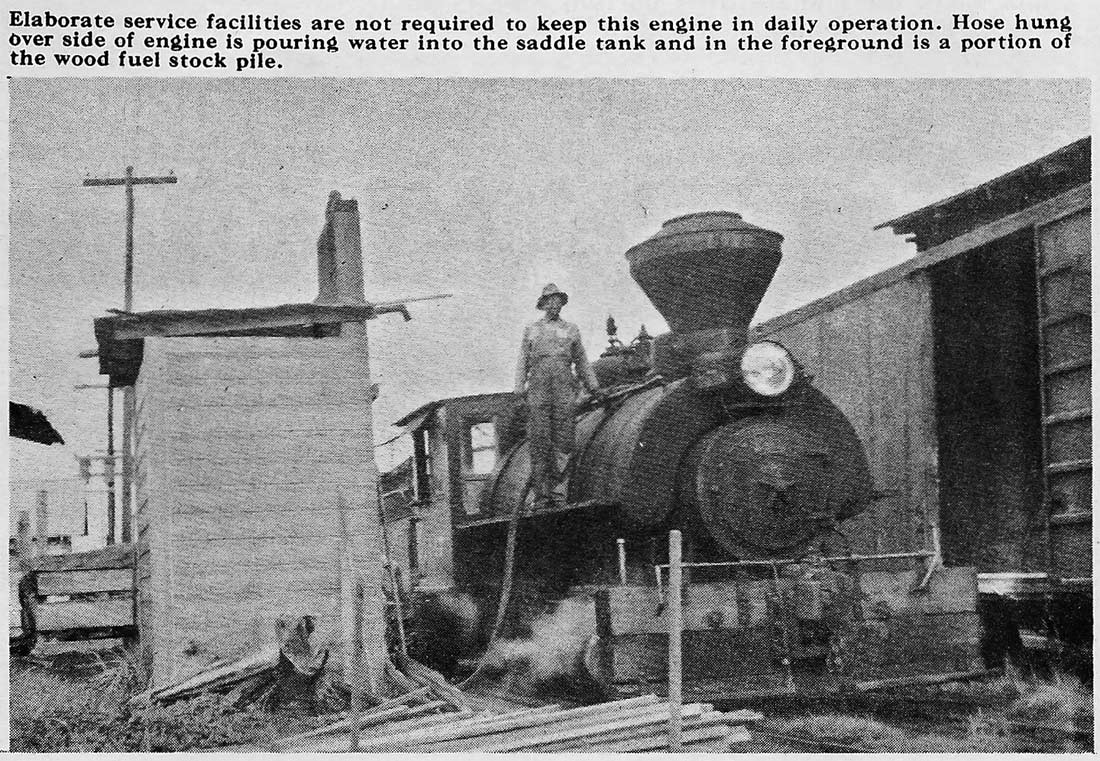 During the period of dual service a crew was unloading a car of scrap and something with a familiar look showed up, it proved to be a cylinder, piston, crosshead guide and brake rod from a sister engine of the 1147. Just where the pieces came from was never determined, but they were saved and some have since been used and the rest are in the spare parts stock. What a break during the struggles of war time! In the way the scrap later reacted against us, it is very unlikely could the old engine express herself, that she would be proud of that part of her accomplishments. To the serious minded rail fan it is sad to think that eventually the time will come when faithful old 1147, even with all her colorful career and usefulness to mankind, will succumb to the cutter's torch. One of her race will indeed be exceedingly hard to find.
The dock superintendent, who has controlled the locomotive operations for these many years, holds an engineer's license. Repair parts though seldom needed are still available from the builders. The inspector reports the boiler in the best condition of any burner or boiler in his territory. According to city code it is inspected regularly once each month. Originally designed for 200 pounds pressure and inspected at the plant by The Hartford Steam Boiler Inspection and Insurance Company, the working pressure was 180 lbs., but the present working pressure has been reduced to 120, though she operates nicely on 80 to 100 lbs. with light load.
Vulcan locomotives carry a boiler serial number and date as well as a construction number, which in this case is 1155, 7-30-07, stamped in the boiler head and is as plain as the day it was made. The engine stands 10'4" high, spreads to 8'6" wide and stretches to a length of 23'2" to weigh 29 tons, in working order. The 0-4-0 wheel arrangement has a 6'0" wheel base measurement. Two 13" x 18" cylinders through 2 inch diameter piston rods and Stephenson link motion valve gear transmits the force to move the 36 inch drivers.
A bronze name plate bears a shop number 1147, which has been adopted by the Dantzler Company as their road number. The Company's rolling stock consists of the 1157 [sic] and three ex-A C L flat cars of the old 4700 series. Of course loaded cars, flat, box and gondola from almost every road in the country find their way to the yards via the Seaboard Air Line interchange. It is not uncommon to see 30 to 40 cars on their tracks at one time.
This old engine operates almost as quietly and smoothly as when new. It is cleaner than the average locomotive and if you think the days of the wood burner are over, because most of them have headed for the rip track or museum, the owner quickly tells you that the 1147 is still a good engine. If you go over to the island several years hence she will still be puffing away, with only minor new parts and tires needed to keep her in efficient operating condition.

THE SOL WALKER YEARS** 1955 - ca. 1964(?)
After the old No. 1147's career hauling lumber and switching rail cars for Dantzler Lumber it was sold in the mid-1950s to Sol Walker & Co., a huge scrap metal salvage business located at Adamo Dr. & 34th St. in Tampa.

**Some of the information in the next two sections was provided by a former employee of Walker, Robert Bolesta, in a recent conversation with Kimi Lau-Costanzo. Special thanks to Robert and Kimi.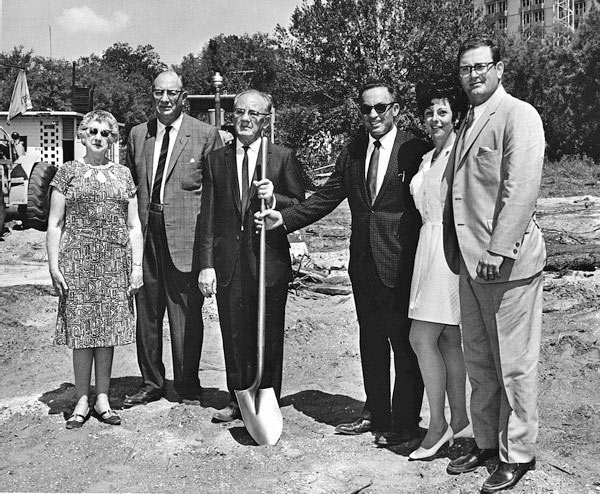 Groundbreaking for new synagogue. 1968, Walker wearing sunglasses.
L to R: Elizabeth Berger, Leo Levinson, Manuel Aronovitz, Sol Walker, Elaine Levinson, Bob Levinson. State Archives of Florida, Florida Memory.

Solomon "Sol" Walker was born in St. Louis and came to Tampa in 1925 at the age of 10. He was a successful business owner and operator of Sol Walker & Co. for 55 years, the owner of Stalnaker Farm and Ranch Supply Limited, and the owner of Gulf Coast Recycling.
Walker began his scrap iron business by March, 1942, using the Dantzler docks and the docks at the shipyards to load and unload his cargo and then send the iron to his scrap yard on Adamo Dr. at 34th St. On Jan. 2, 1948, he incorporated as "Sol Walker & Co."
After the death of L. N. Dantzler, Jr. in Tampa in 1951, Walker bought old No. 1147 from Dantzler in 1955. The engine remained on Seddon Island where he continued to use the old Vulcan wood-burning engine, which he and his employees nicknamed "The Little Engine That Could" because of its power and excellent running condition. To haul his scrap to and from the shipyard docks on the east side of Sparkman Channel, Walker used an old switch engine and cars that were already there because the tracks were too narrow to accommodate the old Vulcan.
After old No. 1147 was taken to Walker's yard on Adamo & 34th St. in the 1950s, it sat there unused because the tracks behind the yard were also too narrow for it.
Walker also partnered with Sam Davis, 1933 quarterback and captain of the Florida Gators. Davis developed his shipbuilding business, American Ship, the parent company of Tampa Shipyards, Inc. at 1130 McClosky Blvd. Sam was an active leader in promoting the welfare of his community in Tampa.
In the 1970s, Walker hauled scrap from Tampa Shipyards where Disney's 20,000 Leagues Under the Sea submarines were assembled after receiving the hulls from where they were made by Morgan Yacht in Clearwater. From Tampa, the subs were trucked to their final destination at Disney.
In addition to owning a place on S. Franklin St., Walker owned a yard in Miami, and "all kinds of places."
THE LOWRY PARK YEARS 1965 - ca. 1985(?)
Walker was in business with his half-brother Irving "Izzie" Oster, who gave, loaned or sold the locomotive to the city park by May of 1965. Early brochures of Lowry Park don't mention the locomotive, but it can be seen in the 1965 photo below.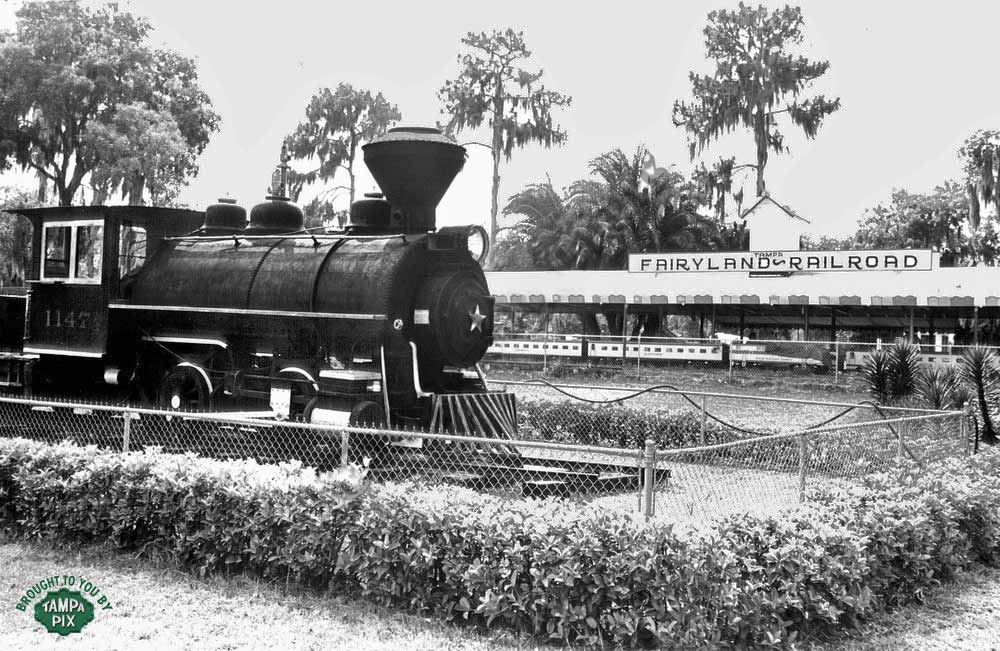 May 19, 1965 - Old #1147 proudly displayed at the Fairyland Railroad Station
Photo by TBT archives
Local band "The Rovin' Flames--Ready for Action" on the Lowry Park fire truck. Sept. 1, 1966 photo from newspaper clipping at Garage Hangover appeared in the Oct. 7, 1966 Chamberlain High School newspaper "Chieftain." The locomotive can be seen at the left of the photo.

The Glades, circa 1970
Right to Left -- Tommy Mullins (vocals), Lynn Burnette (drums), Dennis Clark (trumpet), Alan Hoak (alto sax), Jim Morrison (guitar), Tom Brown (bass/Hammond B3), Bill Orr (tenor sax).
Dr. Bill Orr was a Chamberlain Grad who was the principal at Hillsborough High for a number of years.
Photo and description provided by Robert D. Floyd.
Sometime between the circa 1970 photo above and this 1982 photo below, the engine was renumbered 6090; it is not known why.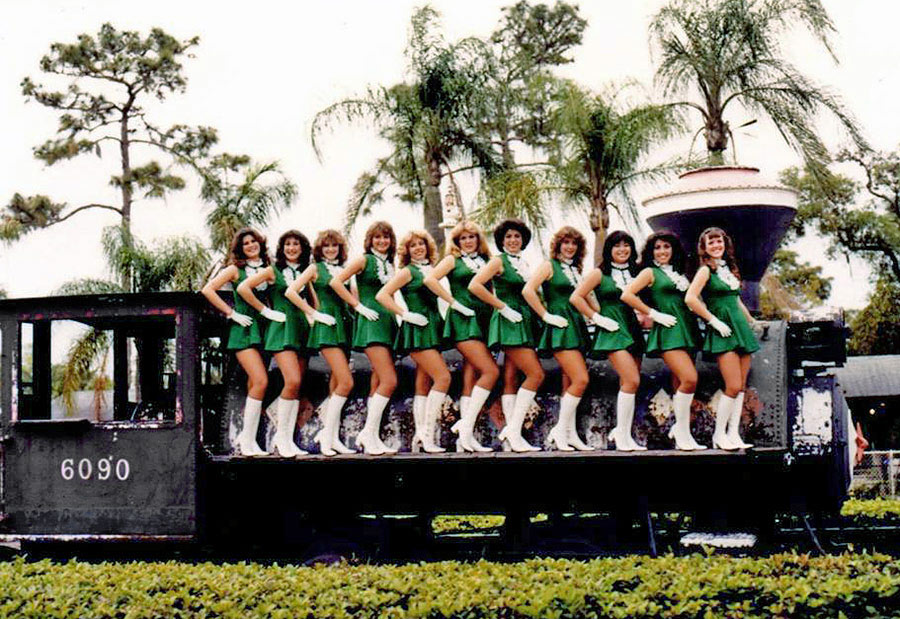 The Tampa Catholic High School Dancerettes on the choo-choo train, Fairyland, 1982.
(L-R) Michelle Barreiro, Aileen DeArmas, Jama Coley, Anna Vito, Jenny Sincell, Candyce Forrester,
Lori Giglio, Myra Pita, Nga Nguyen, Christina Vasquez, Celeste Liccio.
Thanks to Kimi Lau-Costanzo for providing the names from her TC yearbook.
Photo by Ralph Owen Dennis.
At the time the locomotive was sent to the park, it was still in operable condition. But when it was removed from the park, it was sent back to Walker, the engine was no longer usable. The brass fittings and valves, along with various other vital parts, had been stripped, and it was not cost efficient to try to repair it.
It's not known at this time when it was removed from Lowry Park, but it may have been around 1984, when the P2V Navy bomber was removed, to 1987 when the zoo closed for its major renovation. It is not yet known how the locomotive was transported to Lowry Park and back to Walker's lot.
BACK TO SOL WALKER ca. 1985(?) - ca. 1997(?)

According to Mr. Robert Bolesta,* a former employee of So Walker & Co., the engine was returned to Walker's scrap yard after it was removed from Lowry Park. Back at Sol Walker, there was an interest from Caribbean islands and South American entities to purchase it, but when prospective buyers saw the condition it was in, they changed their minds.
*Special thanks to Kimi Lau-Costanzo who conversed with Robert by telephone to get the Sol Walker years story, and with the city of Zephyrhills Library for info on the engine's current location.

Nov. 1987 - Earl Minniefield is the Earl of Iron at Sol Walker and Co's scrap metal field at the Port of Tampa. Since the age of 21 - he is now 60 - he still carries a torch.
Fiery fascination becomes life's work [CITY Edition] Publication: St. Petersburg Times - St. Petersburg, Fla.
Author: Carlton, Sue Date: Nov 1, 1987

In Sol Walker and Co.'s scrap metal field at the port, Earl Minniefield wields his propane torch. With it, he cuts masses of used metal down to pieces small enough to ship out worldwide to be melted down and reused. At 60, Minniefield is a small, gray-haired man with work-roughened hands who has made his life as a ``cutter.`` Each day at 7:30 a.m., he rides his bicycle to work from E Sligh Avenue to the port. ``In 40 minutes, if I'm feeling good,`` he says. With its towering piles of rusted metal pieces, the field looks like a child's giant playground. There are shells of school buses and cars, pipes, engine blocks, industrial-size boilers and unrecognizable pieces of twisted iron. ``I get surprised at some of the things you find in here,`` he says, pointing out an underground tank from a gas station.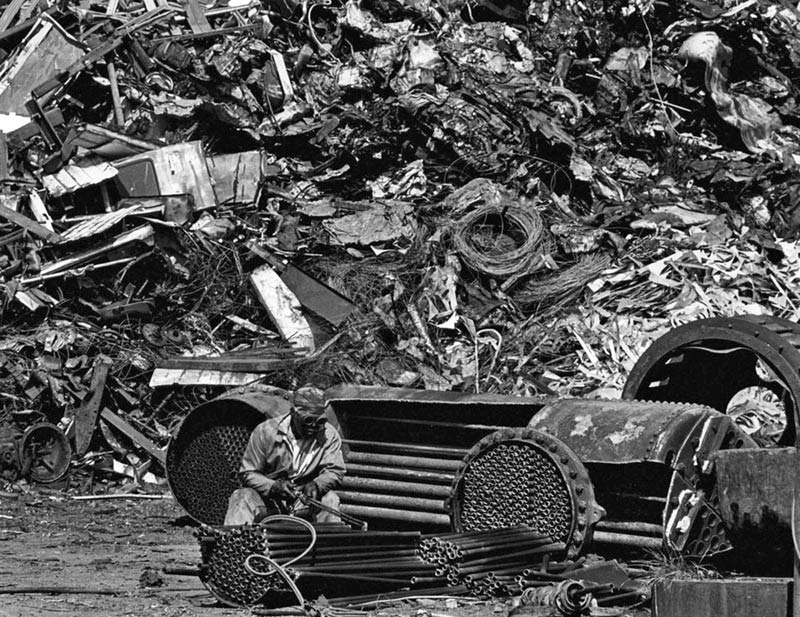 Photo from TBT archives
In 1997, when Walker passed away, the engine was still at the salvage yard. There were many times the engine came close to being cut apart with torches and scrapped.**
**Sol Walker years info sources: Robert Bolesta memories, Steam Locomotives note by Don Hensley of Taplines, and Steam Locomotive Ownership Info.

.

FROM SOL WALKER TO ZEPHYRHILLS (WITH A STOP IN PARRISH, FL)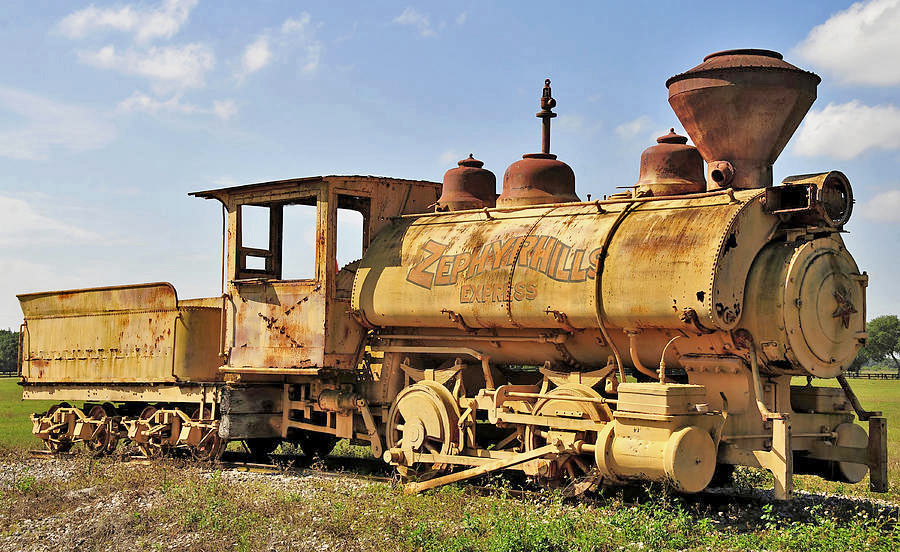 The train in its current yellow (and RUST) color is now located on the east side of US 301 in front of Festival Park. Just about one mile south of Chancey Rd in Zephyrhills. The festival location "Zephyrhills Auto Events is 2738 Gall Blvd, Zephyrhills, FL 33541. 2012 photo from the Florida Railroad Museum. Notice the same engine tender car as the Dantzler Lumber photo.
The Zephyrhills Express is located about 27 miles northwest of Tampa on US Hwy 301, just south of Zephyrhills.
TampaPix is grateful and wishes to acknowledge and thank Kimi Lau-Costanzo and Kermit Nelson for their persistence and determination to fill in this last "puzzle piece," as well as Mike Sierra for providing the puzzle piece!
After researching and determining the owner of the property where the old engine now sits, Kimi & Kermit made numerous attempts to make contact with various individuals and businesses by phone messages and letters.
On Aug. 15, 2017, Kimi received a phone call from Mike Sierra, Tampa businessman and Zephyrhills Express owner.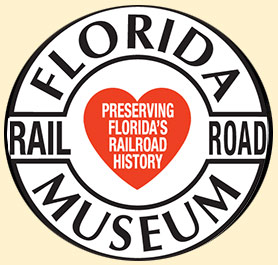 THE FLORIDA RAILROAD MUSEUM - ZEPHYRHILLS FESTIVAL PARK / MIKE SIERRA YEARS

According to Mr. Sierra, the old engine spent many years sitting off Adamo Drive at Walker's yard, unable to sell it. So it was sent to the Florida Railroad Museum* around 1997 where it was on display on a small piece of track for a very short time.

**Steamlocomotive.com also indicates that the engine was sent to the Florida Railroad Museum in Parrish, FL, but when contacted on June 3, 2017, the manager at the museum said this locomotive had not been there.
Mr. Sierra didn't recall exactly when, but guessed that "around 10 years ago, or maybe longer," he reached an agreement for services rendered to the railroad museum, and in lieu of payment, accepted the old black locomotive as payment. In early June of 2017, a librarian at the Zephyrhills library also said it was black when she first saw it and was already at its present location when she moved to Zephyrhills twenty years ago around 1998**.
**Florida Steam Locomotives also indicates 1998.

Mr. Sierra said getting it to Festival Park was no easy or inexpensive task. A crane was used to lower it onto a lowboy flatbed trailer. He constructed the small piece of track that it now sits upon at the park and very soon afterward painted it yellow to use it as a sort of landmark symbol of Zephyrhills and to act as a billboard for events at Festival Park. The old locomotive was a popular hang-out for the patrons of the "Livestock" rock music fest held there in the 1990s to the early 2000s.
Mr. Sierra acknowledged that it has deteriorated over the years, but he has no future plans to attempt to move or refurbish it as it is now in such a delicate and rusted condition.