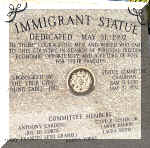 Click to read the inscription on the pedestal
Read an EXCELLENT article online from an Ybor Museum exhibit which tells how various groups of immigrants came to Ybor City.
"How We Got Here, Immigration & Ybor City, 1886 - 1921."
The Cubans, the Italians, the Spaniards, and the Jews; who they were, why they left their homelands, what they found here, what they did here. Don't miss this article, it shows various photos that bring to life the emotion and passion of Ybor City's immigrants. This is a PDF file and is quite large.