Tampa Bay Center was THE place to shop during its prime. Its central location in Tampa allowed Tampa Bay Center to enjoy consistently large crowds. The Christmas season at Tampa brought choir groups to sing at the mall, Santa Claus, and plenty of joyous and wintry decorations. Around 1990, the mall brought in a double-decker, vintage carousel, which was located at the center of the mall on the first floor.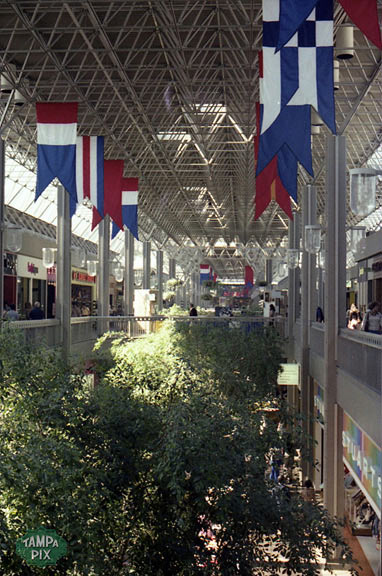 Bathtique and Merry Go Round at upper left, Stuarts lower right, circa 1977
Tampa Bay Center in the News
In July of 1983, Tampa Bay Center took on a retail car dealership for a tenant. Across from Ruby Tuesday's restaurant and only a few feet from Havana Village sat Bill Currie Ford Center. Though the idea wasn't new, it's was the first auto dealership in the state to locate in a mall. "We're taking our cars to the public," said Kess Evans, vice president and general manager of Tampa's Bill Currie Ford.
In December of 1985, a gunman slammed a Burdines shopper to the floor in the menswear department and held him hostage. The gunman soon freed the shopper and surrendered to the authorities without further incident.

The mall was beset with problems as the 1990s wore on. In 1994 the mall's management was accused of racism for closing early during the Florida Classic college football game between FAMU and Bethune Cookman, both primarily African-American universities.
In 1993, the mall's attempt to keep its indoor air smoke-free had a smokers' advocacy group burning. About 10 members of Smokers' Rights Alliance picketed outside Tampa Bay Center on Aug. 28th to protest what they call unfair treatment by mall management. The group said the mall's policy discriminated against smokers because it allowed smoking in only two places: a mall restaurant and a tobacco store. Everywhere else, they say, lighting up was forbidden. In December of 1993, teen tennis sensation Jennifer Capriati was given a citation for walking away from a mall kiosk while wearing a $15 ring she had tried on. Capriati, who was 17 at the time, and the world's 9th ranked women's tennis player, was wearing several of her own rings at the time and inadvertently walked off wearing one she had tried on. When stopped after she and her friends had left the booth, she discovered she was still wearing the ring and returned it. The citation carried no civil or criminal penalties.
In January of 1991, the mall took advantage of Super Bowl XXV in Tampa and turned their prime location into profits with weekend-long festivities, concerts, contests and shows. "Super Host Village" was set up in the mall's northwest overflow lot, where the game was broadcast on a giant screen TV, along with music, a laser-light show, football movies, sports stars signing autographs, merchandise and memorabilia.
In July of 1998, a transformer exploded in the southwest mechanical room, starting a fire which prompted an evacuation of the mall, according to Tampa native and Tampa Bay Center's first maintenance technician Rick T. Parnell.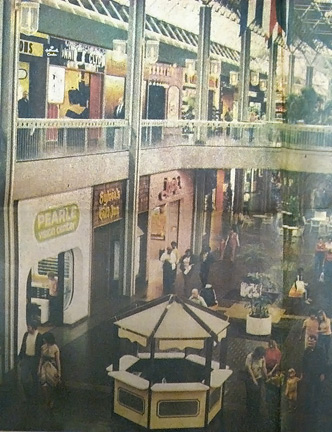 The mall boasted the first big food court in the region. It touted one of the first two Burdines in the Tampa Bay area. Rouse, which also developed Quincy Market in Boston and Harbourplace in Baltimore, injected some of the same novelty into Tampa Bay Center. The mall featured some of the first local pushcart kiosks, had a program to help local merchants grow into chain operations and once featured a historic carousel.

1977 view of lower and upper levels

TBC's Declining Years

A pattern of shifting demographics, the opening of new shopping destinations, and bankruptcies that hit some stores, including one of the anchors, led to the demise of TBC. This trend had been occurring throughout the 1990s, but had become especially pronounced as the decade moved on. However, with a mall full of stores and all three anchor buildings occupied with big-name retailers, the mall still looked and felt healthy.

In June of 1998, Burdines announced it would close its Tampa Bay Center store early the next year, just before it opened a store in the new Citrus Park Town Center 10 miles away. The chain already had stores in Tampa at University Mall and at West Shore Plaza. The new store in Citrus Park Town Center was scheduled to open in March of 1999. "We are going to work to replace Burdines with a similar-type department store," said Tampa Bay Center general manager Chuck Crerand. The success of that effort would be crucial because anchor stores are the traffic generators needed to draw shoppers who support all the other stores in a mall.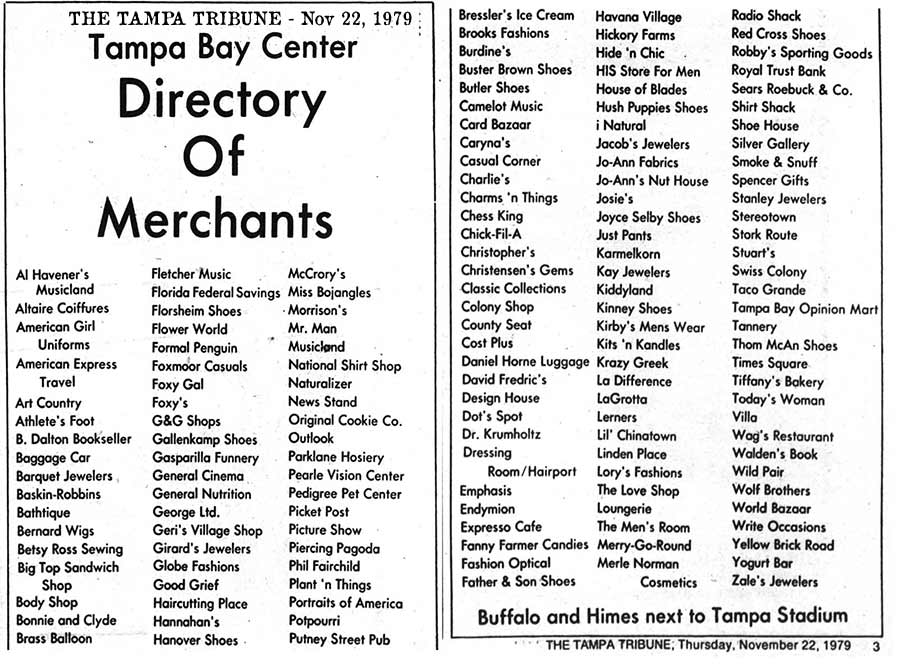 | | |
| --- | --- |
| | |
| This aerial photo shows a direct top view of Tampa Bay Center with Buffalo Avenue across the top, Himes Avenue at the left, and MacDill Avenue at the right. Sears at the left, Burdines on the right, and Montgomery Wards extending southward in the middle. | |
Citrus Park, a rural outpost in northwestern Hillsborough County as recently as the early to mid 1980s, had found itself amid tremendous growth by the 1990s. Citrus Park Mall, now called Westfield Shoppingtown Citrus Park, opened in 1999 and took the Tampa Bay Center Burdines location in. With the Burdines anchor gone, Tampa Bay Center began reeling from the loss of a major store and a troubling trend: those visiting the mall were not necessarily buying anything. Neighborhoods nearby Tampa Bay Center were changing as many of the longtime residents were aging or moving to neighborhoods further from Tampa Bay Center.

In 2000, news that the Montgomery Wards chain was closing all its stores hit Tampa Bay Center very hard. This meant the closing of a second (of, again, only three) anchors and the loss of a major, longtime tenant. While the hope for a mall revival is always possible when an aging mall loses anchors, hope just was not there for Tampa Bay Center, situated less than two miles away from an old golf course near Tampa International Airport that was, in 2000, already being cleared for International Plaza, a mall that would go on to become one of the region's most popular shopping malls.