Instruments of the Renaissance
Many instruments originated during the Renaissance; others were variations of, or improvements upon instruments that had existed previously. Some have survived to the present day; others have disappeared, only to be recreated in order to perform music of the period on authentic instruments. As in the modern day, instruments may be classified as brass, strings, percussion, and woodwind.

Brass instruments in the Renaissance were traditionally played by professionals. Some of the more common brass instruments that were played: Slide trumpet Cornett Trumpet Sackbut (Image at right)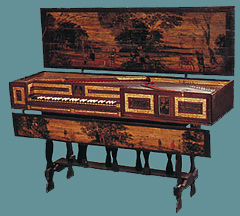 Strings were used in many circumstances, both sacred and secular. A few members of this family include: Viol Lyre Irish Harp
Hurdy Gurdy Cittern (below) Lute Harpsichord Virginal (at right)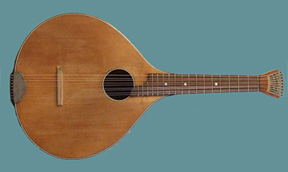 Percussion Some Renaissance percussion instruments include the triangle, the Jew's harp, the tambourine, the bells, the rumble-pot, and various kinds of drums. Tambourine Jew's harp (image at right)
Woodwinds (Aerophones) The woodwind instruments (Aerophones) use a column of air vibrating within a pipe that has little holes along it to generate vibration with the airflow through the pipe and control the length of the sound waves produced by the vibrating air. A player could create this air column by using a few different

methods. The first is blowing across a mouth hole (as would be done with flutes). The second is blowing into a mouthpiece with a single reed (as would be found with the clarinet or saxophone) or a double reed (which is used with oboes and bassoons).
The woodwind instruments of the Middle Ages are not the same as modern day woodwinds. They were more eccentric and exotic. For example, you would find that modern woodwinds fit the natural position of the hand. Woodwinds in the Renaissance used simple holes drilled in the instrument.
Reed pipe Hornpipe Bagpipe Panpipe Transverse flute Recorder Shawm (Image at right)