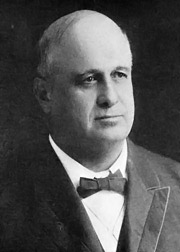 Congressman Stephen M. Sparkman
July 29, 1849 - September 26, 1929.
Photo from Men of the South: A Work for the Newspaper Reference Library By Daniel Decatur Moore, 1922
Sparkman Channel was named for Congressman Stephen Milancthon Sparkman, who was elected as a democrat to the 54th Congress and to the ten succeeding Congresses (March 4, 1895-March 3, 1917). His efforts in the Congress allowed Tampa to develop its harbor and in 1908, made Tampa one of the most important and busiest ports in the world. Read NY Times 1908 newspaper article.
Garrison Channel was named due to its location along the southern access to the Fort Brooke garrison. For a time in the early 1900s, it was known as "Mallory Channel" because it was first used by the Mallory Steamship Lines.
Hooker's Point was named for Captain William Brinton Hooker, who by 1860, was the "Cattle king of Florida," owner of over 10,000 head of open range beef cattle. If he had looked out from the piazza or porch of his thirty-three-room home on Madison Street in Tampa and felt satisfied with his accomplishments, Hooker could be excused. For over forty years he had played a prominent role in the pioneer life of south Georgia and Florida. Cattle were shipped from Hooker's pens at a point on the north side of the lower Manatee River known today as Hooker's Point. The other, more famous Hooker's Point, which projects into Tampa Bay was also a shipping point for his cattle, as well as one of his properties.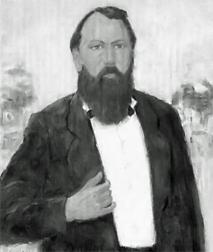 William B. Hooker
1800 - 1871