D. P. Davis and his much publicized marriage to Elizabeth Nelson
Rodney Kite Powell writes: Blessed in early 1925 with success, cash and an extraordinary ego, Davis cast his determination in a more personal direction. One of the enduring stories regarding Davis at this time centers on what seemed an absurd assertion, that he would marry the next Queen of Gasparilla, who had yet to be named. Davis once again, the legend goes, showed he could accomplish anything he truly desired, marrying twenty-two-year-old Elizabeth Nelson, Queen Gasparilla XVII, on October, 10, 1925. Davis, who would soon turn 40, allegedly made this claim over a glass of champagne early in 1925. The naming of the court of Gasparilla is a secret, but it is decided in advance of the Coronation Ball. Davis had a number of connections within the Krewe, and it is quite likely that he knew Nelson would be elected queen.
On October 10, 1925, Davis and Nelson were wed at the "Presbyterian manse" in Clearwater (possibly Peace Memorial Presbyterian Church on Fort Harrison Avenue and Pierce Street). The only people to attend the hastily planned wedding were Nelson's sister, Mrs. C. G. Rorebeck and Ray Schindler, one of Davis' business associates.
Later, Davis and Nelson divorced and remarried in the span of eight weeks. Rumor and innuendo flew as to the reasons why the couple's relationship was particularly stormy.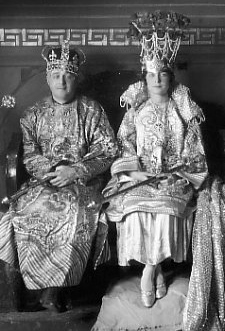 1925 Gasparilla King and Queen, Curtis Sparkman & Elizabeth Nelson.
Photo from the Burgert Bros. collection at the Tampa-Hillsborough County Public Library.