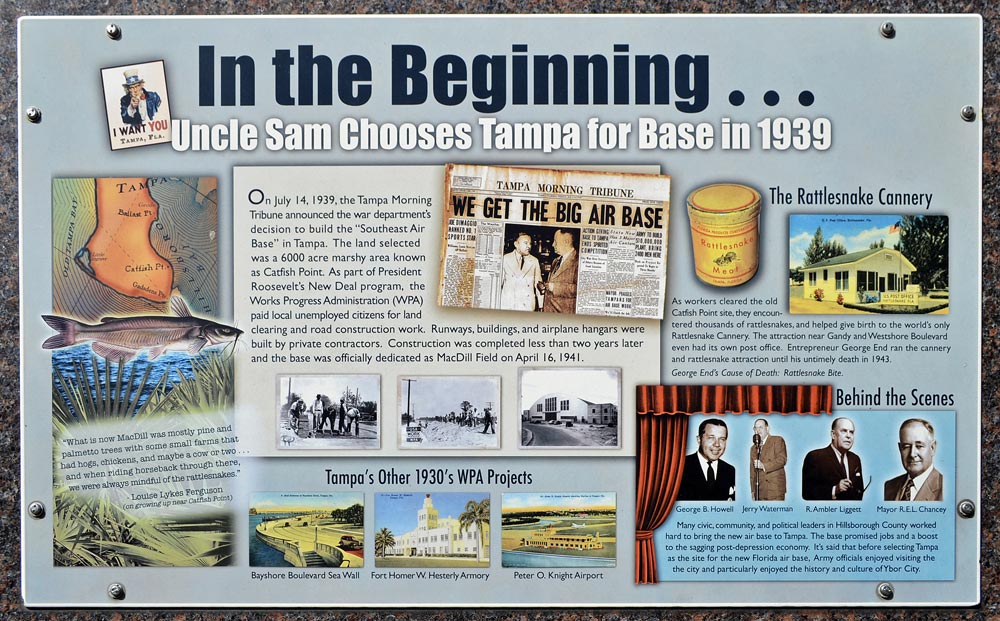 MacDill AFB Beginnings
(With excerpts from TAMPA'S MacDILL FIELD DURING WORLD WAR II by Abraham Scherr)

The early beginnings of MacDill Field, as it was known throughout World War II, started with the successful efforts of U.S. Congressman J. Mark Wilcox of West Palm Beach to pass his National Defense Act through Congress. In 1935 Wilcox succeeded, although without funding, to push through the passage of the bill that authorized six new airfields for the country, including one in the southeastern United States.
Mayor Robert E. L. Chancey,
Tampa's 44th mayor
In 1938, a representative of the Army Air Corps came to Tampa to speak with city officials about the possibility of holding air maneuvers in the area. Major "Pinky" Craig, who retired as an Air Force Lieutenant General, discussed the desired air exercises with then Tampa Mayor Robert E. Lee Chancey, who informed Major Craig that the city was in no financial shape to bear the expenses of these maneuvers. Prior to the talks with the Mayor, two Army Air Corps officers – Melvin Asp and Charles Skaw – had suggested that Major Craig contact Jerry Waterman if he encountered any difficulties in holding the maneuvers around Tampa. Waterman (of the Maas brothers family) was chairman of the Tampa Chamber of Commerce Aviation Committee and an aviation enthusiast who could prove helpful in the air exercise discussions. As it turned out, Jerry Waterman's intercession overcame all the obstacles.
| | |
| --- | --- |
| | |
| | Davis Islands Coliseum, 1932 |
Securing living quarters for the 50 officers and 200 to 300 enlisted personnel and facilities for the aircraft was a top priority for holding the maneuvers in Tampa. To accommodate the officers, Hudson Manor Hotel on Davis Island, which had just closed after its winter season, agreed to rent fifty rooms in the hotel for thirty days or longer at the rate of one dollar a day per person. Next, Jerry Waterman convinced Harry Warner of the Davis Island Coliseum to rent the facility for the use of the enlisted contingent, at a rate of five hundred dollars for thirty days. Satisfied with the arrangements for both men and machines, Major Craig returned to Washington, D.C., to make his report.
After proper funding was achieved, the maneuvers were held. Peter O. Knight and Drew fields served as the designated bases for the thirty-three aircraft, largely P-35 and P-36 fighters, that participated in the air exercises from March 14 to 29, 1938. There were other aircraft, bombers and fighters, dispersed at airfields in Lakeland, Sarasota and Orlando. Jacksonville was the main site for the "friendly" forces, while Tampa was an "enemy" location. The grand finale was a full-scale attack on the defending forces at Jacksonville by the aggressors.
In January 1939, a federal board was appointed by the War Department to screen locations for six new airfields, including one in the southeast. Florida was selected as the site for a southeastern base.
At first, the Army seemed to favor Arcadia, where a large air base had been located during World War I. For some time, the Tampa Chamber of Commerce worked in Arcadia's behalf, the officials believing that anything which helped South Florida would help Tampa. During the 1939 maneuvers in Tampa, which had headquartered at the Palmerin Hotel on Davis Islands, top army airmen secretly advised several Tampa men that they had no idea of recommending Arcadia. They said they had no desire to be based in such a desolate region.
They suggested Tampa should get busy and try to get the base itself, instead of plugging for some other locality. That suggestion started fireworks. From that point on, Tampa worked for the base as had never before worked for anything. A committee of Tampa's leading citizens was named to pull the necessary strings—and the strings were pulled unceasingly.
Mar. 8, 1925 newspaper ad for property on Catfish Point - Tract 17 referred to in the ad has been marked in red. "Mabry" was Milton Mabry, Jr., brother of Dale Mabry.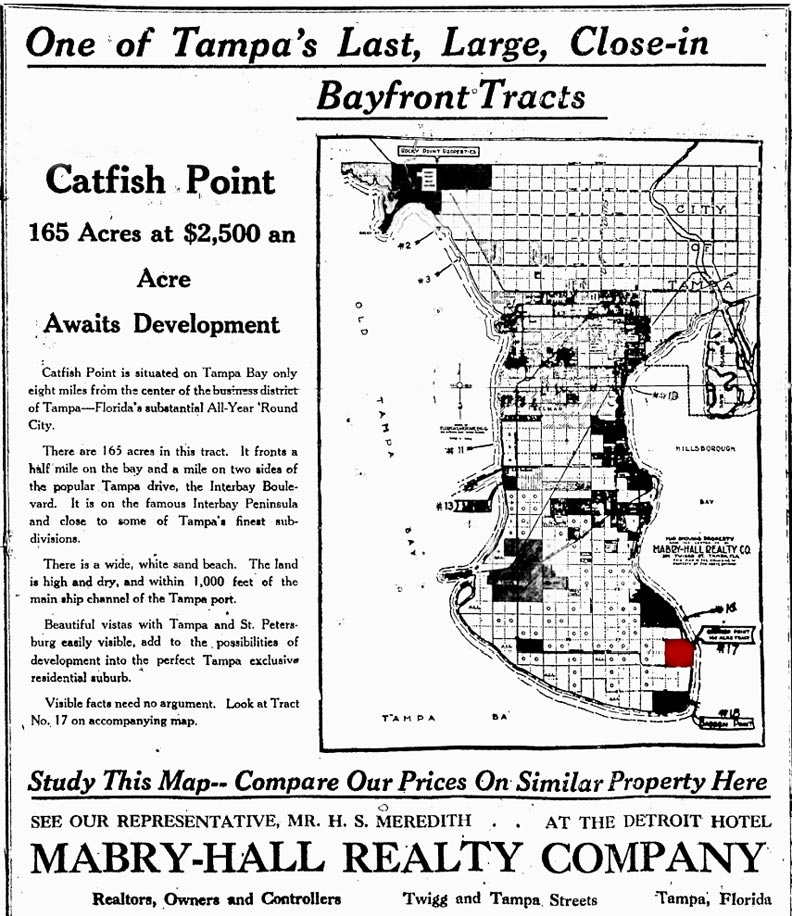 During the 1938 Army Air Corps maneuvers, the pilots had been impressed with the flat, sandy, snake-ridden stretch of land on Tampa's Interbay peninsula called Catfish Point. It was far enough from the city that no one complained of the aircraft noise. Also the base would be strategically located near the Caribbean and would have nearly year-round good flying weather.
Then on July 14, 1939, the momentous announcement was made that Gen. Thomas Handy, who had been conferring with the Tampa committee for weeks, had decided that the base should be located at the lower end of Interbay Peninsula, known as Catfish Point. Members of the committee which had succeeded in getting the base for Tampa were: W. Howard Frankland, Frank Gannon, George Howell, Ambler Liggett, Joseph Sweeney, E. P. Taliaferro, M. M. Frost, Pat Whitaker, Leslie Blank, A. B. McMullen, Howell Lykes, Jerome Waterman, D. Hoyt Woodbery, Robert Clinton, Francis Judd, G. Dave Curtis, T. N. Henderson and Henry Tillman.
Once the Tampa site had been chosen in April 1939, it was named the Southeast Air Base, and the Army took possession of Catfish Point on May 24, 1939. To show support for building the base in Tampa, city and Hillsborough County officials promised to acquire 3,500 acres of land as a donation to the federal project, while 2,900 acres were to be purchased by the War Department. Congress appropriated $3,173,000 in June to build the field, leading to the official announcement in the press on July 15, 1939. Local property owners in the vicinity of Catfish Point immediately inflated their land values, prompting the government to condemn the 298 parcels needed after an appraisal. This changed the scenario originally established between federal, city and county officials. Instead of land, city and county officials pledged $97,000 for the airbase.I
Initial clearance of the brush and swampland began on November 28, 1939, when the Works Progress Administration (WPA) assigned 100 men to clear the nearly 5,800 acres.
Colonel Leslie MacDill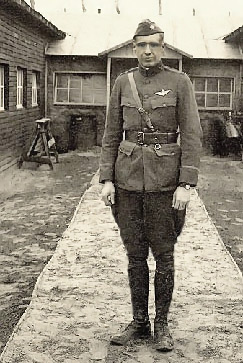 Col. Leslie MacDill
1918
| | |
| --- | --- |
| | |
| | |
| | Miss Marjorie Wyatt and Lt. Leslie C. MacDill, USA. rehearsing for the Spanish Ball to be given at Colorado Beach, Cal. by the Winter Colony on next Saturday |
Almost simultaneously with the onset of work on the airfield, Secretary of War Harry H. Woodring announced a change of name for the future base on November 30, 1939. It was to be named after Lt. Colonel Leslie MacDill, who had died test-flying a BC-1 aircraft, along with the mechanic, Private Joseph Gloxner, in a crash on the outskirts of Washington, D.C., on November 9, 1938.
MacDill had been a very popular figure with the Air Staff. He was a graduate of Hanover College, Indiana University and the Army War College. Col. MacDill was first commissioned a second lieutenant, Coast Artillery Corps, in 1912. By time of the World War he had been promoted to captain of Air Corps. During World War 1 he organized and was made commander of an Aerial Gunnery Training School at St. Jean de Monte, France. In 1920 he graduated from Massachusetts Institute of Technology where he earned a Doctor of Science degree in aeronautical engineering. He held several commands until 1930 when he came to Washington in the Plans Division, Office of Chief of Air Corps. MacDill was a rising star in the Army Air Corps when he suffered the fatal accident at age forty-eight. He left behind his wife, Mrs. Marilla Augusta MacDill, and two daughters, Katherine Rose, 14, and Rose, 11.
Nov. 9, 1938. Washington, D.C. "Two killed in Army plane crash. Two U.S. Army fliers -- Lieut. Col. Leslie MacDill, General Staff Corps Officer, and Private Joseph G. Gloxner, were burned to death today in the worst aerial tragedy in the history of the Capital when their plane crashed in the street in Anacostia, a short distance from Bolling Field. Three automobiles were wrecked in the crash. Col. MacDill was piloting the plane." Harris & Ewing Collection glass negative. Photo from Shorpy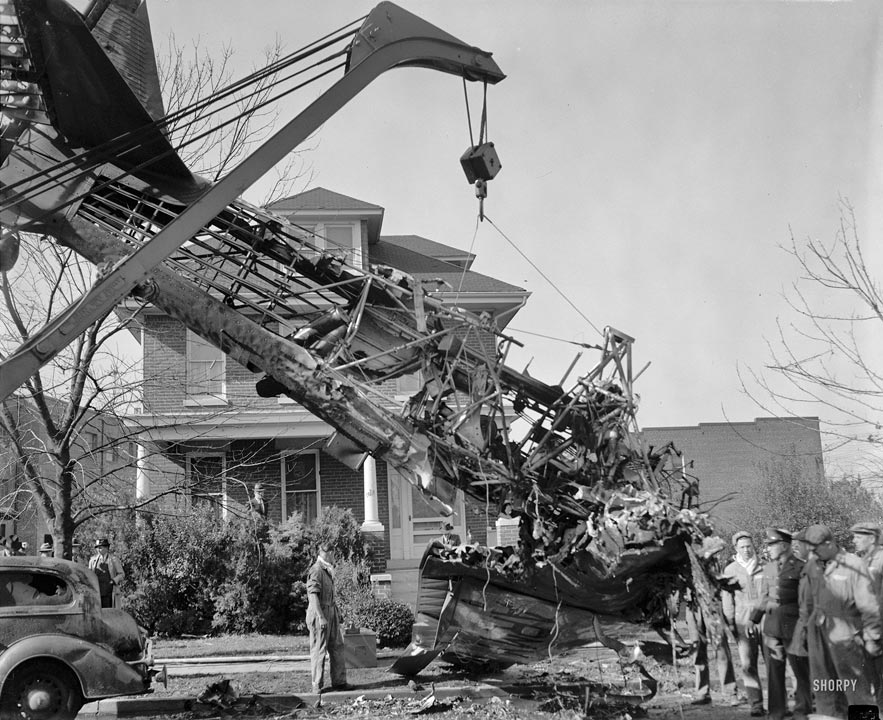 WARNING - GRAPHIC DESCRIPTION OF CRASH SCENE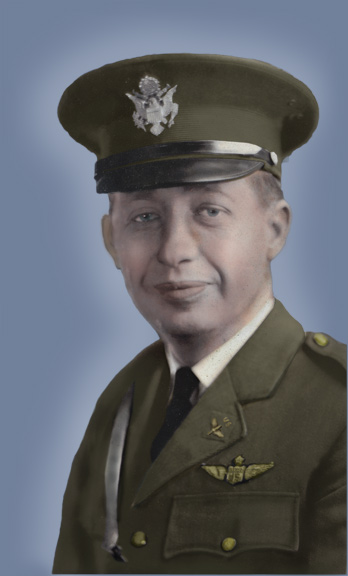 Washington Post, Nov 10, 1938
Army Studies Cremation of 2 Fliers Here
Crash in Anacostia Fire Destroys Plane
Officer is Killed, Pilot Dies Also
A special Army board last night was investigating the crash which killed and cremated two Army fliers when their pursuit plane went into a spin, narrowly missed two houses and smashed to earth in Anacostia, 2 miles from Bolling Field.
The dead were Col. Leslie MacDill, 49, of the War Department general staff, who lived at 3105 Cathedral avenue northwest, and Private Joseph G. Gloxner, of First Staff Squadron, of Reading, Pa. Both were instantly killed.
Maj. Charles P. Prime, chief investigator, said last night that eyewitnesses have given conflicting reports regarding engine trouble. Coroner A. Magruder MacDonald said he would postpone decision on holding an inquest into the deaths until he had received the Army report.
Trouble With Motor
The BC-1 pursuit plane piloted by Col. MacDill took off from Bolling Field at 9:36 a.m. Three minutes later it crashed on S street, a block away from the busy intersection of Good Hope road and Nichols avenue.
Accounts pieced together from numerous eyewitnesses indicate that something happened to the motor and Col. MacDill tried to get back to his field, and then with death staring him in the face aimed his plane for a narrow space between two houses in order to land on Thirteenth street, headed for an alley.
The plane cut down telephone and power wires, knocked down a pole, clipped off tree limbs and plunged into the earth between the curb and street in front of the home of Robert Thompson, 1807 Thirteenth street, southeast.
The plane immediately burst into flames, settled back on a parked car. Burning gasoline flowed down the street and destroyed three other parked cars.
One civilian came within 10 feet of being killed in the crash. That was Clarence W. Ohm, plumber of 1612 W street southeast. He had parked his car directly across the street from the crash, and was just getting from his car when the plane struck.
Flames Leap 50 Feet
Both bodies were burned beyond recognition by the flames which leaped as high as 50 feet. One of the bodies was thrown from the fuselage, while the head was torn from the other. Fireman fought half an hour with water and chemicals.
Louis Fiedler, mechanic, and Harry Rosenthal, manager of Mandell Chevrolet garage at Thirteenth street and Good Hope road, and Earl Hazel, of 1235 U street southeast, rushed to the plane with fire extinguishers. The heat drove them away. Fiedler's face was scorched.
The street at the time of the crash was deserted except for Ohm. Few people were attracted by sound of the plane until it exploded because Anacostia residents have become accustomed to low-flying planes.
Heard Body Plop WARNING - GRAPHIC DESCRIPTION OF CRASH SCENE
Ohm related that because of a broken gasket on the exhaust pipe of his automobile, he heard nothing until a plop which suggested to him falling of a human body. From his parked car he heard a scream and saw a body on the pavement before an explosion "like a 16-inch gun" shot up huge clouds of black smoke and flames.
Still shaking from his experience last night he said, "it was the most horrible thing I ever saw. I thought the world was coming to and end. I have felt so bad all day I couldn't clean up the brains splattered on my car."
Col. MacDill was a graduate of Hanover College, University of Indiana, and the Army War College. He leaves his wife, Mrs. Marilla Augusta MacDill, and two daughters, Katherine Rose, 14, and Rose, 11.
Col MacDill was first commissioned a second lieutenant, Coast Artillery Corps, in 1912. By time of the World War he had been promoted to captain of Air Corps. Overseas he organized the Aerial Gunnery School at St. Jean de Monts, France.
In 1920 he was graduated from Massachusetts Institute of Technology and held several commands until 1930 when he came to Washington in Plans Division, Office of Chief of Air Corps. After attending the Army and Naval War Colleges, he returned here in 1934.
The bodies of both men are being held at Walter Reed Hospital.
MacDill Park on the Riverwalk, downtown Tampa, Oct. 25, 2016
MacDill Park on the Tampa Riverwalk is another section of the pedestrian path that travels along the Hillsborough River in Downtown Tampa, FL.

MacDill Park has free WIFI provided by Brighthouse Networks, the local internet service and cable TV provider for the Greater Tampa Bay area.

MacDill Park | 100 N Ashley Dr | Tampa, FL 33602 | (813) 221-8733