Ansel Watrous (Jr.) was born on Jan. 10, 1839 in Broome Co., New York, the youngest of at least nine children of Maj. Ansel Watrous, Sr. (1792-1866) and his wife Demise Luce Watrous (1794-1866)

Young Ansel Watrous first appears in NY on the 1850 Census in the town of Conklin, Broome Co, NY with his parents Ansel (b. CT) and Demise Watrous (b. NY) and his two older brothers, George A. (b. PA) and Charles O. (b. NY). Ansel (Jr.) was 11 years old, which calculates to an 1838-39 birth year.

1850 Census, town of Conklin, Broome Co., NY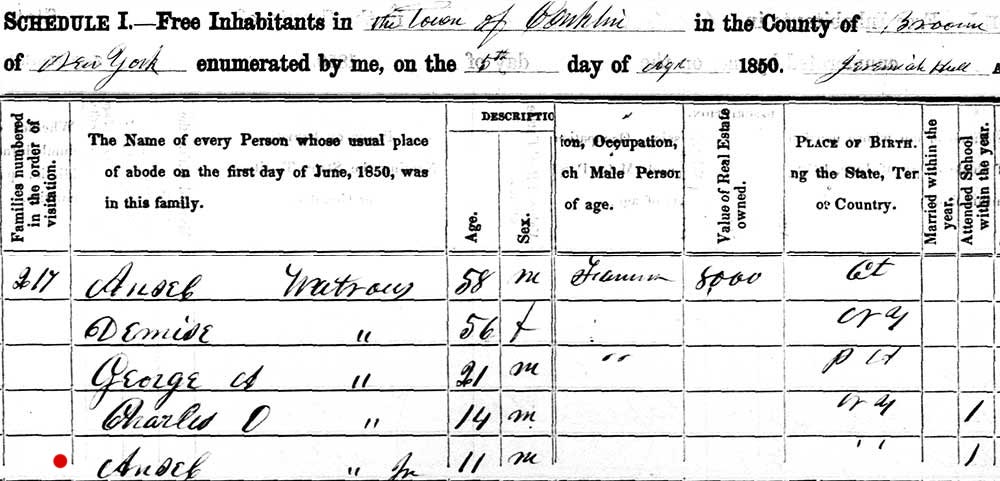 Ansel Jr. and his brother Charles were attending school. Their brother George and father Ansel Watrous were farmers.
There ages are indicative of Ansel Sr. & Demise having several older children no longer living with them.

1855 NY State Census, Broome Co, Town of Conklin
There was an 1855 State Census taken in NY. The Watrous family was living in the same location--the town of Conklin.


This census listed in column 10 what county a person was born in if they were born in the state of NY, otherwise what state or country they were born in. Demise was born in Albany Co., and sons Charles and Ansel Jr. born in Broome Co. Column 13 asked how may years each person was resident in the present location. Ansel (Sr.) and wife Demise had moved there 21 years prior, so around 1834. Their son George was was 26 but there 21 years and born in PA. So they likely came to Broome Co. from Pennsylvania when George was around 5 years old. Listed last is a 9 year old female grandchild, E. J. Watrous, who was born in Wisconsin. She was in Conklin for 5 years. This indicates that Ansel Sr. & Demise probably had an older son who had moved to Wisconsin before their 1850 Census, and for some reason his daughter was living with the Watrous family at this time. She must have arrived in 1850 after that census was taken.
According to Steven B. Watrous, a rather diligent researcher and member of the Watrous family who has done excellent research with source citations to numerous official records, the family of our Ansel Watrous Jr. was quite large. As seen below, his father, Maj. Ansel Watrous (Sr.) was one of 13 children of Benjamin Watrous and Lucy Spencer. There were nine children of Maj. Ansel Watrous and Demis Luce, with our Ansel Jr. being the youngest. Those children marked with green dots had already moved out by the time of the Watrous 1850 census. With the first Lucy (Marie) having died in 1832, Ansel (Sr.) and Demis used the same name for their daughter born in 1833.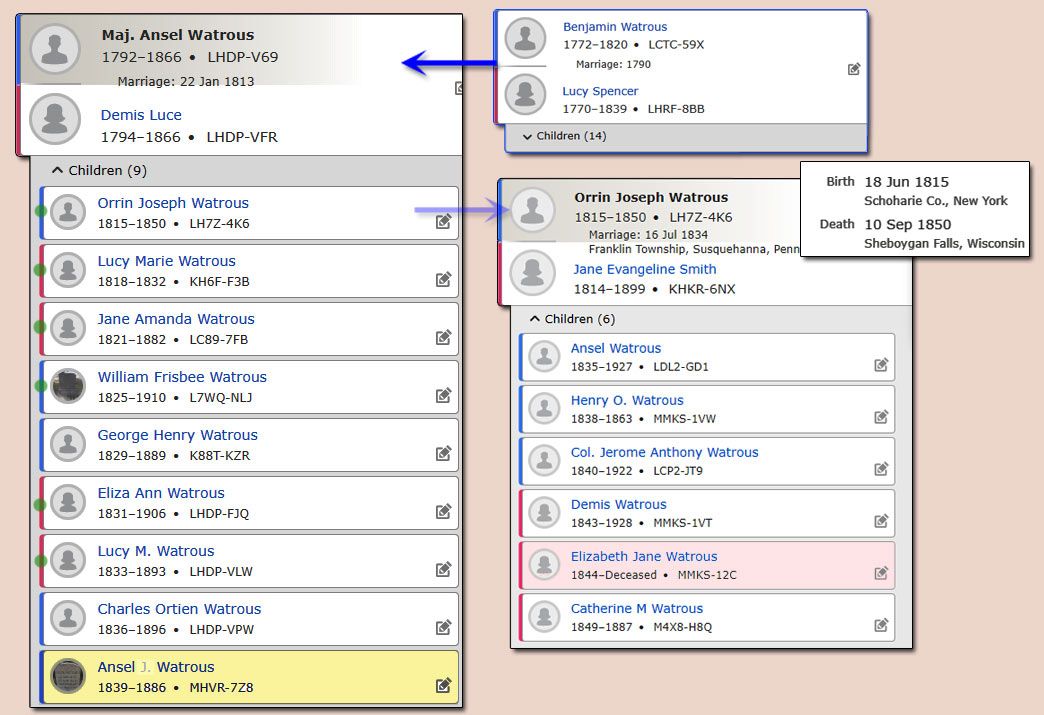 As for "E. J. Watrous," the granddaughter on the Ansel Sr/Demis 1855 census in Conklin, it is now apparent that she was Elizabeth Jane Watrous, a daughter of their oldest child, Orrin Joseph, who had 6 children and had gone to Wisconsin.. It appears that Elizabeth was sent to Conklin to live with her grandparents when her father died in Wisconsin.
There are other descendants of the rest of the Ansel Sr & Demis Luce children, in addition to Orrin's, not shown here.
You can see more of this family at Familysearch.org

ANSEL WATROUS, JR. MARRIES IN MISSOURI
By September of 1859, Ansel Jr. had gone to Oregon City in Holt County, Missouri. There he met Melinda Burnett and married her on Sep. 22, 1859. She was a daughter of Virginia native Roland Burnett and his wife Nancy Neil, a native of Tennessee. The Burnett family was living in Oregon City, Mo. and are found on the 1850 Census with 10 children where Roland was listed as a farmer and Melinda is listed on the next page as "Melvina" Burnett, and on the 1860 Census in Oregon City, Mo. According to the family tree of Roland Burnett, Melinda was the 7th of 11 children.
1860 Census, Oregon City, Holt Co., Missouri



Ansel was 21 and working as a printer. The value of his property and estate was significantly lower than others on the page.
Notice Column 11 indicates he and Melinda had married within the past year. Melinda was 19 and born in Missouri.
It's not yet known who Paulina Watrous was. Her birthplace of Missouri, if not an error, would normally indicate she was a member of Melinda's family and probably a Burnett. No research has been done yet as to why Ansel Jr. went to Missouri or if other Watrous family members lived there.
ANSEL WATROUS JR. CIVIL WAR SERVICE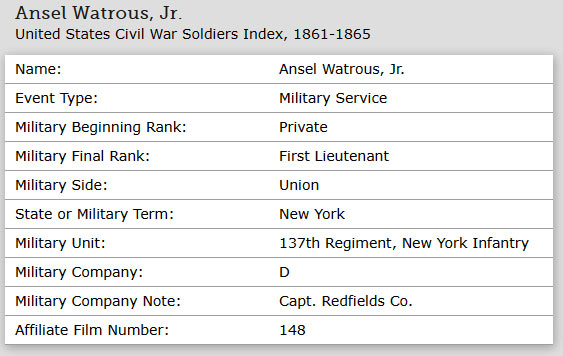 Ansel Watrous Jr. served in the Union Army during the Civil war, initially as a Private and ultimately as a First Lieutenant in the 137th Regiment of the New York Infantry, Co. D under Capt. Redfields.
This would indicate that by the time of enlistment, he and his family had gone back to New York.
Before leaving Missouri, Ansel & Melinda's first child was born, Harriet (Hattie) Watrous, on Aug. 18, 1860.
1865 Census, State of NY, Town of Conklin, Broome Co.
Ansel Jr. and his family back on the Watrous Family farm.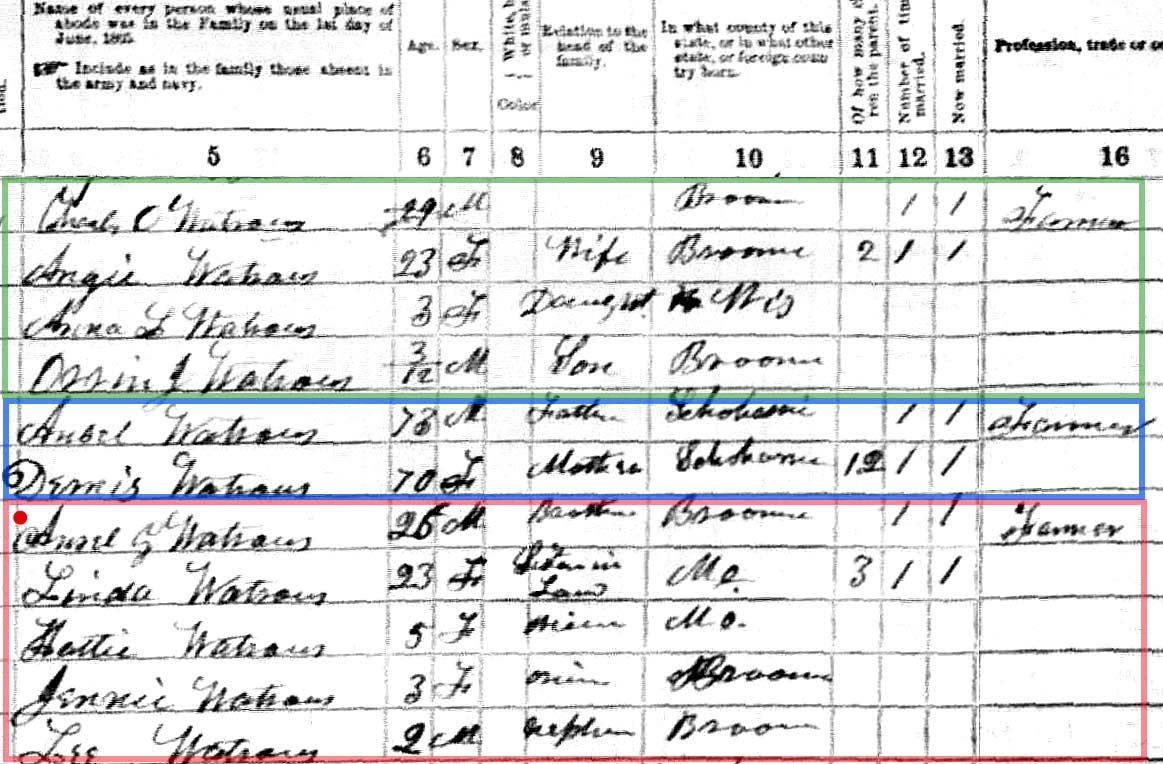 On this census, Ansel Jr.'s brother, Charles O. Watrous is the head of the household, so all relationships are with respect to him.
Outlined in green is Charles, his wife Angie, and two young children--Anna L. is 3 and born in Wisconsin. their son Orrin is 3 mos. On the 1875 State Census of NY, Broome Co, Binghamton, Anna L. appears as "Laurie" age 13, born in Milwaukee, while Orrin and four more of Charles & Angeline's children were born in Broome Co, NY.

Outlined in blue are Ansel (Sr.) and Demis, parents of Charles and Ansel Jr.

Outlined in red is Ansel (Jr.) and what looks to be a middle initial "G." This is the only record of him showing a middle initial and since his father never appears with one, this may have been an error, or he wasn't a Jr.

Ansel (Jr.) & Linda had two more children after Hattie, upon arriving back in NY. Jennie (Eugenia) b. 1861 & Lee (Lee Roland) b.1863, with both showing born in Broome County. His wife Linda (Melinda) and daughter Hattie (Harriett) show born in Missouri.
The numbers in columns 11, 12 & 13 indicate how many children they had, number of times each person had married, and if they were now married.

THE WATROUS FAMILY IN TAMPA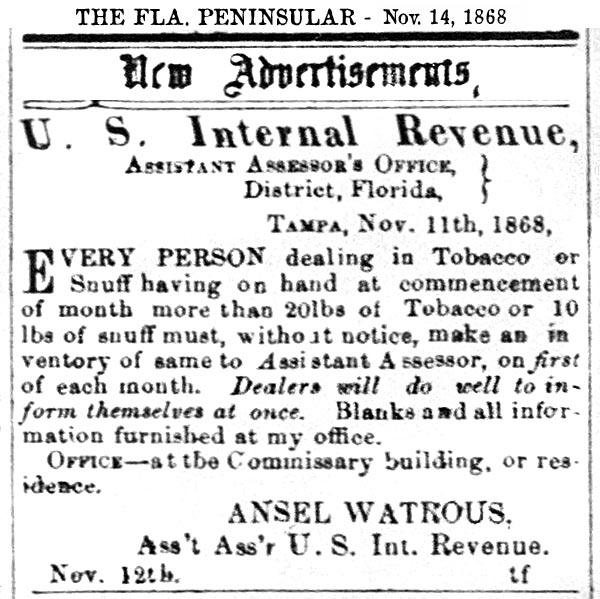 Ansel Watrous, Jr. was the Assistant Assessor in Tampa for the Florida district of the U.S. Internal Revenue office.
This notice published in the Florida Peninsular, is evidence that Ansel arrived no later than Nov. 1868. It announced that tobacco dealers with more than 20 lbs of tobacco or 10 lbs of snuff at the start of each month must submit an inventory of it to the Assistant Assessor of the U.S. Internal Revenue office. The notice was repeated on Dec. 12, 1868.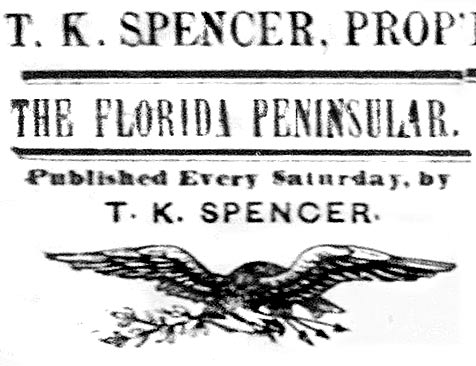 ANSEL WATROUS IN THE PENINSULAR'S CROSSHAIRS
The Peninsular was by no means an impartial newspaper. Like most all of Tampa and the South, it was a PR marketing branch of the Democrat party of the Confederacy. During the years of Reconstruction, it complained incessantly about the "injustices" Democrats suffered at the hands of Republican "Radicals" enforcing the policies of the Freedmen's Bureau. To the Peninsular, they were all Carpetbaggers and Scalawags. In these times, the Democrats considered themselves to be the conservatives, and the Republicans were the radicals, or "Rads" because they were turning upside down the Southern way of life. The paper frequently spewed ridicule, criticism and sarcasm for anything Republican, and took every opportunity it could to point out hypocrisy in any Republican situation. Just about every issue contained a racist stereotype joke in the guise of an article. Any quote of a "negro" speaking would be printed phonetically to exaggerate and portray a total lack of education.
When factions arose within the Republican party against Republican Reconstruction Governor Harrison Reed, it was fuel for the Democrat fire.

HARRISON REED

Florida's ninth governor was born in Lowell, Massachusetts, on August 26, 1813. In 1836 his family moved to Wisconsin, and Reed found work as an editor at the Milwaukee Sentinel, the Neenah-Menasha Conservator, and the Madison Wisconsin State Journal. He is credited with founding the town of Neenah on the Fox River.
After moving to Washington, D.C., in 1861, Reed was employed at the Treasury Department, a position he held until 1863. He then was appointed by President Abraham Lincoln to serve as Florida's tax commissioner, negotiating about Confederate property that had been seized. Two years later, he was appointed by President Andrew Johnson to serve as Florida's mail agent.
During the Reconstruction era, in 1868, Florida enacted a new constitution, which extended the franchise to freedmen. Most freed slaves joined the Republican Party, which had emancipated them. Reed was elected governor under the new constitution and assumed office on June 8, 1868, but the results were disputed by the Democrats. It was not until July 4, 1868 that the federal commander of military forces in Florida for Reconstruction recognized the constitution and the election as valid. Florida was readmitted to the Union at that time.
During his tenure, Reed had the challenge of trying to reinstate the state's civil government and re-stabilize the shattered financial and taxation system. He was successful in making improvements in these areas.
JON C. GIBBS

Appointed in 1868, Jonathan Clarkson Gibbs was the first African-American to serve as secretary of state in Florida's cabinet. Reed also commissioned Gibbs as a lieutenant colonel in the Florida State Militia. Reed faced strong opposition during his term from Democrats and from a faction of Republicans who made two attempts to impeach him.
In the first effort, the state senate voted for his impeachment in Nov. 1868, and William Henry Gleason, his lieutenant governor from 1868 to 1870, proclaimed himself as Governor. The Senate had adjourned on November 7, 1868 without deciding whether or not to impeach Reed. Reed's supporters, including the state's Adjutant General and the county Sheriff, denied Gleason access to the Capitol, so he set up in a hotel and signed documents as Governor. On November 24, 1868, the Florida Supreme Court held that the Senate had lacked a quorum at their vote and could not have impeached Reed. Gleason was forced out, and the political struggle ended with Gleason's removal on December 14, 1868.
During the Senate's second attempt to impeach Reed, Lieutenant Governor Samuel T. Day claimed to be Acting Governor from February 10 to May 4, 1872, while the senate was conducting hearings and voting. While his impeachment was pending, Reed had felt he was disqualified from holding office, and left the capital.
The Legislature adjourned without bringing him to trial, which he construed as equivalent to acquittal. While Day was in Jacksonville for a party caucus, Reed returned to Tallahassee, declared himself Governor, and appointed a new Attorney General. Reed's proclamation was approved by the Secretary of State and upheld by the State Supreme Court.
After leaving office, Reed served as editor of the Jacksonville Semi-Tropical Monthly Magazine from 1875 to 1878, and he was the Jacksonville postmaster from 1889 to 1893. Governor Harrison Reed died on May 25, 1899, in Jacksonville.
THE PENINSULAR PRINTS MISINFORMATION* AND THEN APOLOGIZES**
Apparently, H. L. Mitchell didn't verify the report he received on what transpired at a Republican meeting concerning Ansel Watrous and printed a cynical article revealing the motives (as he imagined) behind what went on. That Ansel Watrous had been nominated as the Republican candidate for county judge (among other claims) in the interest of impeaching Lt. Gov Wm H. Gleason who had declared himself the governor by this time. The Peninsular favored anyone over Reed, and so they deemed Watrous as a threat to impeach Gleason. A correction was printed when Mr. A. "Wartrous" contacted them to set them straight. Mitchell avoids words like error, wrong, or mistake, citing only the "injustice" they had done to "Mr. Wartrous" and their relief "to be able to make this correction." (Eventually, they will spell Ansel's name correctly.)
*Fake news.
**Prints a correction.
Notice: "The object of the meeting was lispingly explained by the colored chairman..." The Peninsular was in favor of Reed being replaced with Gleason and so took issue with anything that would oust Gleason and put Reed back in office, though he had really never been removed. They saw the meeting as an attempt to install Ansel Watrous as judge and thus side with Claiborne Mobley, another deplorable as far as the Peninsular was concerned. Watrous wasn't even a lawyer, the idea of him being a judge was beyond reason.
ANSEL WATROUS ON COMMITTEE TO DRAFT CONSTITUTION AND BYLAWS OF FIRST HOOK & LADDER COMPANY
On Jun. 12, 1869, citizens met at the courthouse to discuss forming a hook & ladder company (fire dept.) Franklin Branch was the chairman of the meeting and T.K. Spencer was chosen as Secretary for the meeting.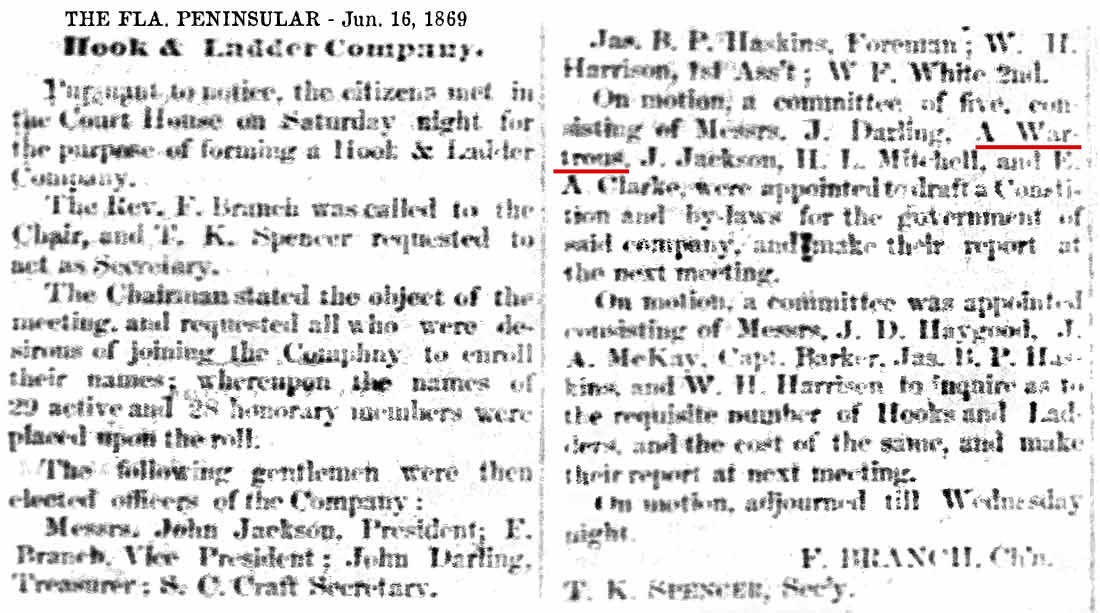 Those wishing to join the company were asked to submit their names. Twenty-nine "active" members applied and "28 honorary members were placed on the roll."
Officers were then chosen: President - John Jackson, VP - Franklin Branch, Tresurer - John Darling, Secretary -Sam C. Craft, Foreman - James B.P. Haskins, 1st Asst. - W.H. Harrison, 2nd Asst. - W.F. White.
Then a committee of five were chosen to draft a constitution and bylaws and make a report at the next meeting.: John Darling, Ansel Watrous, John Jackson, Henry L. Mitchell, and Ed A. Clarke were chosen. A committee was then chosen to determine how many hooks & ladders were needed, and the cost, to report at the next meeting.
Nothing further is found about this particular effort. It's not until 1884 that a hook & ladder company with actual firefighters was formed--a volunteer fire dept. with A.C. Wuerpel as chief.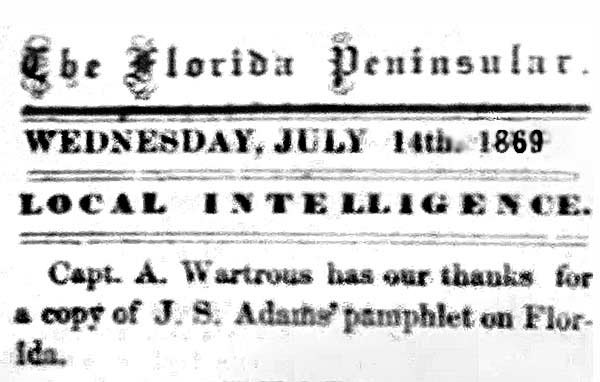 July 14, 1869 - The Editor of the Peninsular thanked Capt. A. Wartrous [sic] for sending a copy of a pamphlet about Florida. Perhaps it is one that circulated in NY and influenced his decision to come to Tampa.
FOURTH OF JULY CELEBRATION PLANS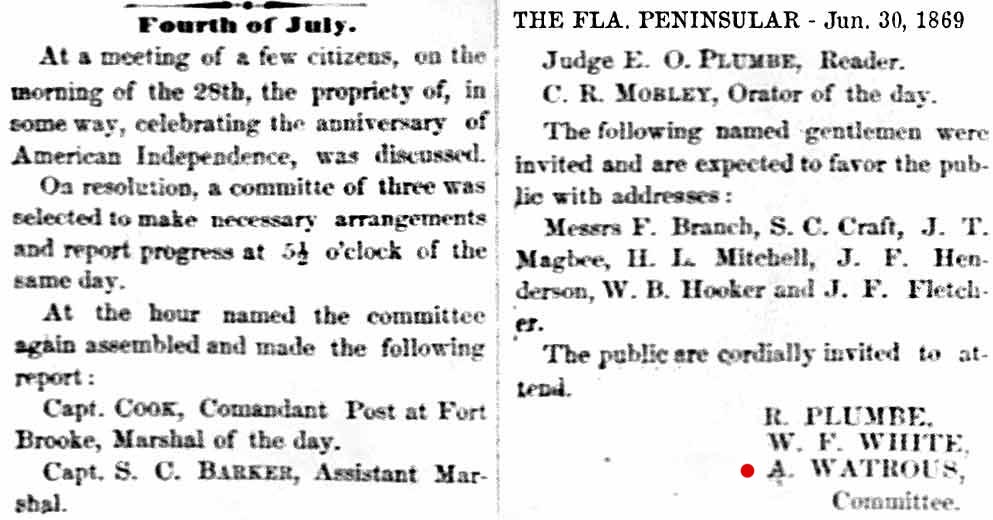 On Jun. 28, 1869, Ansel Watrous was appointed to a committee of three along with R. Plumbe and William F. White to make arrangements to have an Independence Day ceremony in Tampa.
At 5:30 p.m. the same day, they reported their plan:
Capt. Cook, the Commandant at Fort Brooke was to be the Marshal of the day.
Capt. S. C. Barker, Asst. Marshal
Judge E. O. Plumbe, Reader
Claiborne R. Mobley, Orator of the day.
Other notables were invited to make speeches: Franklin Branch, Sam C. Craft, James T. Magbee, Henry L. Mitchell, J. F. Fletcher.

The celebration was apparently postponed and festivities carried out on the 5th. On Jul. 7, the PENINSULAR REPORTED: The 4th was an unusually hot day. The thunder rolled almost incessantly from daylight until dark, but there was no rain during the day. The 5th was duly celebrated at Fort Brooke by speaking and firing a National salute in the morning, and the day closed by a ball given at the officer's quarters, and also one at the Court House.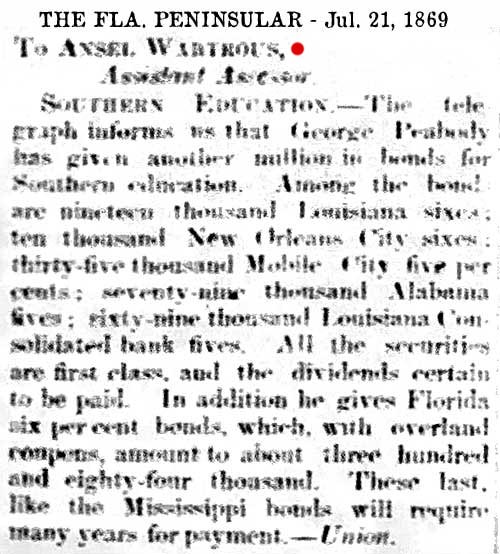 WATROUS RECEIVES NOTICE OF PEABODY FUNDS FOR FLORIDA EDUCATION
On Jul. 21, 1869, the PENINSULAR printed this message received by telegraph, addressed to Ansel Wartrous [sic], Asst. Assessor. A million dollars in bonds had been given to southern states for educational purposes by the George Peabody Fund. Florida was to receive 6% bonds valued at about $384,000 "like the Mississippi bonds, will require many years for payment."
It is probable that by this time, Ansel was a member of the newly created Board of Instruction or Education. A reference to him in this postion has not yet been found in the Peninsular.
Due to the poor condition of this article, it has been reproduced to resemble the format of the original as closely as possible.

Watrous didn't score any points with Tampans on this one when he called out the big dogs on the influential and leading merchants of the city for what appeared to be possession of untaxed tobacco products.

What probably made matters worse for Watrous was that he was working not only for the Federal Government (and a U.S. President, Ulysses Grant, who led the Union Army to defeat the South) but as an assistant to Claiborne Mobley, a Republican.

Interesting to note here is how the letter from the Treasury Dept. addresses Watrous as "Esq." (Esquire) a term usually meaning lawyer or attorney. As there is no evidence that Watrous ever obtained a degree in law, this incidence is likely an erroneous assumption by Douglass, or use of the term as a courtesy title.

See "Esquire" at Wikipedia
Ansel Watrous first appears in Tampa census records on the 1870 Census, living in town along with other notables and next to Henry Krause, yet Ansel is listed as a farmer. There is no reason known yet as to why he appears to be listed as "Ansterop" or "Austerop" or why Linda and Hattie were listed as being born in Mass. Maybe they weren't home and a neighbor gave the info.
1870 Census, Tampa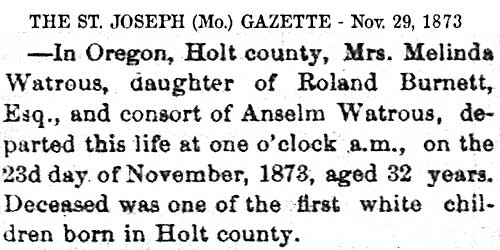 ANSEL WATROUS, JR FAMILY BACK TO MISSOURI, DEATH OF MELINDA WATROUS
It appears that from Tampa, Ansel Jr. and his family moved back to Oregon City, Holt Co., Missouri by Nov. 1873. Perhaps so his wife Melinda could be with her family a while and the Burnetts could see their Watrous grandchildren/cousins.
It is there where Melinda died and is buried in Maple Grove Cemetery.
Find A Grave, memorial page for Melinda Burnett Watrous (1 Sep 1841–23 Nov 1873), Memorial no. 99242081, citing Maple Grove Cemetery, Oregon, Holt County, Missouri, USA. Maintained by Tami Glock (contributor 46872676) .
Here is seen Ansel's formal name: Anselm.
According to Ernst Förstemann, Altdeutsches Namenbuch (1900), page 128, and many other sources, the usage is of German & Ancient Germanic origin, rarely of English. It is pronounced AN-zelm (German) or AN-selm (English)

Meaning & History: Derived from the Germanic elements ans "god" and helm "helmet, protection." This name was brought to England in the late 11th century by Saint Anselm, who was born in northern Italy. He was archbishop of Canterbury and a Doctor of the Church.
Related Names Variant - Ansehelm (Ancient Germanic) / Feminine Forms - Anselma, Elma (German) / Other Languages & Cultures: Anselmi, Anssi(Finnish) Anselme (French) Anselmo (Italian) Anselmo (Portuguese) Anselmo (Spanish) Anshel (Yiddish)
ANSEL WATROUS, JR REMARRIES IN ARLINGTON, VA

Ansel Watrous married on Apr. 13, 1874 to Louisa K. (Taylor) Crocker in Arlington, VA.
Louisa was the widow of Francis Platt Crocker. They had married Sep. 17, 1860 in Philadelphia when Louisa Taylor was 24, so she was born around 1835-36 making her a few years older than Ansel. Mr. Crocker was 38 when he married Louisa, and he died on Feb. 26, 1873 in Arlington, VA.

ANSEL AND LOUISE WATROUS - 1880 CENSUS IN CONNECTICUT
1880 Census, Middletown, Middlesex Co., CT
Ansel Jr. and Louisa Watrous


Here Ansel was working as an agent of Branch Railroad; daughter Hattie was a telegraph operator.
Ansel and Lou's ages here are off, he would have been 41, Lou would have been around 44 to 45.
Their birth places have been cropped out because the enumerator wrote "CONN" for everybody, including everybody's parents, which is completely incorrect. It is likely that the information was given by Hattie, Lee, or even the 9 year old servant.

According to New York City municipal records, Ansel died in Manhattan at age 47, Mar. 29, 1886.
He is buried at Arlington National Cemetery where his tombstone also shows the same date, along with his birthday and Civil War rank.