As the saying went in his high school years, Rick Casares really "took the rag off the bush." He excelled in every sport he participated in and thereby put Jefferson High School athletics on the map.

Ricardo "Rick" José Casares was born in Tampa on July 4, 1931 to José and Eleanor Casares. In the 1930s, Rick's father was a barber and Eleanor worked as a waitress; they lived at 2807 10th Street.

Rick's paternal grandparents, (José's parents) Ricardo and Concettina Casares, where cigar makers who came to the United States in 1888. They were from Spain and Italy, respectively, and lived on Laurel Street near downtown, Tampa. José lived with them, along with his brother Faustino, and sisters Amalia, Aurora and Manuela, until 1930 when he married Eleanor.

Rick's mother, Eleanor, was a daughter of Francesco and Tillie Liachizzie (or Lachizzi), both natives of Italy who settled in Paterson, New Jersey where Eleanor was born. Rick's maternal grandfather (Eleanor's father) Francesco, was a hod carrier in the 1920s to 1940--a skilled laborer who carries supplies to brick layers and masons. Eleanor lived with her parents and sisters, Angelina and Cecelia, and brothers George and Carmen, in Paterson, NJ, up until 1930 when she married José Casares.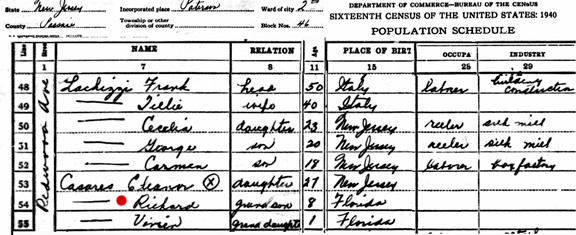 On Dec. 22, 1939, when Rick was 8 years old, his father José was killed in a gang-style murder. Eleanor quickly moved back to Paterson, New Jersey by the spring of 1940 with her son and daughter (Vivian) to live with her parents, Frank and Tillie Lachizzi, at 28 Redwood Ave.
White text below is from "Tampa's NFL Hero" by Paul Guzzo, Cigar City Magazine:
Rick and his neighborhood friends in Paterson would regularly meet in parking lots throughout the city to do battle with other groups of neighborhood kids. Guns and other such weapons were never used, only fists. These fights were not fueled by hatred, but simply competition; they wanted to see who the toughest neighborhood was, and the large and athletic Casares never lost a fight for his crew.
At the age of 15, he took his fighting ability from the streets into the ring when he won New Jersey's Diamond Gloves 160-pound division, the state's version of the Golden Gloves tournament. To do so, he had to defeat men in their early-20s, as there was not an age limit in the tournament, only weight classes. His performance was so impressive that it caught the eye of Lou Duva, who has trained numerous boxing champions over the years, including Pernell Whitaker and Evander Holyfield. Duva wanted to begin training Casares immediately, offering his mother a contract paying her $100 a week until her son turned 18 and could turn professional. This was a lot of money at the time, but Casares' mother said no. She did not want her son fighting for a living.
Casares rebelled against his mother. He began fighting in the street more. He stopped going to school. If his attitude did not change, his life would go nowhere. His mother, unsure how to handle her disobedient son, shipped him back to Tampa to live with his father's family on Ivy Street, (José's brother Faustino Casares and wife Violet.) Tampa had turned into a safer city than it was when they left and provided a more tranquil atmosphere for a teen to be raised.
Information about Rick Casares from Wikipedia:
At Jefferson High School in Tampa, Rick's teachers introduced him to high school sports as a way to keep him in school. The Jefferson coaches discovered the 190-pound, six-foot-one-inch freshman when he picked up a javelin for the first time and threw it. Casares played football, basketball, and baseball for the Jefferson Dragons, and he was also a track and field athlete. He was an all-state football and basketball player, and the Dragons won the city football championship in 1948 and 1949. In 1949, he was given the Guy Toph Award, which was awarded to the best player in Hillsborough County. "Rick was the best high-school athlete to ever come out of the state of Florida,'' Jefferson coach Dick Spoto once said. The Tampa Tribune recognized Casares as one the Tampa Bay area's 100 greatest athletes of the previous century in 1999. In 2007, fifty-seven years after he graduated from high school, the Florida High School Athletic Association (FHSAA) recognized him as one of the thirty-three all-time greatest Florida high school football players of the last 100 years by naming him to its "All-Century Team.