The world & a cup of coffee
A tour of 35 Tampa coffee shops reveals: Cafe con leche is the town's best selling beverage.
By JAY CRIDLIN
© St. Petersburg Times
published November 15, 2002
---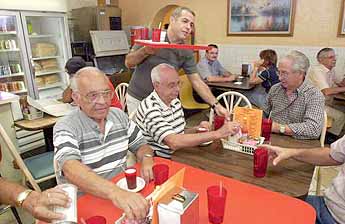 Mario Aguila Jr. serves Cuban coffee to a group of men at La Ideal recently. The group, which meets daily, includes, from left, Ralph Granada, Louis Marchetta and Alexander Torres.
---
THE FUN NEVER STOPS at La Ideal Cafeteria. Neither does the business.

Mario Aguila Jr., the cafe's ebullient superball of a manager, spends up to a dozen hours a day bouncing from kitchen to customer to coffeepot to cash drawer. If the Latin music playing over the din of the customers strikes him just right, he'll stop in his tracks and start dancing.

Aguila serves his cafe con leche in two parts: one mug of steamed milk, and one tiny shot of espresso.

"Some people like it dark, some people like it light," he says. "We serve it like that and then people can feel at home and serve it the way they want."

It makes a difference. The coffee has as much kick as the atmosphere.

"We use the real stuff, you know what I'm saying?" he says. "That's really the secret of it.

"And besides that," he says with a grin, "it's served with a lot of . . . ." He begins to shake his hips and laugh.